Honeymoons
Luxury Maldives Honeymoons
This small island nation is simply idyllic - our experts will tailor-make your perfect luxury Maldives honeymoon. A string of more than a thousand islands all but skim the Indian Ocean's surface: tiny dots of paradise, blessed with snow-white sand and encircled by turquoise lagoons. Just 200 of the islands are inhabited, the rest veer between total wildernesses and stunning one-resort hideaways. Super-romantic, many book a luxury Maldives honeymoon for total R&R, a place that is all about escapism, islands on which to slow down, relax, recuperate and spend quality time with their new husband or wife.
Top Maldives Honeymoon Offers
Plan your honeymoon in paradise
During the coronavirus pandemic, the cyan-blue water and overwater bungalows of the Maldives have felt further flung than ever before but as of today, we're delighted to share this exotic idyll is officially on the UK government's safe travel corridor list. You no longer need to quarantine following your return (hooray!), so you can relax on the cashmere-soft beaches, swim amidst the rainbow-hued reefs and soak up luxury island life, without a care in the world. Currently, you have to fly direct to the Maldives with British Airways to be exempt from quarantine. Availability is limited so if you're looking for a last-minute getaway, contact our team as soon as possible. Here is a selection of our top Maldives offers.
Honeymoon tips
Maldives honeymoon highlights
With cashmere-soft sands, cerulean lagoons and tropical views which look like they've been lifted straight off a postcard, the landscapes in whatever Maldivian island you're honeymooning in really do the talking. Enjoying this paradise is simple. However, we have a couple of Maldives honeymoon tips under our sleeve to help you love it even more.
Don't pack a lot of shoes (or any at all)! Most resorts in the Maldives actively encourage a 'No Shoes, no News' policy on their islands. Of course, you can pack shoes if you wish, but once you step off your seaplane or speedboat transfer, you won't be needing them. Embrace the toes-in-the-sand start to your married life together!
The traditional British summer wedding season is the low season in the Maldives (peak seasons is October-April), but that doesn't mean you have to wait months before you can escape to paradise. We highly recommend considering the months of May and September, two shoulder months which bridge the gap between the high and low seasons. You may get the odd drop of liquid sunshine, otherwise the weather is beautiful. Plus, the honeymoon rates are incredibly affordable!
Choose either a half board or all-inclusive meal plan. An all-inclusive option takes away the stress and worry of an ever-growing food and bar bill, while going half board (breakfast and dinner) is a great alternative if you don't think you will consume a lot of alcohol!
Do a multi-centre honeymoon
Why limit yourself to only one dreamy island in the Maldives? Every resort here is different and a Maldives twin-centre honeymoon is a great way to experience two different drops of paradise in one trip. Some resorts are situated in the same atoll and can easily be twinned, so there's no chance of any awkward travelling. If you still want a Maldives multi-centre honeymoon but fancy pairing it with an altogether different travel experience in another country, then the likes of Sri Lanka, Thailand, Oman and Dubai are each only a simple hop away.
Hovering over a crystal-clear lagoon and with the chance to watch mesmerising marine life from your outside decking or the glass floor in inside, overwater villas are the ultimate in honeymoon accommodation. The Maldives is one of the best places for a honeymoon in an overwater bungalow, with many of the resorts having their own deluxe take hovering over picture-perfect waters. Some have private infinity pools, others have romantic sunbeds and nearly all have direct access to the lagoons, so you can spend the afternoon snorkelling together.
Even though the Maldives is know for being a place where tropical relaxation is king, there's plenty of things to do as well. With each resort island either having its own spectacular house reef or within a short speedboat ride of an incredible marine experience, snorkelling and diving should be on your list of things to do, even if it's just once. However, it's your honeymoon and the Maldives doesn't leave you shortchanged in creating romantic moments, either. As you'd expect across these tranquil islands, every resort boasts its own serene spa, each one offering a range of treatments to rejuvenate mind, body and soul. A sunset cruise is another special experience for couples but if you really want to pull out all the stops, some resorts have their own private deserted island that you and your loved one can escape to for the day.
Romantic dining experiences
If there's one thing for certain in the Maldives, you won't have hungry tummies! The range of food options in the Maldives are abundant, but resorts typically have a selection of restaurants for you to choose from, each one inspired by a different theme, whether it's Indian, international, barbecue or Caribbean food. Naturally, being an island nation, the Maldives is most famous for its fish, which have likely been caught just metres from your room or table! Honeymooners can add a splash of romance to their food, with a number of unique dining experiences. How about a sandbank picnic, where it's just you, your loved one, a strip of sand and a sumptuous spread of food? Or, you can have a private dinner on any number of island locations, whether it's a candlelit meal on the beach or shrouded in palms. Bon appétit!
Honeymoon Resorts
Our top honeymoon resorts in the Maldives
Baros Maldives
Small, yet perfectly formed, sums up the beautiful Baros – a tiny picture-perfect island floating within the North Malé Atoll. Getting there is easy – it's just an exhilarating 20 minute speedboat transfer from the airport.
Six Senses Laamu
In the virtually uncharted territory of the Laamu Atoll, this stunningly understated resort is hidden deep in the Indian Ocean towards the far southern reaches of the Maldivian archipelago.
COMO Maalifushi
COMO Maalifushi is a new island concept from the luxurious COMO Hotels and Resorts. The island, located in the sparkling turquoise waters of southerly Thaa Atoll, features a mixture of garden, beach and overwater categories.
Milaidhoo
This small intimate island has opened a new chapter in The Maldives for romantic barefoot informality. A haven for honeymooners and couples, Milaidhoo offers a refreshing contemporary twist on classic Maldivian style. Serious foodies will love it too!
Soneva Jani
The Soneva story continues with Soneva Jani, the brands newest resort offering which opened in November 2016. Located in the Noonu Atoll, the resort comprises of five islands, the largest of which is 150 acres in size and is covered with lush tropical greenery and inhabited by land crabs!
Kanuhura Maldives
Following a 40 minute seaplane flight from Male', you will be greeted by the warm smiles and attentive service of a staff who are undeniably proud of their little piece of paradise.
Travel Guide
Maldives honeymoon FAQ
How long is the flight to the Maldives?
The direct flight time from London to Malé in the Maldives is 10 and a half hours.
Is the Maldives safe for a honeymoon?
Absolutely. Your resort will be on its own island, so there will be no-one else around aside from other guests, whose safety is paramount to hotel staff. This obviously guarantees a wonderful sense of privacy but also means that a honeymoon in the Maldives will be very safe.
What are the best honeymoon resorts in the Maldives?
There's so many to choose from! With its idyllic beaches, gin-clear waters and picture-perfect islands, we're sure you'd fall in love with any of the resorts we feature. However, we have a few features we adore. COMO Maalifushi is a dose of island luxury, Six Senses Laamu offers remote escapism, Anantara Kihavah Villas has mind-blowing overwater bungalows and the friendly staff at Baros Maldives are rightly proud of their parcel of paradise. These are just a few and there's many more island resorts worthy of being honeymoon hideaways.
What is the best island to stay on in the Maldives for a honeymoon?
All of the resort islands in the Maldives offer unadulterated tropical seclusion, so you can't really go wrong! Six Senses Laamu is the only resort in the Laamu Atoll, so is the most remote, but if you're after unbelievable snorkelling and diving, then there's plenty of resorts in the Baa Atoll, like Milaidhoo and The Nautilus.
Do I need a visa for a honeymoon to the Maldives?
British passport holders need a visa to visit the Maldives and this is issued free of charge upon arrival. You also need six months validity on your passport from your departure date.
How much does it cost for a Maldives honeymoon?
A honeymoon in the Maldives can start from as low as around £1,600 per person for seven nights. However, the price can rise quickly, depending on your choice of resort, board basis and the type of accommodation. It goes without saying that overwater bungalows will also bump up the price.
What is the currency in the Maldives?
The currency is the Maldivian rufiyaa, although US dollars and credit cards are widely accepted.
Specialists
Meet our Maldives Honeymoon Specialists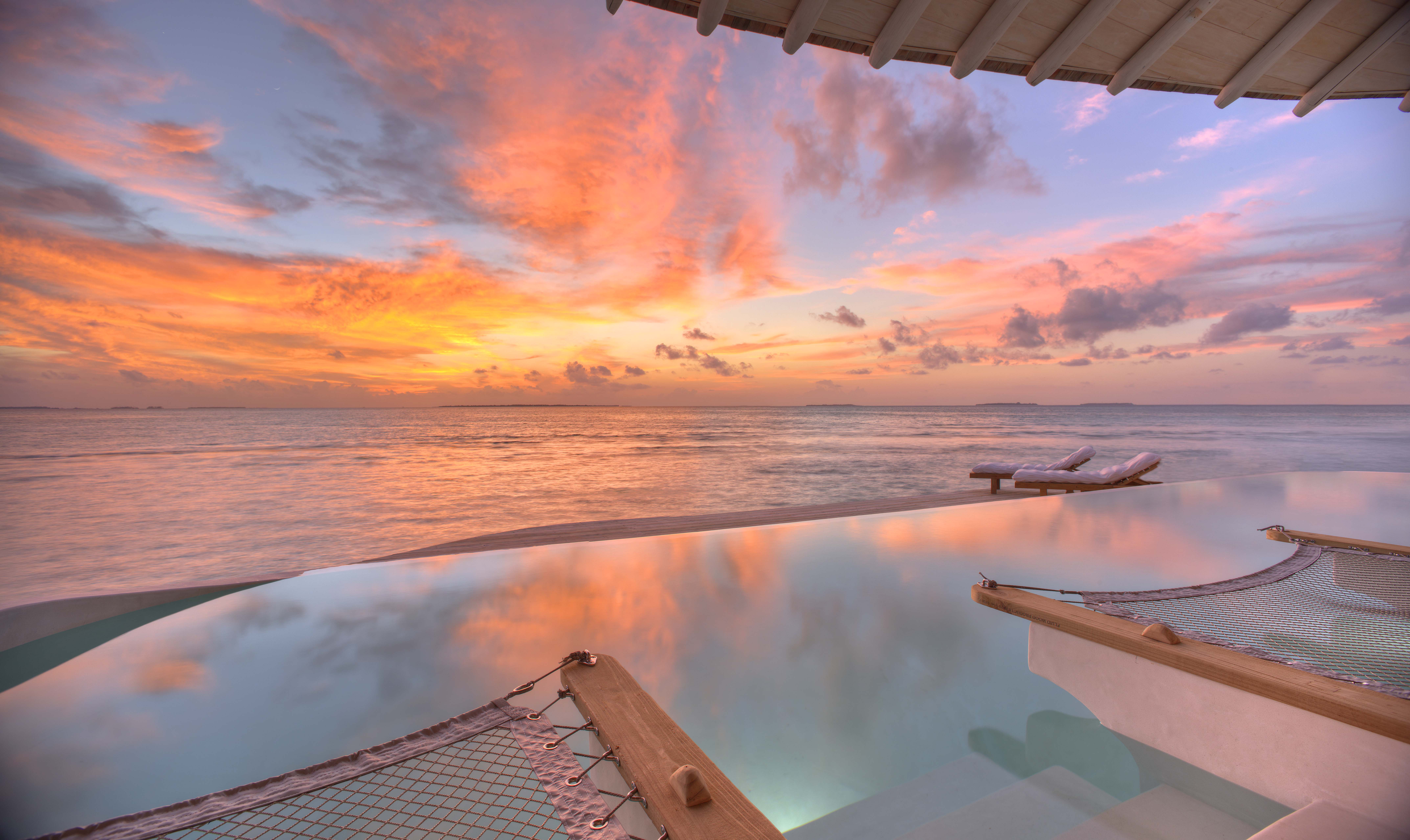 Maldives Honeymoon inspiration
CANVAS
Head to our blog CANVAS for more inspiration, insider secrets and diaries from our team on Maldives Honeymoons
Stay in touch
Sign up to our newsletter for the latest news and offers
Cookies
Our website uses cookies. Click accept to receive all cookies or change your cookie settings. You can also view our Privacy Policy to understand more about how we use cookies.
Privacy Policy