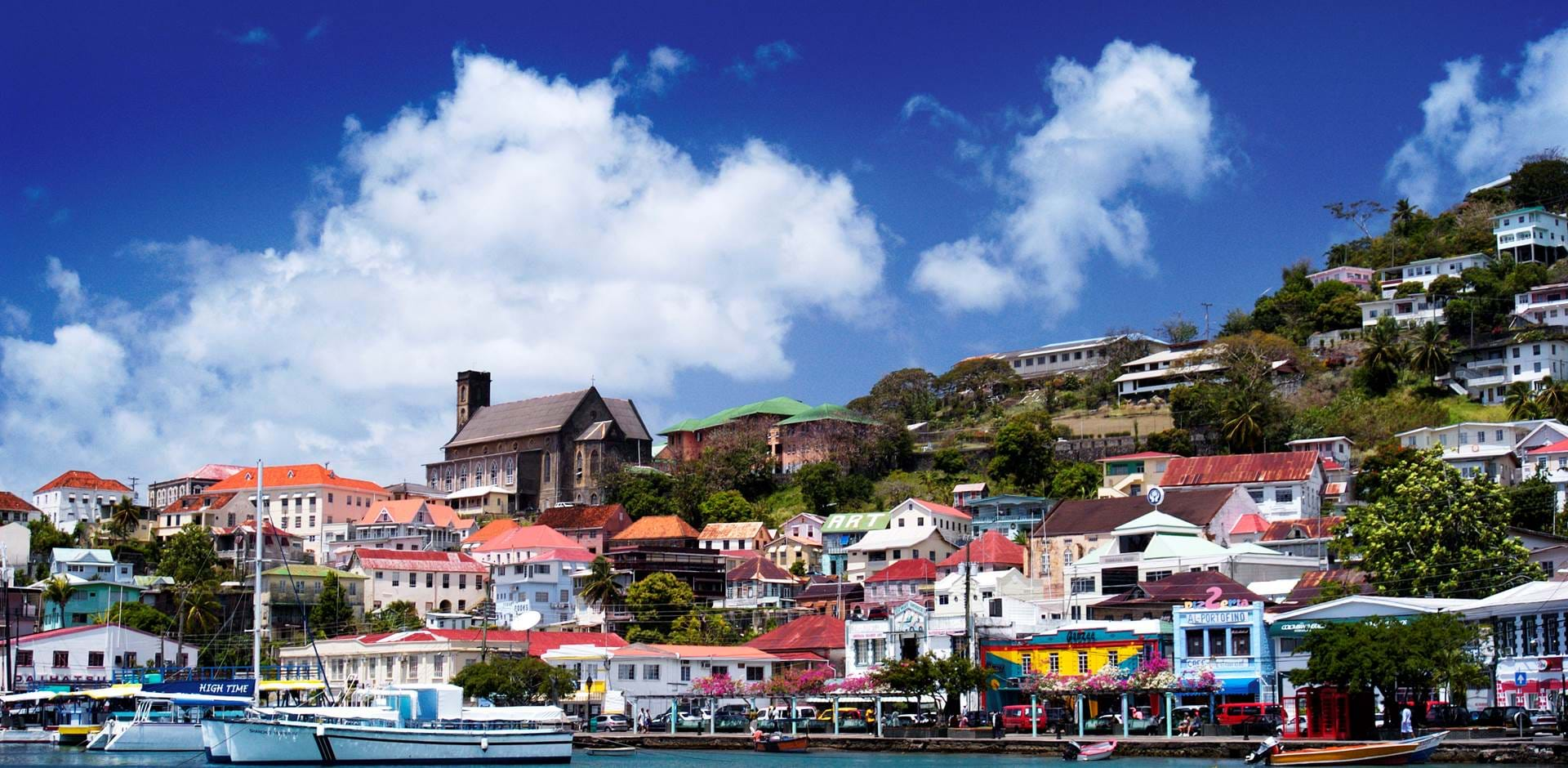 Overview
Holidays in Grenada
Scents of spices wafting in the air
Thick rainforested interior
Postcard-worthy beaches
St George's is one of the Caribbean's most handsome capitals
Lush rolling hillsides sprinkled with vibrant tropical flowers as far as the eye can see. Scents of nutmeg wafting through the air. The calls of traders selling their wares at bustling weekend markets so thick with the smells of spices you can almost taste them. In short, Grenada is a delight for all of your senses.
A birds-eye view of Grenada is a real treat for those in search of an untamed paradise for a luxury holiday, its volcanic mountainous landscape swathed in emerald rainforest and mangroves, flecked with the bright colours of bougainvillea and oleander. It's known as the 'Spice Island' for good reason and the plantations that patchwork its verdant interior – cinnamon, nutmeg, clove and ginger – read more like the essentials of a Creole cook's larder.
While the sweet-smelling surroundings will leave a lasting impression, this is the Caribbean and Grenada doesn't disappoint in the beach department either. Soft sands are abound, with the finest found along Grand Anse – justifiably one of the best beaches in the Caribbean and only steps from the charming capital of St George's. Here, cheerful locals greet you as you wander its gorgeous Georgian architecture and colourful market – a sign its famous spices are never too far away…
Experiences
Grenada highlights
A visit to a spice plantation is simply a must on any holiday to Grenada. The island is like one giant garden, so it's no surprise there's plenty of plantations and gardens to wander. A trip to Gouyave Nutmeg Processing Station, the largest factory on the island, is our pick for a fascinating glimpse into how workers hand-pick and package Grenada's most famous export. Aside from the aromatic spices, you can learn the basics behind chocolate making at Belmont Estate cocoa plantation and take in its organic farm, complete with wandering goats and chickens. Practically next door to Belmont is River Antoine Rum Distillery, the oldest functioning one of its kind in the Caribbean and the rum process it adheres to largely unchanged since the 1800s, meaning you can sip a tiny slice of Grenada's history!
Swim among underwater sculptures
A pioneering wonder that you simply can't take your eyes off, divers flock to Grenada just to catch a glimpse of this modern marvel. The Underwater Sculpture Park in the shallows of Molinere Bay was created in 2006 by British artist Jason deCaires Taylor and was the first of its kind on the planet. Now, a gallery of over 80 sets of concrete sculptures are submerged here, with everything from a circle of children holding hands to a man sat at a desk with a typewriter, making for a captivating snorkel or dive. But it's more than just art, with each installation acting as an artificial reef, encrusted in coral and teeming with tropical fish.
A short hop from the capital, St George's, Annandale Waterfalls is like visiting a mini Garden of Eden. Alone, the 30ft Annandale Waterfalls is a dreamy cascade that you can admire while floating or swimming in its plunge pool, but when you consider the surrounding rocks dripping with ferns and enveloping lush vegetation, it's like you've been dropped into an idyllic oasis. The accompanying spice and botanical gardens make for eye-popping jaunts into the jungle, soundtracked by the chatter of mona monkeys.
If you want to explore a truly wild slice of Grenada then head up, for the main island's central highlands are home to the forested peaks of Grand Etang National Park. Mahogany and gommier trees tower over you on a number of walking trails that web the park, while the central crater lake is a lovely rest stop. Wildlife is abundant as mona monkeys, armadillos and mongooses slink through the undergrowth and it's a particular haven for birds, too, with Grenada doves (the country's national bird), Antillean crested hummingbirds and broad-winged hawks among those that fill its skies.
For a microcosmic taste of Grenada, the colourful market of St George's is the ideal place to soak up its culture. Smiling locals oversee stalls heaped with fruit, vegetables and spices, your senses assailed with the collision of aromas hanging in the air. It's worth a stroll for the exciting atmosphere alone, especially on a Saturday morning when it's at its kaleidoscopic best. Make sure you pick up your own collection of spices, ready to carry on your Grenadian holiday in the kitchen at home…
Accommodation
Where to stay in Grenada
Imagine flinging open your balcony or terrace doors for an unspoiled view of powder-soft sand or a lush hillside, married to the delicate scents of nutmeg, cinnamon and cloves? Well, this is what staying in Grenada is like. Its luxury resorts guarantee the most paradisal of Caribbean scenes with the beautiful smell of Grenadian spices drifting through the air.
PLAN YOUR HOLIDAY
Enquire Now
Weather
The best time to visit Grenada
While Grenada does have a dry season (January-May) and a wet season (June-December), it is an island well worth visiting at any time of year.
The dry season virtually guarantees sunshine, averaging temperatures around 28°C. Come the end of March, four species of turtle (hawksbill, leatherback, loggerhead and green) nest on Grenada's north coast until the end of June. If you love a party like the Grenadians do, then pay a visit in May and June, when it hosts both a Chocolate Festival and Music Festival.
The rainy season might sound like a bad time to go on holiday but it's generally good. Tropical showers rarely last more than an hour at a time and barely every day, even if they are more frequent than in the 'dry' half of the year. While not immune to hurricanes, Grenada sits south of the common cyclone path during the traditional hurricane season so it dodges a large portion of them. August sees Grenada's greatest celebration, Spicemas Carnival, where steel pan orchestras, calypso bands and soca competitions entertain local and visitors alike.
Travel Guide
Grenada travel essentials
Do I need any vaccinations for Grenada?
No vaccinations are recommended for Grenada but it is regarded to have a risk of contracting the Zika virus. However, please consult your GP at least four to six weeks prior to travel for current advice.
What is the time difference between Grenada and the UK?
The time difference is GMT -4 hours.
How long is the flight to Grenada?
The flight time from London to St George's is around 11 hours. British Airways flies three times a week with a quick touchdown in Saint Lucia, and Virgin Atlantic flies up to three times a week with a touchdown in Barbados.
What is the currency in Grenada?
The currency is the Eastern Caribbean dollar, although US dollars are also widely accepted.
Do I need a visa for a holiday in Grenada?
British passport holders don't need a visa to travel to Grenada.
Specialists
Meet our Grenada specialists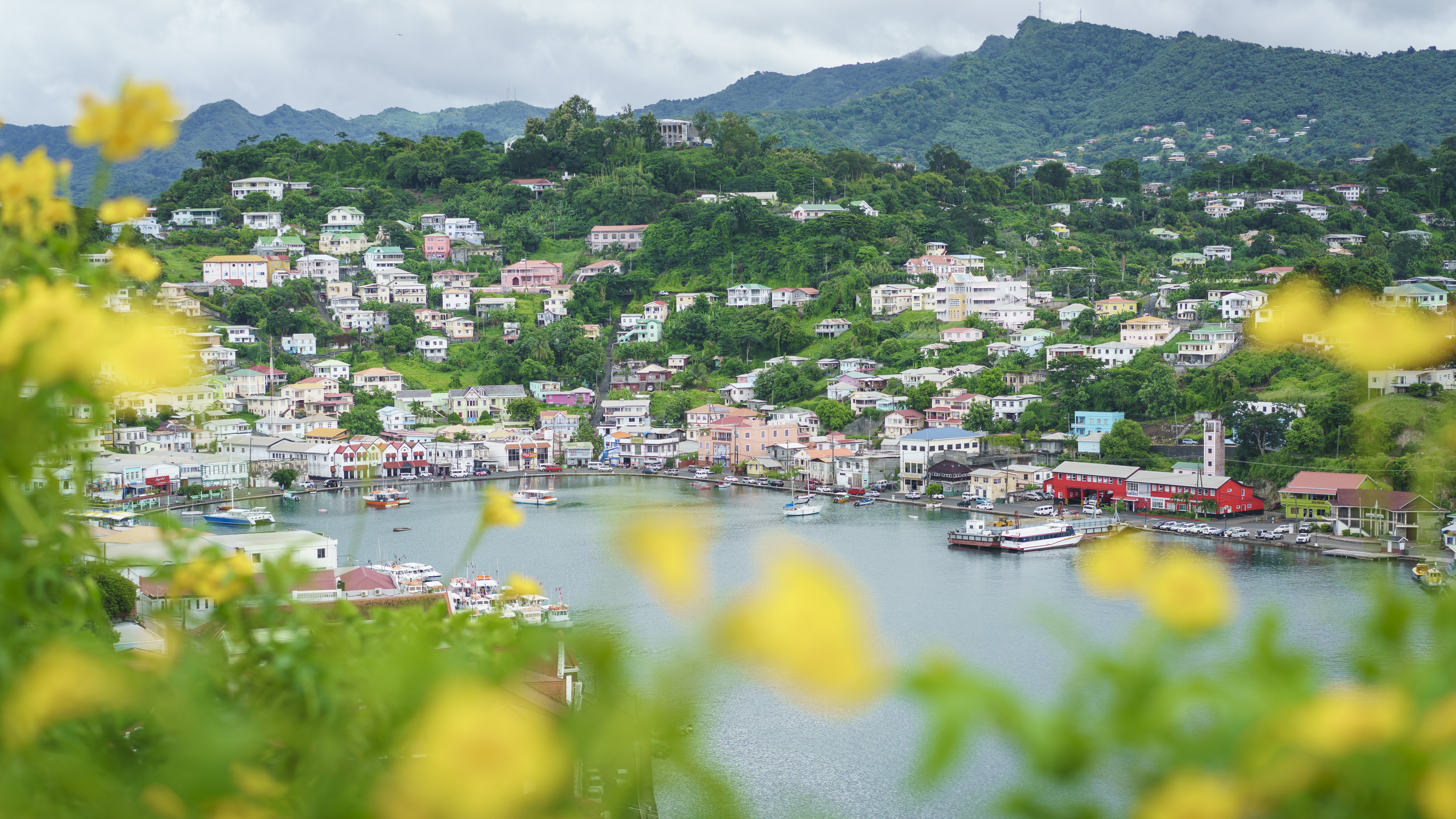 Grenada inspiration
CANVAS
Head to our blog CANVAS for more inspiration, insider secrets and diaries from our team on Grenada,
Stay in touch
Sign up to our newsletter for the latest news and offers
Cookies
Our website uses cookies. Click accept to receive all cookies or change your cookie settings. You can also view our Privacy Policy to understand more about how we use cookies.
Privacy Policy