Travel essentials
Maldives Travel Advice
Whether it's the best time of year to visit or how long a direct flight is, our Maldives travel advice will make sure you're prepared for your island escape in the sun. We've done the hard work for you, so you can enjoy your time in this Indian Ocean paradise.
We can't travel right now but there's nothing stopping you from planning your tropical escape to the Maldives. For more information or if there's anything else you'd like to know about the Maldives, then give us a call. If you're ready to book your holiday with us then enquire today.
Weather
Best Time to Visit the Maldives
The Maldives is a year-round destination, with temperatures hovering around 30°C throughout the year.
November to April is the best time to visit the Maldives. It has the perfect trio of minimal rainfall, low humidity and clear skies, while the waters are calm and clear, making it the optimum time for snorkelling and diving. For those interested in snorkelling with manta rays and whale sharks, then October to April is the best time to go to the Maldives, at the Ari Atoll in particular. They can be also be spotted in the plankton-rich waters at the Baa Atoll in Hanifaru Bay between May and October – for more information and advice, get in touch with one of our travel specialists.
May to October sees a little more tropical rainfall, but there's still plenty of sunshine hours to enjoy. Storms can be a risk but they're uncommon and water visibility can be slightly poorer due to the presence of plankton. With so much fine weather still to be had, cheaper hotel rates make this period of the year great value if you wish to visit then. We love May and the end of October at either end of the 'wet' season, as they offer remarkable value with endless days of sunshine and a smaller price to pay!
The capital of the Maldives is Malé, where the international airport is also based.
The direct flight time from London to Malé is around 10 and a half hours.
The currency in the Maldives in the Maldivian rufiyaa, although US dollars and credit cards are widely accepted.
The time difference in the Maldives is GMT+5 hours.
British passport holders do need a visa for the Maldives, but this is issued free of charge when you arrive in Malé. You'll also need six months validity on your passport from your departure date.
In the Maldives, seafood is adored by locals. A wide selection of fresh, barbecued and smoked fish dishes, as well as lobster, dominate menus in resorts – they're locally caught staples and extremely tasty. Despite a ban on alcohol in the Maldives, it is allowed in resorts.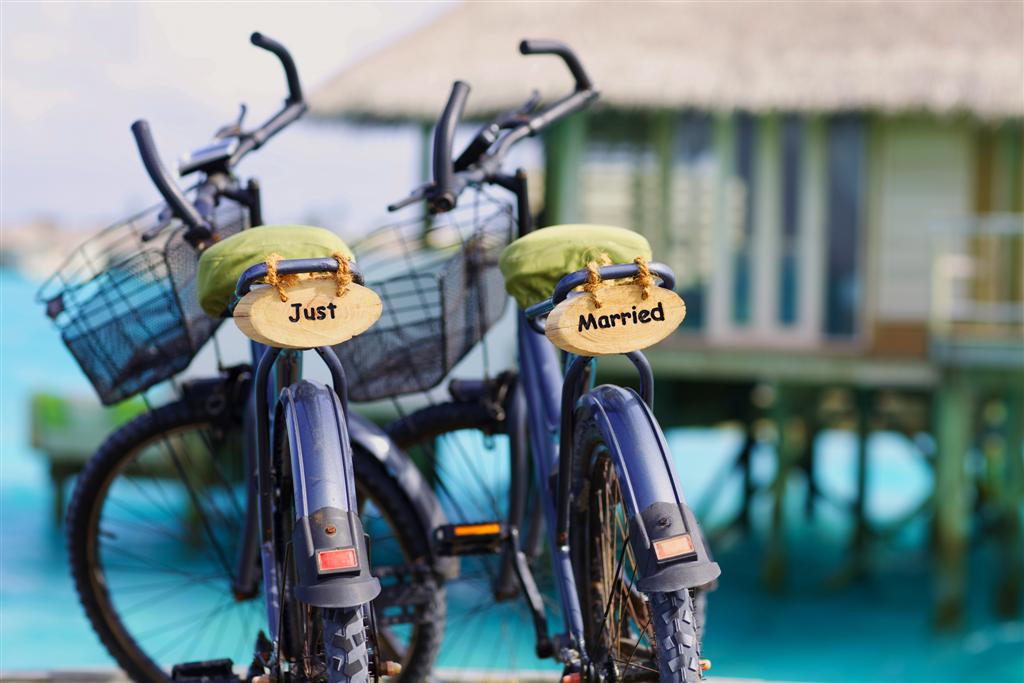 Getting Around the Maldives
When you arrive in the Maldives, your onward transfer will depend on where you're staying. In most instances, you'll take a speedboat ride or hop on a seaplane (the latter is a spectacular way to see the Maldives from above) to your island hideaway. But for further-flung resorts, you might need a domestic flight, followed by a speedboat – though trust us, the long journey will be completely worth it. Once you're at your island paradise, the fastest you'll be tempted to go is a leisurely pedal on a complimentary bicycle from your resort!
Local information
Learning the Language
Even though you'll easily get by with English in the Maldives, locals will always appreciate anything spoken to them in their language, Dhivehi. Here are a few words and phrases to impress them when you're there!
Hello
Assalaamu alaikum
Goodbye
Dhanee
Good morning
Ba'ajjeveri hendhuneh
Good evening
Ba'ajjeveri haveereh
Yes
Aan
No
Noon
Thank you
Shukuriyaa
Resorts
Our Recommended Stays
Accessories like hats, sun cream and sunglasses are essential for a holiday in the Maldives. If possible, we'd recommend buying reef-safe sun cream, which is free from coral-damaging chemicals. It's worth remembering that even on an overcast day, the tropical sun is still strong.
Even though malaria isn't a risk in the Maldives and the presence of mosquitoes isn't too bad, we'd still recommend packing some insect repellent, just to be sure.
This isn't safety advice as such, but please be mindful if you're thinking of visiting a local island during your holiday. The Maldives is an Islamic country, so please dress respectfully and conservatively if you're heading to local villages on a day trip.
Please note that it is illegal to take any alcohol into the Maldives. If you do, it will be confiscated as soon as you arrive into the country.
As soon as you book your trip to the Maldives, we'd strongly advise you take out comprehensive travel insurance. We can offer special rates through our partner, Campbell Irvine, who can also provide specialist Covid-19 cover.
Why Turquoise Loves...
Maldives
"One of the most beautiful locations in the world, the Maldives offers luxurious accommodation with world–class food and service, amazing marine life and plenty of activities to suit every pace from yoga to surfing. There truly is an island to suit everyone – let us help you choose the right one for you!" Lisa Mason, Indian Ocean Product Manager
Stay in touch
Sign up to our newsletter for the latest news and offers
Cookies
Our website uses cookies. Click accept to receive all cookies or change your cookie settings. You can also view our Privacy Policy to understand more about how we use cookies.
Privacy Policy