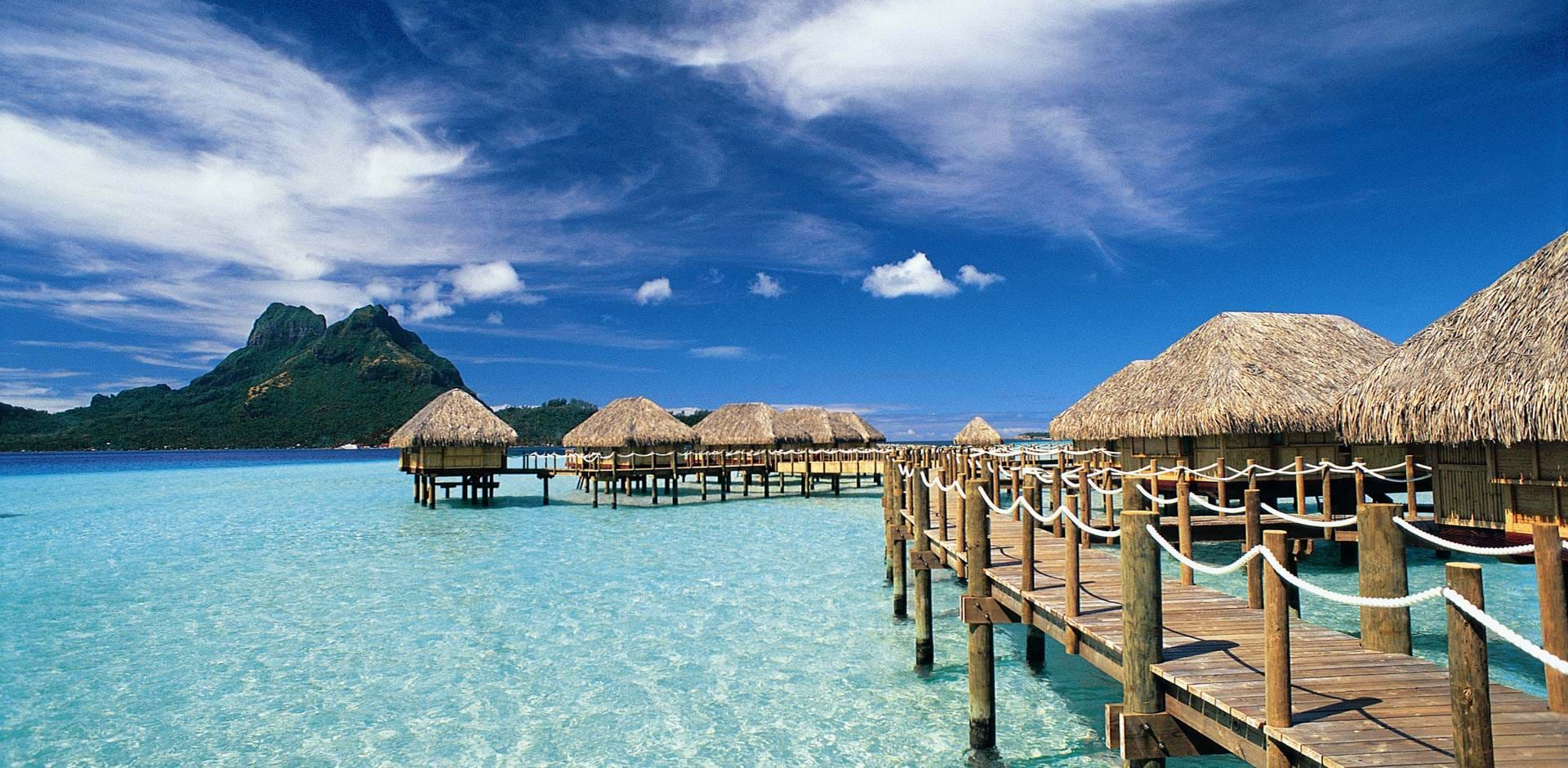 Water Villas
Overwater Bungalow Honeymoons
When you're dreaming of an idyllic honeymoon resort, your romantic retreat from the rest of the world, does an over the water bungalow perched above the turquoise ocean sound like your idea of paradise? If so, you're not alone; staying in an overwater bungalow on your honeymoon is incredibly popular with loved-up couples and if you're headed on a tropical holiday, they're practically a honeymoon staple.
Set on stilts above the ocean and linked by raised walkways to the mainland, overwater bungalows offer privacy, great views and the fantastic experience of stepping straight down from your terrace into the water. Everything about them whispers 'tropical paradise' – after all, you'd never find them in the UK and if you did, you'd hardly want to stay in one. So, where do you find these idyllic rooms? A honeymoon in the Maldives or the South Pacific, which are the two hottest destinations for overwater bungalows, will also offer a mix of traditional beach rooms and suites as well. However, do not discount a honeymoon in Indonesia, a honeymoon in Malaysia, a honeymoon in Cambodia as these destinations also offer this sought after overwater experience!
The downside of these stilted suites is that by-and-large they are more expensive than land-based rooms. This has nothing necessarily to do with size or amenities, just their position and the novelty of 'living' above the water. Beach lovers may also miss the feel of sand between their toes as they step out their front door or the chance to lounge in a hammock directly on their porch. And, for safety reasons, they're also not advised for couples bringing a baby or small child on honeymoon with them.
If your heart is set on a honeymoon on stilts, but your budget won't permit two weeks of over water living, you could always split your stay. Book a beach room for the majority of your stay and an overwater bungalow for three or four special days at the end of your trip. This gives you the best of both worlds and hopefully spares a few pennies in the process.
Don't forget to check out the details of our Honeymoon gift list service, which allows friends and family to contribute towards travel experiences as well as the more traditional gift list items, all in one place. A complimentary service for all Turquoise honeymoon couples and looked after by a full time team, it's just one of the ways we can ensure your dream honeymoon, becomes a reality.
Destinations
Where to go for an overwater bungalow honeymoon
Travel guide
Overwater bungalow honeymoon FAQ
What is an overwater bungalow?
As their very name implies, overwater bungalows are one-storey buildings perched over the water, usually on stilts. They're usually connected to a main boardwalk which links the bungalows to the mainland or island resort they're part of. They might also be called water villas, a term which has been adopted for larger overwater accommodation suitable for families or rooms with more than one storey.
Are overwater bungalows and honeymoon huts the same?
Yes they are. The phrase honeymoon hut is more of a nickname for the overwater bungalow, as over the years they've become most associated with honeymooners.
What are the best honeymoon resorts with overwater bungalows?
Which honeymoon resort has overwater bungalows with a slide?
You're referring to Soneva Jani! The slides take you directly into the beautiful turquoise lagoon beneath your overwater bungalow and they definitely add a sense of fun to your stunning location.
The incredible Bawah Reserve in Indonesia, also has a residence with a slide into an over water pool with decking area, at the Elang Private Residence.
Can you stay all-inclusive on an overwater bungalow honeymoon?
It depends on where you're planning to go on your honeymoon. However, in most cases the answer is yes. The Islands of Tahiti is the exception to the rule, with no all-inclusive resorts across any of its islands. Unless you're planning to eat and drink a lot, we'd advise considering going on a half board basis if you want to honeymoon here, especially if you have a tighter budget.
Are overwater bungalow honeymoons worth it?
We definitely think so! Granted, they are at a more premium price point compared to the beachfront options you can also get at most resorts, but we believe the extra cost is absolutely worth it. They're completely different to anywhere else you would have stayed before – where else will you have a transparent floor you can look through and watch the tropical marine life beneath? Your honeymoon is meant to be the most special holiday of your life and a stay in an overwater bungalow is one of the most unforgettable experiences you'll ever have. If you have a strict budget but still want to try and squeeze in a stay in an overwater bungalow, consider splitting your time between the beach and overwater, as this will bring the cost of your honeymoon down.
Overwater Heaven
Our top honeymoons with Overwater Bungalows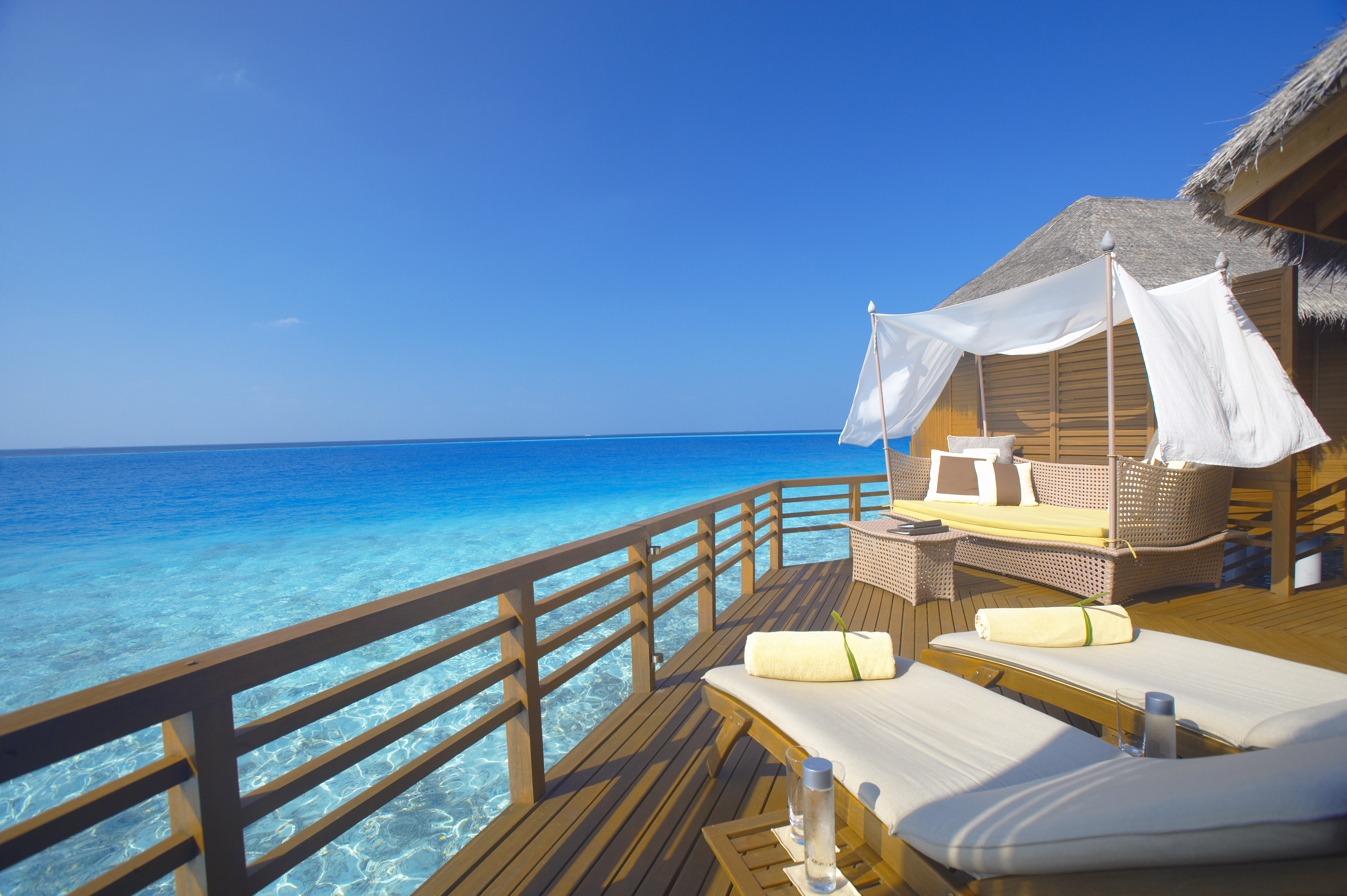 View Our Top Honeymoon Offers
The Maldives, Bora Bora and more!
Stay in touch
Sign up to our newsletter for the latest news and offers
Cookies
Our website uses cookies. Click accept to receive all cookies or change your cookie settings. You can also view our Privacy Policy to understand more about how we use cookies.
Privacy Policy