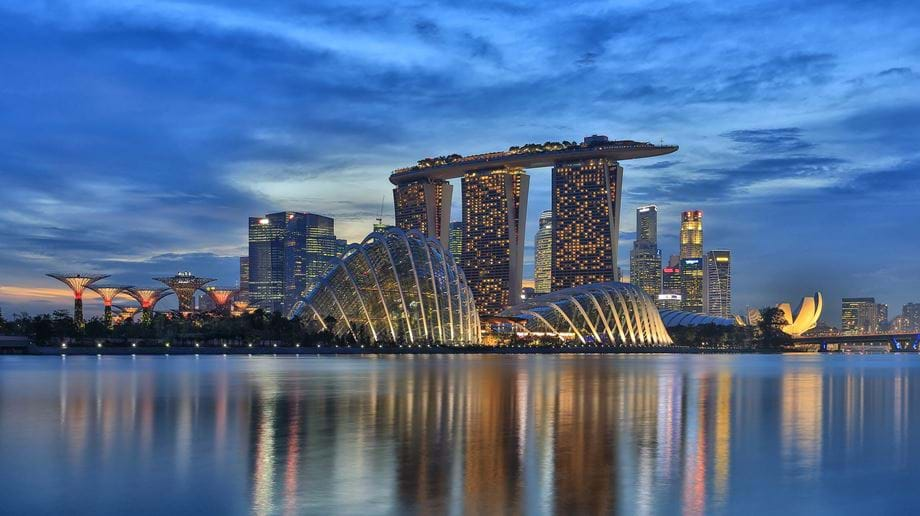 Singapore is a blur of history and high-tech
Overview
Holidays in Singapore
Modern, multi-ethnic and impossibly immaculate, Singapore has become one of Asia's most enthralling cities, making it an ideal stopover on a luxury holiday. It's an island state that's a combination of two different eras of time and a walk along its squeaky-clean streets tells you how smoothly blended history and high-tech is here.
Its glitzy architecture is like something from the future, the tri-towered Marina Bay Sands a national icon. Singapore is also a shoppers' heaven and Orchard Road is its Fifth Avenue, overflowing with a seemingly infinite number of malls. But it's more than a metropolis made of metal and glass and leafy areas like the UNESCO-listed Botanic Gardens and Gardens by the Bay make Singapore one of the planet's greenest cities.
Among its state-of-the-art skyline runs a subcurrent of antiquity and around each corner you'll stumble across old-world markets, temples and shophouses that are nods to its mix of Chinese, Malay and Indian heritage. A place that lives for its food, cuisine mirrors Singapore's culture, with its legendary hawker centres home to sumptuous street food and fine-dining establishments never in short supply.
Attractions like Singapore Zoo, its pioneering Night Safari and the entertainment island of Sentosa are fun escapes for families and couples alike, another ingredient in the endless box of wonders we call Singapore.
Experiences
Singapore highlights
Singapore's skyline is just too good not to soak up from up high with a drink in hand. The Cé La Vi Restaurant and Sky Bar atop the Marina Bay Sands is a bucket-list option for most people and its dreamy front-row views of Singapore's futuristic marina one side and the Gardens by the Bay on the other are incredible. If you want a view of the iconic hotel itself, though, 1-Altitude at the summit of One Raffles Place is the loftiest watering hole in Singapore, while LeVel33 is the world's highest microbrewery. Cheers!
Visit Singapore's gorgeous gardens
Even though Singapore is tiny, its beautiful green spaces make it feel like a Tardis – far bigger than how it appears on a map. The Singapore Botanic Gardens, the only tropical gardens to be named a World Heritage site, is a lush wonderland of lakes, sculpted lawns, thick rainforest and themed gardens and are the city's lungs. Its star attraction is the National Orchid Garden, where over 1,000 species of the flower blanket every inch of its landscaped splendour. At the city's Marina, the Gardens by the Bay fuses futuristic touches with natural beauty. Its space-age Supertrees are iconic images of the city, twinkling in kaleidoscopic colours come the evening for its nightly Garden Rhapsody show. The equally eye-catching biodomes house floral displays mimicking the Mediterranean and the tropics.
Explore the many wildlife parks
As well as its green spaces filled with flora, Singapore has plenty of wildlife hotspots, too. Jurong Bird Park is a great place for families, with children fascination with its array of feathered friends, including macaws and lorikeets. Singapore Zoo combines spacious enclosures filled with wildlife like white tigers and baboons with gorgeously landscaped gardens bursting with eye-popping flora, while its sister park, the Night Safari, provides a unique after-dark experience where a combination of trams and walking trails afford close-up glimpses of wildlife. They're brilliantly fun days out for both couples and families alike.
Head to the island of fun
Singapore's satellite isle Sentosa Island was built for fun. Across its entirety lies a world-class selection of theme parks and amusements, including the thrilling rides at Universal Studios, an enormous waterpark and a wealth of marine life at SEA Aquarium. Every square inch is covered with entertainment and you could easily lose at least a day or two here. Even the route into the island is fun, with the option of a cable car rewarding you with fine aerial views of both Singapore's dramatic skyline and Sentosa itself. It's ideal for children and kids at heart, with the island fringed with golden beaches and studded with cool bars.
The most famous cocktail in town, the Singapore Sling has garnered something akin to celebrity status in the 100 years or so it has been drunk. Created by Raffles Hotel barman Ngiam Tong Boon, having a glass of the gin-based cocktail has become a must-do experience while you're on holiday in Singapore. Of course, the iconic place to sip a Sling is at the colonial-inspired hotel's Long Bar.
Accommodation
Where to stay in Singapore
Singapore is a city that firmly has one foot in the future and another rooted in the past. Its range of places to stay mirror the city's image, with historic hotels like Raffles, The Warehouse and The Fullerton rubbing shoulders with more modern offerings like The Fullerton Bay and the eco-friendly Parkroyal on Pickering. They're like little oases away from the city buzz.
Weather
The best time to visit Singapore
Less than 100 miles from the Equator, Singapore is hot and humid throughout the year. Daily temperatures are consistent, staying around 27°C.
Though the thermometer stays the same, rainfall during Singapore's year varies far more greatly. It experiences two rainy seasons, with the Northeast Monsoon occurring from November through to March, when temperatures start to dip (slightly). Showers can last for long periods of time, although most are only short and sharp.
The Southwest Monsoon is from June to September. June and July are Singapore's hottest and (oddly) driest months, with temperatures often around 30°C. These months can get quite hazy, too, with prevailing winds bringing over smoke from yearly forest fires in Sumatra. Despite the increased threat of rain, June to August can be a good time to plan a holiday to Singapore, especially for lovers of cuisine and shopping, as the city's annual Food Festival and Great Singapore Sale bring a buzz.
Rain can still fall during the rest of the year but it's often in the form of quick showers in the afternoon. On its hottest days, we'd recommend doing Singapore's outdoor attractions either in the morning or late afternoon and taking refuge in the air-conditioned shopping malls during the midday sun.
Travel Guide
Singapore travel essentials
Do I need any vaccinations for Singapore?
Hepatitis A, Typhoid, Polio and Tetanus-Diphtheria vaccinations are currently recommended and Singapore is deemed to have a risk of the Zika virus. If you're entering Singapore from a Yellow Fever zone, possession of a valid Yellow Fever inoculation certificate is required. For any current travel health advice, you should seek guidance from your GP at least four to six weeks prior to travel.
What is the time difference between Singapore and the UK?
The time difference is GMT +8 hours.
How long is the flight to Singapore?
The flight time from London to Singapore is 12 hours.
What is the currency in Singapore?
The currency is the Singapore dollar.
Do I need visa for a holiday in Singapore?
British passport holders don't need a visa to visit Singapore.
Specialists
Meet our Singapore specialists

Singapore inspiration
CANVAS
Head to our blog CANVAS for more inspiration, insider secrets and diaries from our team on Singapore.
Stay in touch
Sign up to our newsletter for the latest news and offers
Cookies
Our website uses cookies. Click accept to receive all cookies or change your cookie settings. You can also view our Privacy Policy to understand more about how we use cookies.
Privacy Policy