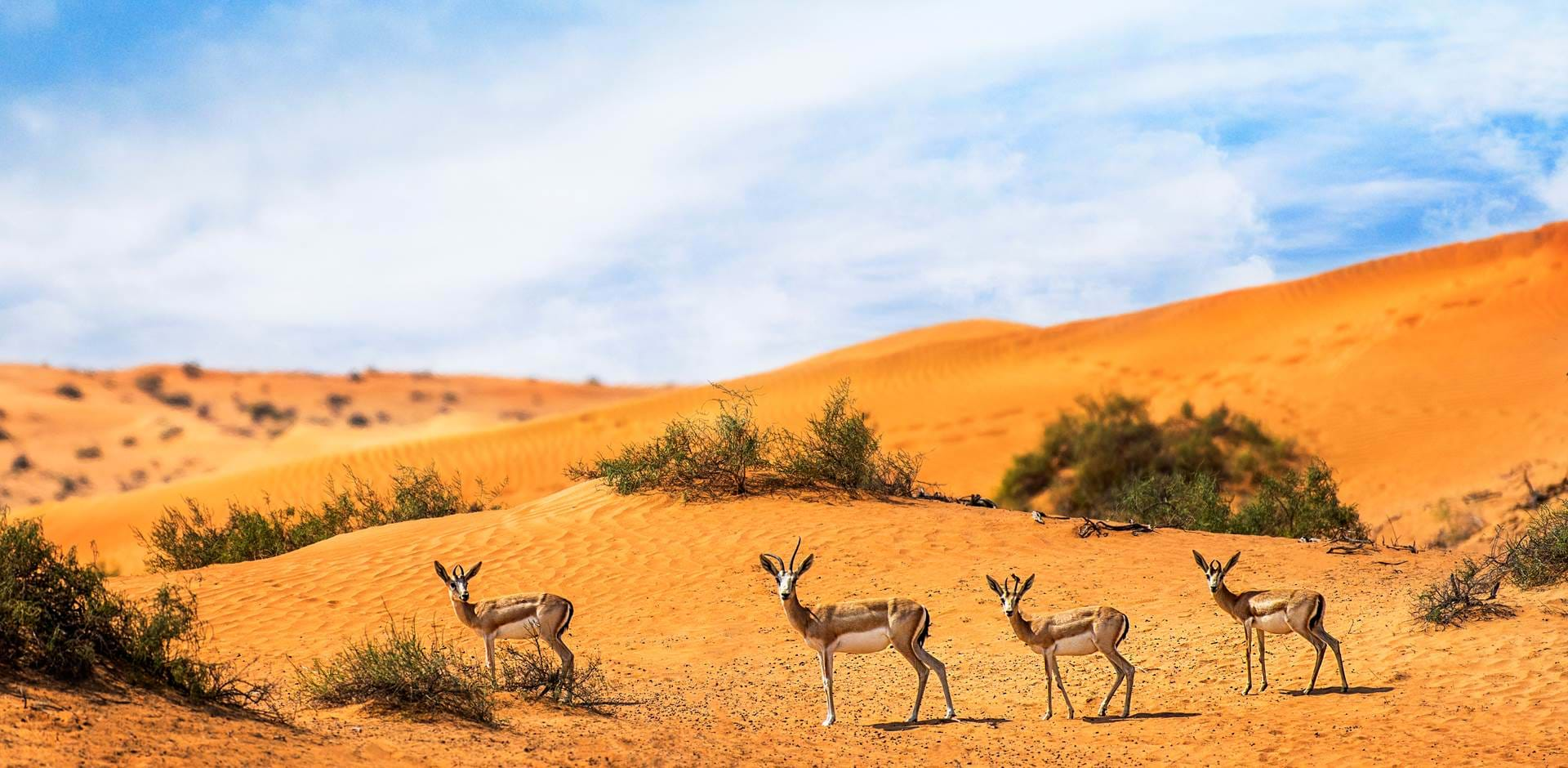 Middle East
Ras Al Khaimah
With sweeping sands, copper-tinted dunes and craggy mountain ranges, Ras Al Khaimah is the United Arab Emirates at its wildest. It's worlds away from hectic Dubai and Abu Dhabi, so if you're looking to mix peace and tranquility with a raw sense of adventure, then a holiday to Ras Al Khaimah has the best of both.
The emirate's warm, unspoilt beaches are lapped by the bath-like waters of the Arabian Sea. It's a coastline that feels very untouched, lacking the modern architecture that lines the shores of its city sisters and offering a slice of serenity where you really can get away from it all.
But natural drama is where Ras Al Khaimah really excels. The sun-baked crimson dunes and pockets of green oases of Al Wadi are an epic scene that Lawrence of Arabia probably once explored, which offer a unique glimpse into traditional Bedouin culture and falconry. The desert is framed by the rocky Hajar Mountains, with the majestic Jebel Jais – the UAE's highest peak – surrounding by snaking valleys and rocky pools. It's an adventure park for adrenaline-seekers, the rugged terrain webbed by walking trails and even hides the planet's longest zip-line. Whether you're after a fast-paced luxury trip or you just want to chill, a Ras Al Khaimah holiday has something for everyone.
Experiences
Ras Al Khaimah highlights
The rippling dunes of Ras Al Khaimah's heart are a classic Arabian landscape, conjuring visions of Lawrence of Arabia, nomadic Bedouin travellers and desert oases shimmering on the horizon. Staying in the middle of this sandy landscape is a true desert adventure and if you stay at the Ritz Carlton Al Wadi Desert, then you'll be able to do it in style. Each villa has been inspired by its surroundings, either as a stone structure or in the style of a billowing Bedouin tent – with a luxury twist. Daily falconry shows allow you a glimpse of the UAE's heritage and love for its national bird, while camel riding means you can traverse the dunes in traditional fashion.
Few golf courses can offer as spectacular setting as those found in Ras Al Khaimah, each framed by the magnificent Hajar Mountains and barren desertscapes. With a stay at the Waldorf Astoria, two fine championship courses are on your doorstep in Al Hamra Golf Club and Tower Links Golf Club. With a pair of excellent courses, it would be rude not to pack your clubs!
For a rejuvenating oasis, The Rainforest spa at the Ritz Carlton Al Wadi Desert helps completely refresh you in the middle of the Arabian desert. Combining European hydrothermal culture with bathing rituals from Javanese, Egyptian and Thai traditions, you can really cleanse your body. Each treatment has its surrounding desert landscape in mind, so you can really feel at one with nature.
Adventure-filled activities
If Dubai is the UAE's futuristic heart then Ras Al Khaimah is its centre of adventure. There's no limit to the ways you can explore the rugged beauty of the Hajar Mountains, with guided walks and cycle routes making the most of the stony paths which web its otherworldly terrain. For those who want something a little more extreme, a via ferrata route navigates the slopes of the country's highest peak, Jebel Jais, while the mountains zip-line, the world's longest at nearly two miles, offers a thrilling perspective over the entire range. For family holidays to Ras Al Khaimah, you can go go-karting on the excellent RAK Track or try one of the many water sports you can enjoy on its coastline, including sailing, jet-skiing and wakeboarding.
By car, Ras Al Khaimah is only 90 minutes to the centre of Dubai, so it's easy to combine the two. Swap the beaches of Ras Al Khaimah for the futuristic skyscrapers of Dubai for an afternoon, taking in the eye-popping views from atop the cloud-baiting Burj Khalifa, the tallest building in the world. You can go shopping or treat the children to the many entertainment options in The Dubai Mall and spend your evenings in one of the many bars and restaurants, before enjoying the spectacular fountain show in Downtown Dubai. Whether it's just a day or splitting a week between the two, you can easily twin Dubai with Ras Al Khaimah on your holiday.
Accommodation
Where to stay in Ras Al Khaimah
Ras Al Khaimah is filled with landscapes which feel like those experienced by Lawrence of Arabia. Set in the heart of rolling dunes, the Ritz-Carlton Al Wadi Desert is your ticket to staying among its rust-red deserts and lush oases but if you'd prefer a more traditional beach escape, the Waldorf Astoria Ras Al Khaimah fronts an excellent beach, with the rugged Al Hajar Mountains on the horizon behind.
PLAN YOUR HOLIDAY
Enquire Now
Weather
The best time to visit Ras Al Khaimah
Ras Al Khaimah, and the United Arab Emirates in general, only really has two climates: hot and hotter. The emirate is treated to year-round sunshine and little rainfall and whatever time of year you visit Ras Al Khaimah, sun cream and plenty of water is essential, as the UV rays are particularly strong in the UAE.
November to March is the 'coolest' time of year to visit Ras Al Khaimah, with daytime temperatures hovering around the mid-20s (degrees Celsius). This is the most popular time of year to visit, as the days are comfortable enough to enjoy the adventurous activities in Ras Al Khaimah and plenty warm enough if you just want to chill on the beach. Come night-time, temperatures can drop as low as 12°C, making for pleasantly cool evenings.
From March, the mercury really begins to rise, with June to August in particular seeing scorching temperatures that are regularly in excess of 40°C, coupled with high humidity. We wouldn't recommend exploring outside, especially any strenuous activity in the Hajar Mountains or desert, due to the boiling temperatures and potential for dust storms. If you do plan to visit Ras Al Khaimah during this time, opt for the coast as the sea breeze will counter the extreme heat, making for slightly cooler (though still hot) temperatures. Your air-conditioned hotel (which will offer much better value for money at this time of year) will also offer welcome respite from the heat.
Travel guide
Ras Al Khaimah travel essentials
Do I need any vaccinations for Ras Al Khaimah?
No vaccinations are currently recommended for Ras Al Khaimah. For current travel health advice, you should seek guidance from your GP at least four to six weeks prior to travel.
What is the time difference between Ras Al Khaimah and the UK?
The time difference is GMT +3 hours.
How long is the flight to Ras Al Khaimah?
There are no direct flights from the UK to Ras Al Khaimah. However, it's easily reachable via a direct flight to Dubai from London (seven hours) and then a short road transfer, around 90 minutes.
What is the currency in Ras Al Khaimah?
The currency is the United Arab Emirates dirham.
Do I need visa for a holiday in Ras Al Khaimah?
British passport holders need a visa to visit the United Arab Emirates and this is issued free of charge upon arrival.
Specialists
Meet our Ras Al Khaimah specialists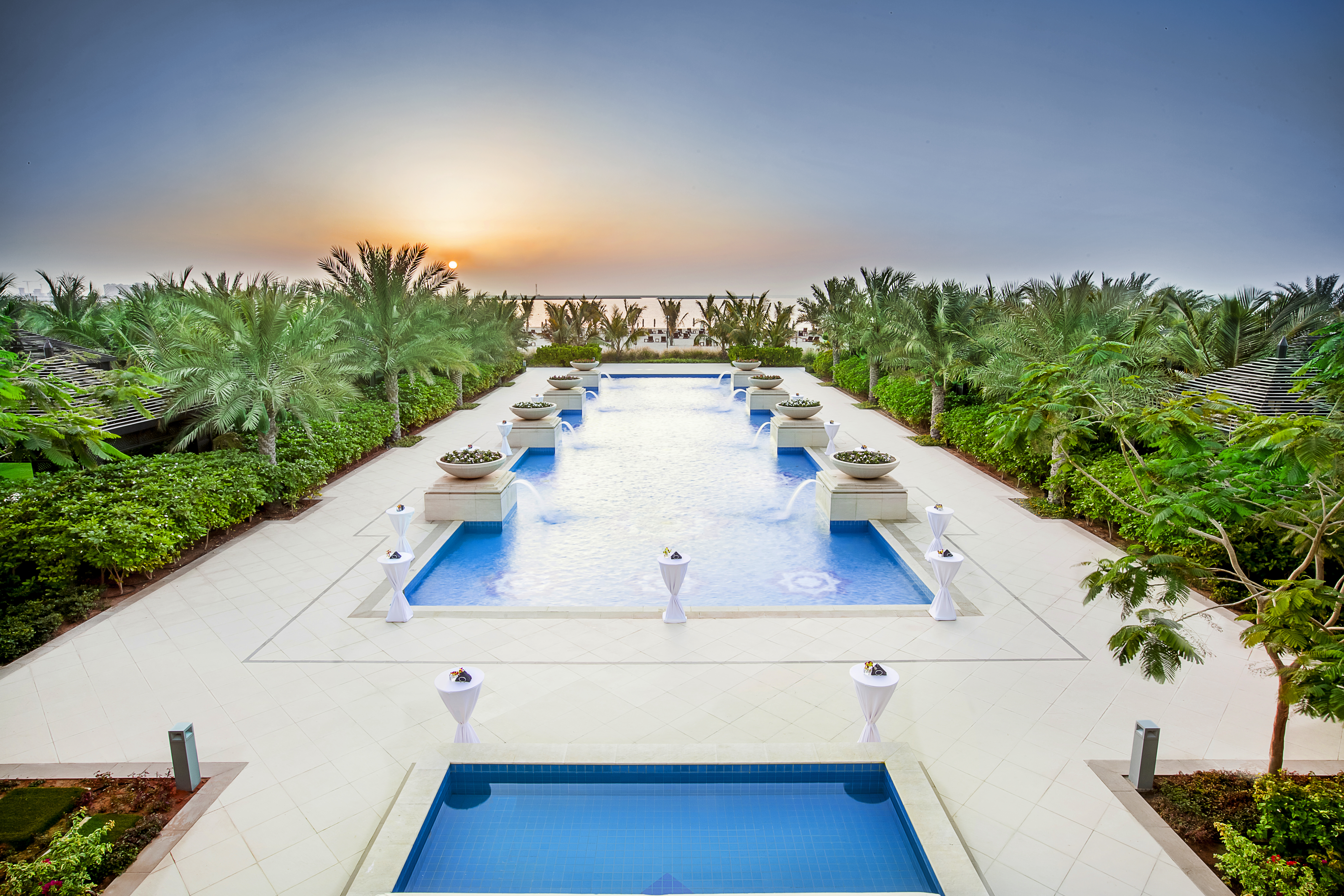 Ras Al Khaimah inspiration
CANVAS
Head to our blog CANVAS for more inspiration, insider secrets and diaries from our team on Ras Al Khaimah.
Stay in touch
Sign up to our newsletter for the latest news and offers
Cookies
Our website uses cookies. Click accept to receive all cookies or change your cookie settings. You can also view our Privacy Policy to understand more about how we use cookies.
Privacy Policy