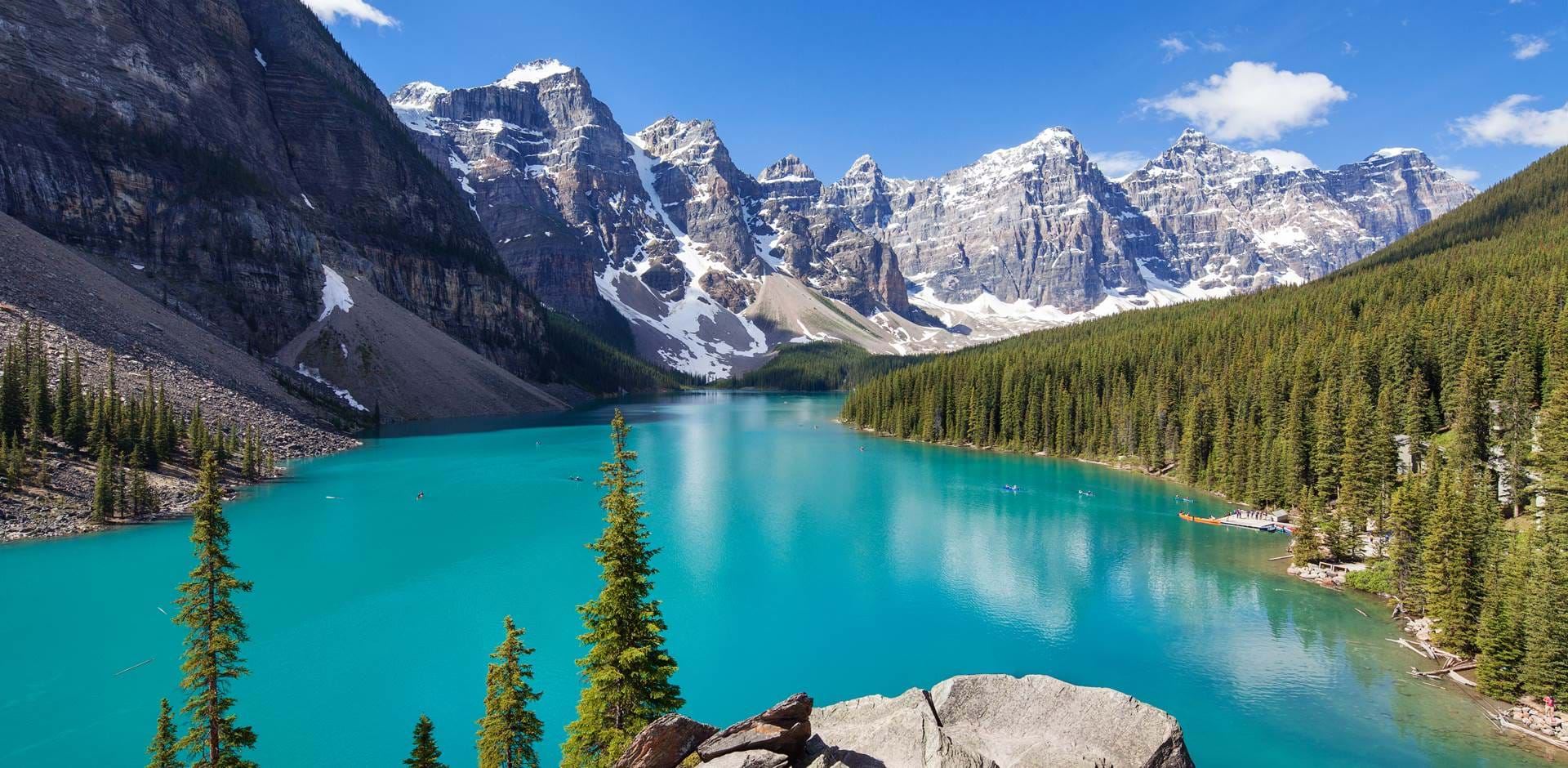 North America
Holidays in Canada
The country where the only thing that's bigger than your imagination are the landscapes. It's the second-biggest country by area, so nature's muscles have ample room to flex, tone and grow to their ultimate majesty.
The snow-dusted mountains, milky blue lakes and thick taiga forest are beefy in size but also big on beauty, all of which can be explored by plane, train and automobile. Each offers box-office views in wild corners of Canada like the national parks of Jasper and Banff in Alberta.
Neighbouring British Columbia is similarly blessed with scenic splendour. If you go down to its woods one day you're sure of a spectacular surprise, for this is prime bear country and a selection of remote lodges (they'll pack the teddy bear's picnic for you) allow you nose-to-snout encounters. Whistler's mountains are picture-perfect peaks, both for sunny summer hiking and as a premier ski destination, and coastal Vancouver drips with effortless urban cool and hip culture. It's both city break and base for the wilderness beyond, such as Vancouver Island and tiny Tofino, which promise laid-back charm, ancient rainforest and whale-watching.
Beyond western Canada, Ontario is another postcard-worthy province. It's home to a quarter of a million lakes, a healthy wedge of which bejewel Algonquin Provincial Park, and Toronto is a multi-cultural lakeside gem. The raw power of Niagara Falls will blow you away, too – rather like the rest of Canada.
Experiences
Canada Highlights
A holiday to Canada would not be complete without a touch of the great outdoors. From the Great Bear Rainforest in British Columbia to the towering peaks of the Rockies in Alberta, the polar bears of Manitoba or the magnificent Niagara Falls in Ontario, a run-in with nature is guaranteed on every Turquoise holiday to Canada. 
For those who love to get the blood pumping, Canada is a playground for all ages. Hiking is available in every direction, as is kayaking, climbing, skiing, snowboarding, swimming and sailing. You name it and you can do it in Canada. 
Often described as the lungs of the Earth, Canada has more trees than anywhere else in the world, a longer coastline than any other country and endless mountains, lakes and rivers to enjoy. Canadians love a summer's day relaxing by a lake, or a winter's day skating on the lake! There truly is nowhere better to cool off from a mountain hike than in a turquoise blue, glacier-fed lake. 
There are so many different ways to explore Canada, but trains and planes are two of the best. Ditch the car and hop aboard the sleeper train from Vancouver to Jasper. A night of pure delight awaits as you weave and wind your way through British Columbia, waking to the snow-capped peaks of the Rocky Mountains beyond. If you're visiting the Great Bear Rainforest, why not arrive by seaplane and experience the true vastness of Canada's remote wilderness below. 
Snow lovers rejoice! Canada offers some of the finest ski and snowboarding conditions in the world. From December through to March, enjoy front and back country skiing and whether you traverse the landscape by gondola, cat (vehicle with a caterpillar track), helicopter or foot, the terrain is amazing for all levels. For families, Whistler could not be a better place to visit. Owned by Vail Resorts, there are endless family activities to enjoy together on and off the slopes. If you're celebrating, splash out on a boutique winter retreat or luxury heli-ski lodge, hidden deep in the west coast mountains. Don't ski? Winter is still an amazing time to visit. Whether for snowshoeing or storm-watching on the west coast of Vancouver Island, you will never run out of things to do. 
Places to visit
Regions in Western Canada
A holiday in Western Canada offers a huge helping of adventure. Hopping around the provinces of British Columbia and Alberta means you can enjoy a broad range of sights to see and places to stay. You can hole up in a bear lodge spotting grizzlies, stay in a smart downtown hotel in the heart of Vancouver and be just steps from the ski slopes of Whistler in a mountain retreat. View all regions >
Travel Guide
Canada Travel Essentials
Do I need a visa for Canada?
British nationals don't need a visa to visit Canada but you will need an eTA (Electronic Travel Authorisation), which you can apply for online here. We recommend organising your eTA at least a month prior to departure, just in case there are any problems with your application. 
What is the time difference between Canada and the UK?
It depends on which province you are visiting. There are six different time zones in Canada. British Columbia is GMT -8 hours, Alberta is GMT -7 hours and Ontario is GMT -6 hours. It's important to take this into consideration if you're combining a number of provinces. Be sure to set your watch correctly on arrival!
What is the currency in Canada?
The currency in Canada is the Canadian dollar. One dollar coins are known locally as loonies and two dollars, toonies. We suggest carrying some cash with you when you visit Canada, although Visa and Mastercard are widely accepted and card payments are accepted almost everywhere. 
Do I need to tip in Canada?
Tipping is part of Canadian culture, especially in coffee shops, pubs, bars and restaurants. The standard amount is 15%, although this is at your discretion of course. Hotels and lodges are less expectant but if you feel you have been provided with exceptional service, tipping is always appreciated. 
Do I need any vaccinations for Canada?
No vaccinations are currently recommended for Canada. For any current travel health advice, you should seek guidance from your GP at least four to six weeks prior to travel.
Weather
Best time to visit Canada
Choosing the best time of year to visit Canada depends on where you are going and what you will be doing! The below weather chart shows Canada's summer months, when wildlife-watching is at its peak and the sun is most likely to be shining. However, if it's the cold and snow you are looking for, the ski season runs from December through to April. The coldest months and best snow conditions are usually enjoyed in January and February. For fairweather skiers, March and April are the months to visit. 
Summer in Canada
Winter in Canada
PLAN YOUR HOLIDAY
Enquire Now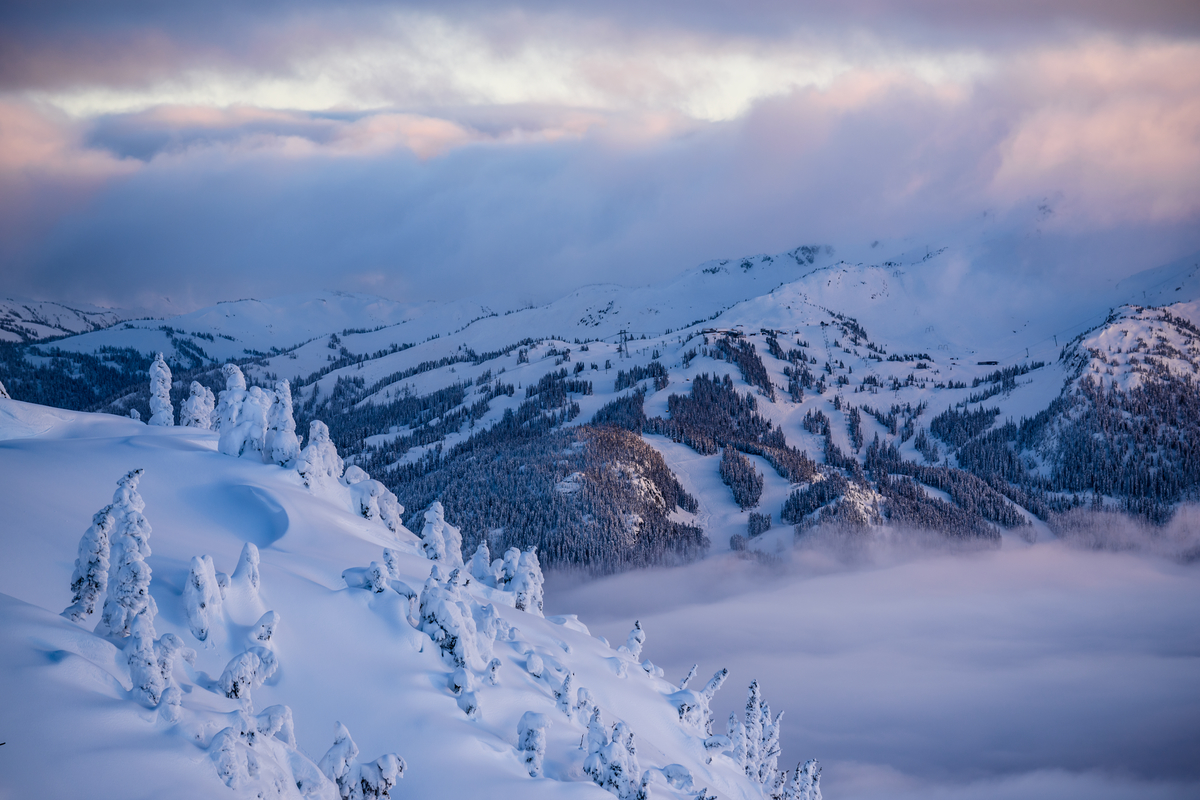 Winter Holidays In Canada
TURQUOISE TURNS WHITE
The west coast mountains of British Columbia and the Rocky Mountains of Alberta offer some of the best skiing and snowboarding in North America. Whatever your ability, Canada offers a winter wonderland to explore, enjoy and learn in. From heli-ski lodges to boutique hotels and family retreats, Canada should be on every ski junkie's bucket list.
Meet the team
Contact our Canada specialists
Each and every one of our specialists has a passion for Canada which goes beyond the hotel walls, to the top of the mountain peaks and bottom of the valley floors. As a company we hand-pick every partner and visit every hotel, lodge, island and retreat to ensure we can deliver first-hand knowledge and honest, expert advice. From restaurant recommendations to coffee shops and craft breweries, our favourite hikes and sunset spots, experience the real Canada with Turquoise.  
Stay in touch
Sign up to our newsletter for the latest news and offers
Cookies
Our website uses cookies. Click accept to receive all cookies or change your cookie settings. You can also view our Privacy Policy to understand more about how we use cookies.
Privacy Policy