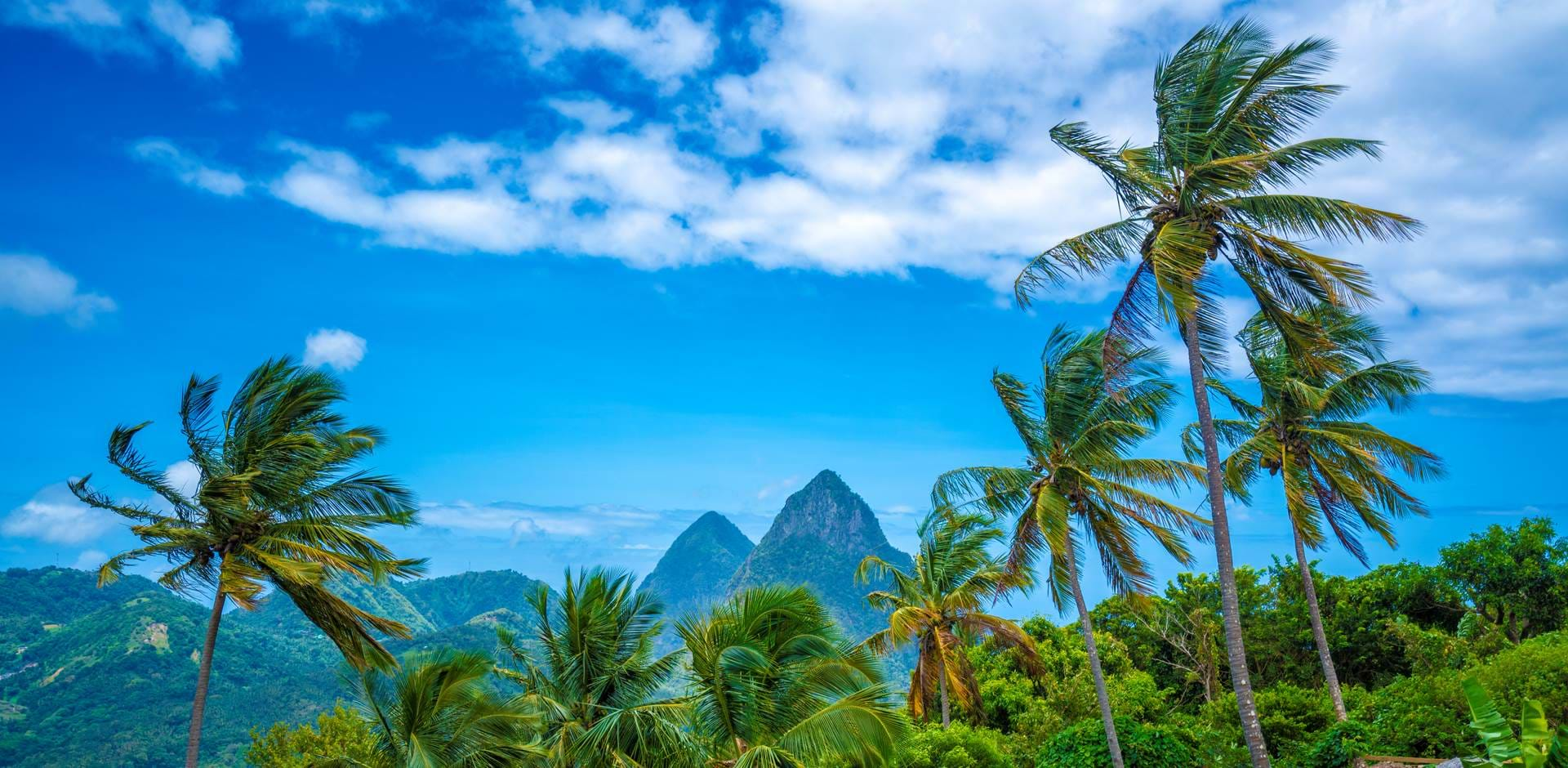 Overview
Holidays in Saint Lucia 2023/2024
After your first glimpse of Saint Lucia, you'd be forgiven for thinking you'd landed on the set of Jurassic Park. It's an island wilder than many of its Caribbean counterparts, dripping in virgin jungle and emerald-wrapped mountains. The giant volcanic spires known as the Pitons stand guard over the island, a pair of parental peaks that have become Saint Lucia's icons.
This stunning isle has become a natural playground for those in search of a shot of adrenaline. Hiking, cycling and zip-lining are all exciting ways of soaking up the surrounding rainforest. Go offshore and Saint Lucia doesn't disappoint with its thrilling marine options, either: kayaking and dolphin-spotting make for great activities above the surface, while the crayon-coloured fish housed in its reefs make for fine snorkelling and diving.
Saint Lucia's fertile valleys are laced with banana and cocoa plantations, the latter a big draw for chocolate lovers. Its primal interior may draw all the plaudits but that doesn't mean there aren't great beaches to be found on the island. They're just tucked away like a selection of slender golden curves hidden by the shade of palms, a delight to anyone who discovers them while on a luxury holiday. Much like the whole of Saint Lucia, really.
PLAN YOUR HOLIDAY
Enquire Now
Experiences
Saint Lucia highlights
It goes without saying – the UNESCO-listed Pitons are the rocky symbols of Saint Lucia. Though the island's jungle interior is webbed with walking trails, a hike to the top of the larger peak, Gros Piton (2,619ft), is the best of the lot. While it's a challenging trek, it richly rewards those who tackle its slopes with the finest panorama of Saint Lucia. Walk through clusters of cacti and palm to the tune of exotic birdsong, the thick jungle spectacularly scored with volcanic rocks held in place by vast root networks. As you ascend, rainforest morphs to scrubland and you emerge onto its summit. What greets you is an epic vista of southern Saint Lucia's lush emerald landscape and tiny green islands floating in the glittering Caribbean Sea beyond. It's a view worth a thousand aching muscles.
Diving and snorkelling near Soufrière
While climbing Gros Piton is an island highlight, you need to go below the surface to appreciate the Pitons' to the full. Underwater, their volcanic slopes are blanketed in vibrant reefs curving down to the sea bed, while tropical fish flit between the coral, their shiny scales twinkling against the sun's rays puncturing the shallows. Despite their proximity, each reef is unique to the next. Superman's Flight is a coral wall dominated by fat fluorescent sponges, Keyhole Pinnacles comprises a quarter of submerged volcanic spires encrusted in coral and Turtle Reef is sometimes visited by its namesake reptiles.
Experience a drive-in volcano
If you're looking for a spa treatment with a difference, then Saint Lucia has it. Billed as 'the world's only drive-in volcano', Sulphur Springs' moniker can appear cheesy at first but it's a fun day out. Not literally a drive-in volcano (although you get pretty close), guided tours take you past the jets of steam escaping from fissures and boiling pools of mud that rule this moonscape. Though an eggy whiff hangs in the air (it comes with the territory), you can take your own mud bath in the pools specially constructed in its geothermal river. The health benefits here are renowned – they say one dip makes you look 12 years' younger…
Join a local street party
There's only one place to spend your Friday nights in Saint Lucia and that's Gros Islet. For much of the week it's a tiny fishing village but once the working week ends, it comes alive with its legendary 'Jump Up' street party. Try a range of local rums and beers to accompany the delicious seafood sizzling on barbecues before bouncing to the reggae beats pumping from giant speakers, dancing the night away with the locals.
Though no longer an island thanks to an artificial causeway, Pigeon Island hides some of Saint Lucia's most important historic sites. Ruins of forts and bunkers scatter the island, legacies of a period when the French once raided passing Spanish ships and then wrestled with the British for control of the country. Marked trails mean they're easy to find and the hill-topped Fort Rodney affords glorious 360-degree views.
PLAN YOUR HOLIDAY
Enquire Now
Accommodation
Where to stay in Saint Lucia
With a lush, wild interior and glorious golden beaches, Saint Lucia is the perfect place for those seeking adventure and relaxation in equal measure. The places you can stay in Saint Lucia allow you to experience Saint Lucia's many faces, whether it's a beach resort fronting palm-studded sand, a retreat located on an emerald hilltop or even a boutique escape tucked within a cocoa plantation.
Weather
The best time to visit Saint Lucia
The weather in Saint Lucia is fairly consistent throughout the year, with temperatures averaging between 28-32°C.
December to March are drier months compared to the rest of the year and with the weather cooled by trade winds, this period is a great option for anyone looking for a winter sun holiday.
April and May only see slightly more rain and if you like music, then the island's annual Jazz & Arts Festival is usually either at the end of April or beginning of May.
Nudging into the summer months, the temperature rises and there's increased chance of rainfall, although these are usually only limited to one or two short-but-sharp showers in the afternoon. While the Caribbean's official hurricane season runs from June to November, in Saint Lucia this often only means the odd tropical storm so the island really is a year-round holiday destination.
Travel Guide
Saint Lucia travel essentials
Do I need any vaccinations for Saint Lucia?
No vaccinations are recommended for Saint Lucia but the country is regarded to have a risk of contracting the Zika virus. However, please consult your GP at least four to six weeks prior to travel for current advice.
What is the time difference between Saint Lucia and the UK?
The time difference is GMT -4 hours.
How long is the flight to Saint Lucia?
The flight time from London to Castries is nine hours.
What is the currency in Saint Lucia?
The currency is the Eastern Caribbean dollar, although US dollars are also widely accepted.
Do I need a visa for a holiday in Saint Lucia?
British passport holders don't need a visa to travel to Saint Lucia.
Saiint Lucia Destination
Video
Specialists
Meet our Saint Lucia specialists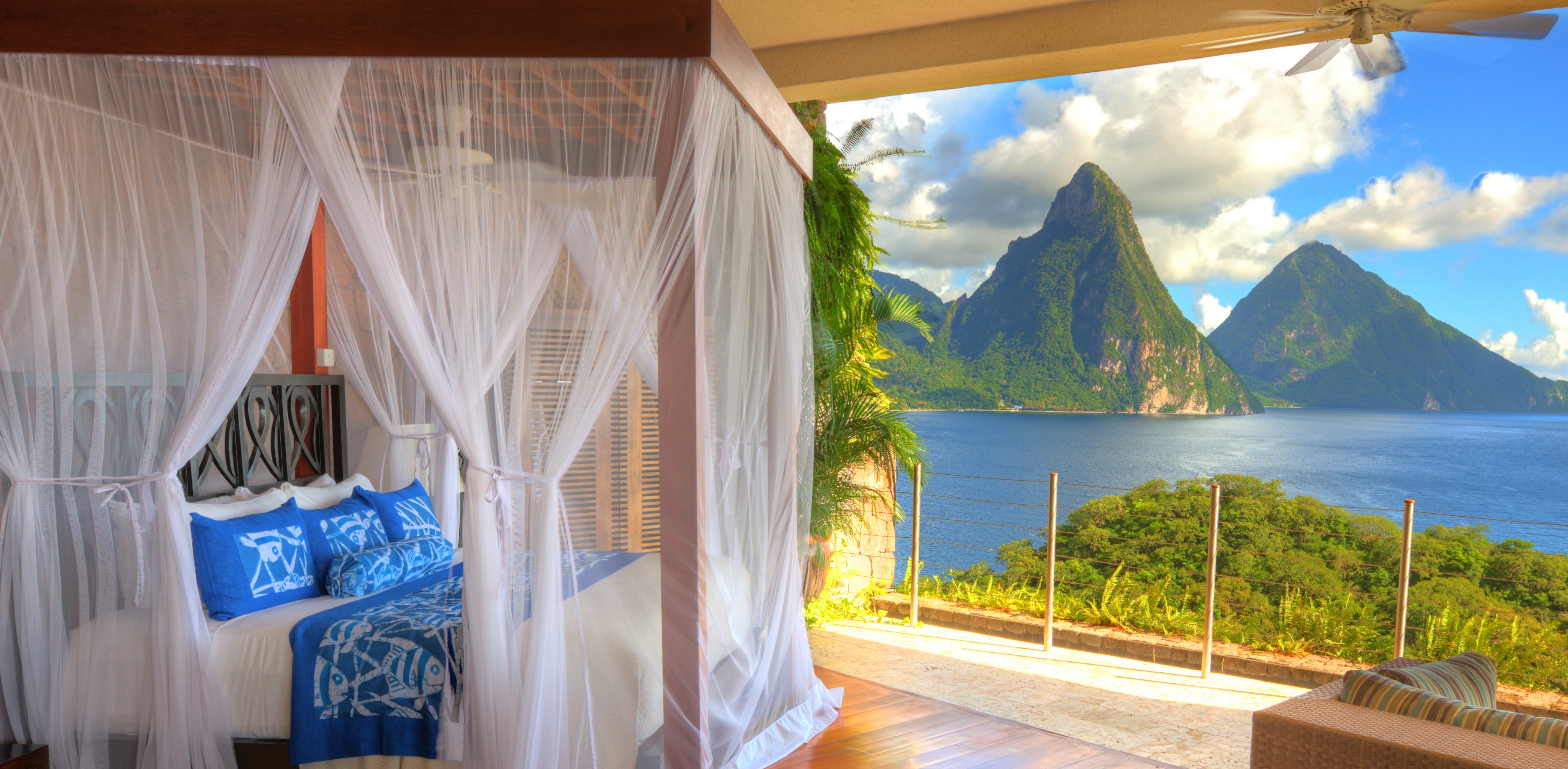 Saint Lucia inspiration
CANVAS
Head to our blog CANVAS for more inspiration, insider secrets and diaries from our team on Saint Lucia.
Stay in touch
Sign up to our newsletter for the latest news and offers
Cookies
Our website uses cookies. Click accept to receive all cookies or change your cookie settings. You can also view our Privacy Policy to understand more about how we use cookies.
Privacy Policy