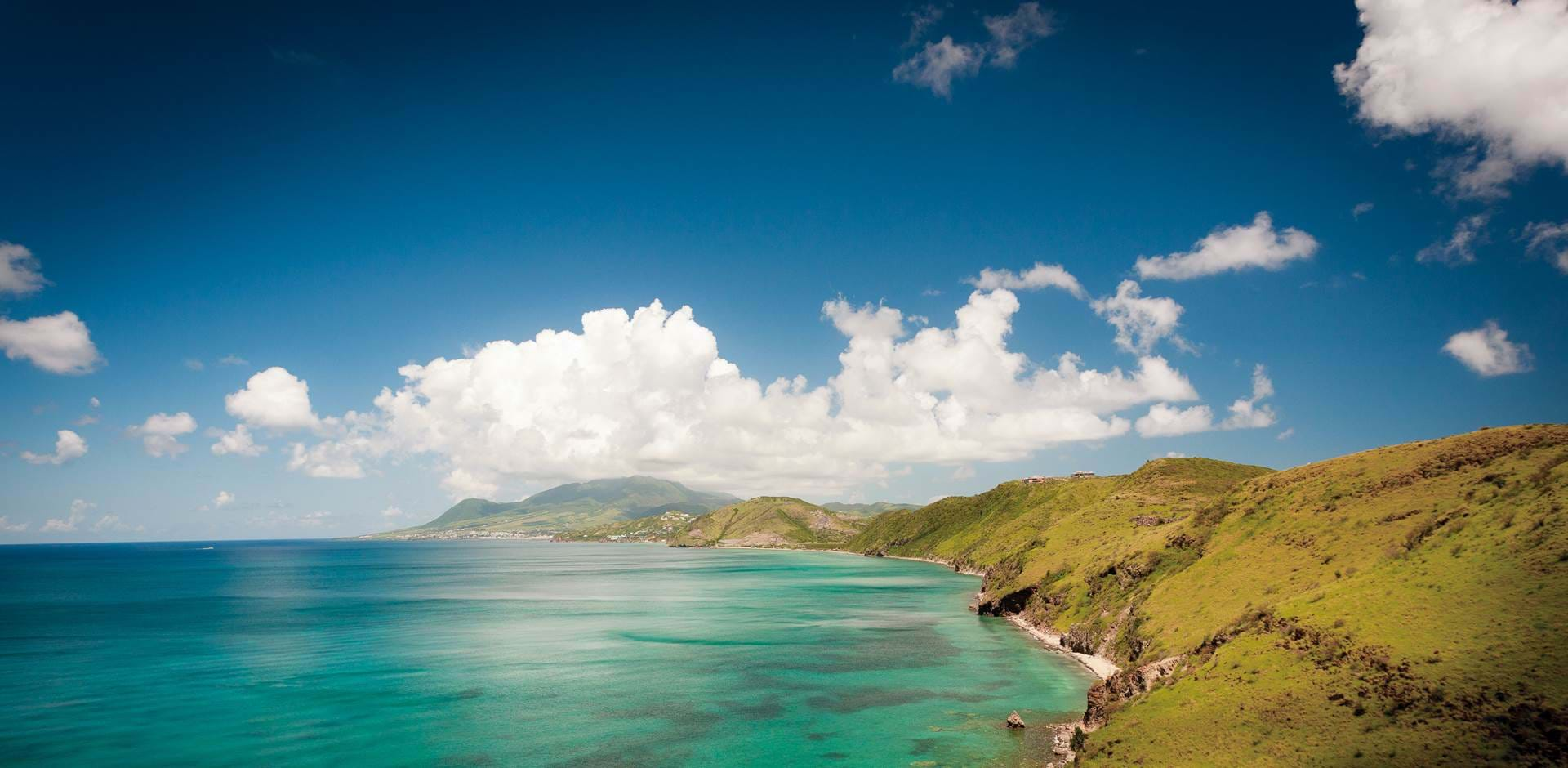 Overview
Holidays in St. Kitts & Nevis 2023/2024
Untouched, natural surroundings
Captivating scenery
Pretty, powder-soft beaches

Wonderfully welcoming and refreshingly uncrowded
For a luxury holiday to a land that represents the Caribbean of old, discover a St. Kitts & Nevis holiday. It's a pair of islands that have so far been left uncharted on the tourist map and, as a result, their lush interiors largely remain as nature intended.
The untouched natural surroundings on both islands are a haven for hikers, with trails veining the contoured emerald landscape. Valleys, ravines and rock formations make for captivating scenery on St. Kitts holidays, the green wilds speckled with colourful orchids and patrolled by white-tailed deer and mongooses. As an illustration of its remoteness, the roaming vervet monkeys brought over by the French in the 17th century outnumber locals by two-to-one and on Nevis it's said there are more donkeys than people.
This lack of development in both St. Kitts and Nevis has meant a languid pace of life stills exists, former plantations and charming colonial towns left to be characterised by their relaxed locals. Soak up the mellow atmosphere with rum in hand and the sound of soca in the background and raise your glass to the Caribbean of yesteryear.
Experiences
St. Kitts & Nevis highlights
Panoramic views from a historic fort
Even if military relics aren't your thing, the sheer size of Brimstone Hill Fortress will leave a lasting impression. It's an enormous British-built hilltop compound, with its citadels, bastions, barracks and ramparts forged from volcanic limestone over a period of around 100 years. It's a UNESCO-listed monument that has been so well preserved it's like a 17th-century time capsule, a place seemingly unchanged since it was guarded by British soldiers. When you stroll its 800ft-high walls it becomes obvious why the Brits picked this spot – the views are stupendous, with a panorama of St. Kitts' untamed rainforest and some of the region's smaller islands bobbing in the shimmering Caribbean Sea beyond.
If you're itching to peel yourself off the beach, then challenge yourself to a hike up Nevis Peak (3,232ft). From the ground, it's a picture-perfect volcanic cone carpeted in emerald jungle and hazed in clouds at the summit. Hiring a guide is essential to help navigate the trails and while the ascent is tough, the enchanting scenery more than makes up for it. Trumpet trees and ferns are among the lush foliage that cover its slopes, a playground for wild goats and vervet monkeys to scamper around. It goes without saying – the sight from the summit is eye-popping, with the beautiful entirety of Nevis on display. On a good day, you can even see Antigua, Montserrat and other Caribbean gems in the distance, too.
While St. Kitts has Brimstone Hill Fortress as its historic gem, Nevis' pint-sized capital Charlestown is a gorgeous colonial throwback. The pastel-coloured Georgian houses and palm-shaded gardens that line its labyrinthine streets give it a toytown feel, making a simple stroll here a real pleasure. Its quiet setting means its gingerbread-style houses, which date back to the 18th century, have retained their quaint splendour. If you fancy delving deeper, the Museum of Nevis History charts the island's past as well as doubling as the birthplace of great American statesman Alexander Hamilton – the subject of popular stage show Hamilton.
Hop on the West Indies' last railway
For something you really won't find anywhere else in the Caribbean, hop on St. Kitts' greatest ride. The St. Kitts Scenic Railway is the last railway in the West Indies, carrying visitors around the same route it traced when ferrying sugar cane from the plantations to the sugar factory in Basseterre in the early 20th century. It's a great way of seeing St. Kitts at its best, crossing canyon-spanning steel bridges, trundling past unspoilt volcanic beaches and spying said sugar cane fields while circling the slopes of Mount Liamuiga.
If you're partial to a round of golf, then make sure you grab your clubs! For St. Kitts & Nevis has two of the finest golf courses on the planet – Royal St. Kitts, which has holes fringing both the Atlantic Ocean and Caribbean Sea, and the jungle-clad Four Seasons Nevis. One for each island!
Accommodation
Where to stay in St. Kitts & Nevis
A stay in St. Kitts & Nevis promises two things: tranquility and untouched nature. As a result, the luxury resorts you can stay in here ooze exotic serenity, surrounded by tropical gardens or next to a footprint-free beach. Warm Nevisian charm and hospitality means you can chill out and not need to lift a finger.
PLAN YOUR HOLIDAY
Enquire Now
Weather
The best time to visit St. Kitts & Nevis
St. Kitts & Nevis has a steady tropical climate throughout the year, with temperatures averaging between 24-28°C.
December to May are the driest months in which to visit, with temperatures not scorchingly hot and humidity at its lowest. Holiday in the run-up to Christmas and New Year and you'll be treated to the kaleidoscopic spectacle that is the country's annual Carnival (also known as Sugar Mas), where dancers, colourfully costumed locals and parades fill the streets. If you want to maximise your chances of a rain-free holiday, then February and March are your best bets. Rainfall increases marginally in April and May, but hotel prices start to drop, offering better value for money.
Like everywhere else in the region, June to November is the official Caribbean hurricane season. However, the risk of tropical storms is very slim and the worst you'll likely encounter is short, heavy showers. There's still plenty of sunshine hours, so events like the St. Kitts Music Festival can be taken advantage of!
Travel guide
St. Kitts & Nevis travel essentials
Do I need any vaccinations for St. Kitts & Nevis?
No vaccinations are recommended for St. Kitts & Nevis but the country is regarded to have a risk of contracting the Zika virus. However, please consult your GP at least four to six weeks prior to travel for current advice.
What is the time difference between St. Kitts & Nevis and the UK?
The time difference is GMT -4 hours.
How long is the flight to St. Kitts & Nevis?
The flight time from London to Basseterre is about 10 hours, with a touchdown in St. John's, Antigua & Barbuda.
What is the currency in St. Kitts & Nevis?
The currency is the Eastern Caribbean dollar, although US dollars are also widely accepted.
Do I need a visa for a holiday in St. Kitts & Nevis?
British passport holders don't need a visa to travel to St. Kitts & Nevis.
Further Reading on St. Kitts & Nevis Holidays
St. Kitts & Nevis boasts plenty of pretty, powder-soft beaches but the real beauty of this destination is its abundance of nature. Visitors who love to be active can go mountain biking through old sugar plantations, hiking along dense jungle trails or even compete in the annual two-and-a-half-mile swimming race from Nevis to St. Kitts. Read our CANVAS article to find out more on St. Kitts and Nevis holidays.
Specialists
Meet our St. Kitts & Nevis specialists
St. Kitts & Nevis inspiration
CANVAS
Head to our blog CANVAS for more inspiration, insider secrets and diaries from our team on St. Kitts & Nevis.
Stay in touch
Sign up to our newsletter for the latest news and offers
Cookies
Our website uses cookies. Click accept to receive all cookies or change your cookie settings. You can also view our Privacy Policy to understand more about how we use cookies.
Privacy Policy