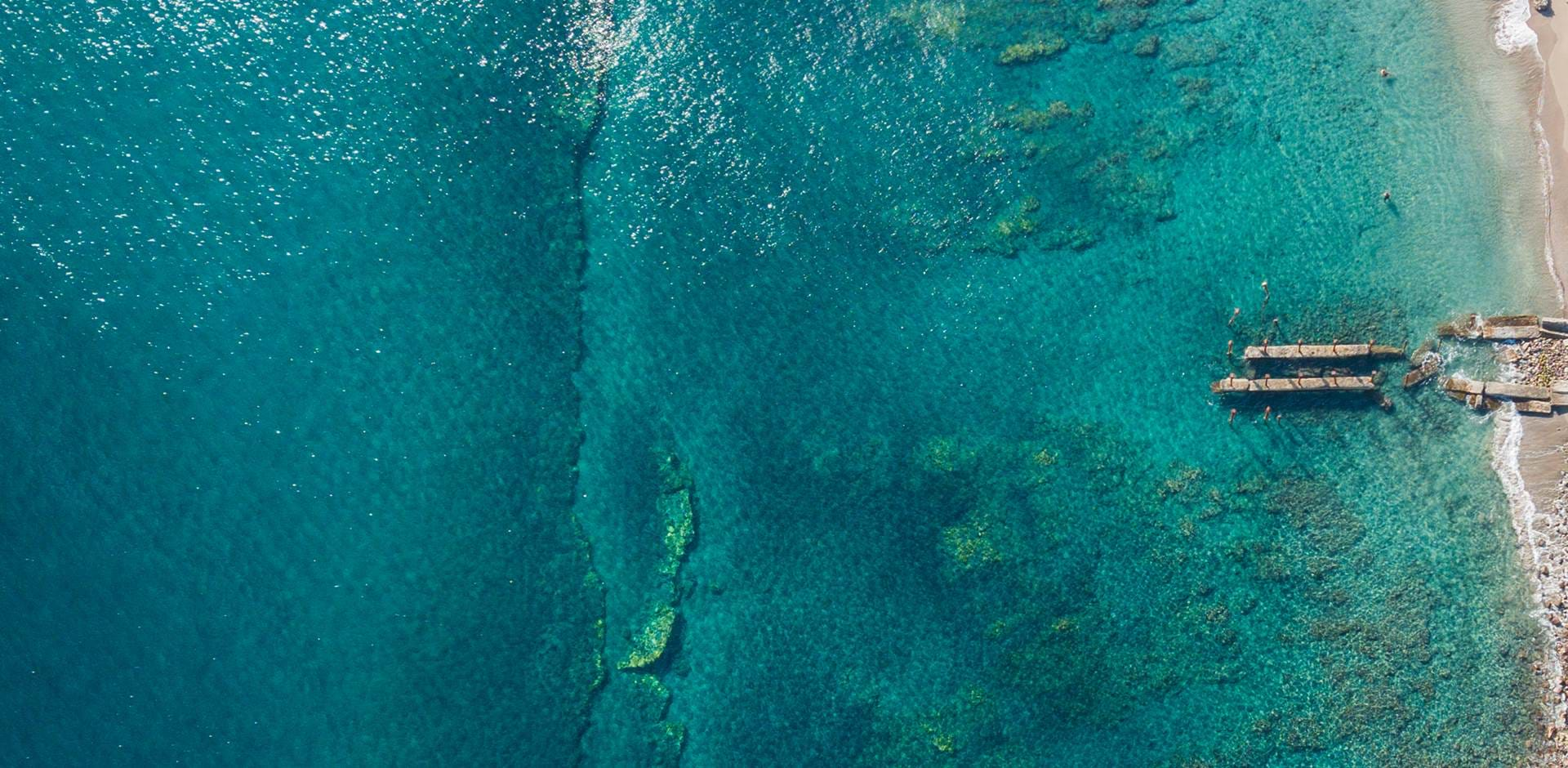 Sint Eustatius
Sint Eustatius (Statia)
Off the beaten track
Diverse marine life
Unspoiled natural beauty
A storied past
Let us introduce you to the captivating island of Sint Eustatius (locally and lovingly known as 'Statia'), quite literally a hidden gem nestled at the top of the Leeward Islands and a municipal of the Dutch Caribbean islands.
Arriving to this striking island, you'll be met with warm smiles and an amazing combination of Dutch, Caribbean, and African cultures. Its vibrant spirit is showcased in the colourful architecture, delectable cuisine, and pulsing beats of local music.
Diving and snorkelling enthusiasts will have a field (holi)day – named by National Geographic as the best diving in the Caribbean, revel in the island's diverse and electric underwater world and explore subsurface volcanic formations and historic shipwrecks dating back centuries. A drier isle than typically found in the Caribbean, with cacti and succulents dotted across the landscape, the island has a varied and unspoiled topography ranging from rugged volcanic peaks to sparkling black sand beaches and verdant rainforests.
Statia is small in size with only a population of roughly 3,500, but don't let this fool you. The island retains a noteworthy place in the history archives. Playing a pivotal role in the 18th Century Caribbean trade, it was once a bustling trading post, earning its nickname "The Golden Rock". Have a wander through the cobblestone streets and take in historical remains that are a testament to Sint Eustatius' past.
Although the island is teeming with adventure waiting to be discovered, it is also a haven for those looking for peace and quiet. With a slower way of life blended with magnificent sunsets, Sint Eustatius is an idyllic backdrop for relaxing and letting the beauty of the Caribbean wash over you.
Experiences
Sint Eustatius Highlights
Oh, the diving! Sint Eustatius has been named the best diving in the Caribbean by National Geographic. The island has become a sought-after destination for globetrotting divers. An exceptional and unforgettable experience awaits beneath the waves, sure to leave a lasting impression. Within its pristine waters, 36 enchanting sites are waiting to be explored from lava flows to shallow reefs, shipwrecks, and archaeological sites, the latter offering you a glimpse into the region's maritime history. Sint Eustatius' relative seclusion means you will enjoy untouched and uncrowded diving. All skill levels are welcome – dive on in!
Intrepid hikers can experience an adventurous and memorable trek up the (sleeping) Quill volcano leading to a breathtaking crater at its summit, all rewarded with 360 views of the island, Caribbean Sea, and Atlantic Ocean. Along the way you'll stumble across iguanas, lizards, hermit crabs, goats, and honeybees. Aside from knowing the volcano like the back of their hand, we recommend opting for a locally guided hike as you will gain brilliant insight into the island and its flora and fauna along the way.
Step back in time. Visitors can embark on guided tours to delve into the island's rich history. Meander through the historic yet well-preserved Fort Oranje that once protected the harbour, and walk down to Oranje Bay, originally the centre of Sint Eustatius' trading activities. Old merchant warehouses are now crumbling ruins along the shoreline and submerged sea walls accompany coral-slung cannons and anchors that rest semi-hidden on the seabed.
Savour the flavours, sip the vibes
Whether you are looking for a romantic oceanfront dinner, a vibrant night of mingling with locals and fellow visitors, or a casual lunch, this small island offers a great little food scene. Sample both international and local cuisines from restaurants such as Barrellhouse or The Boardwalk: freshly caught seafood, goat curry, conch fritters and plantain-based dishes are all on the menu!
Hunting for blue beads in Statia is a fascinating and historical pursuit. Blue beads are a significant cultural treasure as they were once used as currency in the 17th century so keep your eyes peeled as you dive the crystal-clear waters, hike up the Quill, or explore the historic landmarks around the island. Blue bead hunting offers visitors a unique chance to reflect on the complex historic narratives that shaped the island into the culturally rich and vibrant place it is today. Legend has it, the beads find you, you don't find them. If a blue bead does find you then it means you will return to Sint Eustatius one day. These are the only relics you are permitted to take home with you as a souvenir of the island.
Accommodation
Where to Stay in Sint Eustatius
PLAN YOUR HOLIDAY
Enquire Now
Weather
The Best Time to Visit Sint Eustatius
The island enjoys a tropical climate with temperatures averaging 30oC throughout the year complemented by cooling trade winds from the northeast. The best time to visit Sint Eustatius is from December through to May as these months offer the most favourable weather conditions with less chance of rain, so you can enjoy that hike or highly anticipated dive.
Sint Eustatius, like many other Caribbean islands, can experience hurricanes during the hurricane season (June to November). However, the geothermal activity from the volcanos sleeping on Nevis, St. Kitts, Sint Eustatius, and Saba help protect these islands by diverting tropical systems away from their shores. Statia is therefore not as frequently affected by hurricanes as other islands across the Caribbean. It is also typically nesting season on the island from May towards the end of the year, making it a great time to spot turtles visiting the beaches to lay their eggs. Dolphins and whales can also be sighted throughout the year.
Travel
Getting to Sint Eustatius
Our recommended route to Sint Eustatius is via St. Kitts. British Airways fly into St. Kitts through Antigua certain days of the week. Guests will then be greeted at St. Kitts airport for their 10-minute transfer to the marina to connect with the private boat over to Sint Eustatius. The sea journey is approximately 40 to 50 minutes.
Alternatively, there are options via Paris and Amsterdam to Saint Martin where you can connect with a 15-minute puddle jumper to Sint Eustatius or a 1.5 to 3 hour ferry certain days of the week.
Travel Guide
Sint Eustatius Travel Essentials
English is most commonly spoken on the island, and you will also occasionally hear Papiamento, a language combining African, Dutch, English, Portuguese, and Spanish. The official language of Sint Eustatius is Dutch, being a municipality of the Netherlands. This is mainly only used for administrative and official purposes.
No vaccinations are required for Sint Eustatius, but the country is regarded as having a risk of contracting the Zika virus. However, please consult your GP at least four to six weeks prior to travel for current advice.
The time difference is GMT -4 hours.
The flight time from London Gatwick to St. Kitts is a little over 10 hours including a 1 hour stop in Antigua. This is followed by a 10-minute road transfer in St. Kitts to the marina and a 40 to 50 minute boat ride over to Sint Eustatius.
The currency is the US dollar.
UK nationals don't need a visa to travel to Sint Eustatius.
Travel Specialists
Statia Travel Specialists
Stay in touch
Sign up to our newsletter for the latest news and offers
Cookies
Our website uses cookies. Click accept to receive all cookies or change your cookie settings. You can also view our Privacy Policy to understand more about how we use cookies.
Privacy Policy