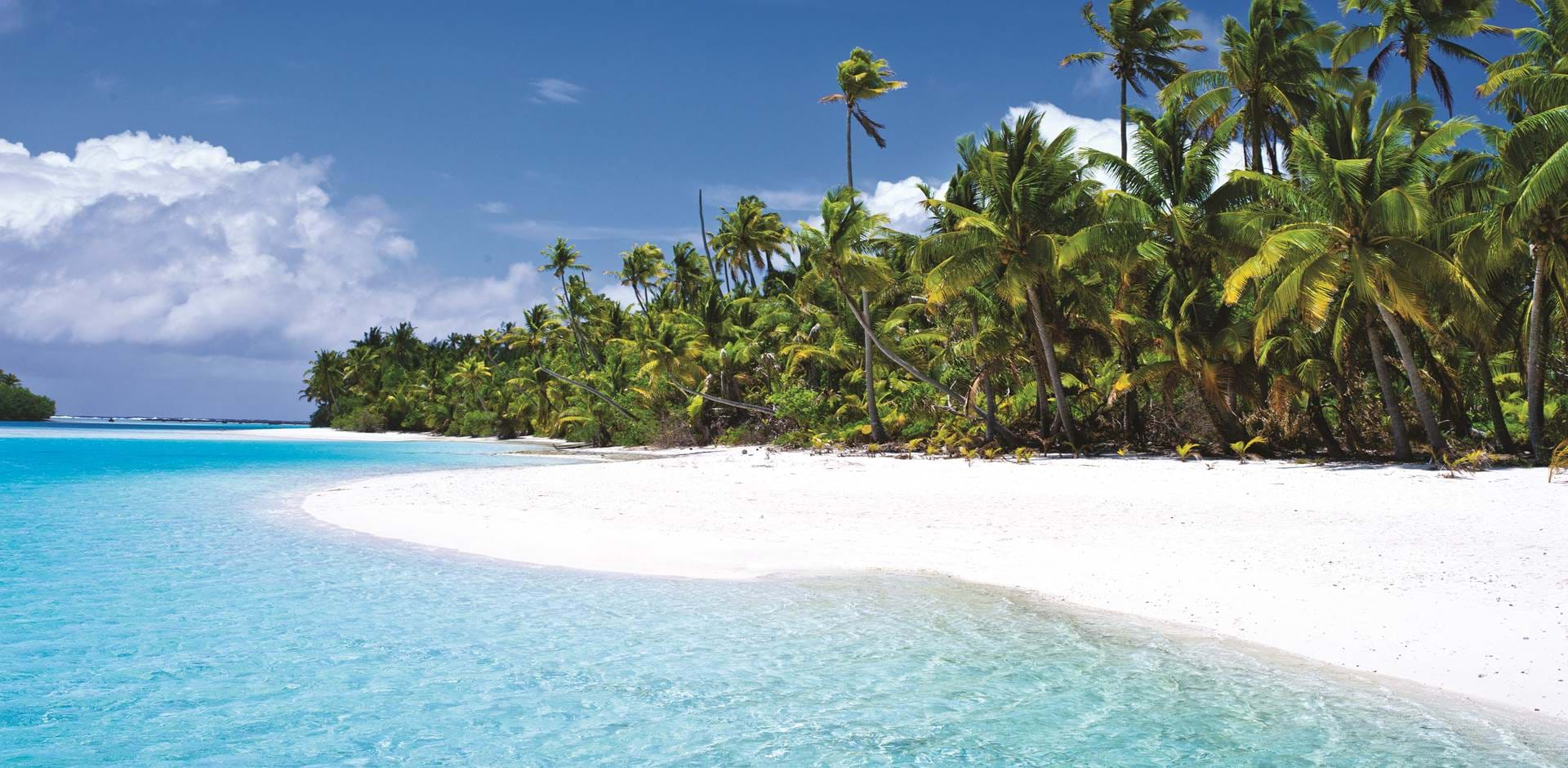 South Pacific
Holidays in the Cook Islands 2023/2024
Gloriously hidden from the limelight which shines brightly over its South Pacific neighbours Fiji and Tahiti, the Cook Islands are picture-perfect specks of heaven. With no mass tourism, no high-rise buildings and not even a single traffic light to be seen, a luxury Cook Islands holiday offers the most laid-back taste of the South Seas.
Rarotonga is the Cooks' largest island (but still small enough to circumnavigate by bus, scooter or car in less than an hour!), a volcanic dot on the map where lush emerald peaks are ringed by whiter-than-white beaches, orange-tinged coral and azure lagoons. A government law which doesn't allow buildings to be higher than the tallest palm tree gives the landscape an authentically pristine feel, while the friendly and colourful Cooks culture means it's impossible not to fall in love with its people.
The curving island of Aitutaki promises an even more leisurely lifestyle, an escape where you'll instantly be chilled. Secret sandy cays, neon-like turquoise lagoons and not a soul to be seen make Aitutaki a place that you'll feel you're the first to discover. A visit to the rustic cabin on One Foot Island will reward you with a footprint-shaped stamp in your passport, so you can prove to your friends at home that you really did find paradise.
Experiences
Cook Islands highlights
A stunning South Pacific gem, it's hard to put into words just how breathtakingly beautiful Aitutaki lagoon really is. That's why you need to see it for yourself on either a half-day or full-day cruise, where a dreamy network of turquoise channels weave in between pristine white sandy cays. Stop off a few times along the way so you can snorkel the crystal-clear waters among a kaleidoscope of fish. On these Aitutaki tours, make sure you pack your passport and stop off at One Foot Island – home to the world's most rustic passport office. The footprint stamp you'll get here is the ultimate Cook Islands souvenir and possibly one of the most sought-after passport stamps in the world. Either way, you won't want to go home from your Cook Islands holiday without yours!
You really need to try Cook Islands cuisine when you're on holiday here, especially one of its most-loved dishes, ika mata. A raw fish salad, ika mata is typically made with raw tuna (although any firm white fish can be used), marinated in lime and lemon with a salad of tomatoes, onions and chilli sauce and finished off with coconut cream. It's a really refreshing dish to have on the sunny beaches of Rarotonga or Aitutaki and it's often served in half a coconut to make it a truly tropical experience. We like to enjoy it with a chilled bottle of locally brewed Matutu beer!
Take a cross-island trek across Rarotonga
For a comprehensive understanding of the culture, history and landscape of Rarotonga, head out on a Pa's Nature Walk through the island's interior, renowned treks curated by a local legend. Clamber up roots, cross streams and witness ancient Polynesian carvings in volcanic mountainsides as you hike through Rarotonga's wild centre. Learn about the plants and trees which have sustained the health of islanders for generations, even trying some of the traditional herbal remedies yourself. Now in his twilight years, Pa has passed the reins onto his family, who now emulate his fascinating and insightful treks for visitors.
Go stand-up paddleboarding at night
As the sun dips below the horizon, that doesn't have to signal the end of your underwater explorations for the day. For a unique way to witness the magical marine world that thrives beneath the waves, go stand-up paddleboarding – at night. Lights on the bottom of the boards illuminate the water beneath you, meaning you can see creatures such as rays and turtles that you wouldn't otherwise. You'll often be joined by a dense canvas of stars filling the night sky above you, making it an unforgettable experience on your holiday.
Go off-the-beaten-track in Atiu
To really go off-grid in the Cook Islands, make sure you visit the little-known island of Atiu. On a wander you can meet the friendly locals in its collection of tiny villages, spy the many species of bird that call the island home and go inside the many limestone caves that honeycomb its interior. Each of the caves are different – the burial cave Rima Rau is littered with legendary bones, while Anatakitaki is the only known home of the kopeka bird. The island also grows its own coffee – a tasty souvenir that helps the locals, too!
PLAN YOUR HOLIDAY
Enquire Now
Regions
Where to stay in the Cook Islands
The Cook Islands offers local charm and blissful beaches in equal measure, with the island of Rarotonga promising emerald-wrapped authentic villages and Aitutaki guaranteeing sugar-white sands. Luxury accommodation and beach bungalows offer glorious places to stay on both islands, each like a slice of paradise on the South Pacific's best-kept secret.
Weather
The best time to visit the Cook Islands
The steady tropical climate the Cook Islands enjoy means it's a destination you can visit at any time in the year. Generally, its dry season runs from April to November and its wet season from December to March.
The dry season sees slightly cooler temperatures, fluctuating between 20°C and 26°C throughout the day, so it's the best time to visit the Cook Islands if you want to explore as well as relax. The evenings can sometimes be cooler, so it's worth packing an extra layer just in case. While you're less likely to see rain during these months, Rarotonga's extremely lush appearance is a sign there is rain throughout the year. It generally comes in the form of the occasional shower, which often disappears quickly. In August and September, it's possible to see humpback whales from the shores of Rarotonga as they come from the cold waters of Antarctica to mate.
The wetter season brings higher humidity and temperatures – which can reach 30°C – and a greater chance of rain, although these are usually in the form of short, sharp showers and are rarely all-day occurrences. January and February are when the heat and chance of rain are at their greatest.
Travel guide
Cook Islands travel essentials
Where are the Cook Islands?
The Cook Islands lie in the heart of the South Pacific Ocean, midway between Australia and South America. It's an archipelago of 15 islands, which are split into the Northern and Southern island groups. Most visitors head to Rarotonga and Aitutaki, but other islands offer a remote and blissful experience for those looking for an off the beaten track adventure!
What is the population of the Cook Islands?
The Cook Islands is home to just over 17,000 people, with over half of the population based on the biggest island, Rarotonga. Five of the 15 islands are uninhabited.
What is the largest island in the Cook Islands?
Rarotonga is the largest of the Cook Islands and the majority of Cook Islanders live there. It's also home to the country's main international gateway and the national capital, Avarua.
What should I pack for a holiday to the Cook Islands?
When it comes to your Cook Islands suitcase essentials, we'd suggest everything you'd pack for a tropical island holiday: sunglasses, light clothes, sun cream, swimming gear and any snorkelling gear you might want to bring (if you don't have any don't worry, the resort will have some for hire). If you're staying on Rarotonga you may want to tackle some of the many hiking trails, so some sturdy walking shoes are a must.
If you have any questions on what to pack for a holiday to the Cook Islands, then please get in touch and our South Pacific specialists will be happy to help.
Do you offer all-inclusive resorts in the Cook Islands?
The Cook Islands are the ideal place to get out and about and 'live like a local'.  All our resorts offer a breakfast package along with lunch and dinner options, but instead of All Inclusive packages, we recommend exploring the local area and sampling the delights of nearby restaurants and bars.
Do I need any vaccinations for the Cook Islands?
MMR, flu and Hepatitis A vaccinations are currently recommended for the Cook Islands. For any current travel health advice, you should seek guidance from your GP at least six weeks prior to travel.
What is the time difference between the Cook Islands and the UK?
The time difference is GMT -10 hours.
How long is the flight to the Cook Islands?
There are no direct flights to the Cook Islands from the UK or Europe. Access is usually via the USA and Tahiti, taking around 29 hours including connection time in Los Angeles and Papeete.  You can also travel via Auckland, taking the travel time to around 33 hours.
What is the currency in the Cook Islands?
The currency is the New Zealand dollar, although there are a few local coins and notes used in the islands,  including a triangular $2 coin and the unique $3 note!  These are not legal tender outside the Cook Islands, but are keenly sought by collectors worldwide.
Do I need visa for a holiday in the Cook Islands?
British passport holders do not require a visa to visit the Cook Islands for stays of up to 31 days. 
However, please be aware that access to the Cook Islands usually requires travel via the USA or New Zealand, both of which have entry requirements that you must adhere to (namely, an ESTA for the USA and an ETA for NZ).
Specialists
Meet our Cook Islands specialists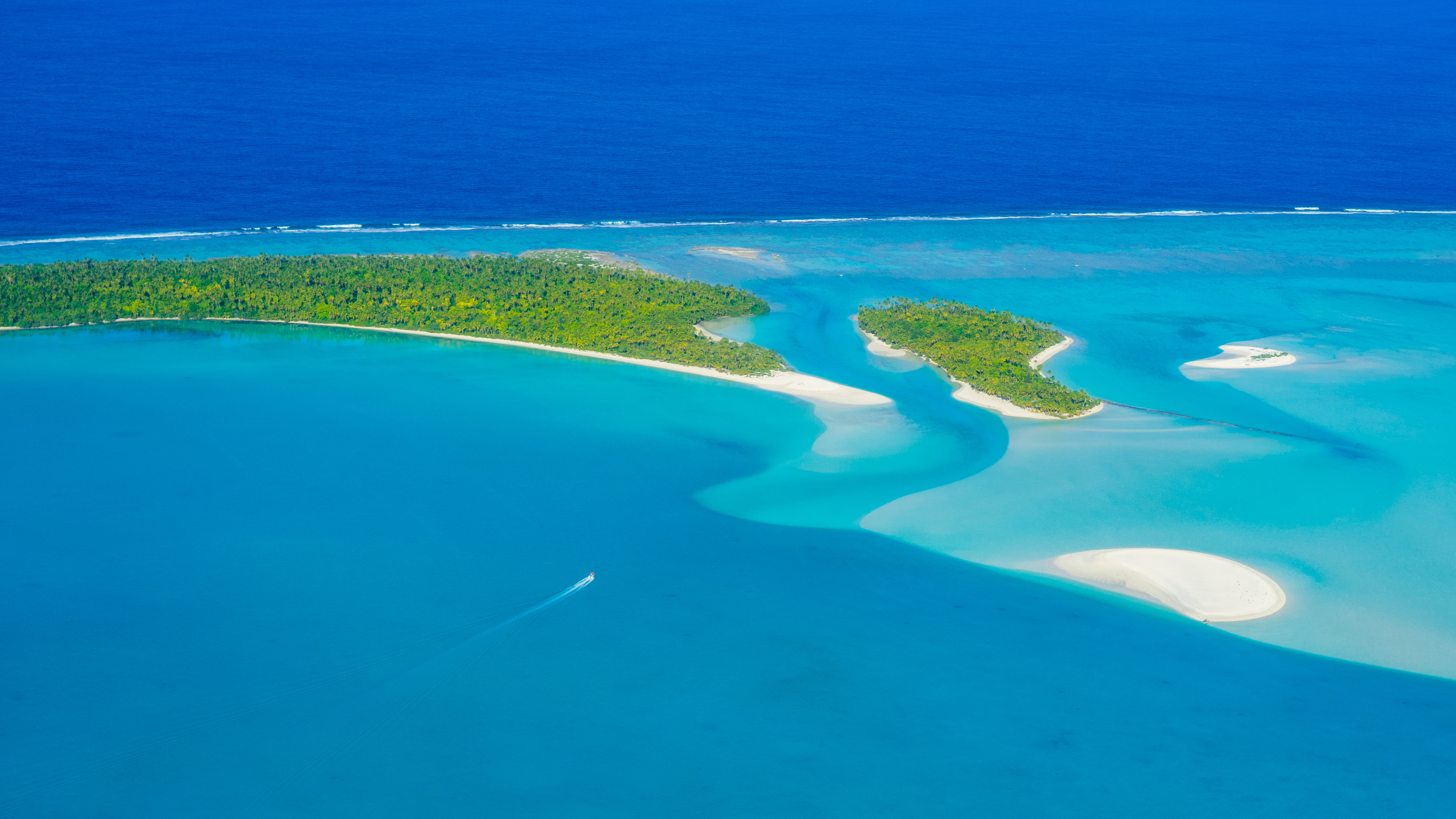 Cook Islands inspiration
CANVAS
Head to our blog CANVAS for more inspiration, insider secrets and diaries from our team on the Cook Islands.
Stay in touch
Sign up to our newsletter for the latest news and offers
Cookies
Our website uses cookies. Click accept to receive all cookies or change your cookie settings. You can also view our Privacy Policy to understand more about how we use cookies.
Privacy Policy