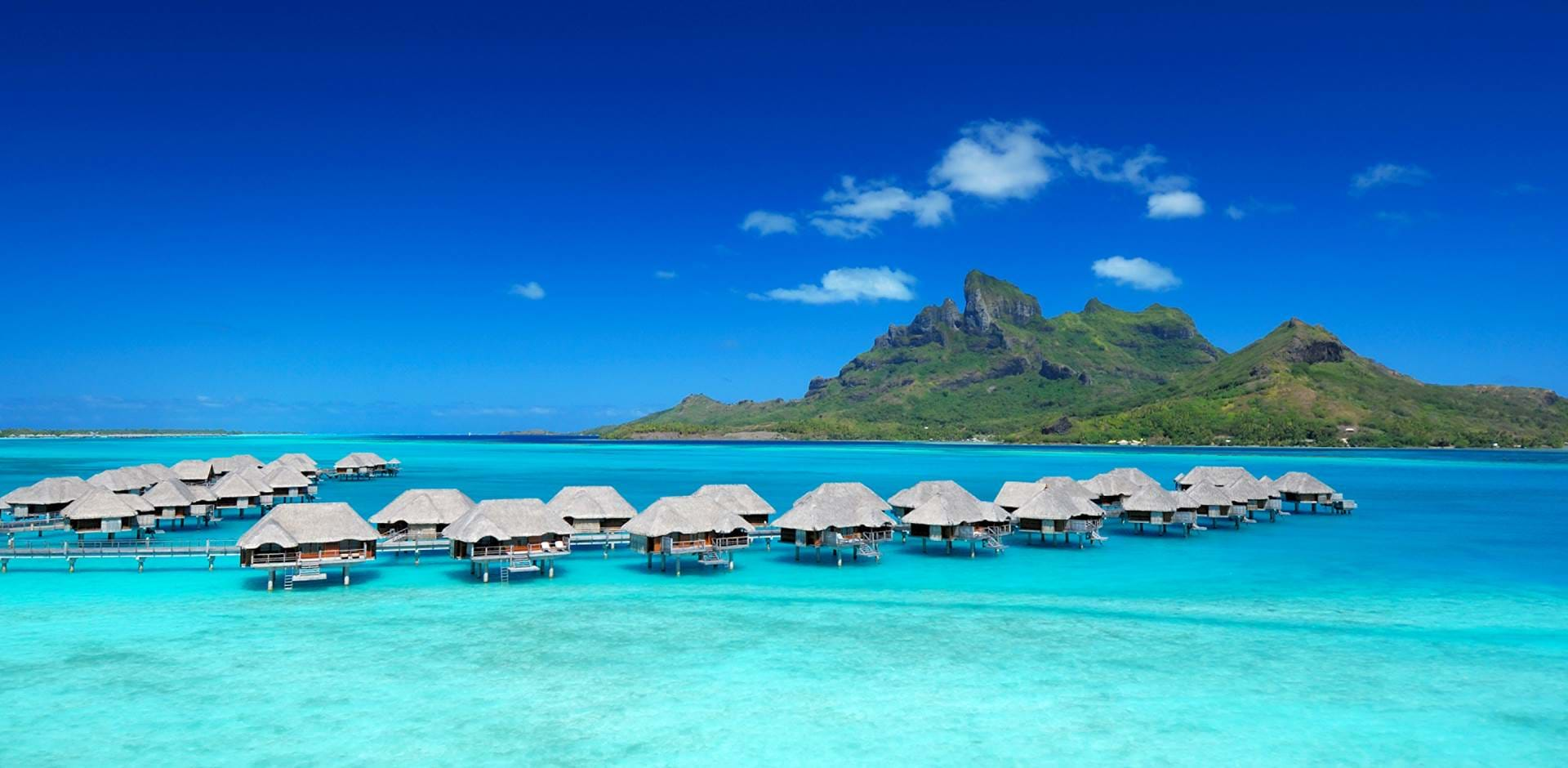 South Pacific
Tahiti Holidays 2023/2024
Paradise found in iconic Bora Bora
Ocean meets lagoon in the Tuamotus
Clear waters of Taha'a lagoon
The dramatic and mystical Marquesas
Holidays to Tahiti conjure images of sand like talcum powder, sky the colour of forget-me-nots, a vivid rainbow of coral and fish in sparkling azure lagoons, forest-clad velvet peaks stretching down to gin clear seas... these are The Islands of Tahiti in a glorious nutshell, a true South Seas slice of heaven.
Most people know Tahiti for the legendary island of Bora Bora and her very name conjures postcard-perfect images of a tropical paradise. Captain Cook named her the 'Pearl of the Pacific' when he first sighted Bora Bora in 1769 and it's safe to say its beauty has been left untouched since. It's more than just a tropical place to chill – snorkelling and canoeing in the lagoons prove it's a land of adventure.
With 118 islands in Tahiti, there's so much more to explore beyond Bora Bora and mixing a few islands on your holiday gives you a fuller flavour. Lush mountainous landscapes and limpid-blue lagoons dominate the scenery of the Society Islands (of which Bora Bora is a part of), while the Crusoe-esque Tuamotus are a collection of kaleidoscopic coral atolls, including one of the largest in the world - Rangiroa. For an untamed wedge of Tahiti, the remote Marquesas Islands are your answer.
For a truly unforgettable experience, a stay in an overwater bungalow is the quintessential place to choose on a luxury holiday in Tahiti. Beautiful beaches of Tahiti and glorious Tahiti hotels promise a sense of luxury and escape like no other! Paradise, found.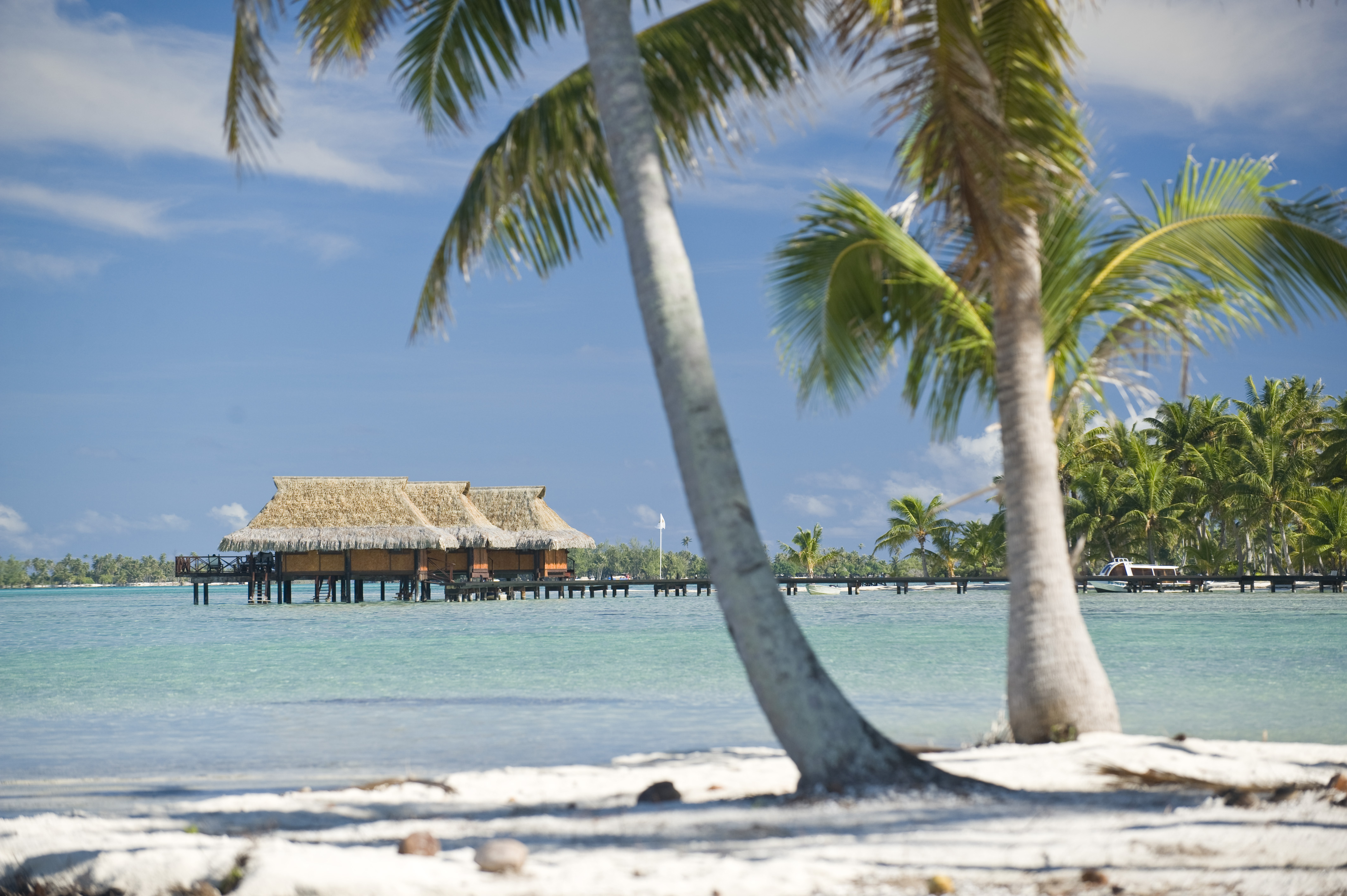 Top Tahiti Holiday Offers
Plan your dream holiday
Discover our top Tahiti holiday offers and plan your dream trip with Turquoise today.
Experiences
Tahiti Highlights
Have a breakfast to remember
Canoes have been part of Polynesian culture for generations, exploring the turquoise lagoons of the Tahiti archipelago and navigating the ocean waves by the clouds and stars. So, for a truly memorable experience, why not have your breakfast delivered by Polynesian pirogue? Wake to the sweet sounds of traditional Tahitian songs, before relaxing on the deck of your overwater bungalow as your morning meal is paddled to you surrounded by fragrant flower petals. You can enjoy the sunrise and embark on a short canoe ride around the lagoon as your table is set, before enjoying a really special meal on your holiday.
You can't visit The Islands of Tahiti without trying their national food, a dish called poisson cru. Meaning 'raw fish' in French, poisson cru is raw tuna (although other fish is sometimes used) marinated in lime juice and mixed with vegetables and coconut milk. While you can get it anywhere in the resorts or islands of Tahiti, there's nothing quite like watching this Polynesian food being freshly prepared in front of you on a sandy motu (islet) as part of a delicious picnic, with the dramatic lush scenery and lovely lagoons beyond.
Have a remote beach picnic
Visiting The Islands of Tahiti is like living your own Robinson Crusoe fairytale. The best way to play castaway in this tropical paradise is with your own private motu (islet) picnic on a Tahiti beach. Getting there can be a large part of the fun, too, with a seaplane from Bora Bora to Taha'a giving you epic overhead views of the mint-green lagoons and lush interior of the latter. When you land, the island's sweet vanilla aroma will take over, a lovely scent that only adds to this perfect picnic setting. Enjoy a feast straight on the beach, your feet lapped by calm, limpid-blue waters and with plenty of tropical fish to keep you company!
Go diving in the Tuamotus
The Tuamotus offer some of the best snorkelling and diving found anywhere in the world. The vast turquoise lagoon of Rangiroa, dotted with 240 tiny motus (islets), is an underwater mecca with myriad marine life just moments from your overwater bungalow. It's the second-largest atoll in the world, where coral cities stretch as far as the eye can see and a feast of life play in the passes which link the lagoon to the ocean, including the famous Tiputa Pass – here, spy dolphins, grey and hammerhead sharks and manta rays. Tikehau is another beautifully remote atoll, where fish seem to outnumber people one billion to one. The density of fish is so high that Jacques Cousteau's research group declared it as having the highest concentration in all of the Tuamotus.
With emerald peaks that seemingly leap out of the azure lagoon that surrounds Moorea, they were just made for exploring by 4x4. Wind through the wild, steep and narrow trails that vein the tropical forest and once you find a gap in the trees, you'll be treated to fantastic views of the island's forest, historic marae (meeting grounds) and vanilla plantations. No wonder many painters and writers have chosen to reside here, following in the footsteps of famous artist Paul Gauguin, who spent the last 10 years of his life in The Islands of Tahiti. Whether you're here for Tahiti's culture or landscapes, a 4x4 adventure is a thrilling way to see its wild side on your luxury holiday to remember.
Regions
Where to Stay in Tahiti
When it comes to places to stay in The Islands of Tahiti, then we won't blame you if you're dreaming of Bora Bora's overwater bungalows. But these bungalows can also be found across many of Tahiti's other gorgeous islands, as well as hillside lodges and locally run boutiques hidden among verdant jungle foliage.
PLAN YOUR HOLIDAY
Enquire Now
Weather
The Best Time to Visit Tahiti
The Islands of Tahiti welcome a year-round tropical climate. The dry season runs from May to November, where temperatures consistently stay around the high 20s (degrees Celsius) during the day. The wet season is from November to April and temperatures can exceed 30°C; despite there being the increased chance of rainfall, there are still plenty of sunshine hours to enjoy. Read our travel advice on The Islands of Tahiti for more information on the best time to visit.
Bora Bora vs The Maldives
Which should you choose?
Bora Bora and the Maldives are two tropical paradises that charge the imagination of anyone looking for an exotic island escape. On the surface, it's difficult to separate the two when trying to decide where to go for your next holiday.

It's a tough choice, we know, but we've compared the two on several aspects, from the location and the natural beauty to cost and activities, to help you decide whether Bora Bora or the Maldives is for you.
Travel guide
Tahiti Travel Essentials
Here's a brief round-up of the nuts and bolts of a Tahitian holiday, but if you want more in-depth information and advice, take a look at our travel advice page for The Islands of Tahiti.
Where are The Islands of Tahiti?
Found in the heart of the South Pacific Ocean, halfway between Australia and South America, The Islands of Tahiti (or French Polynesia) is a tropical archipelago of 118 islands. They're split up into five main island groups: the Society Islands (which comprises the Windward and Leeward Islands), the Tuamotu archipelago, Gambier Islands, Marquesas Islands and Austral Islands.
Are The Islands of Tahiti a country?
Technically speaking, no. The Islands of Tahiti is actually a French overseas collectivity but it is completely self-governing. Its independence means it's referred to as an 'overseas country' by France, though that's more of a designation, rather than a legal status.
The Islands of Tahiti are also commonly, but incorrectly, referred to as just 'Tahiti'. However, this is actually the name of the biggest island in the archipelago.
When is the best time to go to Tahiti based on weather?
The Islands of Tahiti welcome a year-round tropical climate. The dry season runs from May to November, where temperatures consistently stay around the high 20s (degrees Celsius) during the day. The wet season is from November to April and temperatures can exceed 30°C; despite there being the increased chance of rainfall, there are still plenty of sunshine hours to enjoy. Read our travel advice on The Islands of Tahiti for more information on the best time to visit.
What is the capital of The Islands of Tahiti?
The capital of The Islands of Tahiti is Papeete, which is found on the archipelago's largest island, Tahiti. It's a busy city with a bustling harbour and most visitors use it for an overnight stay, before travelling onward to other islands. If you do stay overnight, make sure you pick up a bite to eat from its les roulottes (mobile food trucks), which serve everything from pizza to crepes.
What language is spoken in The Islands of Tahiti?
The Islands of Tahiti has two national languages: French and Tahitian, with the latter preferred by locals. Even though you will easily get back with English, locals will always appreciate a few words or phrases spoken to them in Tahitian!
What is there to do in The Islands of Tahiti?
While the wealth of white beaches and heavenly overwater villas might tempt you to admire the tropical views, there are a remarkable amount of things to do in The Islands of Tahiti. The luminous lagoons afford fantastic snorkelling and diving opportunities, where you can come nose-to-fin with colourful fish, reef sharks and rays, while the islands' emerald interior are laced with many trails for hiking or on an all-terrain vehicle.
There are also many ways to experience local life, from wandering authentic villages to learning more about two of its most famous products with pearl and vanilla farm visits.
Of course, if you do just want to chill, then canoe breakfasts delivered straight to your villa or romantic picnics on a private motu (islet) delver memorable experiences.
What can you eat in The Islands of Tahiti?
Being an archipelago, it's no surprise that Tahitian waters are abundant with fresh seafood that will end up on your plate! The likes of tuna, lobster and crab feature most prominently on menus. The delicate scent of vanilla you can smell across a number of French Polynesia's islands is used as a flavouring in many local dishes, while Tahiti's tropical status means pineapples (said to be the juiciest and sweetest in the world) and coconuts are common, too.
When it comes to dishes to try, we'd recommend mahi mahi (dolphinfish served with a vanilla sauce) and Tahiti's national dish, poisson cru (raw fish marinated in lime juice served with vegetables and coconut milk).
Are there any all-inclusive resorts in The Islands of Tahiti?
Unlike other parts of the world, most resorts in French Polynesia don't offer all-inclusive packages. Instead, you'll often find that breakfast is included, and lunch and dinner can be pre-paid before your arrival, or paid for locally. We would advise including a half-board meal plan (breakfast and dinner) when booking your holiday with Turquoise, as meals are generally high across all of the islands in the archipelago. This takes the sting out of our check-out bill, and puts the pleasure back into ordering, as you won't be worried about the individual prices of each dish. In most cases, you'll save money by paying for meals in advance, too.
What is the time difference between The Islands of Tahiti and the UK?
The time difference is GMT -10 hours.
How long is the flight to The Islands of Tahiti?
There are no direct flights from the UK to The Islands of Tahiti. To get there, fly to Los Angeles (around 11 hours), before catching a connecting flight to Tahiti (around eight and a half hours). Other routes including flying from London via San Francisco to Papeete and also via Tokyo in the Far East.
What is the currency in The Islands of Tahiti?
The currency is the French Pacific franc.
Do I need any vaccinations for The Islands of Tahiti?
No vaccinations are currently recommended, although The Islands of Tahiti are deemed to have a risk of the Zika virus. If you're entering Tahiti from a Yellow Fever zone, possession of a valid Yellow Fever inoculation certificate is required. For any current travel health advice, you should seek guidance from your GP at least four to six weeks prior to travel.
Do I need a visa for a holiday in The Islands of Tahiti?
British passport holders don't need a visa to visit The Islands of Tahiti.
What are the best islands in Tahiti for scuba diving and snorkeling?
Jump in Bora Bora's iconic turquoise lagoon and enjoy snorkelling in the mesmerising coral garden with its tropical fish and colourful reef.  Combine this with an incredible shark and ray experience and marvel at the marine life gliding around you in the warm shallow waters, with Mount Otemanu providing a sensational backdrop.  Hop over to nearby Le Taha'a by Pearl Resorts and try the incredible drift snorkelling experience in the pass that runs alongside the resort.  With Bora Bora's silhouette on the horizon, step into the crystal-clear water and float along the surface as the current flows from the reef to the calm waters of Taha'a's azure lagoon.  No kicking required, you'll simply fly over the coral and fish as you drift towards the shallow water around the resort.
For scuba diving, it's well worth the extra flight to Rangiroa in the Tuamotus.  An hour's flight from mainland Tahiti, Rangiroa is the largest atoll in the archipelago and the second largest atoll in the world. Hundreds of coral islets and skinny sandbars encircle its vast lagoon and pods of dolphins play in the two navigable passes which link the lagoon with the ocean… there are grey and hammerhead sharks, manta rays and turtles too.  Rangiroa is a diver's paradise as the enormous lagoon is filled with an array of marine life to rival the world's top diving spots.  Stay at Hotel Kia Ora and enjoy nature's incredible underwater playground right on your doorstep!
Discover Tahiti
Take a Peek
Specialists
Meet our Tahiti Specialists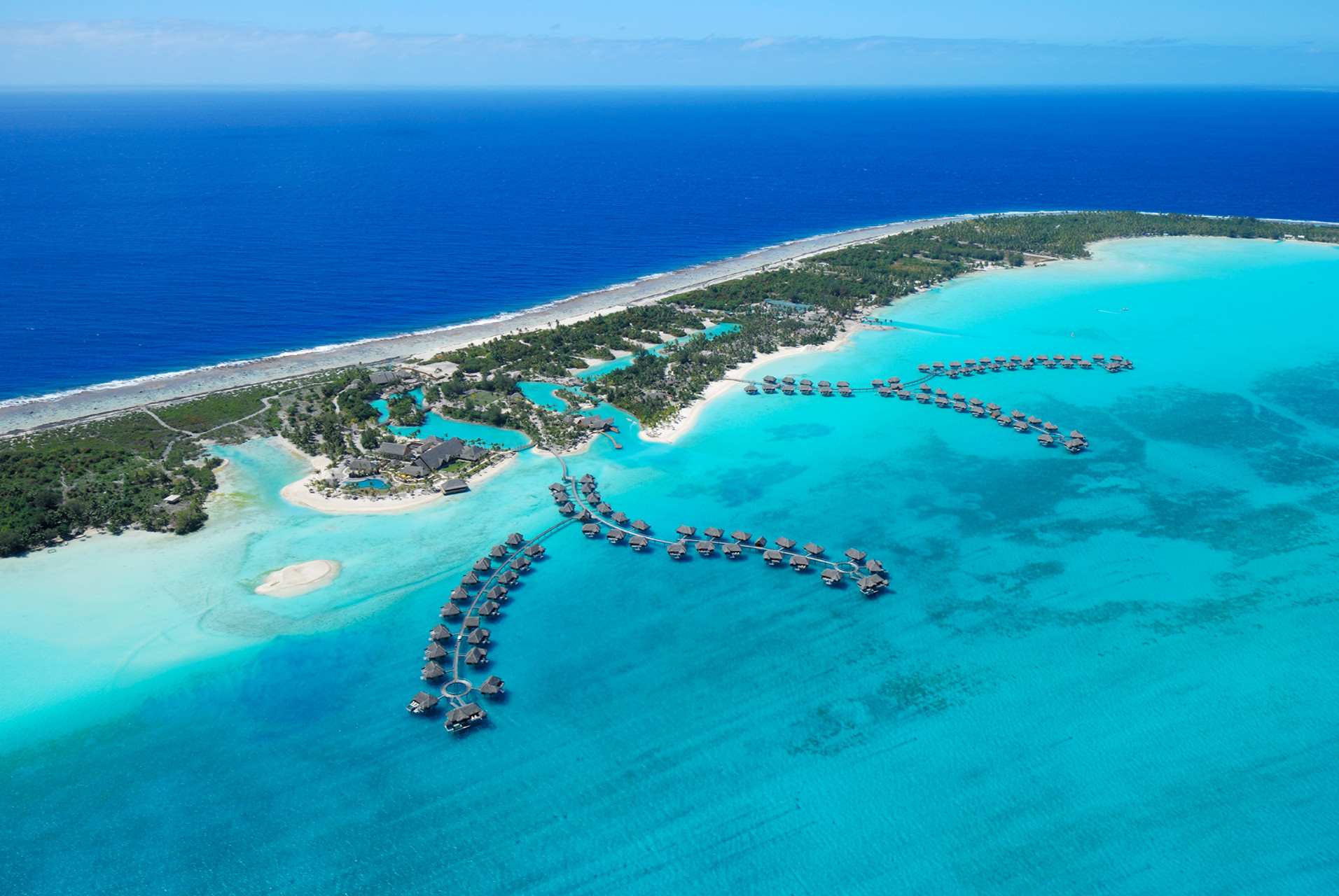 Tahiti inspiration
CANVAS
Head to our blog CANVAS for more inspiration, insider secrets and diaries from our team on Tahiti.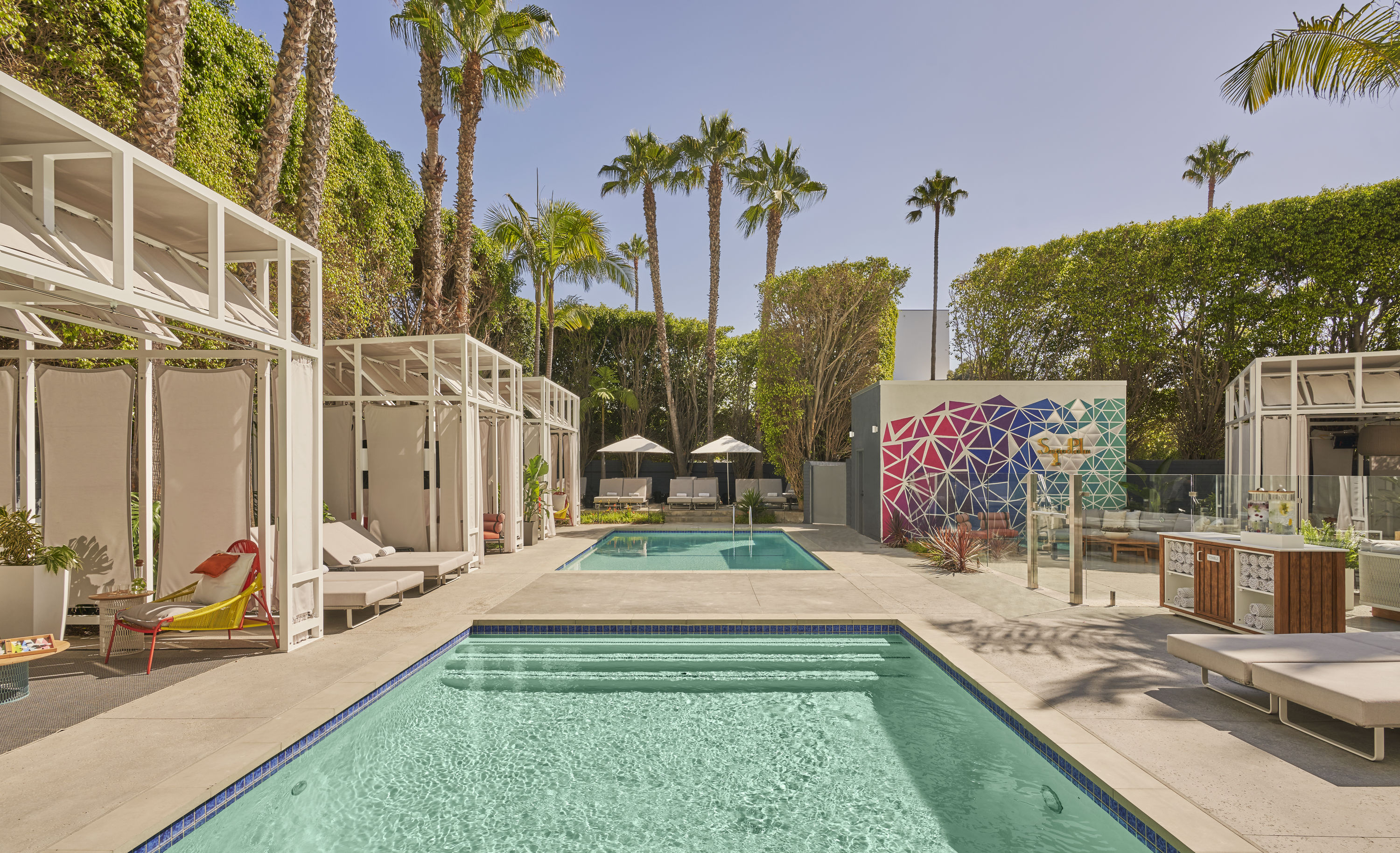 Twin Tahiti with LA
LA - Santa Monica
Stay in touch
Sign up to our newsletter for the latest news and offers
Cookies
Our website uses cookies. Click accept to receive all cookies or change your cookie settings. You can also view our Privacy Policy to understand more about how we use cookies.
Privacy Policy