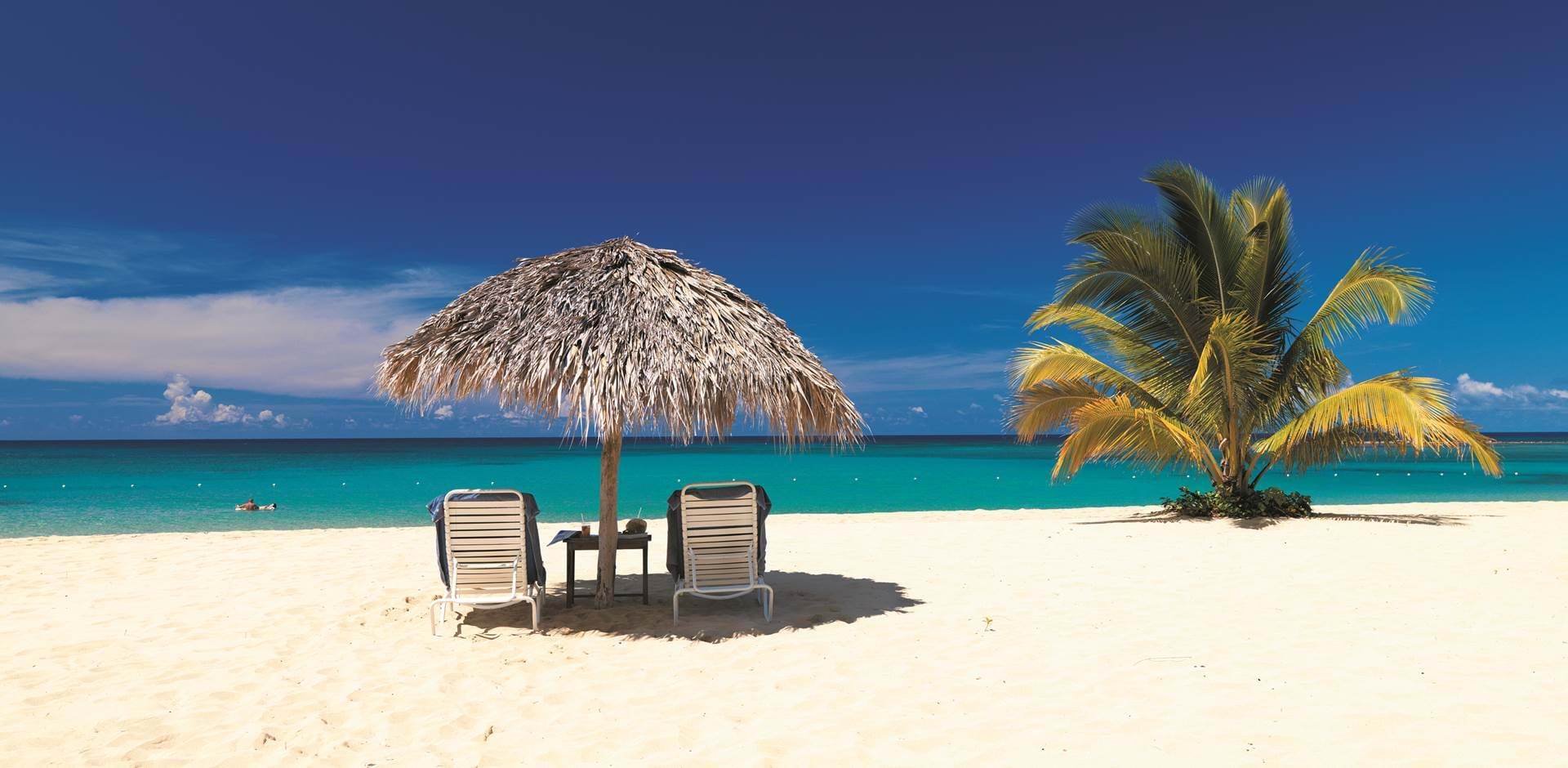 Overview
Holidays in Jamaica 2023/2024
An island with an infectious vibe
Dense rainforests well worth exploring
Reggae-soundtracked villages
Glorious golden beaches
Jamaica is a land that sways to its own 'riddim', an island with a vibe that's very different to that of its Caribbean cousins. The third-largest isle in the Caribbean, it's big enough to offer far more than rum punch, sun-drenched sands and reggae beats.
Jamaica does offer brilliant beaches and fine hotels in spades but its character runs deeper, brimming with culture, history and adventure. Hiking routes vein its interior patchwork of coffee plantations, banana groves and mountain forests, a remote land punctured by gushing waterfalls and cerulean pools; thankfully, you don't need Usain Bolt-like fitness levels to explore it. Elsewhere, the north shore is renowned for excellent snorkelling and diving, while its charming towns are only one reggae note away from erupting into a party – Jamaica did give us Bob Marley, after all.
However, leaving some time for rest and relaxation is an unofficial law when you're on a luxury holiday in the Caribbean and Jamaica has an abundance of splendid sands – particularly Ocho Rios and Negril – to relax on, with the sounds of jerk chicken sizzling on barbecues never too far away. However, Jamaica is about the bigger picture, savouring all the elements of its captivating culture. Here, you really experience the Caribbean.
Experiences
Jamaica highlights
Explore the Blue Mountains
Named after the azure haze that hangs over this chain of emerald peaks, the Blue Mountains are Jamaica's oldest feature and twinned with its rugged neighbours, the John Crow Mountains, they form the country's only national park. It's a remote sprawling wilderness that is a thrill to explore, thanks to its winding 4x4 tracks and wild walking trails. Witness untouched beauty stretching as far as the eye can see, a rainforest home to a rich horde of wildlife, including the western hemisphere's largest butterfly, the giant swallowtail. Its lower slopes are now swathed in coffee bean plantations that are world-famous thanks to the gourmet Blue Mountain coffee brand, while higher up lies a history of former settlements and hideaways built by the Maroons, a group of escaped enslaved Africans. While the sunrise view from its highest peak, Blue Mountain, is the signature sight, any outlook over this wild land is extraordinary.
It's one of Jamaica's most iconic places but Dunn's River Falls really lives up to its billing. A stunning stepped cascade encased in pristine rainforest, take on the exhilarating climb up its unique sculpted limestone tiers for an epic view over its entire majesty as it empties into the sea directly below. Several lagoons and pools make for ideal pit stops as you ascend the Falls, each perfectly cooled by the surrounding shade of the trees. Even at busy times, this is a Jamaican icon you simply have to see for yourself.
Eat at a Scotchies restaurant
Like reggae, jerk is part of the make-up of Jamaica. There's no better place to savour its spicy notes than at one of the famous Scotchies restaurants that dot the island. Food lovers come for the mouthwatering plates of jerk chicken and pork they serve up and when it's the locals sniffing out its sizzling barbecues, you know it's going to be good. It's a charming environment to eat in; the casual rustic thatched huts give a real local feel and the authentic outdoor atmosphere is filled with the smells of open-air cooking and sounds of happy diners. If the spice gets too much, cool your tongue with another Jamaican staple: Red Stripe beer.
Admore Jamaica's golden curves
Beaches aren't the whole picture in Jamaica, but they're still out of this world. The pick of the bunch is Seven Mile Beach in Negril, a faultless golden curve fringed on either side by swaying palms and turquoise waters. It's the ideal place to flop but for those with energy still to burn, there's plenty of activities to keep you busy, from jet skiing to snorkelling, catamaran cruising to kayaking and even trotting along the sands on horseback. Food shacks and reggae beats only add to the atmosphere of this slice of Jamaican paradise.
If you want to feel like a film star, then look no further than the former home of James Bond creator Ian Fleming. While 007 had a licence to kill, at GoldenEye you have a licence to chill. It's hard not to, either, with beautiful beach huts and villas sprinkled across silken sands in a serene cove that invokes a sense of relaxation. If it inspired Fleming to pen all 14 of his Bond novels here, then it's good enough for us…
PLAN YOUR HOLIDAY
Enquire Now
Accommodation
Where to stay in Jamaica
Of course, Jamaica has its fair share of spectacular sandy fringes, along with luxury beach resorts that you could easily imagine hosting James Bond sipping martini by the pool. But it has more strings to its bow in terms of places to stay, from lofty hideaways hidden amid lush mountains to coastal retreats perched atop limestone cliffs.
Weather
The best time to visit Jamaica
Jamaica has a tropical climate year-round that's blessed with plenty of sunshine, with temperatures averaging around 27-30°C throughout the year.
December to April are the driest months, with only brief afternoon showers interrupting glorious sunshine, making it an ideal time to go on holiday. Trade winds – affectionately known locally as 'Doctor Breeze' – make for cool, pleasant evenings as well.
The rest of the year, from May to November, sees temperatures and humidity rise, with August and September often the hottest months. Rainfall is also more frequent but still only comes in sporadic showers, which can be a nice antidote to the heat! They're also an excuse to head to the bar for another rum punch – you are on holiday after all! The traditional hurricane season in the Caribbean runs from June to November but peaks in Jamaica during September and October, where it's very humid and storms can be heavy.
Travel guide
Jamaica travel essentials
Do I need any vaccinations for Jamaica?
No vaccinations are recommended for Jamaica but the country is regarded to have a risk of contracting the Zika virus. However, please consult your GP at least four to six weeks prior to travel for current advice.
What is the time difference between Jamaica and the UK?
The time difference is GMT -6 hours (-5 hours October-March).
How long is the flight to Jamaica?
The flight time from London to Kingston is around 10 hours.
What is the currency in Jamaica?
The currency is the Jamaican dollar.
Do I need a visa for a holiday in Jamaica?
British passport holders don't need a visa to travel to Jamaica.
Specialists
Meet our Jamaica specialists
Jamaica inspiration
CANVAS
Head to our blog CANVAS for more inspiration, insider secrets and diaries from our team on Jamaica.
Stay in touch
Sign up to our newsletter for the latest news and offers
Cookies
Our website uses cookies. Click accept to receive all cookies or change your cookie settings. You can also view our Privacy Policy to understand more about how we use cookies.
Privacy Policy