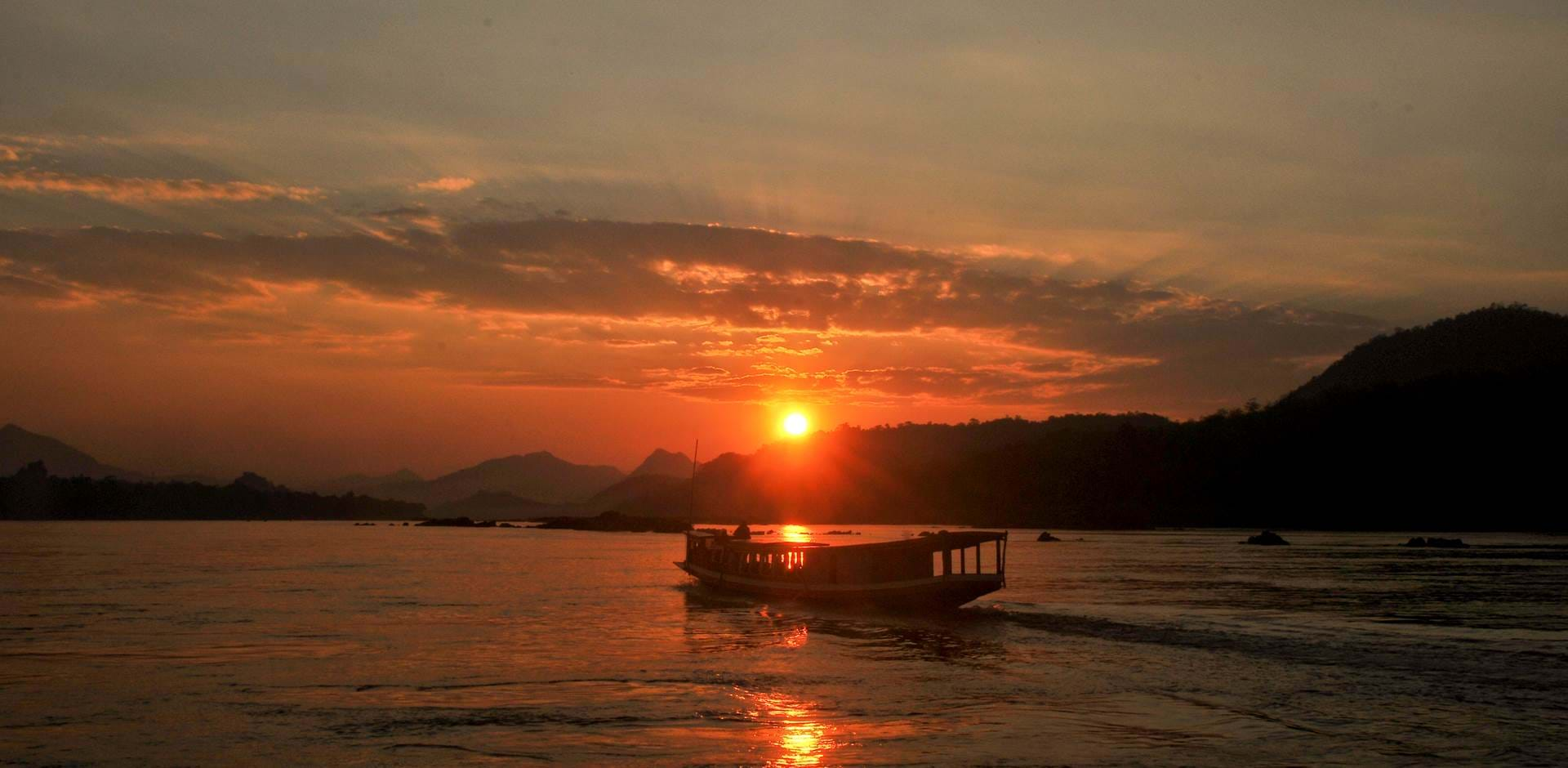 Overview
Holidays in Laos
Rewind a couple of centuries. The visions of old Asia you're probably imagining are saffron-robed monks scurrying through narrow streets, gilded temples shining like beacons of gold or conical-hatted fishermen tossing their nets into the water. But this is the Laos of today, a sanctuary frozen in time where the traditional practices the rest of Southeast Asia have long since abandoned, reign supreme.
The UNESCO-listed old capital of Luang Prabang is Laos' showcase, a place which stirs the imagination. Its effortless blend of faded French villas, ancient wats and golden stupas all live together in a languid harmony. The overlooking hazy green mountains are a nod for what lurks beyond in the country's north – a web of walking and cycling trails through lush jungle and cooling waterfalls.
Further beyond Luang Prabang's charm lies a side of Laos that could hark back to even older times. Explore its virgin rainforest and you'll find hill tribes untainted by civilisation and aromatic coffee plantations, while the islands of the Mekong River hide temples that pre-date Angkor and villages yet to be powered by electricity. It's a raw way of life you can't help but fall in love with while on a luxury holiday. Laos is proof the Asia of old you thought was lost, isn't.
Experiences
Laos highlights
Experience French colonial charm
Luang Prabang, the ancient capital of Laos, is the country's best example of its old-world charm. Even UNESCO labelled it as the best-preserved city in Asia when inducting it as a World Heritage site. Nestled within a hazy mountainous valley, wandering its delicate mix of original colonial homes, faded Indochinese villas (some of which have been refreshed as fabulous boutique hotels) and gilded Buddhist temples, is like stepping back to an Indochina of past. It's a captivating place just to sit in one of the many street cafés or French patisseries watching the world go by. It's worth waking up early to see the saffron-clad monks walk past in the morning mist while golden stupas glint in the sunshine. While tourism has meant Luang Prabang receives more attention than it used to, it retains a slow-paced allure that really fires your imagination and ignites your travel soul.
Refresh in postcard-perfect cascades
Bursting out of its tropical jungle surrounds, Kuang Si Waterfalls is a dreamy, postcard-perfect sight. Beat the crowds by heading out early to enjoy these multi-tiered falls to yourself as they glitter in the morning light. Its milky blue water spills over smoothed limestone formations into a collection of pools perfect for floating in. While it's a great swimming spot in its own right, the adjacent Kuang Si Rescue Centre to see the good work it does in protecting moon bears from poaching.
Get nose-to-trunk with elephants
Though Laos is known as 'Land of a Million Elephants', sadly less than a thousand of them are left here. The best place to see some of the remaining few is at MandaLao Elephant Conservation, located on the banks of the river just outside Luang Prabang. It offers experiences with these gentle giants that are both intimate and responsible, letting the elephants exert their natural behaviour instead of adapting them in the name of tourism. Help bathe them in natural pools, walk alongside them through wild forest and observe them at night, when they amble freely. It's a place where you'll come away with your heart overflowing with genuine warmth.
Escape to the countryside
In Laos' deep south lies a wild land well off the beaten track, where natural beauty, history and wonderful local life all collide for a rich landscape. The wooden shophouses of Champasak are a sleepy setting for a night in a riverbank lodge with access to the 4,000 Islands region and its array of tiny isles, where some communities have one foot firmly in a previous century. Enjoy cycle trips through local villages, spy crashing waterfalls like Khone Phapheng and walk among Wat Phou, a Khmer temple that rivals those found in Angkor – with a fraction of the visitors.
If you're searching for rich biodiversity in Laos, make a beeline for the Bolaven Plateau. It's steeped in the traditions of the several hill tribes hidden among the jungle, while dramatic waterfalls seep from lush, lofty hillsides. Rural roads are often flanked by stalls housing artisans selling their wares, providing a raw snapshot of local life. High-grade coffee plantations lie deeper in the greenery, jostling for space among fruit and cardamom trees, all of which thrive in the plateau's pleasantly cool climate.
Regions
Where to stay in Laos
A holiday in Laos is among the most authentic Asian experiences you can have. The range of places you can stay in Laos mirrors the country's rustic charm, from a historic retreat in the French colonial city of Luang Prabang to a remote countryside hideaway or a relaxing cruise along the Upper Mekong River aboard a rice barge.
PLAN YOUR HOLIDAY
Enquire Now
Weather
The best time to visit Laos
Laos has two distinct seasons, with the dry season running from October to April and its wet season taking up the rest of the year (May to September).
Thanks to Laos' landlocked nature, the weather remains fairly consistent throughout much of the country, with the height of the location the only factor. Its dry season sees pleasant days, with temperatures below 30°C in Luang Prabang and the lowland areas of Laos, while rainfall is minimal, too. In the evenings it can get quite cool, so we'd definitely recommend packing a few extra layers. It's much hotter in Champasak, with year-round temperatures in the early 30s, but in the highlands of the Bolaven Plateau it's noticeably cooler, even chilly at night. From February onwards, the heat and rainfall starts to rise.
At the start of the rainy season, days can be extremely hot – around 35°C – and with showers yet to reach their peak, it can be baking. Heading for the Bolaven Plateau is a great option if you're planning a holiday to Laos at this time. Across the country, the rains are at their greatest in July and August, although showers still typically only last up to an hour, leaving the rest of the day dry. However, the rains feed the surrounding scenery, leaving behind gorgeously green landscapes to show Laos in a different light.
Travel guide
Laos travel essentials
Do I need any vaccinations for Laos?
Hepatitis A, Typhoid, Polio and Tetanus-Diphtheria vaccinations are currently recommended and Laos is deemed to have a risk of Malaria and the Zika virus. If you're entering Laos from a Yellow Fever zone, possession of a valid Yellow Fever inoculation certificate is required but for any current travel health advice, you should seek guidance from your GP at least four to six weeks prior to travel.
What is the time difference between Laos and the UK?
The time difference is GMT +6 hours (+7 hours October-March).


How long is the flight to Laos?
There are no direct flights from the UK to Laos but it's still only a simple one-stop route. It's a 12-hour flight to Bangkok, before a connecting one-and-a-half hour flight to Luang Prabang. For a nicer way into Laos, you could take a one-stop flight to northern Thailand, before hopping on the Luang Say cruise along the Mekong River to Luang Prabang.
What is the currency in Laos?
The currency is the Lao kip.


Do I need visa for a holiday in Laos?
British passport holders need a visa to enter Laos. You can get one on arrival into Laos for US$35 per person (subject to change), plus two passport photos.
Specialists
Meet our Laos specialists
Laos inspiration
CANVAS
Head to our blog CANVAS for more inspiration, insider secrets and diaries from our team on Laos.
Stay in touch
Sign up to our newsletter for the latest news and offers
Cookies
Our website uses cookies. Click accept to receive all cookies or change your cookie settings. You can also view our Privacy Policy to understand more about how we use cookies.
Privacy Policy