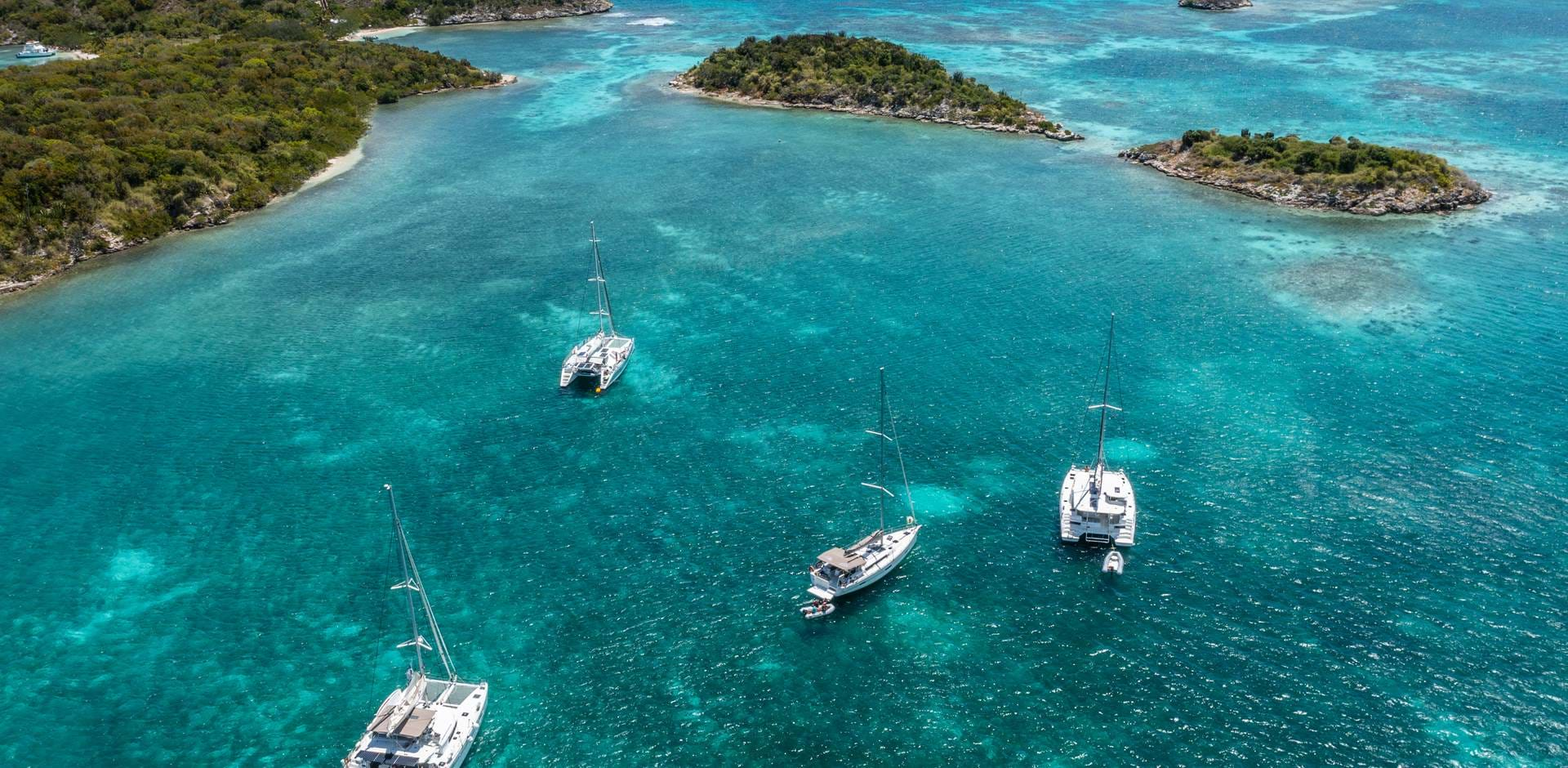 Sailing the Caribbean
Once in a lifetime
Experiences
Sailing the Caribbean
Steady trade winds
Calm crystal-clear turquoise waters for snorkelling
Pristine beaches & stunning scenery
Beach bar hopping
The Caribbean boasts some of the best sailing conditions. For seafaring enthusiasts, the region has steady and warm trade winds, a tapestry of picturesque and contrasting islands to explore, and idyllic turquoise waters – a sailor's paradise! Vibrant cultures, exciting water sports, and authentic dining are all on offer.
Sailors of all skill levels can choose from fully serviced marinas with world-class facilities to secluded anchorages. Your bespoke itinerary will know no bounds. In Antigua, 365 beaches and a lively nightlife are waiting for you. Drop anchor in Saint Lucia and fill your days with hiking the majestic Pitons or snorkelling in the kaleidoscopic marine park. Enjoy easy line of sight navigation in the British Virgin Islands and discover world famous beach bars and grills. Grenada's rich history, spice plantations, and hidden coves are calling. And we can't forget about the gorgeous Tobago Cays – witness a glowing sunset from the deck of your private yacht in the Grenadines! Embark on a voyage of a lifetime.
The Caribbean
Sailing Highlights
The Beautiful British Virgin Islands
Famous across the British Virgin Islands, you can't really say you've visited this archipelago without savouring the feel-good vibes of the iconic Soggy Dollar Bar. Drawing its name from sailors who used to swim ashore and spend their sea-soaked money, this method of getting to the bar has become a classic rite of passage for any visitor. It also invented the infamous Painkiller cocktail, a lethal-but-tasty combo of rum, coconut, pineapple, orange juice and nutmeg.
Everywhere you look in Antigua is postcard-perfect. So why not absorb all its beauty in one eye-popping panorama? That's why we love Shirley Heights, a military lookout and battery perched atop a lush peak. The restored complex and parade ground is well worth a wander but peer past its walls for epic, sweeping views of English Harbour and the glittering Caribbean Sea beyond. It's a sight that really takes your breath away. On Sunday evenings, watch the sunset while sipping on a rum punch ahead of the night's festivities - enjoy a delicious barbeque and savour local bands playing into the night.
If you're looking for a spa treatment with a difference, then Saint Lucia has it. Billed as 'the world's only drive-in volcano', Sulphur Springs' moniker can appear cheesy at first but it's a fun day out. Not literally a drive-in volcano (although you get pretty close), guided tours take you past the jets of steam escaping from fissures and boiling pools of mud that rule this moonscape. Though an eggy whiff hangs in the air (it comes with the territory), you can take your own mud bath in the pools specially constructed in its geothermal river. The health benefits here are renowned – they say one dip makes you look 12 years' younger… If this venture isn't for you then there's always the famous UNESCO-listed Pitons which are webbed with walking trails, or go below the surface to fully appreciate their splendour – their volcanic slopes are blanketed in vibrant reefs curving down to the seabed.
With five tiny emerald lozenges bobbing in aquamarine lagoons, the protected marine park of Tobago Cays is heavenly. And encased by a horseshoe-shaped reef, it's one of the Caribbean's crown jewels when it comes to snorkelling and diving. The coral is as vivid as anywhere on the planet, populated by schools of tropical fish, queen conches and spiny lobsters, while the snow-white beaches are popular feeding and nesting grounds for green, hawksbill and leatherback turtles. It's an underwater world like no other.
A visit to a spice plantation is simply a must on any holiday to Grenada. The island is like one giant garden, so it's no surprise there's plenty of plantations and gardens to wander. A trip to Gouyave Nutmeg Processing Station, the largest factory on the island, is our pick for a fascinating glimpse into how workers hand-pick and package Grenada's most famous export. Aside from the aromatic spices, you can learn the basics behind chocolate making at Belmont Estate cocoa plantation and take in its organic farm, complete with wandering goats and chickens. Practically next door to Belmont is River Antoine Rum Distillery, the oldest functioning one of its kind in the Caribbean and the rum process it adheres to largely unchanged since the 1800s, meaning you can sip a tiny slice of Grenada's history!
Accommodation
Where to Stay in the Caribbean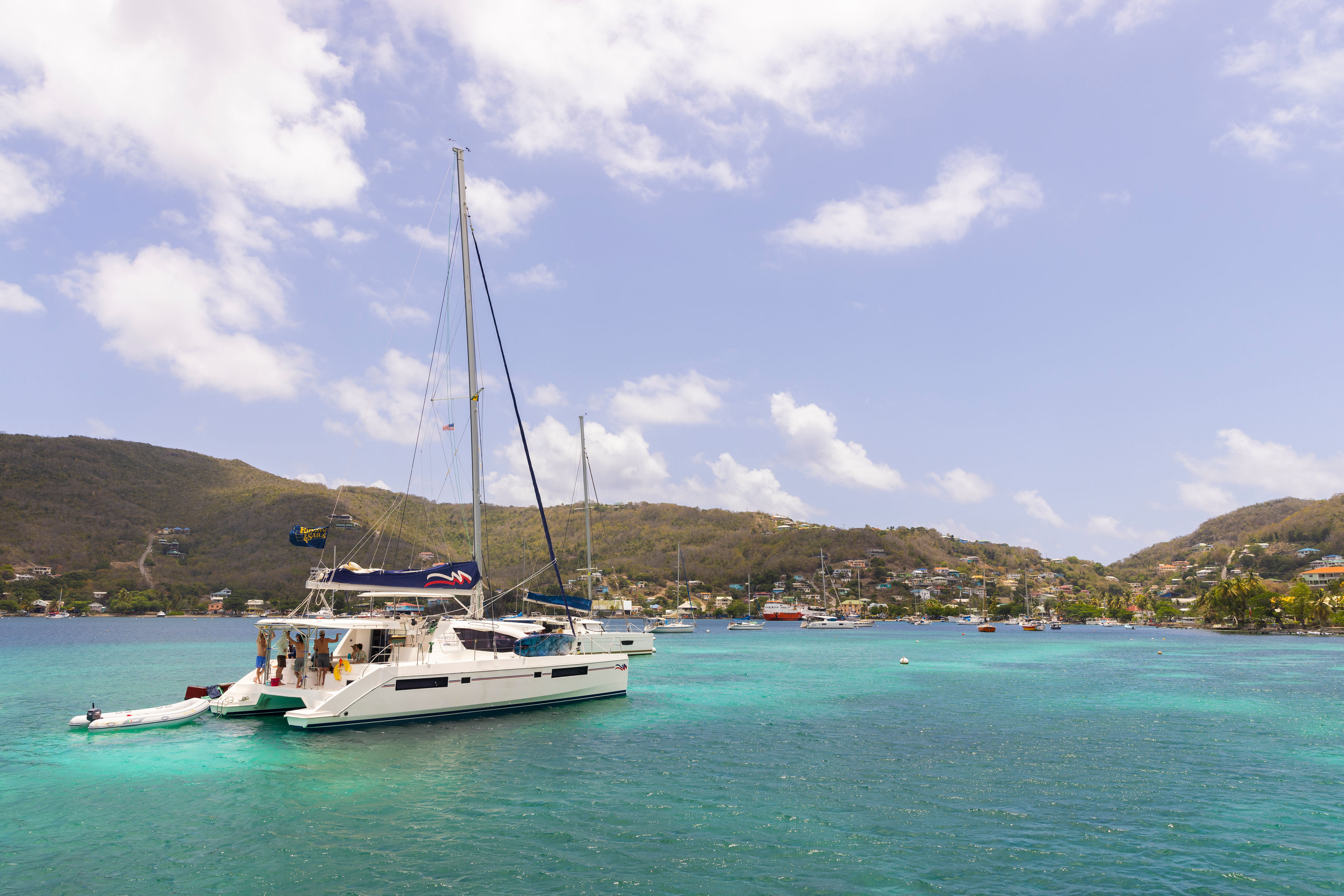 Sailing
The best time to visit the Caribbean for sailing
December to April marks the best time to visit the Caribbean for sailing. During this time, perfect sailing conditions for both experienced and novice sailors can be found – calm trade winds, warm temperatures, and less rainfall. A variety of regattas and events are also held during these months across the Caribbean – well worth at least spectating – and the crystal-clear waters and variety of islands to explore make this region a sailor's paradise at this time of year.
Travel Gudie
Sailing travel essentials
Do I need any vaccinations?
No vaccinations are recommended for visiting the British Virgin Islands, Antigua, Saint Lucia, the Grenadines, or Grenada. Some of these islands are regarded to have a risk of contracting the Zika virus. However, please consult your GP at least four to six weeks prior to travel for current advice.
What is the time difference?
The time difference is GMT -4 hours.
How long is the flight to the Caribbean?
The flight time from London to Antigua or Saint Lucia is approximately 9 hours. From here you will connect on to the British Virgin Islands or Grenada, both of which are approximately 1 hour's additional flight time.
What is the currency in these Caribbean islands?
The currency in Antigua, Saint Lucia, Grenada, the British Virgin Islands, and the Grenadines is the Eastern Caribbean dollar, although US dollars are also widely accepted.
Do I need a visa for a sailing holiday to these Caribbean islands?
British passport holders don't need a visa to travel to Antigua, Saint Lucia, Grenada, the British Virgin Islands, and the Grenadines. However, should you be crossing country borders then normal immigration and border checks will be required.
Travel Specialists
Meeting our sailing specialists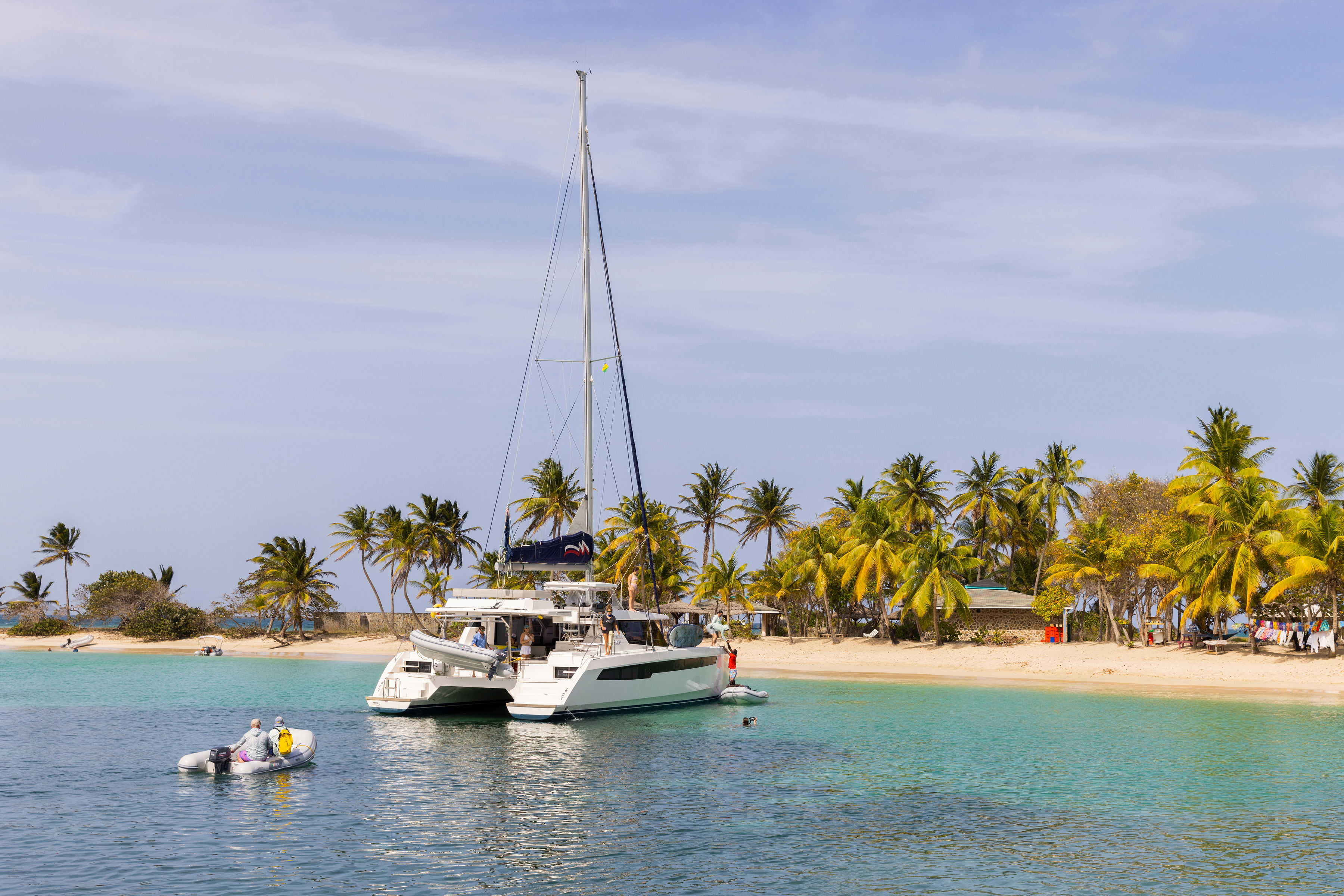 Sailing inspiration
CANVAS
Head to our blog CANVAS for more inspiration, insider secrets and diaries from our team on the Caribbean.
Stay in touch
Sign up to our newsletter for the latest news and offers
Cookies
Our website uses cookies. Click accept to receive all cookies or change your cookie settings. You can also view our Privacy Policy to understand more about how we use cookies.
Privacy Policy