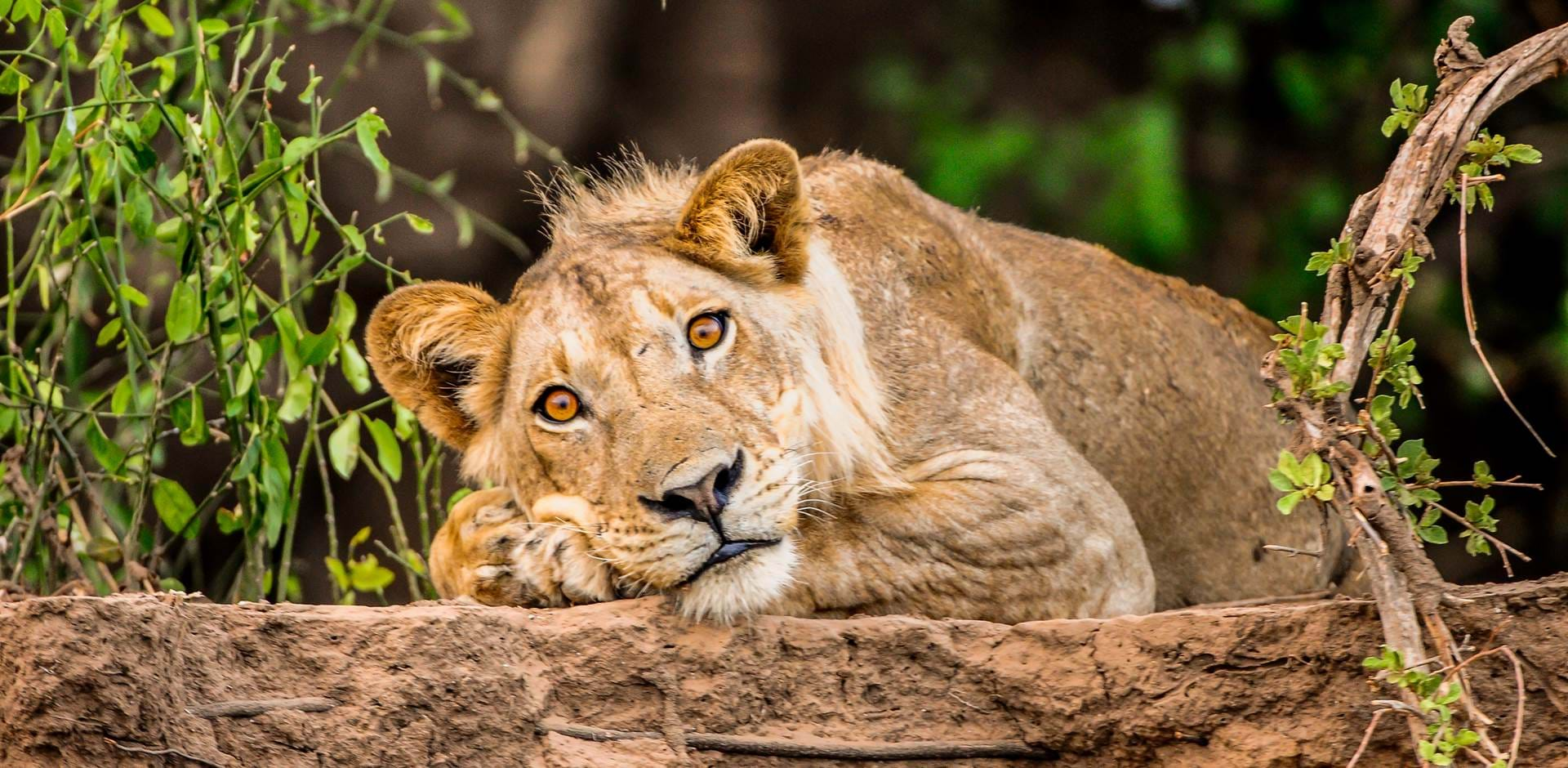 Mix wildlife with tropical chills on a Safari Beach Honeymoon
Safari & Beach
Safari and Beach Honeymoons
The nostalgia and original spirit of safari takes us back to a golden era of romance …a time when pith-helmeted ex-colonels kept watch as the African night sky set in and lanterns were lit whilst the chink of ice cold G&T's filled the air ….what better way to begin your honeymoon, than an Africa safari honeymoon!? Africa is epitomised by its endless horizons, vast open plains, sheer abundance of wildlife and early dawn choruses of birdsong punctuated by lions roaring. Africa is everything you imagine it to be and more!
A safari and beach honeymoon combines excitement, adventure and relaxation in some of the world's most stunning bush and beach settings. Nothing quite compares to the first sighting of a wild animal in its natural habitat – it's a moment that will touch you to the core. A good safari experience will remain with you forever. Most couples opt for the thrill of safari first, on their honeymoon, leaving a week or so afterwards to dust down your safari legs and chill out on a beautiful beach! Allow at least 3 nights to really absorb the bush setting (4 nights is even better!). Conviviality and intimacy are key - safari stories around campfires or the communal dining tables often linger long into the night!
The question of where to go on your luxury safari honeymoon is an important one. If you're looking to see your classic 'Big Five' – lion, leopard, elephant, buffalo and rhino – then head to countries such as South Africa and Kenya. Then think about what kind of safari experience you really want. Does an authentic under canvas tented camp appeal or are plunge pools and spas more important to you? Do you want to sleep out under the stars? The beach part of your honeymoon can greatly influence your choice of safari destination. Kenya honeymoons and Tanzania honeymoons are perfect twins with Zanzibar, whilst South Africa works well with Mauritius and Mozambique. By choosing destinations that are close together, you can cut down on travel costs and time.
Weather
Best Time for a Safari Honeymoon
The dry months (May to October) are a great time for a safari honeymoon in South Africa. The animals are easier to spot as they congregate around the waterholes. Kenya's Masai Mara and Tanzania's Serengeti are also at their best from July to September – and if you're lucky, you'll witness the wildebeest migration! Few spectacles can compete with this great natural wonder - a million wildebeest and other herding animals pounding the African plains in search of fresh grasslands and water. Each year, the wildebeest, along with zebra and antelope, gather up their young and start their long trek from Tanzania's Serengeti Plains further north to Kenya's Masai Mara. It is without doubt one of the most enthralling game viewing spectacles on earth and tops almost every list of safari experiences!
Destinations
Where to Go For a Safari Beach Honeymoon
Having a safari beach honeymoon means you can stay in a mix of epic lodges, hotels and resorts. There's luxury lodges in South Africa, Kenya and Tanzania that pit you right in the heart of the untamed African wilderness, before you swap the bush for the beach in a range of stunning resorts slung across the likes of Zanzibar, the Seychelles and Mauritius.
Contact Us
Make an Enquiry
Travel Guide
Safari Beach Honeymoon FAQ
What is a safari and beach honeymoon?
A safari and beach honeymoon twins epic wildlife watching with downtime on the beach in a single trip. If you're after relaxation but also want to mix it with some wild adventure, then a safari and beach honeymoon is the perfect blend of those two classic elements.
It never fails to guarantee honeymoon memories to last a lifetime, with the beach portion of your honeymoon promising time to chill – something that will be very much needed following a hectic build-up to your wedding!
Where should I go for a safari and beach honeymoon?
There are lots of different destinations which you can combine with one another for your perfect safari and beach honeymoon. If you're after a honeymoon that's a little more rustic and wild, then head to East Africa. Both Kenya and Tanzania offer a bounty of wildlife-watching memories fit for any honeymoon, including the Great Migration if you have your honeymoon in the summer months (between June and October). Then, you can choose between the quiet Kenya Coast or the exotic archipelago of Zanzibar to relax with your loved one.
If you want something a bit more luxurious for your honeymoon, then we highly recommend South Africa. Then you can hop over to the stunning islands of Mauritius or the Seychelles in the Indian Ocean, or, if you'd both prefer even more privacy, the beaches of Mozambique are beautifully untouched.
What should I pack for a safari and beach honeymoon?
If you've never been on a safari before, it can be tricky to know exactly what to take with you. Firstly, please be aware that for safety and logistical reasons, there are luggage restrictions on all transfers by light aircraft, which are often operated on the internal flights to airports near the safari camp you might be staying at. The maximum weight allowance is usually 20kg (sometimes 15kg) and bags must be soft-sided, with no wheels or frame. Excess luggage can usually be stored while you're on safari.
We'd strongly advise packing sun cream and taking a pair of sunglasses, as while you're on a game drive, you're out in the open for several hours, with very little shade. Insect repellent is also highly recommended, as Malaria is a risk in East Africa and parts of South Africa. Even if you're staying in a Malaria-free reserve, you should still take some.
There aren't any unusual things to pack for the beach part of your honeymoon. Sun cream and sunglasses are essential, as well as your swimming costume! Many beach resorts also require you to dress smartly in the evenings, so it's worth checking exactly what your resort's dress code is before you travel.
If you're wondering what clothes you should take on safari, that's answered in the next question in this FAQ section.
What should I wear on a safari?
To maximise your chances of spotting wildlife on safari, look to blend in with your surroundings. Wear neutral colours such as khaki and olive green, which are similar to the bush and less conspicuous to animals. Try to avoid blue or black clothing – those colours are known to be attractive to insects. Game drives can get very warm, especially in the summer, so pack plenty of light cotton-blend clothing, so you don't get too hot! Rain showers can occur, so a lightweight waterproof is also useful. Comfortable walking shoes or lightweight hiking boots are recommended, especially if you want to do a walking safari on a honeymoon.
If you're going on safari during the winter in either South Africa or East Africa, pack a fleece or something warm – you'll need it first thing in the morning! Consider packing a windbreaker, too, to help deflect the wind when you're whizzing along in your safari vehicle.
You'll already have packed a swimming costume in anticipation for the beach part of your honeymoon, but bear in mind that some safari lodges have their own pools, too! Smart attire isn't needed for evening meals, but long trousers and long-sleeve tops will help protect against the insects.
How much is a safari and beach honeymoon?
A safari and beach honeymoon can start from around £2,700 per person, which typically includes three nights on safari, followed by four or five nights on the beach. Usually, destinations in East Africa like Kenya and Tanzania are more affordable than South Africa, which is regarded as a more luxury safari option.
Obviously, the price can rise depending on your accommodation options, the board basis on the beach portion of your honeymoon (safari is all-inclusive) and how long you stay for.
What are the Big Five on a safari?
The term Big Five was originally coined by wildlife hunters, who were referring to the five most difficult animals to track and hunt on foot – the African lion, African elephant, Cape buffalo, leopard and rhino. Now, the phrase has been adopted to reflect the five most iconic animals to spot on safari!
Undoubtedly, ticking off the Big Five will likely be the highlight of your safari and beach honeymoon, but you'll still find it just as thrilling when you spot any of the other animals you can see, with the likes of hippos and cheetahs no less magnificent, but not 'members' of the Big Five. The Big Five has also spawned other 'groups' of animals you can also see on safari, including the Little Five – elephant shrew, buffalo weaver, leopard tortoise, antlion and rhino beetle.
Journeys
Our Top 10 Safari Beach Honeymoons
Gift List
Our honeymoon gift list service
Don't forget to check out the details of our honeymoon gift list service, which allows friends and family to contribute towards travel experiences as well as the more traditional gift list items, all in one place. A complimentary service for all Turquoise honeymoon couples and looked after by a full time team, it's just one of the ways we can ensure your dream honeymoon, becomes a reality.

View Our Honeymoon Offers
Stay in touch
Sign up to our newsletter for the latest news and offers
Cookies
Our website uses cookies. Click accept to receive all cookies or change your cookie settings. You can also view our Privacy Policy to understand more about how we use cookies.
Privacy Policy