Overview
Holidays in Vietnam
Vietnam is a land of amazing contrasts. The fast-paced cities of Hanoi and Saigon are high-octane whirls of local life while the sleepy wonder of Hoi An is Vietnam at its most traditional and atmospheric.
The country isn't just about urban delights – the fertile plains and bustling river life of the Mekong Delta is nicknamed Vietnam's 'rice bowl' and the floating limestone karsts of Halong Bay are an otherworldly sight you just have to see in the flesh. Meanwhile, intrepid adventurers can get their fix in the mist-shrouded tribal valleys of Sapa. Collectively, the landscapes are just as dramatic as the history.
On a luxury holiday in Vietnam you'll see many of the iconic images of a disappearing Asia – vendors in conical hats selling food from a shoulder yoke, endless emerald rice paddies being ploughed by water buffaloes, sampan boats gliding through narrow waterways and entire families being ferried around on a rickety cyclo.
Away from this sensory overload are plenty of island escapes and sun-soaked sands to wind down on. A top-to-toe trip is recommended for a full immersion of Vietnam but you could also base yourself solely in Hoi An, where its old-world charm dovetails perfectly with its nearby beaches. No matter how long you spend travelling in Vietnam, you'll never think it's enough.
Experiences
Vietnam highlights
Wander the east-meets-west aura of Hanoi
The Vietnamese capital, Hanoi, is a charming mix of East meets West where the city's fascinating layers have been forged across over 1,000 years of history. Temples, pagodas and ancient Chinese architecture are tumultuously packed together along winding alleys in its quaint Old Quarter and hopping on a cyclo (three-wheeled bicycle) is a thrilling way to explore this twisting maze. A few streets beyond, though, and everything opens up as lemon-hued grand colonial mansions flank tree-lined boulevards in the neighbouring French Quarter. Hoan Kiem Lake adds to Hanoi's openness, being a lovely place to stroll and watch locals practise early-morning tai chi. For an enriching dose of traditional Vietnamese culture, watch a show at the Thang Long Water Puppet Theatre, an ancient art form that dates back to the 11th century.
See otherworldly limestone karst scenery
The UNESCO-protected Halong Bay is said to have been created after a Jade Emperor ordered a dragon to spray pearls from its mouth into the sea to help protect Vietnam from invasion. But today it looks like the dragon's teeth fell out of its mouth with the pearls, creating an ethereal collection jagged forested peaks that rise magnificently out of the turquoise waters around them. It's a sight that's lusted after by many a traveller and while you won't be alone when visiting Halong Bay, it's still a scene that will totally transfix you while on a luxury holiday here. Lying south of its more famous sibling, Lan Ha Bay serves up more epic limestone karst scenery but without the crowds, if you really want an intimate glimpse. For another alternative, Ninh Binh, a short drive just south of Hanoi, is often nicknamed 'Halong Bay on land', where limestone hills are intersected by rice paddies and lakes.
For many, Hoi An is the Vietnam they've imagined. In-between the hustle and bustle of Hanoi and Ho Chi Minh City, Hoi An is an oasis of calm that has stayed so true to its traditional roots it's been honoured with UNESCO World Heritage status, its historic core brimming with Chinese, Japanese and Vietnamese influences. Small wooden shophouses line narrow streets that come alive once nightfall descends, enchantingly lit up by strings of colourful lanterns. Wander the city for Vietnam's finest food scene, where wafts of pho and cau lau (pork and noodles) can be smelt from street stalls and local kitchens, and a thread of fine tailors that owe their legacy to Hoi An's history as a pitstop on the silk trading route.
Twin the hectic city with sleepy river living
A fast-paced flurry of urban excitement, Saigon is Vietnam at its most rapid. Its streets are swarmed with scooters that can seem overwhelming at first but if you can't beat them, join them – Vespa tours are a great way to explore its less busy streets, passing spectacular sights such as Binh Tay, a market so big it's like a city within a city, and Thien Hau pagoda. But Saigon is a great base for exploring further, with a day trip to the tiny tunnels of Cu Chi an eye-opening reminder of the Vietnam War. Beyond lies the legendary Mekong Delta, where timeless traces of life still thrive alone the riverbanks, with markets and villages floating on streams and rivers that weave the impossibly green landscape like arteries.
Though Vietnam's cities are thoroughly enthralling, many don't realise the country has plenty of incredible beaches to relax on, too. As well as its quaint old-world wonders, Hoi An lies close to several fine stretches of sand and further south, the boulders which hem in a brilliant beachy crescent add natural drama to Ninh Van Bay. Offshore, though the island of Phu Quoc has experienced a surge in visitors in recent years, its northern coast still offers a sleepy tropical sanctuary. For an even more off-beat escape, the Con Dao islands serve up unspoilt beaches and coral reefs home to eye-popping snorkelling and diving.
Regions
Where to stay in Vietnam
A thin sliver of a country, there are a rich range of experiences as you explore Vietnam from north to south (or vice versa). One day you could be staying in a charming boutique in the UNESCO-listed town of Hoi An and the next you could be floating on a heritage cruise around the stunning Halong Bay. Your holiday could easily include both staying in the heart of busy cities like Ho Chi Minh City or Hanoi and unwinding in a beach hideaway on a golden coastline or tropical island like Phu Quoc.
PLAN YOUR HOLIDAY
Enquire Now
Weather
Best time to visit Vietnam
Due to its long and thin shape, Vietnam's weather patterns can be divided into three regions: the north, central Vietnam and the south. As a result, there is no bad time to plan a holiday to Vietnam – when one area is mid-monsoon, another is at its best.
The north has Vietnam's coolest weather. The cool and dry winter lasts from November to April, with places like Hanoi and Halong Bay experiencing temperatures around 20°C during the day, dropping to below 10°C sometimes after dark – we'd advise packing layers. It gets even colder in mountainous Sapa in the far north, where you can get frost during the coldest months between December and February. It's summer in the north between May and October, where it's hot, humid and wet across the entire north and the later in the season you go, the wetter it gets. Hanoi and Halong Bay can occasionally endure typhoons during the summer, while the wet weather makes trekking around Sapa tricky.
Central Vietnam's seasons are roughly opposite to those in the north. From January to August, days are dry and sunny with temperatures regularly nudging 30°C, making it perfect conditions for exploring Hoi An's Old Town or relaxing on the beaches along its coastline. September sees the start of the rainy season, with a chance of typhoons lasting until November. The rain, however, carries on until the turn of the year. Further south in Vietnam's central region, Ninh Van Bay benefits from a longer dry season, with the sunny weather extending to the end of September.
Vietnam's south (Saigon & Mekong Delta) follows a typical tropical pattern, with its dry season from November to April and wet season from May to October. Temperatures hover around the low 30s (degrees Celsius) all year round, but rise steadily towards the end of the dry season, with April and May known to see the mercury hit 40°C. May and June experience frequent thunderstorms and the rain is heavy during the whole of the wet season, although it rarely lasts beyond short afternoon downpours.
The southern islands of Phu Quoc and the Con Dao archipelago follow the same pattern but with better odds of sunny days throughout the entire year. As you'd expect, there can be afternoon downpours should you be going on holiday during the wet season.
Travel guide
Vietnam travel essentials
Do I need any vaccinations for Vietnam?
Hepatitis A, Typhoid, Polio and Tetanus-Diphtheria vaccinations are currently recommended and Vietnam is deemed to have a risk of the Zika virus. While there's no risk of Malaria in the main cities, there is a risk in rural areas such as the Mekong Delta and Sapa. If you're entering Vietnam from a Yellow Fever zone, possession of a valid Yellow Fever inoculation certificate is required. For any current travel health advice, you should seek guidance from your GP at least four to six weeks prior to travel.
What is the time difference between Vietnam and the UK?
The time difference is GMT +7 hours.
How long is the flight to Vietnam?
There are direct flights from London to both Saigon and Hanoi, taking around 13 hours.
What is the currency in Vietnam?
The currency is the Vietnamese dong.
Do I need visa for a holiday in Vietnam?
British passport holders don't need a visa if you're only spending up to 45 days in the country. For stays longer than that (up to 30 days), or if you're leaving Vietnam and then re-entering, you'll need to apply for an e-Visa in advance, costing US$25.
Specialists
Meet our Vietnam specialists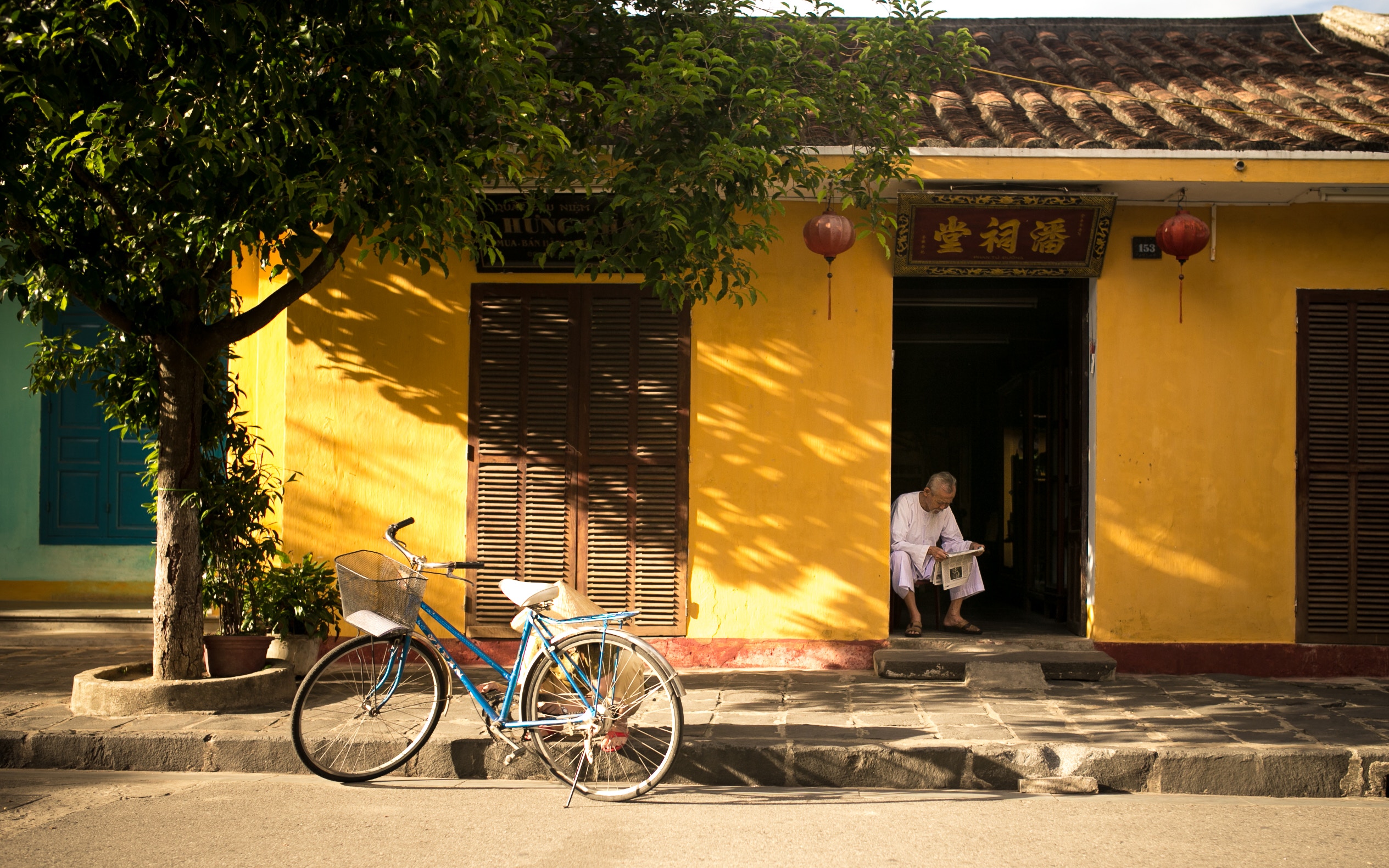 Vietnam inspiration
CANVAS
"Vietnam is one of the most diverse, exciting and beautiful destinations to visit in Asia. Whether your interests are in culture, history, beautiful scenery or simply relaxing on a beautiful beach, Vietnam well and truly has it all. In my opinion, Halong Bay is a must on any trip to Vietnam and for a real treat, why not fly into the bay via seaplane? Ninh Binh province is also worth a visit for those looking to venture slightly further off the beaten track." Antony De Liseo, Vietnam travel specialist

Head to our blog CANVAS for more inspiration, insider secrets and diaries from our team on Vietnam.
Stay in touch
Sign up to our newsletter for the latest news and offers
Cookies
Our website uses cookies. Click accept to receive all cookies or change your cookie settings. You can also view our Privacy Policy to understand more about how we use cookies.
Privacy Policy