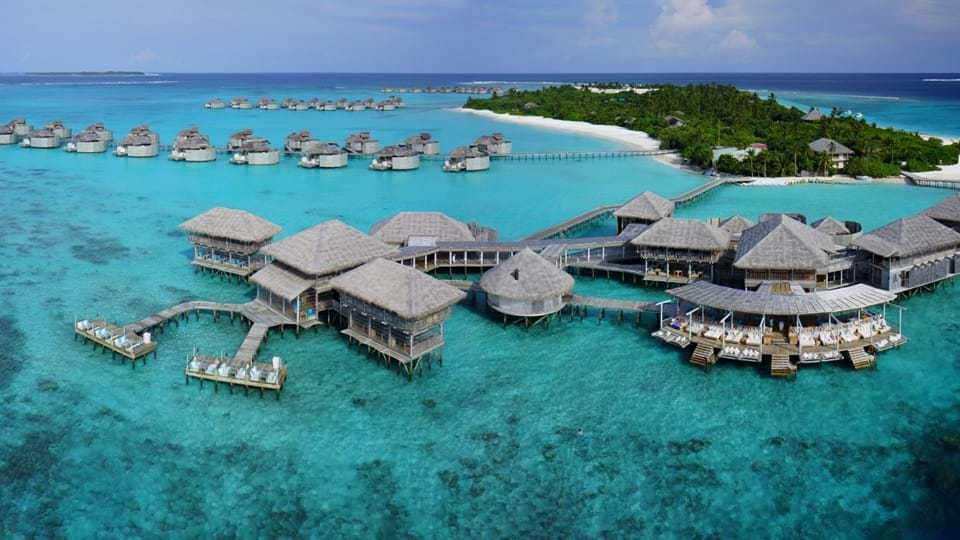 Six Senses Laamu is a heavenly slice of isolation
Six Senses Laamu, Maldives
Maldives Holidays
Six Senses Laamu, Maldives
They say the hardest places to reach are the most rewarding. In the case of Six Senses Laamu, it's certainly true. It's one of the furthest-flung resorts in the Maldives but for those wise enough to venture beyond the seaplane radar will unearth a deliciously pristine island. In truth, Six Senses Laamu isn't hard to reach at all – from Malé it's a 35-minute domestic flight followed by a 15-minute speedboat ride – but the length of journey and its sheer isolation as the only resort in the whole Laamu Atoll makes you feel like intrepid travellers discovering an island no-one else has before. When you get there, it's a heavenly mix of powder-white sands, cobalt-blue waters, lush vegetation and, above all else, exquisite seclusion.
An island in the middle of nowhere deserves to be enjoyed slowly and we have good news for you: a leisurely pedal around the island pathways on your own personalised bike is about as strenuous as it gets. It's a paradise escape that's practically perfect in every way, whether you're a couple or a family. It's a good job Six Senses Laamu knows that, with a strong sustainable focus throughout the resort aimed at protecting its natural treasures for generations to come. They're tooled up with every eco-friendly measure out there, from the conservation of their house reef to operating their own organic garden and a back of house tour gives guests an overview of it all.
After your stay, you'll agree it's an idyll well worth preserving. And after gazing at a night sky filled with fat stars or being hypnotised by the sound of gentle wavelets, you'll also be utterly convinced the extra effort in getting to Six Senses Laamu was more than worth it.
Highlights
Six Senses Laamu
Six Senses Laamu's 97 villas are strung along the envy-inducing powder-soft beach or hover lightly above the blue waters of the Indian Ocean. The Ocean Beach Villas and Lagoon Beach Villas are set on the perfect sands with strategically placed sun loungers topped with plump cushions, direct access to the beach and a treetop deck for epic sunset viewing, while the Laamu, Ocean and Lagoon Water Villas sit on weathered timber jetties in the azure lagoon.
You can play hide and seek with the fish as you laze in your glass bathtub, or drift away in the hammock strung over the water. The seriously comfy day beds are custom-made for indulgent day-long relaxing. Some of the villas also feature an irresistible infinity-edge pool!
The strong sustainable focus at Six Senses Laamu extends to its dining offering and its three restaurants all feature an eco-friendly twist. LEAF is perched over the organic garden and its menu is built around the bounty of fresh produce grown there to create a tasty array of farm-to-fork dishes. Longitude is a two-storey restaurant set overwater (promising food with equally delicious views) and its international-inspired menu has plenty of dishes featuring fish that you probably spotted swimming in the lagoon only hours before. The live cooking station at Japanese fusion restaurant Zen also sizzles with fish sourced from local fishermen the resort work closely with.
Six Senses Laamu is also home to two bars: Sip Sip is a cool sunken bar found right beside the pool and ideal if you fancy a homemade pizza or burger for lunch, while the overwater Chill Bar is where the island party is each evening, complete with its own DJ and cocktails concocted from the freshest of ingredients.
If you want to cool off during the day, there's no better place than Ice. With 42 flavours of ice cream and sorbet for you to try (all of which are complimentary) lack of choice will never be an issue, while Ice's chocolate studio also serves up a selection of homemade treats, too.
Still want more? The resort isn't left wanting in the unique dining experiences department, either. Deck-a-Dence is an intimate collection of six glass-bottom tables hovering above the lagoon where you can enjoy a zero-carbon dinner, while the Chili Table in the organic garden is a five-course meal inspired by chillies sourced from all over the world. If you need something to wash all this lot down with, there are over 400 vintages to try in the Altitude Wine Cellar. Rest assured, you won't be going hungry or thirsty at Six Senses Laamu!
The wealth of water experiences you can have at Six Senses Laamu is staggering. Its house reef runs alongside Jetty A and is fantastic for snorkelling – playful spinner dolphins love to pay a visit at dawn and dusk. But the on-site PADI-certified dive centre offers a selection of courses so you can take your underwater exploration to the greater depths, where vast coral cities filled with sharks, rays, turtles and a kaleidoscope of fish await. With the resort boasting the only dive centre in the atoll, diving from Six Senses Laamu will guarantee you have these magical marine environments to yourself. Not only that, a five-minute boat ride will take you to the Maldives' only year-round manta ray cleaning station, meaning you can have a special experience no matter what time of year you plan to visit.
Prefer to be above the surface? There are plenty of non-motorised water sports for you to try, from windsurfing to kayaking and catamaran sailing. Six Senses Laamu is also just metres away from the Yin Yang, the most famous surf break in the Maldives – visit between May and September if you want to catch the biggest waves. Other ocean experiences include sunset cruises to spot dolphins and various deep-sea fishing trips.
On the island itself, you can book yourself in for an evening at the Cinema Under the Stars, visit neighbouring islands to see the local way of life and witness the resort's eco-friendly initiatives through back of house tours and marine biology workshops. For something truly off the scale, you can even escape to your own private island for the day, where a luxury packed lunch and snorkelling gear will be left with you, as well as walkie talkies so you can can radio in when you (reluctantly) want to return to the resort. Six Senses Laamu's pure isolation also means the stargazing is exceptional, too.
The Six Senses Spa sits right on the beach and offers a superb array of therapies. Its nine treatment nests, either with ocean views or tucked within leafy foliage, are mini havens where skilled therapists employ local and Ayurvedic techniques to fulfil an impressive menu of treatments, massages and facials. That's not all: to further the relaxing atmosphere, there's a nail bar, steam room, juice bar and rooftop yoga studio.
Steve from the watersports centre at Six Senses Laamu tells us what to expect and when to surf:
The surf season runs April through to October, although there can be waves March and November.
A little about the breaks:
Firstly, the main break on this side of the atoll is the famous Yin Yang a right hand channel pass reef break. The outside section of this wave breaks in deeper water, which makes it a little fatter and slower, suitable for Intermediate-advavanced surfers. This section generally breaks throughout the season between 5'-8' with some larger days at 10'+ during peak season (July/August). The inside section breaks in shallow water which produces a fast hollow wave for advanced surfers only.
We have three left hand parks close to the island off of Jetty C, these break in deeper water and again are suitable, with each peak having a varying level of difficulty, the peak nearest the reef marker can hold a hollow wave, and as you pass further away the wave fattens out. Suitable for intermediate-advanced surfers on larger days 5'-6' and 6'+ on larger days during peak season. On smaller days 2'-3' it is possible for a beginner to ride these waves as long as they are turning and trimming, and know when to kick out. There is also a right handed off of the Jetty C which is shallow fast and hollow, only for the crazy crew!
Outside the watersports Centre we have a shoulder breaking into the lagoon 1'-3' ideal for first lessons as the wave breaks into the deep sand bottomed lagoon. Across the channel from SSLM is petrol island a fun bowl shaped reef that produces an "A" frame, Ying yang takes much of the power away from this swell that hits PI, giving us an option when Ying Yang is to big, blown out, or for intermediate surfers, breaks at 3'-4' on the occasional days 5'-6', the wave is a short ride with an easy paddle back to the peak.
There are several breaks on the East side of the atoll. Machines is a similar break to Ying Yang, doesn't break as big, but is more consistent. Refugees, only starts breaking when Ying yang/ machines are 4'+ Beduge, only starts breaking in large swells, when Machines is 6' +, a good option when everywhere else is blown out or to big.
Isdhoo bank requires a special north to north easterly swell and holds a similar wave type.
Access: Ying yang can only be accessed by boat trip as can petrol island, and the breaks on the east side. Jetty C breaks are an easy paddle, or you can opt for a drop off pick up service or a surf pass with guide.
PLAN YOUR HOLIDAY
Enquire Now
Essential Information
Six Senses Laamu FAQ
Is Six Senses Laamu all-inclusive?
There is no all-inclusive option at Six Senses Laamu. However, all other board bases are available: bed and breakfast, half board and full board, while all guests staying on a half board or full board basis can also upgrade to either of the excellent 'Saint' (non-alcoholic) or the 'Sinner' (alcoholic) drinks packages.
Where is Six Senses Laamu located?
Six Senses Laamu is in the Laamu Atoll, which is located in the far south of the Maldivian island chain. It's the only resort in the atoll.
How do you get to Six Senses Laamu?
To reach Six Senses Laamu from Malé, you have to catch a 35-minute domestic flight, followed by a 15-minute speedboat ride.
Does Six Senses Laamu have a house reef?
Yes and it's just a few swim strokes from Chill Bar, continuing all the way along Jetty A. There, you can spot myriad marine life such as green turtles, black-tipped reef sharks, stingrays and all kinds of colourful fish. Six Senses Laamu is also home to the only year-round manta ray cleaning station in the Maldives.
How big is Six Senses Laamu?
Don't let Six Senses Laamu's small size fool you. There are 97 villas split between the beach and overwater, while the island is home to three restaurants, two bars, an ice cream and chocolate studio and wine cellar – without ever feeling crammed in.
See for yourself
A Peek Inside
Map
Where is Six Senses Laamu?
Enquire
Tailor-made Holidays with Turquoise
Every Turquoise Holiday to the Maldives is tailor-made and expertly crafted. Please contact our team of travel specialists on 01494 678 400 or via our online enquiry form for a bespoke quotation and we'll apply the best available offers for your travel dates.
Stay in touch
Sign up to our newsletter for the latest news and offers
Cookies
Our website uses cookies. Click accept to receive all cookies or change your cookie settings. You can also view our Privacy Policy to understand more about how we use cookies.
Privacy Policy