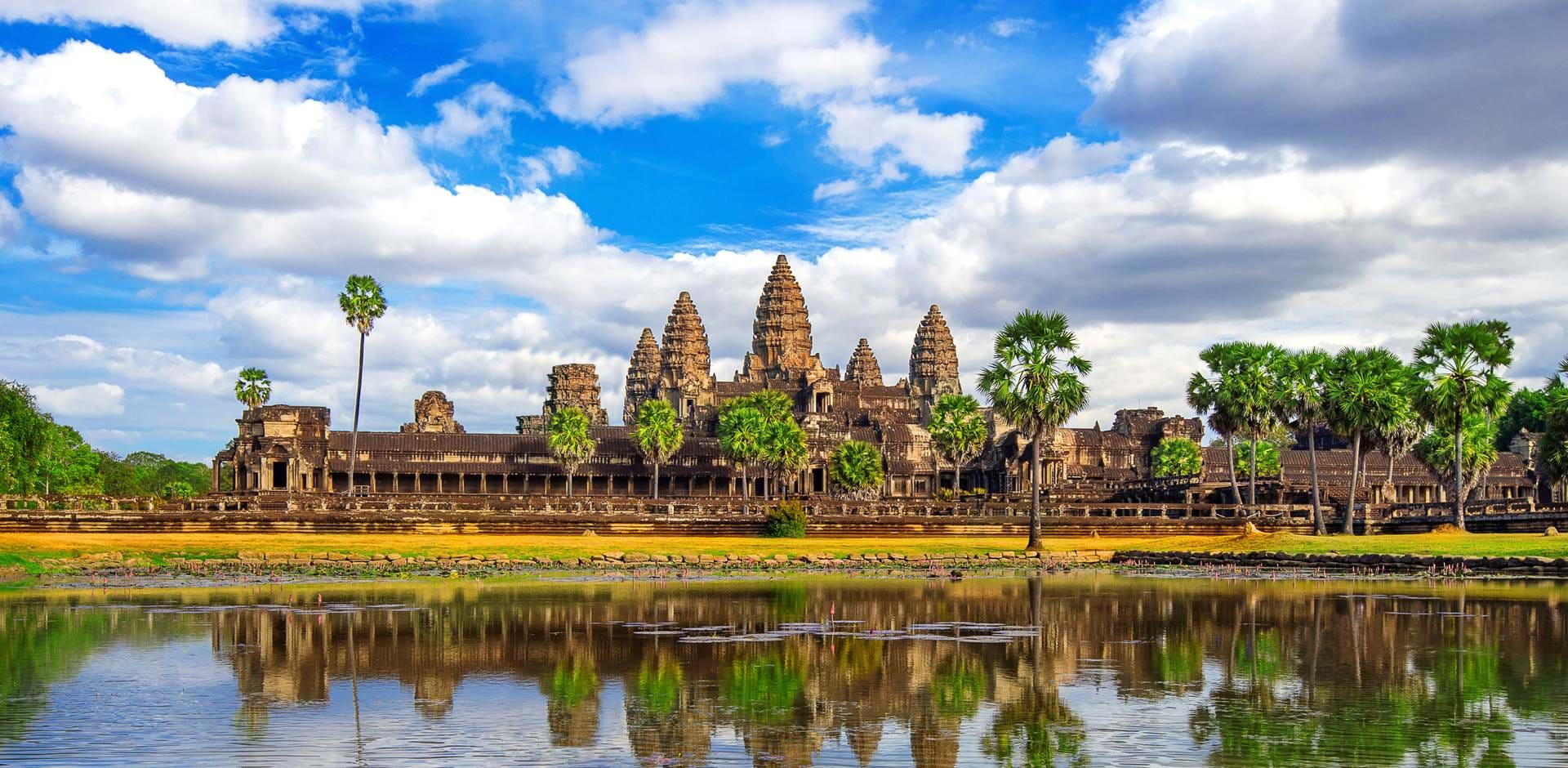 Overview
Holidays in Cambodia
For many, a visit to Cambodia only means one thing: misty-eyed thoughts of the sun rising above the carved corncob towers of Angkor Wat like a golden orb. Though Angkor Wat hogs the limelight as the country's rightful jewel, there's far more to Cambodia's story.
The Khmer empire was once one of Asia's mightiest civilisations, with Cambodia as its seat. Most travellers don't realise that Angkor Wat was only a fraction of its realm and plenty of other stunning temples lie hidden among the jungle, off the beaten track and free of the masses.
While Siem Reap is the traditional jumping-off point for the temple complex, it's a gateway to other treasures. Wandering its lively markets and boutiques are a delight but venture further and you'll discover clusters of fascinating floating villages and rolling countryside striped with rice fields.
The rest of the country rewards you further. Capital Phnom Penh is an emerging street food hotspot and the unspoilt riverine rainforest of Botum Sakor National Park makes for an exciting jungle escape. Even its tropical islands on the south coast are emerging as relaxing hideaways. Cambodia used to be a small part of a big trip across Southeast Asia. Not anymore – now it's a luxury holiday in its own right.
Experiences
Cambodia highlights
See the sunrise at Angkor Wat
Seeing the sun rise above the towers of Angkor Wat is one of those life-affirming moments that will forever stay with you. It's the ultimate glimpse of the Khmer empire's genius and a must on any trip to Cambodia – it is on the national flag after all. But there are many over temples hidden in the UNESCO-listed Angkor complex worthy of your attention and nearly all of them only draw a fraction of Angkor Wat's crowds. The sprawling ruins of Angkor Thom are spread over nearly four square miles, its wonders – including a trio of state temples, Baphuon, Phimeanakas and Bayon – guarded by five magnificent gates topped with ornately decorated heads. Make time to see Ta Prohm, with its remains slowly being swallowed by the jungle, while the monuments at Roluos are some of the earliest examples of Khmer temples and classical art.
Visit Tonle Sap's stilted villages
The vast Tonle Sap is the biggest freshwater lake in Southeast Asia but it's also home to a fascinating community. The string of floating and stilted villages that line its banks is a brilliant place to observe local life that has existed here for centuries. Watch fishermen twirl their nets into the lake in hope of landing a big catch and wander the villages themselves on a guided tour, where you'll learn how life on the lake evolved for the ethnic Vietnamese and Cham communities. Explore the surrounding flooded forest as well, where you can spot birdlife such as spot-billed pelicans and painted storks.
Enjoy the sleepy coastline
If you want an authentic wedge of local life, then head to the sleepy south coast town of Kep. Its mellow atmosphere and laid-back locals are a refreshing change and an authentic add-on to an island stay off the coast of Sihanoukville. You can stay in a stylish boutique hotel, converted from an original villa built by the French in the early 20th century. A visit to the crab market guarantees great seafood while the town's sailing club is ideal for a sundowner or two. Neighbouring Kampot, only a half-hour drive away, is lined with endearing tumbledown shophouses that hark back to a time other places have long forgotten and La Plantation, a pepper farm found in the countryside between the two towns, is a local enterprise showcasing the region's excellent produce and well worth a visit.
Watch wildlife in the rainforest
For a truly off-the-map experience, Cambodia's southern reaches are carpeted in pristine rainforest. The Southern Cardamom and Botum Sakor national parks are unspoilt lands overflowing with incredible biodiversity. Walking trails web the lush landscape while boats ford their snaking rivers, both offering prime opportunities for spotting a raft of Cambodia's elusive wildlife – pileated gibbons, clouded leopards, sun bears and Malayan tapirs all roam here. Aside from the exploring, relaxing in a luxury jungle camp, listening to the soothing sounds of the rainforest, is a great way to get away from it all.
Escape to the islands in the south
Many people don't realise that Cambodia has many island retreats to add on after exploring its inland marvels. But the tropical isles that lie off the country's south coast quietly provide an unspoilt combination of beach and rainforest that are yet to be discovered. Several luxury holiday resorts help you soak up a slice of serene jungle intimacy in a relaxed setting, with each adding its own twist, from rainforest spa treatments to overwater villas.
Regions
Where to stay in Cambodia
Cambodia boasts many different incredible sights and its places to stay match its landmarks on the 'wow' factor. There are luxury lodges resembling a rural village in Siem Reap (the traditional jumping-off point for Angkor Wat) to dreamy beach escapes on its tropical islands and world-class jungle retreats.
PLAN YOUR HOLIDAY
Enquire Now
Weather
The best time to visit Cambodia
Cambodia has two distinct seasons, with the dry season running from November-March and the monsoon season from May-September.
Temperatures in the dry season hover around the high 20s (degrees Celsius) from November to January, which make it comfortable enough to wander around temple ruins and there's plenty of sunshine for an island retreat on Cambodia's south coast. Once you edge into February and March, the heat begins to rise and midday temple visits are best avoided – early morning or late afternoon is best – but the coast stays temperate with cooling winds.
While the wet season kicks off in May, the rains rarely last all day, often occurring in short and heavy showers but they provide some relief from the rising temperatures, with the mercury running between 25-27°C. The cloud cover means it's pleasant for ticking off temples and the wet weather means the scenery turns lush and green. It's a great time for exploring the floating villages of Tonle Sap lake, too, as it swells to around five times its size.
The shoulder months are contrasting, with April receiving dry, scorching heat (temperatures have been known to reach 40°C), but October is a small window of cool, dry weather that's worth taking advantage of.
Travel guide
Cambodia travel essentials
Do I need any vaccinations for Cambodia?
Hepatitis A, Typhoid, Polio and Tetanus-Diptheria vaccinations are currently recommended. There's a risk of the Zika virus, while Malaria is a risk around Angkor Wat and Tonle Sap lake. If you're entering Cambodia from a Yellow Fever zone, possession of a valid Yellow Fever inoculation certificate is required but for any current travel health advice, you should seek guidance from your GP at least four to six weeks prior to travel.


What is the time difference between Cambodia and the UK?
The time difference is GMT +7 hours.


How long is the flight to Cambodia?
There are no direct flights from the UK to Cambodia but it's still only a simple one-stop route. It's roughly 12 hours to a major Asian city such as Bangkok, Singapore or Kuala Lumpur, before a connecting two-hour flight to either Phnom Penh, Siem Reap or Sihanoukville.


What is the currency in Cambodia?
The currency is the Cambodian riel.


Do I need visa for a holiday in Cambodia?
British passport holders need a visa to enter Cambodia. They can either be obtained on arrival into Cambodia for US$30 (make sure you have two passport photos with you as well) or online in advance for US$36 (includes a processing fee).
Discover the majestic Angkor Trail by bike
Video
Specialists
Meet our Cambodia Specialists
Cambodia inspiration
Canvas
Head to our blog CANVAS for more inspiration, insider secrets and diaries from our team on Cambodia
Stay in touch
Sign up to our newsletter for the latest news and offers
Cookies
Our website uses cookies. Click accept to receive all cookies or change your cookie settings. You can also view our Privacy Policy to understand more about how we use cookies.
Privacy Policy