Middle East
Holidays in Ajman
The smallest and least well-known emirate in the United Arab Emirates, Ajman is the country's best-kept secret. With the focus very much on Abu Dhabi and Dubai, tiny Ajman flies under the travel radar but it has plenty of riches to reward those who visit on a luxury holiday.
If you're looking for some of the best beaches in the UAE, then you'll find them in Ajman. Beautiful white stretches skirt its coastline and you could easily soak up the sun under swaying palms throughout your entire stay.
Most people do just come for the sun and sand on a holiday to Ajman but the emirate has more to offer. The mangroves of Al Zorah Nature Reserve are a wetland wonder home to nearly 60 species of bird, including over 100 flamingos and kayaking its creeks and lagoons is the best way to explore it.
The city of Ajman is also underrated. The sandy 18th-century fort which once guarded city now serves as a fascinating museum, while the gold and fabric souks are a bustling snapshot of local life. Plus, Ajman is close enough to neighbouring emirates like Dubai or Ras Al Khaimah you can turn your holiday to the UAE into a multi-centre adventure.
Experiences
Ajman highlights
Ajman is mainly known for being a beach break in the United Arab Emirates and for good reason – it's spoilt when it comes to gorgeous white-sand beaches. If you stay at The Oberoi Beach Resort in Al Zorah then you'll have access to possibly the most pristine swathe of sand in the emirate, a sugar-white beach studded with shells that stretches for over 1,000ft. It offers quiet seclusion and a place to recharge and relax on your holiday. Even if you're exploring the city or outside of the hotel, then head to Ajman's pretty coastline and you're guaranteed to never be too far from a beautiful beach.
Even though Ajman only has one golf course, it's a good one. Al Zorah Golf Club is a world-class course set among a unique and well-preserved environment of mangroves and wetlands, blending in beautifully with its surrounds. There's every chance you'll spot some of the birds that inhabit the reserve while you play your round! The course itself has been crafted by Nicklaus Design, owned by Jack Nicklaus, often lauded as the greatest golfer of all time.
Despite its tiny size, Ajman has one of the best nature reserves in the whole of the United Arab Emirates. Al Zorah Nature Reserve is a sprawling mix of mangrove forests, lagoons and tranquil creeks only a short hop from the city of Ajman. You'll be joined by plenty of winged friends, with the reserve home to nearly 60 species of birds, including flamingos (over 100 of them), egrets and herons, and the waters off its coastline are teeming with life, too. It's sleepy network of watery channels mean it's perfect for exploring by kayak or paddleboard, while the lagoon is great for sports like wakeboarding and sailing. Offshore, pearl-diving excursions give an insight into a centuries-old Emirati tradition in which Ajman was once a big player.
By car, Ajman is less than an hour to the centre of Dubai, so it's easy to combine the two on your holiday. Swap the beaches of Ajman for the futuristic skyscrapers of Dubai for an afternoon, taking in the eye-popping views from atop the cloud-baiting Burj Khalifa, the tallest building in the world. You can go shopping or treat the children to the many entertainment options in The Dubai Mall and spend your evenings in one of the many bars and restaurants, before enjoying the brilliant fountain show in Downtown Dubai. Whether it's just a day or splitting a week between the two, you can easily twin Dubai with Ajman.
Of course, in the UAE you're never too far from the desert. In Ajman, there's plenty of desert experiences you can enjoy, from gentle off-roading around the dunes – spotting oryx and gazelles along the way – to high-octane dune bashing. Go camel riding and observe falconry displays (the UAE's national bird), or visit a traditional Bedouin camp. Visit in the morning for a local breakfast of Arabic favourites like chebab and balaleet, or dine on a barbecue feast under a sky full of stars in the evening.
Accommodation
Where to stay in Ajman
Tiny in size, Ajman is a hidden gem which flies under the radar in comparison with its more illustrious neighbours, Abu Dhabi and Dubai. If quiet and tranquil is just how you like it, then The Oberoi Beach Resort is the ideal accommodation pick, with access to a 400m-long beach and close to the magnificent nature Ajman is blessed with.
PLAN YOUR HOLIDAY
Enquire Now
Weather
The best time to visit Ajman
Ajman, and the United Arab Emirates in general, only really has two climates: hot and hotter. The emirate is treated to year-round sunshine and little rainfall and whatever time of year you visit Ajman, sun cream and plenty of water is essential as the UV rays are particularly strong in the UAE.
November to March is the 'coolest' time of year to visit, with daytime temperatures hovering around the mid-20s (degrees Celsius). This is the most popular time of year to visit Ajman, as the days are comfortable enough to walk around in and still warm enough for a day on the beach. Come night-time, temperatures can drop as low as 14°C, making for pleasantly cool evenings.
From March, the mercury really begins to rise, with June to August seeing scorching temperatures that are regularly in excess of 40°C, coupled with high humidity. We wouldn't recommend exploring outside for too long in these boiling temperatures but your air-conditioned hotel (which will offer much better value for money at this time of year) or restaurants offer welcome respite from the heat.
Travel guide
Ajman travel essentials
Do I need any vaccinations for Ajman?
No vaccinations are currently recommended for Ajman. For current travel health advice, you should seek guidance from your GP at least four to six weeks prior to travel.
What is the time difference between Ajman and the UK?
The time difference is GMT +3 hours.
How long is the flight to Ajman?
There are no direct flights from the UK to Ajman. However, it's easily reachable via a direct flight to Dubai from London (seven hours) and then a short road transfer, around 30 minutes.
What is the currency in Ajman?
The currency is the United Arab Emirates dirham.
Do I need visa for a holiday in Ajman?
British passport holders need a visa to visit the United Arab Emirates and this is issued free of charge upon arrival.
Specialists
Meet our Ajman specialists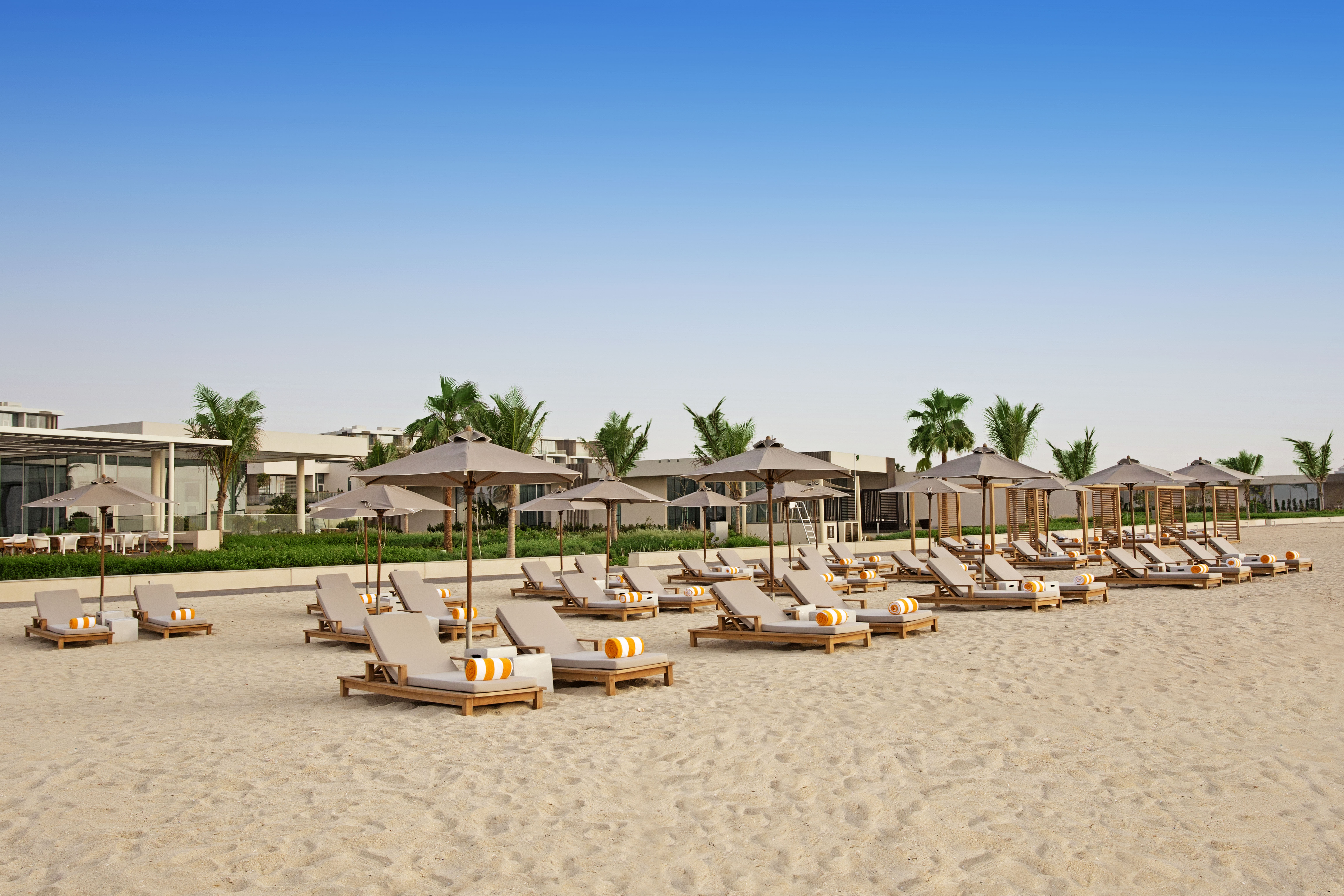 Ajman inspiration
CANVAS
Head to our blog CANVAS for more inspiration, insider secrets and diaries from our team on Ajman.
Stay in touch
Sign up to our newsletter for the latest news and offers
Cookies
Our website uses cookies. Click accept to receive all cookies or change your cookie settings. You can also view our Privacy Policy to understand more about how we use cookies.
Privacy Policy