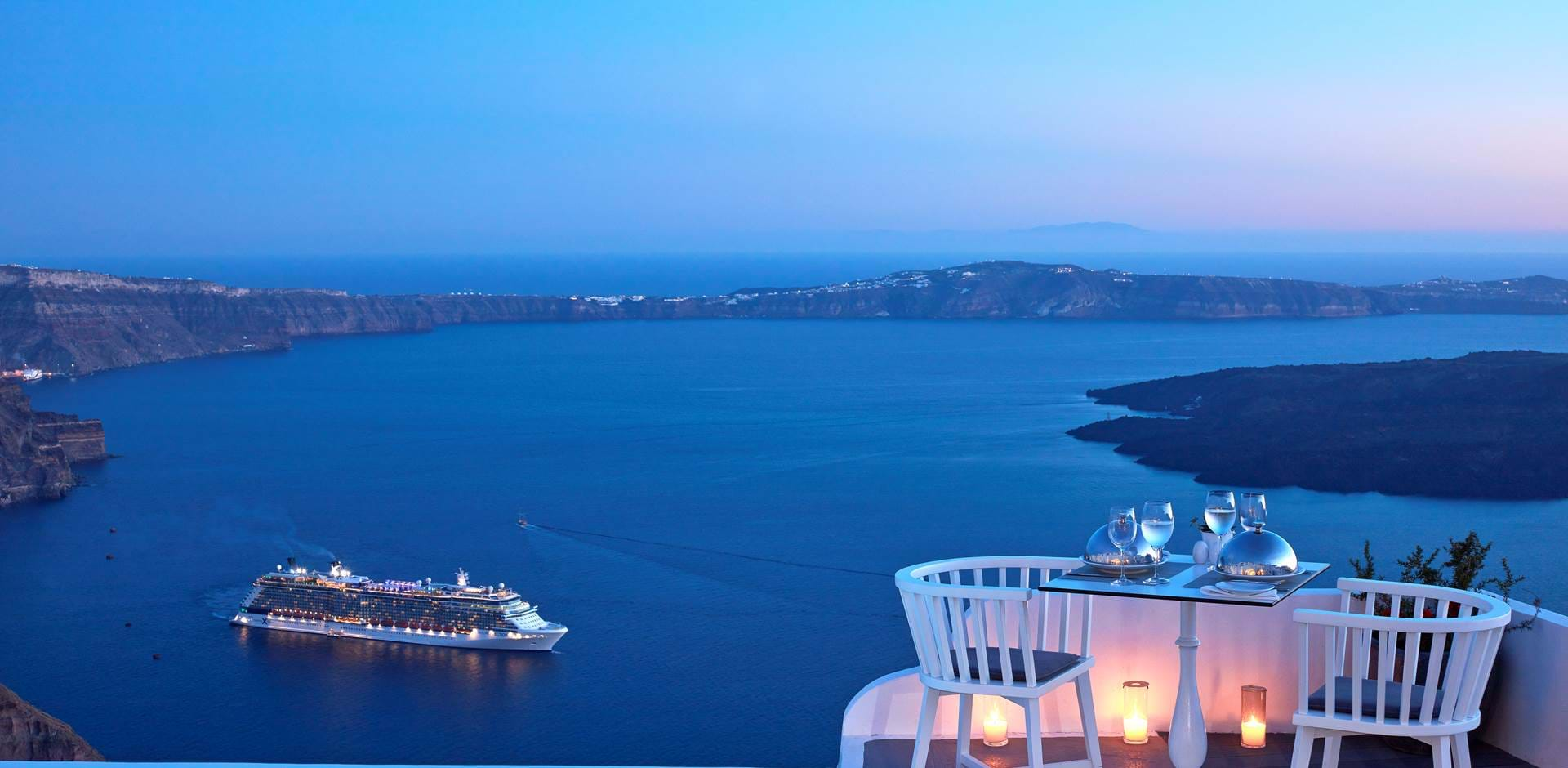 Greece Honeymoons
DISCOVER A SLICE OF GREEK PARADISE
Honeymoons
Luxury Greece Honeymoons 2023/2024
Crimson sunsets. Panoramic sea views. Fabulous food and drink. There aren't many destinations more romantic than the Greek islands and any one (or two, or three) of them would be the perfect fit for a honeymoon in Greece. There's everything you could want for your first romantic escape as newlyweds, with ldyllic beaches for relaxing on after a hectic wedding, incredible cuisine to feast on and splashes of culture and adventure unique to each island. The Mediterranean way of life is incredibly slow-paced, ideal for those couples who want a gentle but beautiful introduction to married life.
Honeymoon Tips
Greece honeymoon highlights
It sounds obvious but try and book a room with a sea view. Most rooms and suites in the hotels come with incredible sea views as standard but it's worth double checking with one of our consultants. In places like Santorini, the caldera is the major drawcard, so most rooms are angled so cleverly towards the sea you needn't even leave your bed to gaze at the glittering water. The pool suites Rock 1 and Rock 2 at St. Nicolas Bay are so close to the water's edge it feels like you can almost reach out and dip your toe in. Is there anything more romantic than spending an evening on your terrace with a cocktail and watching a Mediterranean sunset?
If you want one of your sunset experiences to be even more intimate, you can charter your own yacht for a sunset cruise. It's one of the most romantic ways to see the island, where it will just be you, your loved one, some gourmet nibbles and Champagne and the most gorgeous sunset.
The Greeks are no strangers to spa treatments, with the Ancient Greeks practising several therapies focused on rejuvenating the mind, body and soul. Now, most resorts have a diving, tranquil sanctuary you can properly unwind in with your loved one, with local herbs and ingredients sourced on the same island used in the treatments. Many hotel spas have romantic treatment rooms for two, perfect cocoons for honeymooners.
PLAN YOUR HOLIDAY
Enquire Now
Honeymoon Resorts
Our Top Honeymoon Resorts in Greece
Honeymoons
Katikies Santorini
A stay at Katikies Santorini is the Santorini you'll have seen splashed across social media and the honeymoon brochures you might have been leafing through. The iconic cobalt-blue domes and whitewashed buildings of Oia can be spied from your room and even the hotel itself is like a pretty mish-mash of sugar cubes. Katikies Santorini is just steps away from the main promenade of Oia, Santorini's most fashionable address and the island's answer to Knightsbridge. This is arguably the most glamorous place to spend your honeymoon in Greece but it's the incredible caldera views available from every corner of Katikies Santorini that will always win your heart.
Honeymoon
Katikies Kirini, Santorini
For a hotel that's within walking distance of hip and happening Oia but far enough away to hide away in your own romantic cocoon, then Katikies Kirini is it. Every room is like a luxury whitewashed cave looking out over the shimmering caldera and Aegean Sea, a serene scene that you'll smile at the thought of coming back to every day after time spent perusing the high-end boutiques and twisting lanes of Oia. Katikies Kirini is the perfect blend of the spotlight and seclusion.
Honeymoon
Katikies Chromata, Santorini
In short, Katikies Chromata delivers the finest views of Santorini. Perched at the highest point of the island in the village of Imerovigli, wide-eyed panoramas of its sparkling caldera and stupendous sunsets once dusk arrives are guaranteed. It's scenery you'll never grow tired of and every room has been built straight into the rock, making you feel like you're staying in your very own cave-like hideaway. For the views alone, there aren't many better places in Santorini.
Honeymoon
Katikies Mykonos
If you're a couple who loves both a lively atmosphere and a dreamy beach to relax on, then Mykonos is your ideal island. On its south-western coastline, Katikies Mykonos is well-placed to enjoy them both, overlooking the golden sands of Agios Ioannis beach and within a short taxi ride of many of its top beach clubs. The fascinating history and narrow alleyways of the island's capital, Hora, are only 10 minutes away by car, too. Inside the resort the style is firmly Greek chic, creating romantic cocoons from which you can soak up peaceful views of the Aegean Sea when you want a retreat away from the island's buzz.
Honeymoon
St Nicolas Bay Resort Hotel & Villas, Crete
With minimal fuss and maximum views, St. Nicolas Bay delivers a honeymoon awash with understated luxury. The traditional Cretan stone walls and local furnishings give it the feel of an authentic village rather than a resort but the five-star feel comes in the form of the gorgeous panorama the resort has over Mirabello Bay – Mirabello means beautiful viewpoint in Latin, just to give you an idea. The food and wine options here are endless, too, from fine-dining to delicate jazz tunes to an authentic mezze experience at its traditional Kafenion. Make sure you ask us about Rock 1 and Rock 2, as these dreamy pool suites are the closest to the sea and the best places to soak up the soul-stirring sunsets you can get in Crete.
Greek Honeymoon Packages
Special Offers
Check out our Greek Honeymoon Packages. We also offer a complimentary honeymoon gift list service which you can tailor entirely, from room upgrades to beach picnics, spa treatments and private guides.
Stay in touch
Sign up to our newsletter for the latest news and offers
Cookies
Our website uses cookies. Click accept to receive all cookies or change your cookie settings. You can also view our Privacy Policy to understand more about how we use cookies.
Privacy Policy