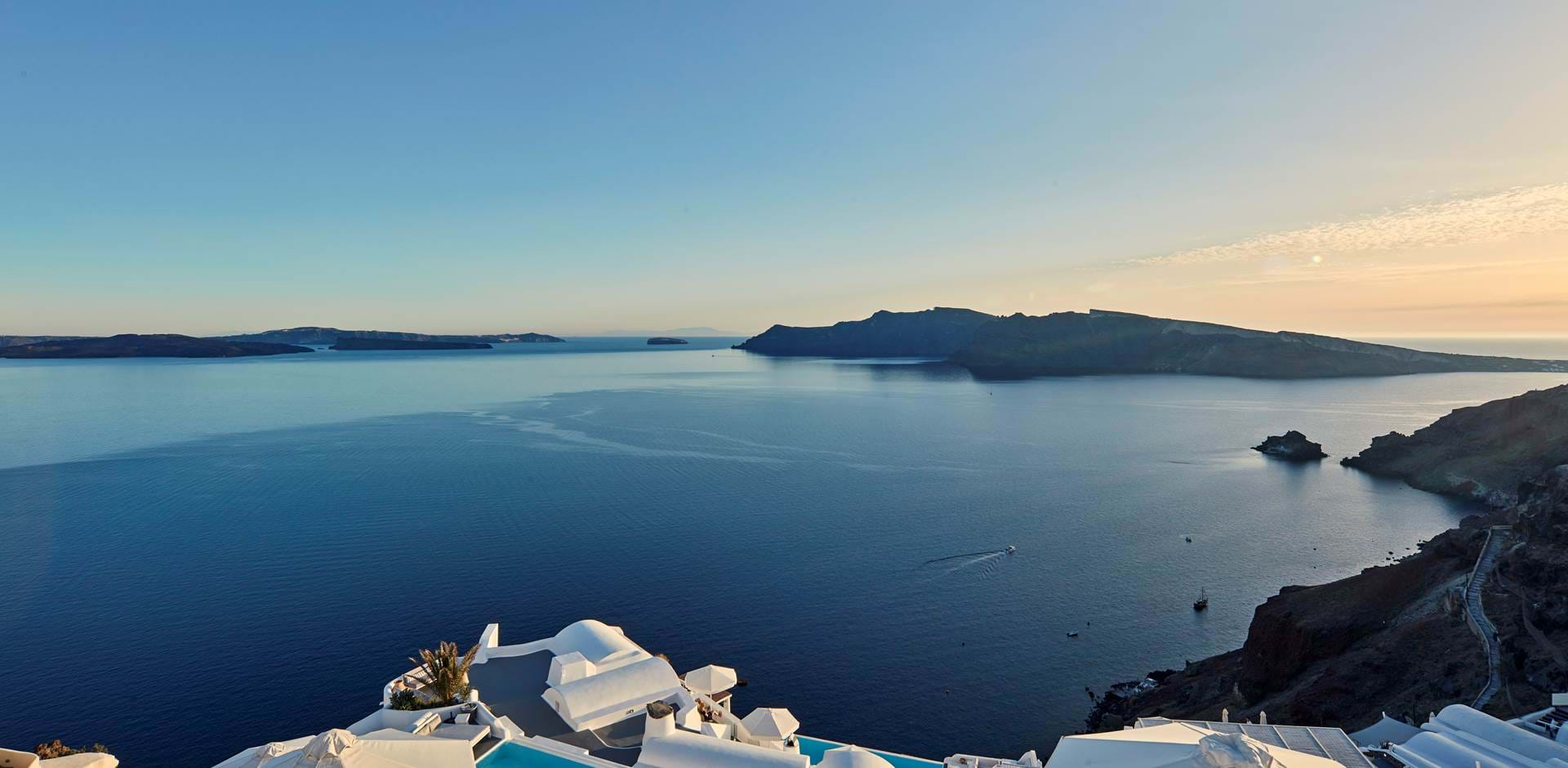 Katikies Santorini, Greece
Katikies Hotel Santorini Oia
Santorini
Katikies Hotel Santorini Oia
The Santorini you see splashed across social media and glossy brochures is the cliff-perched village of Oia and the good news is its royal blue domes and whitewashed houses look even better in the flesh. The luxury boutique hotel Katikies Santorini Oia is right in the thick of this hip, happening and handsome village, a glamorous address that is Santorini's answer to Knightsbridge. And if Oia can be described using those three Hs, then Katikies Santorini excels in a trio of S words: sunsets, sea views and swimming pools.
A stay at Katikies is the Santorini you've always dreamed about. The hotel itself is like a jumble of sugar cubes that have been tipped out of a bowl and are mid-tumble down the rocky cliffside. Staff here call it a 'village' and it's hard to disagree when you notice the white picket gates that lead off to the private terraces of each rooms. Just make sure you have your camera or smartphone ready, as there's no limit to the Instagram opportunities at your fingertips. While the hotel certainly dazzles in white, it knows Mother Nature is the star of the show and jaw-dropping caldera views can be seen from nearly anywhere in the hotel, not least its trio of dazzling infinity pools.
What's more, the upmarket boutiques, cafés and restaurants of Oia are just a few photogenic steps away from the door of your suite and its whitewashed web of lanes are a real joy to wander. This is where all it all happens in Santorini and while the glamour of Oia is no secret, you can smile in the knowledge you have the best address to experience it all. Plus, once the day visitors have gone, Santorini's sunsets are all yours.
Highlights
Katikies Santorini
The rooms at Katikies Santorini all have expansive terraces for you to soak up the widescreen caldera views. Inside, the arched ceilings, pure white walls and decor are like having your own cave retreat hewn into the cliffs and the minimalist colour scheme ensures the attention remains firmly on Santorini's volcanic scenery. Some rooms come with the addition of a fireplace to ramp up the cosiness factor, while some terraces also have jetted bathtubs or plunge pools. Walk-in showers furnished with Bvlgari bath products add to the luxury.
Every guest is also given a mobile 'wish phone', which is akin to having concierge on speed dial wherever you go. Whether it's room service or you're after expert tips while you're out exploring, hotel staff will help you with pretty much anything.
Katikies Santorini can boast a trio of excellent restaurants and dining is high-end wherever you choose to eat – exactly how Oia should be enjoyed.
Mikrasia is the headliner, delivering an intimate, candle-lit experience while overlooking the shimmering waters of Santorini's caldera. The food is heavily inspired by the ancient Anatolian city of Smyrna (whose inhabitants were said to be lovers of fine food) and Byzantine cooking, combining ingredients heralding from a bygone era with the elegance of the 'new' Santorini. Your dishes will seem more like works of art and they'll taste just as good as they look. Any of the seafood plates are a must, such as the blue lobster or mix of shellfish, squid, sea urchin and beluga caviar.
The Seltz Champagne Bar & Restaurant overlooks one of the hotel's infinity pools and specialises in an impressive range of Mediterranean seafood and sushi dishes to enjoy poolside, while of course a glass of bubbles needs to be savoured here at sunset. Another of the hotel's infinity pools is serviced by the Katikies Pool Bar & Restaurant, which offers a comprehensive selection of cocktails, juices and gourmet snacks.
The focal point of Katikies Santorini is its trio of infinity pools, all of which offer completely different atmospheres. One has a resident DJ with a mixtape of upbeat tunes, another is soundtracked by more chilled music and the third is kept quiet if you want somewhere to unwind in complete peace. The resort also has a library and its own shop, MO's Fashion Boutique, where you can peruse everything from ancient Greek sandals to artisan Greek jewellery and island-inspired clothing for the ultimate Santorini look.
One of the main allures of Katikies Santorini is its prime position in Oia and getting out to explore the trendy cafés and boutiques of this fashionable whitewashed labyrinth is a must. But the hotel's staff are always on hand to help with any excursion ideas and Katikies Santorini also has its own boats, so you can hop over to the islands of Nea Kameni and Palea Kameni (famous for its hot springs) for the day.
For anything else, just dial your wish phone and the hotel's concierge will be happy to help organise almost any kind of day out.
Katikies Santorini does have the small A.SPA tucked away within a cave and this single twin-bed suite also comes with a private jetted tub and steam bath.
However, the much larger A.SPA at its sister hotel Katikies Kirini lies only a three-minute drive away and offers a far broader range of treatments such as massages, facials and full-body therapies that all Lignes St. Barth ingredients for a Caribbean inspired experience.
PLAN YOUR HOLIDAY
Enquire Now
Map
Where is Katikies Santorini?
Enquire
Tailor-made Holidays with Turquoise
Every Turquoise Holiday to Greece is tailor-made and expertly crafted. Please contact our team of travel specialists on 01494 678 400 or via our online enquiry form for a bespoke quotation and we'll apply the best available offers for your travel dates.
Stay in touch
Sign up to our newsletter for the latest news and offers
Cookies
Our website uses cookies. Click accept to receive all cookies or change your cookie settings. You can also view our Privacy Policy to understand more about how we use cookies.
Privacy Policy