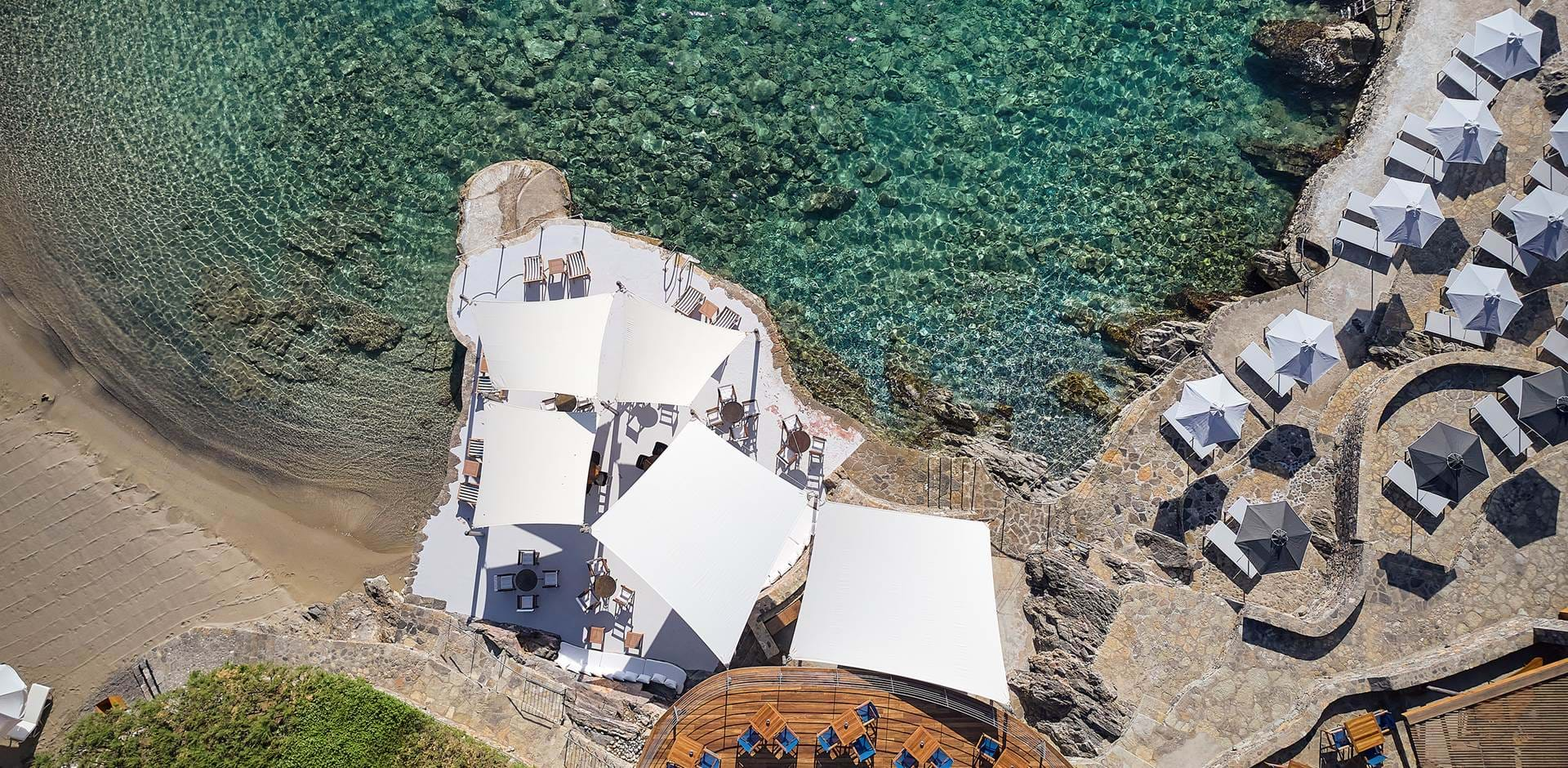 St Nicolas Bay Resort Hotel & Villas
Crete
St. Nicolas Bay Resort Hotel & Villas, Crete
When you step into the reception lobby of St. Nicolas Bay, you'll wonder if you're even in a resort. That's because with its traditional Cretan stone walls and local furnishings, it looks more like the home of a wealthy Greek. This is understated luxury at its very best and that's exactly how St. Nicolas Bay likes it; a flashy welcome wouldn't seem right here. What is flashy, though, is its location: it boasts a prime position on Crete's eastern coast, overlooking the glittering Mirabello Bay and just a 20-minute stroll from the charming waterfront town of Agios Nikolaos.
The little lanes which flow between the rooms, beach and restaurants, all of which are knitted together by the warmest Greek hospitality, make you feel like you're wandering a Cretan village and not a resort. There's even an al fresco gallery that hosts local artists, whose work then often adorns the light and airy rooms, themselves contemporary in feel but with authentic Cretan furnishings. With a name like Mirabello Bay (Mirabello is Latin for beautiful viewpoint), the resort has ensured every room has a sea view. The resort's separate Thalassa Villas add an extra level of luxury and privacy, with most equipped with their own kitchens and private pools.
You never lose a sense of place wherever you are at St. Nicolas Bay. Authentic Crete is everywhere, from enjoying a leisurely mezze at the traditional Kafenion or watching a fiery sunset sink into the Mediterranean. Whether you're a couple, family or friends just looking to celebrate a special occasion, this will feel like a Cretan home from home – just with better views and super-friendly neighbours.
Highlights
St Nicolas Bay Resort Hotel & Villas
There are over 100 rooms at St. Nicolas Bay but it certainly doesn't seem like it, given the resort's village-like feel. What's great about St. Nicolas Bay is that there are plenty of options for both couples and families, so you have plenty of choice to pick from depending on your needs. Even the smallest rooms are spacious.
In the main part of the resort, rooms are divided into 'Classic' and 'Club' categories, with each one light, contemporary and airy in its feel and minimalist style in its design. Locally made furniture is used throughout and the walls are adorned with Cretan artwork, so you always retain a sense of place. Every room has its own outside space, whether it's a terrace or balcony, to ensure that the stunning Mirabello Bay feels like an extension of your room. Some even come with their own private saltwater pools.
The Club suites are closer to the sea, with most hemmed in by traditional Cretan stone walls, so your outdoor space is like having your own local walled garden. They either come with balconies or terraces as well, with some also featuring an outdoor Jacuzzi or large private pool, so you could spend most of the day soaking up those gorgeous Mirabello Bay views if you wanted! The top Club rooms are huge in size and are approriately named after Ancient Greek gods. But where the Club suites really come into their own are the added perks they offer, with thoughtful touches sprinkled throughout your stay. It could start include a bottle of Champagne and bunch of flowers upon arrival and if you wanted a lazy morning, you could order your breakfast to your room free of charge. If you're honeymooners or a couple looking for something extra special to celebrate a big occasion, ask us about Rock 1 and Rock 2 – they're the closest suites to the water's edge and both have big private pools.
Next door to the main resort are the Thalassa Villas, a sister collection of luxury villas owned and managed by St. Nicolas Bay. Comprising six villas and two suites perched on a hillside looking out at Mirabello Bay, they're lavish in their appearance. All come with generously sized private pools and their interiors effortlessly combine traditional Cretan touches with contemporary flair. Privacy is paramount here and with cocoons with one, two, three or four bedrooms, there are options for couples right up to large families or groups of friends. All have expansive outdoor areas so the spectacular bay views never leave your gaze, with some of the villas also having direct access to the water, tempting you for a sea swim. Even though those staying here can also use all of the facilities and restaurants at the main resort (it's just a minute's walk away), the six villas also come with fully kitted kitchens, giving you the option of whipping up your own Greek meal. There are plenty of in-villa experiences on offer as well, including hiring your own private chef, wine tasting and spa treatments.
St. Nicolas Bay has an impressive mezze of five restaurants and two bars spread right across the resort. The breakfast terrace of the Club House is a fine place to start each day (especially as the sun rises on this side of the bay), under the shade of olive trees and with excellent views of the Mirabello Bay. There is plenty on offer to eat, including freshly baked bread and pastries, locally sourced fruit, Cretan specialities and a selection of hot dishes.
Located right on the waterfront, The Blue Bay is a dreamy lunch spot complemented by its range of light Mediterranean and Asian dishes, salads and snacks. The restaurant also services the resort's main pool and beach and from the comfort of your lounger you can snack on a tasty selection of sandwiches, ice creams, fruit juices and cocktails. Come your evening meal, there's a huge variety on offer. Labyrinthos is the main restaurant for dinner and its busy live kitchen whips up a delicious five-course dining experience of hors d'oeurves, starters, salads, mains and desserts, all which can be washed down by local Greek wines.
The Minotaure restaurant may be named after the mythological beast that is half-man, half-bull, but it's fine-dining at its best. The food is a mixture of innovative Asian and international cuisine (the sushi and sashimi are exceptional), all of which are complemented by great vintages from the resort's own wine cellar, but the setting in which you eat is pure magic. The tables surround a tranquil pool and are under a sky full of stars, but the intimacy factor is really cranked up a notch by live piano music playing soft jazz in the background.
For something a little more traditional, St. Nicolas Bay also has a Greek Kafenion beside a little chapel. Here, a live barbecue kitchen conjures up authentic Cretan food and a tasty mix of seafood platters, your food accompanied by a night of Greek singing and dancing.
At night, the Bonatsa Jetty Bar, which is beside The Blue Bay restaurant, is great for the for expertly made cocktails on the seafront soundtracked by a live DJ. For glorious sunsets, look no further than The Astra Bar. Gentle piano music creates a tranquil mood, allowing you to soak up the setting sun and the twinkling lights of Agios Nikolaos in the distance with a sundowner (or two) in hand.
At St. Nicolas Bay, there's plenty to do both in the resort and the surrounding area. Two connected main pools are lovely places to chill during the day but you'll realise Mirabello Bay never leaves your eyeline during your stay. The resort's comprehensive water sports centre is your invitation to enjoy any number of thrilling experiences on its glittering waters, including waterskiing, windsurfing and canoeing. There's plenty of evidence St. Nicolas Bay is firmly in touch with its Cretan roots, with an art gallery showcasing the works of local artists and its own Cretan museum, with time-honoured rugs, pottery and handicrafts among the exhibits on display.
The resort's fantastic position on Crete's eastern coast gives you access to some of the island's most fascinating sights. The team at St. Nicolas Bay do everything they can to help you explore, too, including complimentary bicycle hire for all guests. The pretty port of Agios Nikolaos is just a 20-minute walk away and is well worth a day visit. It's characterised by its pastel-shaded Venetian-era buildings but the town's focal point is Lake Voulismeni, a once-freshwater lake that's now connected to the Mediterranean via a narrow channel. Legends hang over the lake, as it's said the Greek goddess Athena used to bathe here and it was once believed the lake was bottomless (its actual depth is 64m, but that would just ruin the fun). Today, a string of cafés, high-end boutiques and restaurants line its banks. Aside from Agios Nikolaos, the cosy tavernas of Plaka and easy-going Elounda are other coastal towns worth visiting.
St. Nicolas Bay also offers speedboat trips to Spinalonga Island, a former leper colony and a captivating tour here has become a must-do when staying in this part of Crete. If you've got a hire car, you can widen your range of exploration in Crete's Lasithi province.
For families, St. Nicolas Bay has a kids' club for children aged 4-11 years old, with everything from arts and crafts, treasure hunts and team games organised throughout the day. There's also a separate Galaxy games room for teenagers, furnished with a table football, games consoles and a table tennis table. Families can also use a separate family pool, which is adjacent to the hotel's two other pools.
St. Nicolas Bay's Poseidon Spa boasts several indoor and outdoor treatment rooms, as well as a Turkish steam bath, sauna and heated indoor jet pool. Treatments are provided by Elemis and Cinq Mondes therapists, with everything from massages using Cretan herbs and beeswax to cleansing facials inspired by techniques from as far as Bali and China. A separate beauty salon also offers manicures, pedicures and more. Couples should definitely book themselves into 'Aphrodite's Bath', a treatment cave for two that also comes with a seawater thalassotherapy pool overlooking Mirabello Bay.
Complimentary hatha and vinyasa yoga classes are offered against a gorgeous seafront backdrop, while a state-of-the-art is also available for all guests to use.
PLAN YOUR HOLIDAY
Enquire Now
Map
Where is St Nicolas Bay Resort?
Enquire
Tailor-made Holidays with Turquoise
Every Turquoise Holiday to Greece is tailor-made and expertly crafted. Please contact our team of travel specialists on 01494 678 400 or via our online enquiry form for a bespoke quotation and we'll apply the best available offers for your travel dates.
Stay in touch
Sign up to our newsletter for the latest news and offers
Cookies
Our website uses cookies. Click accept to receive all cookies or change your cookie settings. You can also view our Privacy Policy to understand more about how we use cookies.
Privacy Policy