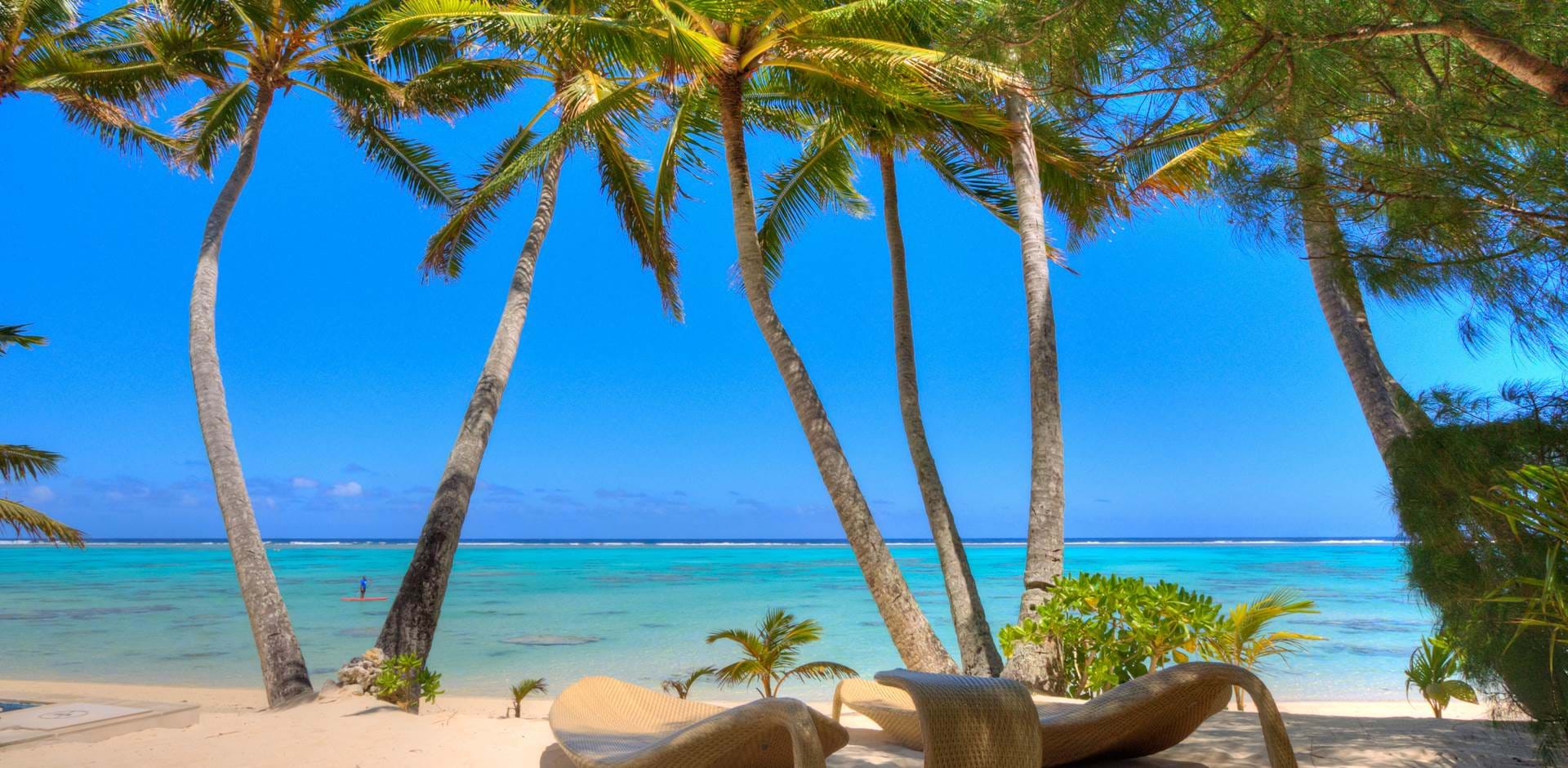 Cook Islands
Rarotonga
Rarotonga is the main island in the Cooks and home to the majority of the nation's population. Rarotonga itself is a mountainous island with a lush green interior and palm fringed white sand coastline. It is all about living like a local here and as one of the friendliest places in the world, you will feel like part of the community within hours of arriving. You won't find the chain hotels or glitzy 5* hotels of neighbouring Tahiti here, and with a government law that no building is allowed to be built taller than the tallest palm tree, it is hard not to instantly fall in love with this far flung pearl of Pacific paradise. One important thing to know about Rarotonga is that the majority of our favourite accommodation options are self-catered apartments or stand-alone villas. Breakfast amenities can often be organised in advance, but for the rest of the day people who love the Cooks like we do enjoy sampling the local eateries, markets and beach barbecues.
Top 5 things to do on Rarotonga
1. Visit Muri Beach.
The most beautiful beach on the island, Muri Beach is a hive of activity. Watersports (incredible diving and snorkelling) galore, night markets and pop up BBQs on the beach each week, drop dead gorgeous sunsets, bars, restaurants and secret sun bathing spots. Despite this being the 'busiest' beach on the island… busy in the Cooks is a world away from the busy you and I know back home… you can always find your own shady spot to relax.
2. Weekends in Avarua.
Avarua is the main town on Rarotonga and a really fun place to visit! On a Saturday morning, head into town and wander round the market for fresh fruit and veg, locals cooking up a feast, and a true taste of Cooks community and culture. On a Sunday, almost everyone on the island goes to church and whatever your religious beliefs, it's a bit of a bucket list experience for all who visit! Everyone is welcome but take snacks and water, the service can last a few hours!
3. Island Treks.
Meet Pa's family and discover the interior jungles and forests of Rarotonga. Guests are taken on a guided tour (with Pa's nephew) of the flora and fauna of the Cooks… try some of the traditional herbal medicines and learn about the plants and trees that have sustained the islanders' health for generations. This is an immersive and essential insight into the culture, history and very essence of the wonderful Cook Islanders.
4. Cooks Cuisine.
You must try Ika Mata, the local dish, a variation of South American ceviche… raw fish marinated in lime, coconut milk and coriander… mouthwateringly delicious! For the full experience, wash down your Ika Mata with a fresh Nu, aka a young coconut with a straw in the top! Favourite local restaurants include Trader Jacks (very local), The Moorings (famous for their F.O.B – 'Fresh of the Boat' fish sandwich – divine) and Sails (great seafood on Muri Beach). The Te Vara Nui cultural night is also worth experiencing. It's a bit of a tourist hot spot, but it's also a fun evening of Cooks entertainment and dancing. Highland Paradise is a more authentic, off the beaten track island experience.
5. Explore, Explore, Explore!
By foot, bike (electric or pedal!), scooter or bus. At the very least, buy a hop on, hop off bus ticket and spend a morning circumnavigating the island. It's much easier than it sounds…. with one circular road and two buses, cleverly named 'clockwise' and 'anticlockwise', you're sure to get home safely one way or other. If you choose to go out in the evening, most restaurants will come and get you and then drop you off after…it's all part of the Cook Islands service and just another little thing about this gorgeous country that we absolutely LOVE. For those who like bikes, Storytellers Eco Cycle Tours is our favourite partner for island exploring whilst learning all about the history and culture of the Cooks with a local guide.
Accommodation
Where to stay in Rarotonga
Weather
Best time to visit Rarotonga
Specialists
Meet our Rarotonga Specialists
Cook Islands
Itineraries
Discover the breathtaking beauty of the Cook Islands. Plan the journey of a lifetime today.
Stay in touch
Sign up to our newsletter for the latest news and offers
Cookies
Our website uses cookies. Click accept to receive all cookies or change your cookie settings. You can also view our Privacy Policy to understand more about how we use cookies.
Privacy Policy