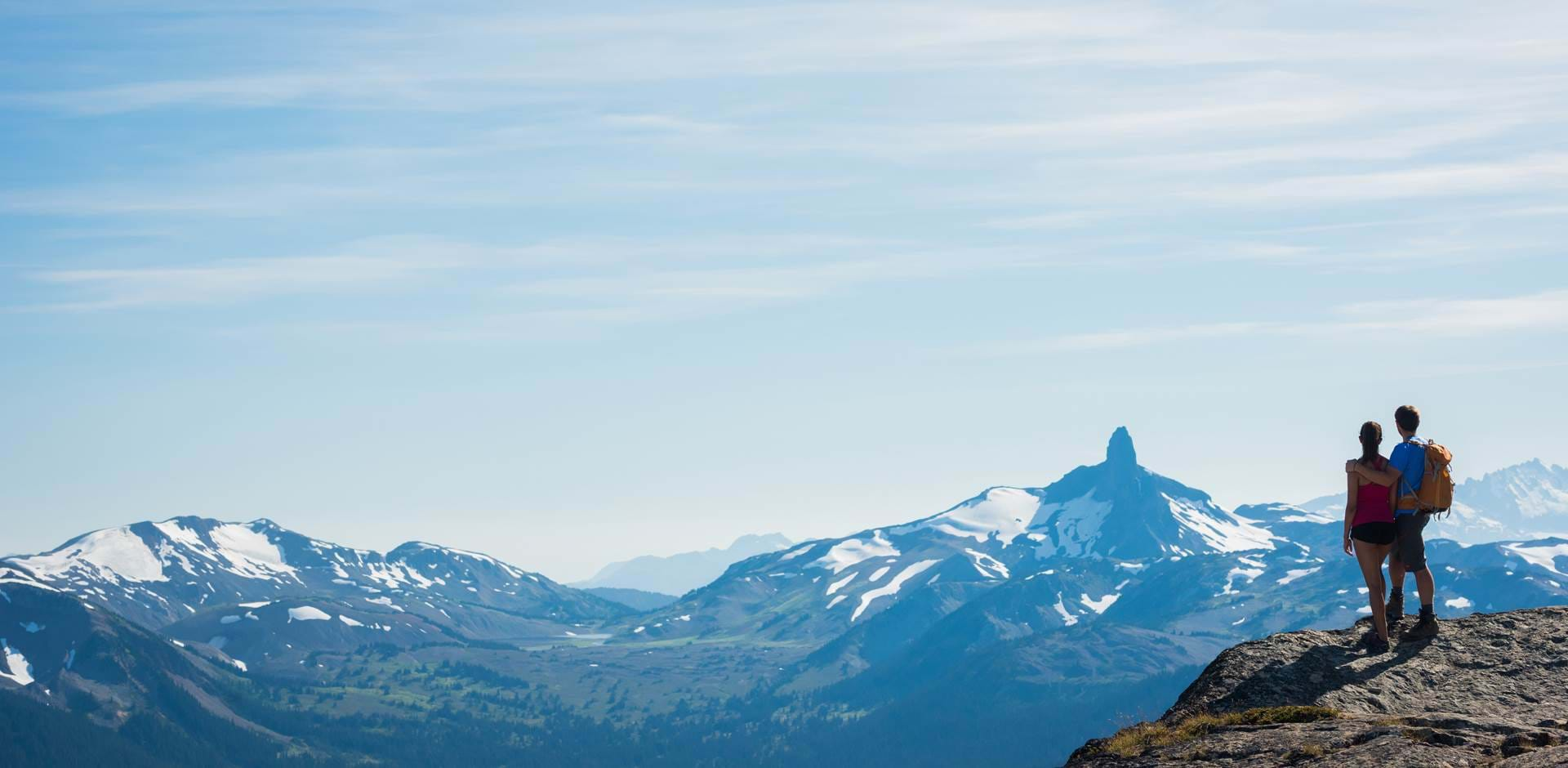 The romance of adventure, wilderness and mountains
Honeymoons
Luxury Canada Honeymoons
Planning a honeymoon to Canada is an adventure in itself. With such a vast number of places to go and things to do, it can be hard to know where to start! We fully understand the magnitude of this vast country and have spent a huge amount of time travelling to each and every corner of British Columbia, Alberta and other provinces to ensure we can hold your hand every step of the way! The first decision to be made is how long you've got and when you want to go. The second is to write a wish list of your priority must-do's. The third is to speak to a Turquoise expert and let us do the rest! It's important to remember that the real romance of Canada lies in its wilderness areas, whether amidst the towering peaks of the Rocky Mountains or hidden in the depths of the Great Bear Rainforest, it's a destination for those looking to escape, to be nurtured by nature and embark on a journey of discovery and adventure. 
Honeymoon Tips
Our top five tips for a honeymoon in Canada
Of course you don't have to rent a car, but having your own wheels, for even a few days on your honeymoon in Canada, makes such a difference. We can guide you to secret beaches and the locals favourite coffee shops. We can tell you about the hikes the locals do to avoid the tourists. There's something about having the freedom to set out spontaneously and see where you get which is so liberating. When in Canada, it's not always possible to get a taxi (there's no uber, even in Vancouver!), hop on a bike or simply walk from A to B, so an element of self-drive is definitely something to consider. Having said that, if you are visiting in winter and planning a ski holiday, it is important to understand that roads can be icy and driving conditions quite tricky. Winter tires and snow chains are required by law in most areas, so we would only recommend winter self-drive honeymoons in Canada to confident drivers.  
We know how tempting it is to try and see everything. Google maps tells one story, but please believe us when we say the reality can be quite different! Driving distances are often much longer than expected and there is nothing less romantic than packing and unpacking your suitcase every day. We recommend picking your absolute top must-do's and letting us work out the best logistics and modes of transport to allow you the maximum time experiencing Canada, not just seeing it whiz past the window. One or two long journeys by train, car or plane are a part of the experience of course, but it's important to keep the balance. 
Whether you use the Turquoise gift list for friends and family to contribute towards honeymoon experiences or simply prioritise spending more on experiences yourselves, Canada is one place to seriously consider going all out.  From heli-hiking and heli-kayaking to once-in-a-lifetime bear lodge stays, overnight train journeys and luxury log cabins, this is no fly-and-flop beach honeymoon. 
When it comes to packing for your honeymoon to Canada, don't forget your trainers!! Even if you're basing yourself in the cities and urban areas, there is no better way to explore than by foot. We'll also be able to recommend the best hikes and running routes for those looking for more fresh air fun. Fashion in Canada is lead by comfort and active wear... high heels are not a necessity here! Global yoga brand Lululemon was founded in Vancouver so if you're heading west, make sure you pop into one of their stores!
Canada is not a destination to choose if you are set on good weather. Even in the height of summer the weather can be unpredictable and change within a few hours, especially in the mountains and the rainforest. If you're heading to a bear lodge make sure you pack lots of layers and a good raincoat too. The good thing is that the wildlife viewing is often better in cloud and rain, it's less hot for the bears which means they are more active and whales don't mind what the weather is!
Honeymoon Hot Spots
Our top honeymoon resorts in Canada
Meet the team
Meet our Canada Specialists
Canada and California
The Ultimate Honeymoon Combination
Experience the vast wilderness and mountain clad coastline of British Columbia before flying south to sunny California for the beaches, vineyards and boutique retreats. With daily direct flights from Vancouver to San Francisco and Los Angeles, this cool combo has never been easier.
Stay in touch
Sign up to our newsletter for the latest news and offers
Cookies
Our website uses cookies. Click accept to receive all cookies or change your cookie settings. You can also view our Privacy Policy to understand more about how we use cookies.
Privacy Policy