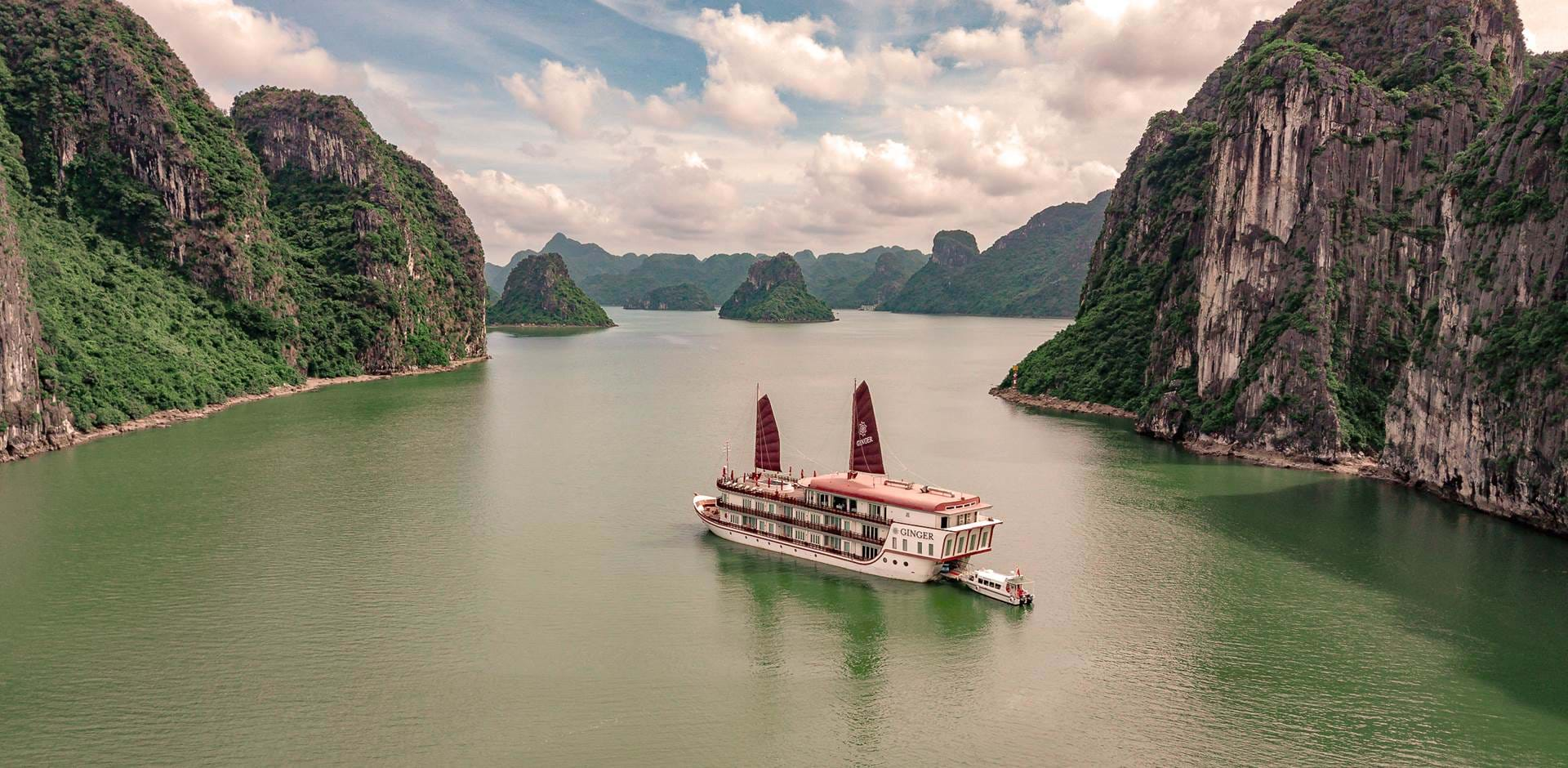 Vietnam
Hanoi and the North
Hanoi is a charming and intriguing mix of identities and architecture. Elegant French colonial mansions and wide boulevards contradict the narrow shophouses of Hanoi's Old Quarter, whose inhabitants spill out onto the crowded streets around them.
It is the Old Quarter which remains the part of Hanoi least touched by modernity and one of the city's most fascinating districts. A chaotic network of small streets and alleyways best explored on foot or by cyclo, the streets were originally named after the goods sold along them. Silver Street, Paper Street and Silk Street still exist today and the Old Quarter remains the focus of Hanoi's shopping culture. Nowadays the streets of Hang Gai and Hang Bong offer chic boutiques selling art, home furnishings and ceramics alongside the streets which are dedicated to the more traditional style shophouses selling Chinese medicine or religious artefacts.
As Vietnam's capital city, Hanoi is also a bastion of Communist era museums and architecture, particularly around Ba Dinh Square, the political centre of Vietnam. Here is the location for the imposing Ho Chi Minh mausoleum and adjacent museum. Uncle Ho is still a revered figure for the Vietnamese people and you can join the throngs of people who come to pay their respects with a mixture of awe and deference.
Hanoi is also home to a number of impressive museums including the Museum of Ethnology dedicated to Vietnam's ethnic minority hill tribes, the Hanoi Hilton Prison Museum which was formerly a French era and latterly a North Vietnamese prison, as well as the Ho Chi Minh museum itself. Hanoi's ancient Temple of Literature is a thousand years old and reflects the strong Chinese influence on learning and architecture in this Northern city. As you would expect from a city with so much culture, there are also many temples and pagodas to visit, including the peaceful One Pillar Pagoda.
Hanoi's elegance can also be found in the lakes which characterise this lovely city. The Hoan Kiem Lake is considered to be the very heart of Hanoi and is popular with courting couples enjoying a moment away from the watchful eye of their families, groups of friends coming to socialise and elderly Hanoians coming for some early morning Tai Chi practice.
The imperial influence of the French is present not only in her architecture, but also in Hanoi's dining scene and the city offers some of Vietnam's best restaurants, including French, Vietnamese, Thai and even Japanese cuisine. Sample traditional dishes such as 'Pho Bo' (beef noodle soup) or 'Cha Ca Ha Noi' (fish prepared in the Hanoi style – fried with plenty of dill) in simple and clean local style restaurants or enjoy a fine-dining fusion food experience in stylish settings. For those really interested in Hanoi's wonderful cuisine, try a cooking class in the home of a professional chef.
With so much to see and do, Hanoi can easily occupy several days of your holiday. It also forms the perfect gateway to the stunning Halong Bay and is the departure point for the overnight train to the colourful mountain region of Sapa.
Nestled in the mountains in the far North, the town of Sapa offers a completely different side of Vietnam. Bordering Southern China, this remote and rural area boasts a wild and untouched beauty combined with a fascinating variety of hill tribes, most of whom still wear their colourful traditional dress.
Taking an overnight train from Hanoi, you will arrive at the town of Lao Cai on the Chinese border. From here, it is just a couple of hours' drive to the town of Sapa itself. The town is a quaint mix of almost alpine architecture, alongside the chaos of the ethnic minority markets.
It is the nearby countryside however which is the real draw. The surrounding mountains are breathtakingly beautiful and include mainland Southeast Asia's highest mountain, Mount Fansipan. The area offers countless trekking opportunities of all levels, passing through the terraced green rice paddies which characterise this part of Vietnam.
The region's various weekly markets are also a highlight and a delight for any photographer. Black H'mong women wearing indigo colours mix with Red Dzao in their unusual scarlet headdresses, whilst brightly coloured Flower H'mong trade their wares using their local dialect.
At 1600 metres above sea level, Sapa town enjoys a cool, mountainous climate. Summer months of May to August are temperate but can be wet. Winter months are cooler and can sometimes be foggy. The higher parts of the region have even experienced snow in previous years.
Halong Bay is another gem of Northern Vietnam - a stunning bay with 3000 limestone islets jutting out of an emerald green sea, the best way to explore is by traditional Chinese junk or by colonial style paddle steamer. Visit caves, do some kayaking, swim off the side of your boat and feast on freshly caught seafood, Halong Bay really is an unmissable destination.
Accommodation
Where to stay in Hanoi & The North
Weather
Best time to visit Hanoi & The North
Specialists
Meet our Hanoi & The North Specialists
Hanoi & The North
Itineraries
"Vietnam is one of the most diverse, exciting and beautiful destinations to visit in Asia. Whether your interests are in culture, history, beautiful scenery or simply relaxing on a beautiful beach, Vietnam well and truly has it all. In my opinion, Halong Bay is a must on any trip to Vietnam and for a real treat, why not fly into the Bay via seaplane? Ninh Binh province is also worth a visit for those looking to venture slightly further off the beaten track." Antony De Liseo, Vietnam travel specialist

Discover the breathtaking beauty of Hanoi & The North. Plan the journey of a lifetime today.
Stay in touch
Sign up to our newsletter for the latest news and offers
Cookies
Our website uses cookies. Click accept to receive all cookies or change your cookie settings. You can also view our Privacy Policy to understand more about how we use cookies.
Privacy Policy