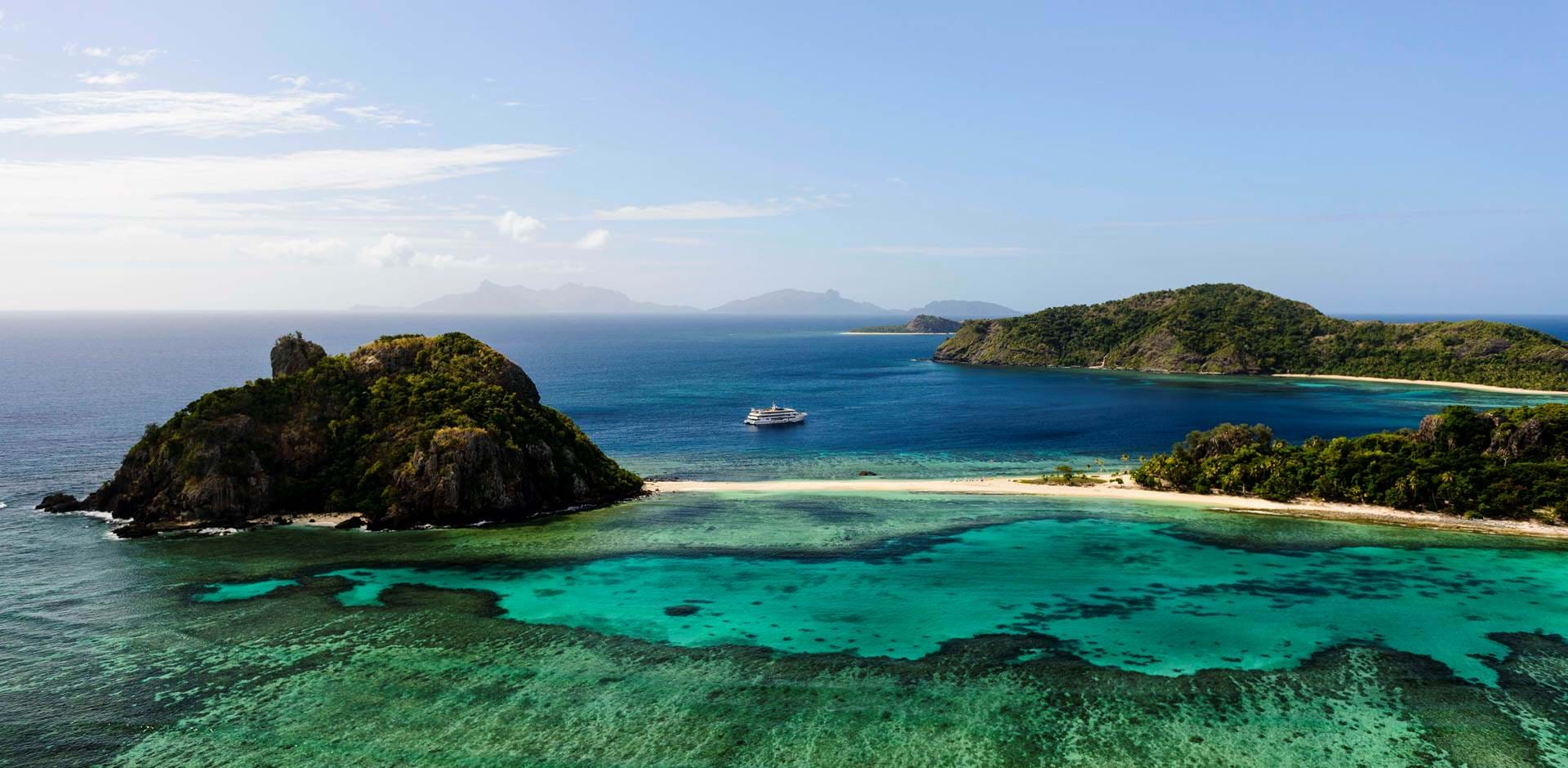 Yasawa & Mamanuca Islands
Blue Lagoon Cruise, Fiji
With 333 magical islands to explore, a cruise is the perfect way to see as many as possible on your Fiji holiday. The purpose-built M.V. Fiji Princess is a boutique cruise ship measuring just 55 metres – she is small enough to tie to a coconut tree, so you can swim to the beach – with only 32 cabins, accommodating up to 64 guests. Her design enables her to reach hidden bays and picturesque coves that are inaccessible to larger vessels, making her voyages unique and memorable.
Blue Lagoon Cruises offer 3 wonderful itineraries based around one 7-night cruise that weaves through the beautiful Mamanuca Islands and the spectacular Yasawa Islands. Guests can opt to be on-board for 3 nights, 4 nights or the full 7 nights - something to suit everyone's holiday time! The 3 night 'Explorer Cruise' and the 7 night 'Escape to Paradise Cruise' depart on a Friday, whilst the 4 night 'Wanderer Cruise' connects with the Fiji Princess on Mondays. 
Highlights
Blue Lagoon Cruise
All cabins have a window with ocean views, as well as an ensuite shower room, storage, TV, hair dryer and Pure Fiji amenities. There are no balconies in any of the cabins, but you have easy access to the rest of the ship, with plenty of relaxation areas. The four cabins on the Hibiscus Deck are located on the same deck as the dining area, the reception and the splash pool. Cabins on the two Orchid Decks are more spacious and located above the Hibiscus Deck, with more privacy and spectacular ocean views. All cabins enjoy a complimentary mini-bar stocked on the day of departure only with a selection of premium beer, soft drinks, sparkling wine, handmade cookies and snacks.
All meals are included on-board, as well as Afternoon Tea, so your tastebuds are in for a treat every day. From fresh fish and seafood to delicious barbecues and a traditional Fijian feast, you'll soon be embracing the ship's motto: "The more you eat, the better you float!" Filtered drinking water, tea and barista coffee are also included during your cruise, so you'll only pay for alcoholic and non-alcoholic beverages on-board.
The dress code is casual and informal, even at dinner. Guests are encouraged to wear what they feel comfortable in and to leave their dinner jackets and high heels at home. During village visits, for cultural reasons, men are asked to wear a sulu (provided on-board) and women are requested to dress modestly with shoulders and knees covered.
A cruise with Blue Lagoon promises an authentic taste of the real Fiji, giving you a tangible sense of place and real interaction with Fiji's friendly, smiling and proud people. The fabulous crew all hail from Fiji, some are from the local villages you'll visit, so you'll have first-hand insight at your fingertips about the country, its people and their traditions. Combine this with incredible scenery and plenty of fun, and you have the recipe for a wonderfully genuine Fijian experience. Each day brings music, dance, song and traditions along with village visits, plenty of time for snorkelling, swimming, kayaking, island exploration, diving (additional cost), basket weaving, wood carving, indulging in a massage treatment at the on-board spa, relaxing in the ship's splash pool... or simply sunbathing on deck or on the beach with a cocktail in hand!  
Facilities on Fiji Princess include a dining room and lounge, open-air sky deck with bar, splash pool, spa, snorkelling gear, kayaks, and stand-up paddleboards, complimentary Wi-Fi in public spaces (where coverage allows), self-service guest laundry, as well as books and games for guest enjoyment.  
Families on Blue Lagoon Cruises
Blue Lagoon Cruises is exclusive to adults for the majority of the year, ensuring the experience remains romantic and fun, without the interruptions children can bring! However, by popular demand, there are a number of departures during the year for family cruising time, with departure dates mirroring the Australian and New Zealand school holidays - just a short hop from Fiji.
Child age is 5 to 13 years inclusive. Children under 5 years are free, based on triple share cabin (only 4 cabins are available with this configuration).
Yasawa Islands
Where is Blue Lagoon Cruise?
Emquire
Tailor-made Holidays with Turquoise
Every Turquoise holiday to Fiji is tailor-made and expertly crafted. Please contact our team of travel specialists on 01494 678 400 or via our online enquiry form for a bespoke quotation and we'll happily source the best available offers for your travel dates.
Stay in touch
Sign up to our newsletter for the latest news and offers
Cookies
Our website uses cookies. Click accept to receive all cookies or change your cookie settings. You can also view our Privacy Policy to understand more about how we use cookies.
Privacy Policy