Seychelles Family Holidays
Families
Seychelles Family Holidays 2023/2024
This magical archipelago, comprising over 100 unspoiled granitic and coralline islands is the perfect tropical paradise for adventurous families and those looking for a relaxing beach break alike. Hopping between the pristine islands, each with its very own character, culture & history, is one of the many draws of a family holiday in the Seychelles. There are many flights and ferries that connect the different islands, so travelling between them is relatively simple.
Mahe, the largest of the islands is the base for the international airport. The scenery in the north of the island is particularly spectacular with lush tropical hillsides blending with pure white glistening beaches and sparkling turquoise seas, perfect for a family day out exploring the mountains and finding tropical plants. The quaint capital Victoria is located on Mahe and is well worth a visit during your stay!
Praslin is just across the water and is home to the UNESCO world heritage site Vallee de Mai where the endemic Seychelles Black Parrot can be spotted and the famous Coco de Mer grows – Kids love it here and it's a great place for them to discover new things. Praslin is also home to 2 of the world's top 10 beaches Anse Lazio & Anse Georgette– they are both simply breath-taking. The sea can be a little rough at times and mainly during May to September.
The outer islands, such as Denis Private Island, are immaculate miniature Seychellois worlds offering untouched island experiences – a wonderful choice for families who want to get away from it all.
Lying just south of the equator, the sea is always beautifully warm and is home to a plethora of tropical fish and exotic corals. Famed for exquisite snorkelling and diving, the underwater world is a spectacular seascape of granite boulders and schools of fish, ideal for those who want to learn more about this intriguing odyssey.
There is so much more to a family holiday in the Seychelles than lying on a beach… with a long list of activities on offer throughout the islands, there is something to suit everyone. With a wealth of flora & fauna to discover on land as well as an awe-inspiring underwater world to explore, with deep sea fishing to try and sailing to perfect, with uninhabited islands to visit and Creole cuisine to savour, the choice of what to do next in this Indian Ocean paradise, is simply endless. 
We have a selection of family friendly hotels in the Seychelles, with different board options, including all inclusive family holidays. Get in touch with our specialists today to find out more.
Experiences
Seychelles Family Holiday highlights
The Seychelles is packed with fascinating history
Even before your family holiday in the Seychelles, your children are bound to be fascinated by its history. It was one of the places which was said to have inspired Robert Louis Stevenson's famous novel Treasure Island and during the 18th century, pirates used the then-uninhabited islands to stash their loot after intercepting wealthy European ships crossing the Indian Ocean. Even today, according to Seychelles history, there is still rumoured to be £100 million worth of buried treasure still left undiscovered! Will your family be the first people to find it?
The Seychelles may seem a scattering of islands brimming with romance, but there are plenty of family-friendly hotels in the Seychelles, too. Whether it's villas tumbling down lush hillsides that have ample room for families of up to six people or kids' clubs that really tap into your exotic location. While the discovery of a treasure chest may be unlikely, treasure hunts and archaeological digs (the latter you can do at Six Senses Zil Pasyon, one of our top picks for the best family resorts in the Seychelles) are bound to capture their imagination.
There's lots to do for families
Blissfully untouched, the Seychelles really does deliver a holiday for families who want to get away from it all. Being a collection of islands, the Seychelles is a delight for water babies who just love to explore, with iridescent coral reefs to snorkel and gentle waters perfect for kayaking or stand-up paddleboarding, as well as a raft of other non-motorised sports.
However, the things to do on a Seychelles family holiday don't stop there. You can meet the Aldabra giant tortoises for a memorable wildlife experience that children will remember for a long time to come, while the lush beauty of the renowned Vallée de Mai Nature Reserve is the perfect place for a quiet family walk. We're sure youngsters will find the legendary bum-shaped coco de mer nut amusing, too!
Luxury family-friendly resorts in the Seychelles are well-equipped to handle youngsters who are fussy eaters! Breakfast is often in the style of a buffet, so your children have free rein to pick and choose what they like, including a hot food selection, fresh fruit and juices, pastries and cereals. Come dinnertime, resorts will have a selection of restaurants you can pick from as a family, with some themed by a particularly cuisine, such as Chinese, Indian or a mix of international dishes.
Cookery classes are another fun way to get your child involved with food while you're away, spending time with one of the resort's chefs to master their own meal.
Despite there not being any exclusively all-inclusive hotels, some of the best luxury family resorts in the Seychelles offer all-inclusive packages. Though it will be a larger upfront cost, it removes the worry of a rising food and drink bill during your stay. If you've ever-hungry teens, this is even better, as they can eat what they like! Some resorts even include your room's minibar in the all-inclusive rate. Going all-inclusive also means you can focus on what's most important: having a fantastic holiday together!
PLAN YOUR HOLIDAY
Enquire Now
Accommodation
Our top family hotels & resorts in Seychelles
Travel guide
Seychelles family holiday FAQs
Where is the Seychelles in the world?
The Seychelles is an archipelago of islands located east of the African coast in the Indian Ocean.
Is the Seychelles safe for families?
The Seychelles is an incredibly safe place for families! A lot of hotels are very used to welcoming families, with open arms and smiling faces. All islands are very easy to get around as a family and the locals are incredibly friendly, too!
Where should I stay in the Seychelles with my family?
Here at Turquoise, we do have a few favourite family friendly hotels in the Seychelles. Some hotels are more suited for families, with kids' clubs and kids' menus meaning they have your little ones at the forefront of their minds at all times! These include Constance Ephelia, Four Seasons Resort Seychelles and Six Senses Zil Pasyon. Ask us about all-inclusive family holidays in the Seychelles.
What is the best island in the Seychelles for families?
That is a tricky question! The Seychelles lends itself to island hopping, so we would always recommend staying or visiting at least two islands. Mahé is the main island which is bursting with colour, markets and beautiful beaches. Praslin is the second biggest island and is home to Vallée de Mai (a UNESCO World Heritage site) – where the legendary coco de mer grows on ancient palm trees. Those would be our top two islands for families! 
What is there to do for families in the Seychelles?
There is a huge amount to do in the Seychelles, especially for families! Make sure you do visit the UNESCO-listed Vallée de Mai Nature Reserve on Praslin. Relax and snorkel off some world famous beaches, especially on La Digue – we promise they are worth it! Explore the country's beautiful flora and fauna, it really does feel like something out of a Jurassic Park movie! Or chill out in your luxury hotel for a bit of R&R.
Do my family need a visa to visit the Seychelles?
British passport holders don't need a visa to visit the Seychelles.
Do my family need any vaccinations to visit the Seychelles?
No vaccinations are currently recommended for the Seychelles. If you're entering the Seychelles from a Yellow Fever zone, possession of a valid Yellow Fever inoculation certificate is required. For any current travel health advice, you should seek guidance from your GP at least four to six weeks prior to travel.
When is the best month to visit Seychelles?
Lying just south of the equator, the Seychelles enjoys a tropical climate year-round, which keeps temperatures at around 30°C. While it has two distinct seasons of the year, the dry season from May to October and the wet season from November to April, the Seychelles is lovely to visit at any time of year.
Specialists
Meet our Seychelles family specialists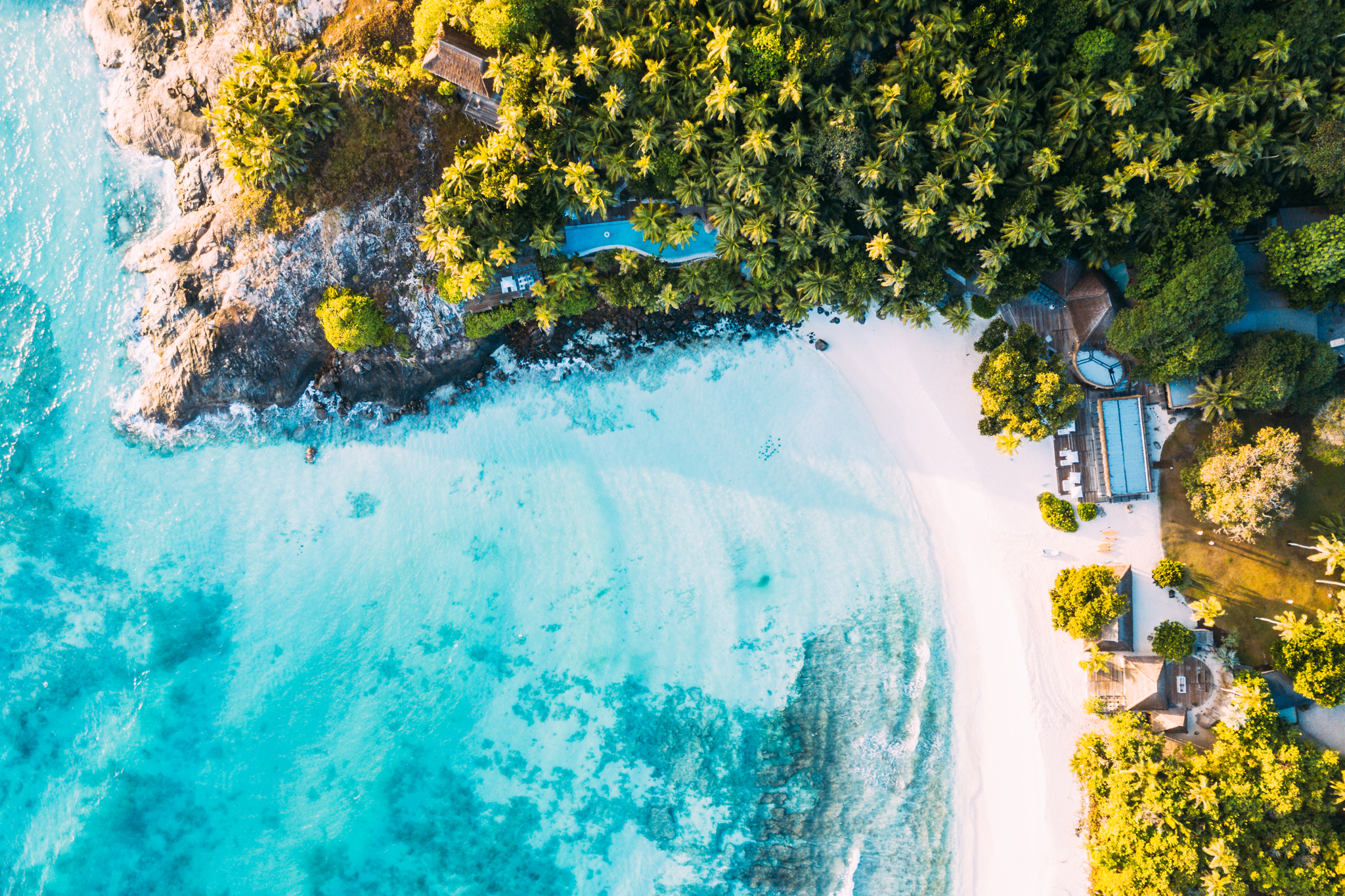 Seychelles family inspiration
CANVAS
Head to our blog CANVAS for more inspiration, insider secrets and diaries from our team on Seychelles Family Holidays.
Stay in touch
Sign up to our newsletter for the latest news and offers
Cookies
Our website uses cookies. Click accept to receive all cookies or change your cookie settings. You can also view our Privacy Policy to understand more about how we use cookies.
Privacy Policy