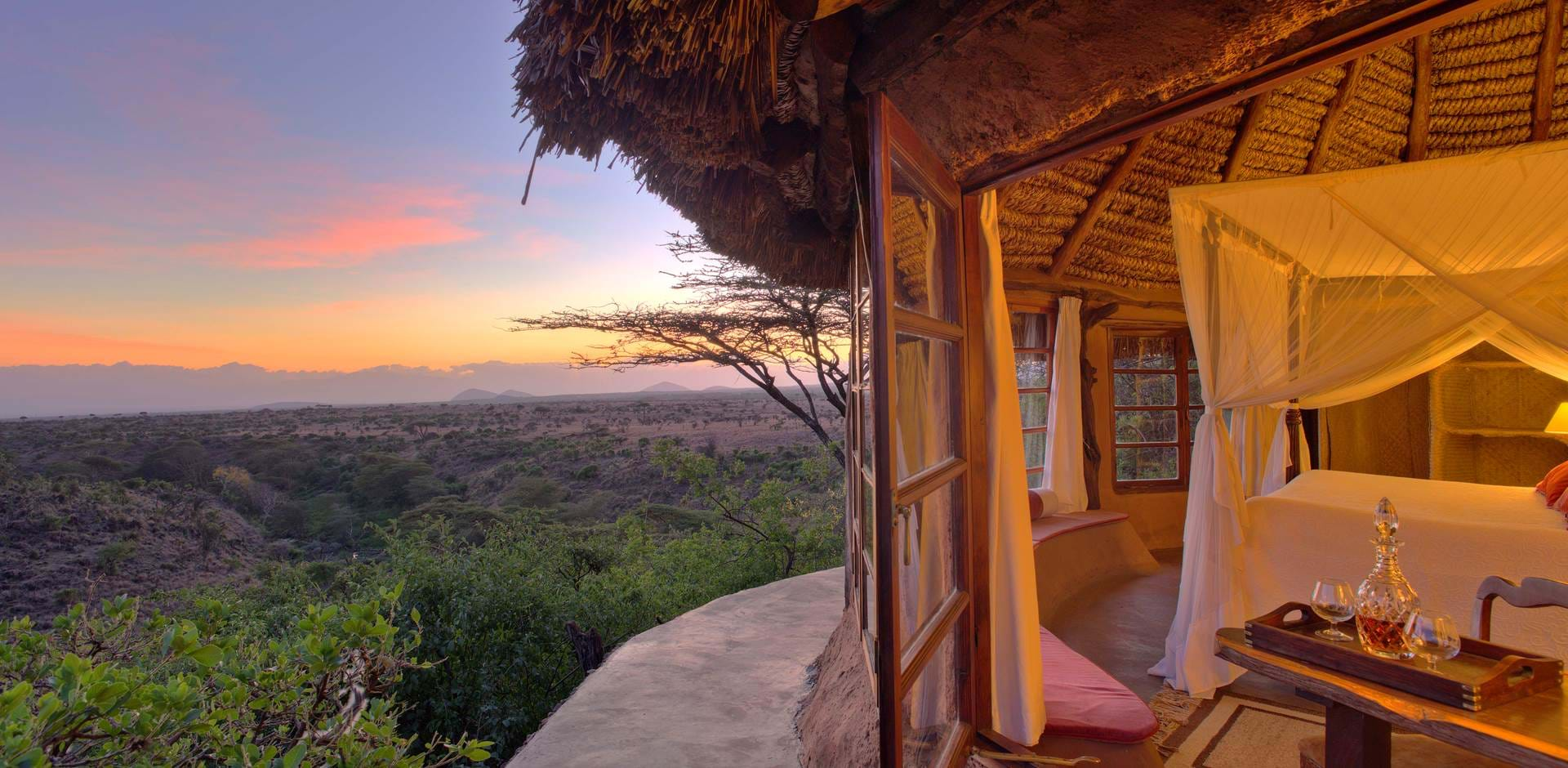 Lewa
Lewa Wilderness, Kenya
Spectacularly located in the heart of northern Kenya, just a 50 minute scenic flight from Nairobi, Lewa Wilderness is one of Kenya's original bush homes. It is set on the breathtakingly beautiful Lewa Wildlife Conservancy (previously known as Lewa Downs) in the foothills of Mount Kenya – Africa's second tallest mountain. From the moment you land in your small plane, you will be captivated by Lewa's extraordinary scenery, its fascinating history and wonderfully diverse wildlife. The adventure begins as you are driven from the airstrip in an open-topped safari vehicle to the lodge – this game drive provides an exhilarating taste of what lies ahead! Lewa offers a Kenyan adventure like no other - little wonder why this is the place that Prince William chose to propose to the then Kate Middleton (they were holidaying in the Lewa Wildlife Conservancy and were staying in a log cabin on Mount Kenya at the time).
Keen marathon runners will no doubt have heard about the annual Safaricom Marathon, voted one of the world's 'must-do' marathons – the challenging course takes you through the exceptional terrain of the Lewa Wildlife Conservancy! For runners, it is the 'ultimate bucket list challenge' – a true life-changing experience which, 'true grit and mental toughness' aside, remains true to its core reasons for inception over 17 years ago – conservation and the enhancement of community livelihoods. But if marathons are not for you – you can always join a Maasai guide on a morning jog whilst staying at Lewa Wilderness!
Lewa dates as far back as 1922 when the Craig/Douglas family first started running Lewa Downs as a cattle ranch, encouraging the resident wildlife to co-exist with the ranch cattle. In 1972, David and Delia Craig began converting their farm into a rhino conservation area to help protect the last remaining members of the species and at the same time, they embarked on yet another dream – to welcome guests into their original lodge and family home – the first private ranch in Kenya to do so. Lewa Wilderness was born! In 1989, David and Delia retired and their son, Will and his wife, Emma, took over the running of the lodge. Still today, Lewa Wilderness is Will and Emma's family home, where, with the help of their team, they proudly continue to provide a truly unique and personal Kenya safari experience.
Highlights
Lewa Wilderness
There are ten thatched cottage rooms, all of which boast individual rustic charm with every inch of character one would expect from a ranch homestead. Seven cottages overlook Lewa's Eastern Valley whilst the other three are set in the beautiful gardens. Those on the hillside capture the sound of the river below where elephants, giraffe, rhino and zebra all come to drink. Each has a cosy sitting area with a fireplace as well as an outdoor verandah where you can savour the stunning views. Those in the garden are the original rooms built by David and Delia Craig when they first founded the lodge. Each has two bedrooms and are perfect for families or those wishing to be closer to the main lodge. One of these rooms is set back further from the rest with a private plunge pool looking out onto the breath-taking vista, the perfect romantic sanctuary for honeymooners. All the furniture was built and made on site using material from Lewa and the surrounding communities - all the wood is from the trees the elephants have knocked down!
The main bar and dining room are beautifully positioned along a forested stream valley and the gardens are alive with bougainvillea and birds. The food, as with much of the produce, is either grown or sourced locally. Lewa has its own small farm, originally started by Delia Craig and meal times (always a highlight!) include fresh organic produce from the garden along with eggs, milk and goats cheese from the farm. Guests are always very welcome to visit the farm and watch the cows and goats being milked!
Games drives with the backdrop of snow-capped Mount Kenya combined with the diversity of scenery from open plains and rolling hills to valleys, escarpments and rivers ensure that Lewa offers the ultimate safari experience! In addition, guided walks and even morning runs with a Maasai guide, camel safaris, horse riding (from beginners to experienced riders), a visit to the Lewa Wildlife Conservancy HQ (for educational talks or a school visit) and a visit to the Ngare Ndare Forest ($30 per person entrance fees payable locally) for the treetop canopy walk and hikes to the top of spectacular waterfalls (from where you can jump into the crystal clear blue pools below) are all included in your stay.
The Lewa Wildlife Conservancy is one of Africa's pioneering rhino conservancies and is a leading model for conservation in East Africa. It became a UNESCO World Heritage Site in 2013 when Lewa's 'elephant corridor' was put in place to allow the natural migration of elephant from Lewa into the Mount Kenya national forest. Today, Lewa is home to 12% of Kenya's critically endangered black rhino population. The conservancy is also home to over 70 different animal species – in fact, the richness of the wildlife here is just astounding! Lewa has all the Big Five – lion, elephant, buffalo, rhinoceros and leopard – as well as the single largest population of Grevy zebra in the world (over 20% of these beautiful animals reside at Lewa).
For a completely extraordinary and not-to-be-missed opportunity, you can take to the skies and fly the wilds of Kenya with Will Craig as your pilot in his open cockpit yellow biplane – the only one in East Africa (Robert Redford flew in an almost identical yellow biplane in the film 'Out of Africa')……a truly unique experience! Guests don leather jackets and flying helmets whilst 'Out of Africa' music plays in the earphones throughout the flight! The plane only seats two passengers at a time and costs approximately $650 per half an hour, payable directly to Lewa Wilderness.
Lewa
Where is Lewa Wilderness?
Enquire
Tailor-made Holidays with Turquoise
Every Turquoise holiday to Kenya is tailor-made and expertly crafted. Please contact our team of travel specialists on 01494 678 400 or via our online enquiry form for a bespoke quotation and we'll happily source the best available offers for your travel dates.
Stay in touch
Sign up to our newsletter for the latest news and offers
Cookies
Our website uses cookies. Click accept to receive all cookies or change your cookie settings. You can also view our Privacy Policy to understand more about how we use cookies.
Privacy Policy