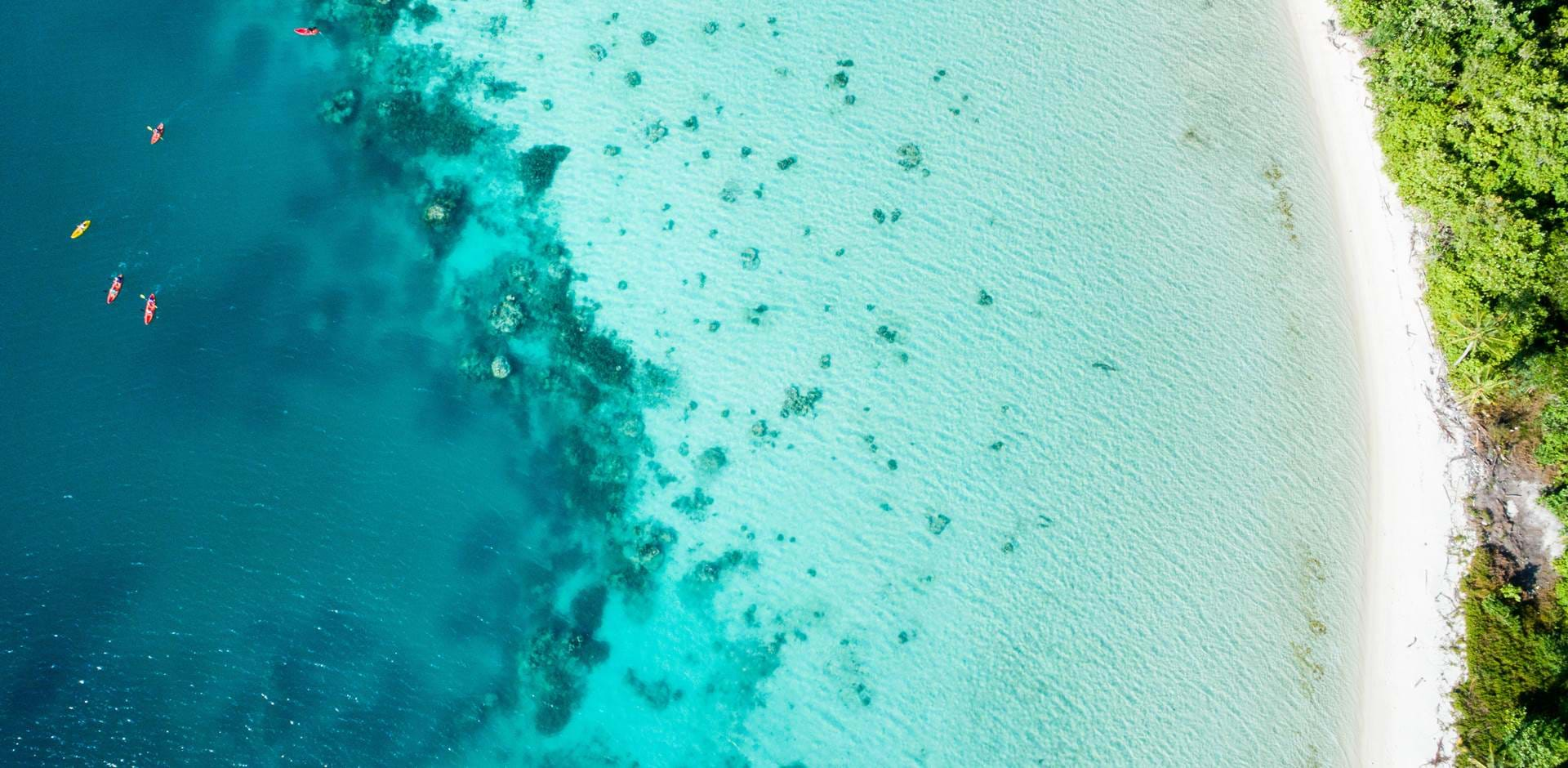 Spices of Indonesia
Recipes and Cooking Tutorials
Discover Indonesia
Spices of Indonesia
For a country encompassing over 17,000 islands, it's probably not surprising to learn Indonesia's cuisine is a melting pot of diverse flavours and influences. Butit's much more than just tasty plates honed over generations, it's a true reflection of the country as a whole: rice is a staple that reflects the country's fertile emerald landscapes, the rich mix of spices have been influenced by invaders, colonists and traders across centuries and even the fiery chillies embody the passionate spirit of its people.
Seaweed Salad with a Sumbanese Chili Dressing
Nihi Sumba
Locals in Sumba particularly love their food to be hot and spicy, so this seaweed salad recipe provided by luxury bolthole Nihi Sumba comes with its own Sumbanese chilli dressing.
Learn to cook - Video Recipe
Seaweed Salad with a Sumbanese Chili Dressing
Seaweed Salad - Ingredients
Seaweed salad:
120g seaweed (Rumput Laut)
30g tomatoes, sliced
1 tbsp red chillies, de-seeded
and sliced
1 tbsp shallots, sliced
1 tbsp lime juice
¼ tsp salt
¼ tsp black pepper
1 tbsp basil leaves, sliced
1 tbsp spring onion, sliced

The Chilli Dressing:
100g Red Chili (de-seeded)
1 tbs Lime Juice
¼ tsp Salt
¼ tsp Pepper
50ml Water for blending
Method
1. In a food processor, add the seedless red chillies and water. Blended together, it should look like a smooth paste.
2. Remove and transfer to a bowl and add the lime juice, pepper and salt.
3. In another bowl, add the seaweed, sliced shallots, sliced tomatoes, sliced chillies and stir together.
4. Add in the chilli dressing and stir together well. Remove and transfer to a salad bowl.
5. Garnish with the basil and spring onion. Your salad is ready to serve!
Ayam Tailiwang
The Oberoi Lombok
If you like your food spicy then you'll love ayam taliwang, Lombok's iconic dish. A simple meal of grilled chicken coated in aromatic spices and fiery chillies, it is said to have been invented by the Sasak people and is named after Karang Taliwang, a village in the heart of Lombok's capital, Mataram.
Learn to cook - Video Recipe
Ayam Taliwang
Nasi Goreng
Bawah Reserve
Considered Indonesia's national dish, nasi goreng literally translates as 'fried rice' and was thought to have been inherited from Chinese traders from around the 10th century. The dish was originally invented for practical reasons as a way to use leftover rice from the day before, but has evolved to become a tasty household favourite flavoured with kecap manis (soy sauce) and terasi (shrimp paste) and accompanied by either chicken, beef or prawns. 
Here, luxury resort Bawah Reserve shares its classic take on nasi goreng. 
Nasi Goreng - Ingredients
Ingredients: 
Ingredients for sambal belacan paste 
1 tbsp vegetable oil 
40g garlic 
200g large red chillies 
80g red shallots 
20g shrimp paste 
4 candlenuts 
Ingredients for nasi goreng 
1 tbsp vegetable oil 
40g garlic 
400g cooked white or brown rice 
100g carrots 
100g cabbage 
100g pak choi  
2 tbsp oyster sauce 
3 tbsp sweet soy sauce 
1 tbsp light soy sauce 
2 eggs, beaten 
4 whole eggs 
30g fried shallots 
Preparation 
1. Cook the rice according to packet instructions, preferably the day before. 
2. Finely chop the garlic, chilli, and candlenuts. 
3. Finely shred the cabbage and julienne the carrots. 
Sambal belacan 
4. Heat 1 tbsp of vegetable oil in a pan. 
5. Sauté the garlic, shallots, chilli, candlenuts, and shrimp paste until soft and fragrant. 
6. Transfer to a mortar and grind into a paste. Leave to cool. 
Nasi goreng 
7. Heat the rest of the oil in a wok or pan and sauté the remaining chopped garlic until fragrant. 
8. Mix in the beaten egg and vegetables (carrot, cabbage, and pak choi). 
9. When the egg has firmed up, add the cooked rice and toss it through. 
10. Stir in the oyster sauce, sweet soy sauce, and light soy sauce; salt and pepper to taste. 
11. Fry the four eggs in a frying pan. 
12. Divide the rice mixture between four plates, garnish with fried shallots, top each helping with a fried egg and serve with the sambal belacan, some satay stick, and, if you like, garnish with sliced cucumber and tomato.  
Bebek Masak Hijau
MesaStila, Java
Bebek Masak Hijau - Ingredients
Ingredients
Duck:
400g duck breast
50g pak choi
5g garlic
5g shallots
10g red chillies
10g green chillies
Masak Hijau:
40g garlic
40g shallots
40g turmeric
10g candlenuts
5ml cooking oil
10g shrimp paste
80g green chillies
10g leeks
10g cumin
Bebek Masak Hijau - Method
1. Cut the duck into 2 parts/half
2. After that, coat the duck with lime, wash it thoroughly until the mucus is gone and drain
3. In another place, heat the water to soak the duck to remove the mucus and the smell of the duck
4. Wait for 10 minutes then drain the soaking water to cook the duck and wash the duck with cold water
5. In a separate place, heat oil in a frying pan to saute ground spices (ginger, galangal, lemongrass, lime leaves, green chilies, and spring onions) until fragrant
6. After that, put the duck that we have boiled half cooked earlier and add water until the duck that we cook is submerged in water (Stew method cooking)
7. This process takes approximately 1 hour / until the duck is completely cooked 8. The last process is adding coconut milk according to taste and seasoning with salt & pepper.
Sambal
Samaya Seminyak
Experience the taste of Sambal at Breeze, the award winning restaurant at Samaya Seminyak. Set on the beachfront, your background music is the sound of the waves lapping the shore. We think it is exceptional and definitely worth a visit, as just one of the superb variety of dining options available in Seminyak.
Ingredients
200g red chili
200g shallot,
70g garlic
70g small red chili
20g shrimp paste
1 pc red tomato
1tbsp brown sugar,
salt to taste
finished by a splash of Bali
lime juice
Method
1. Prepare saute pan, mortar and pestle. Pre-heat saute pan then pour in salad oil
2. Then continue to put all chilies shallot, garlic into the pan, saute for about 3 minutes
3. Meanwhile, roast the shrimp paste for about 2 minutes until shrimp paste going to dry and bright brown color
4. When shrimp paste ready then straight to go to the pan
5. Add salt and brown sugar, continue to saute for about 2 minutes
6. Then put all sauteing ingredients to mortar then roughly mash with pestle, adjust the seasoning then add a splash of Bali lime juice
7. Ready to serve
Meet the team
Indonesia Travel Specialists
Stay in touch
Sign up to our newsletter for the latest news and offers
Cookies
Our website uses cookies. Click accept to receive all cookies or change your cookie settings. You can also view our Privacy Policy to understand more about how we use cookies.
Privacy Policy