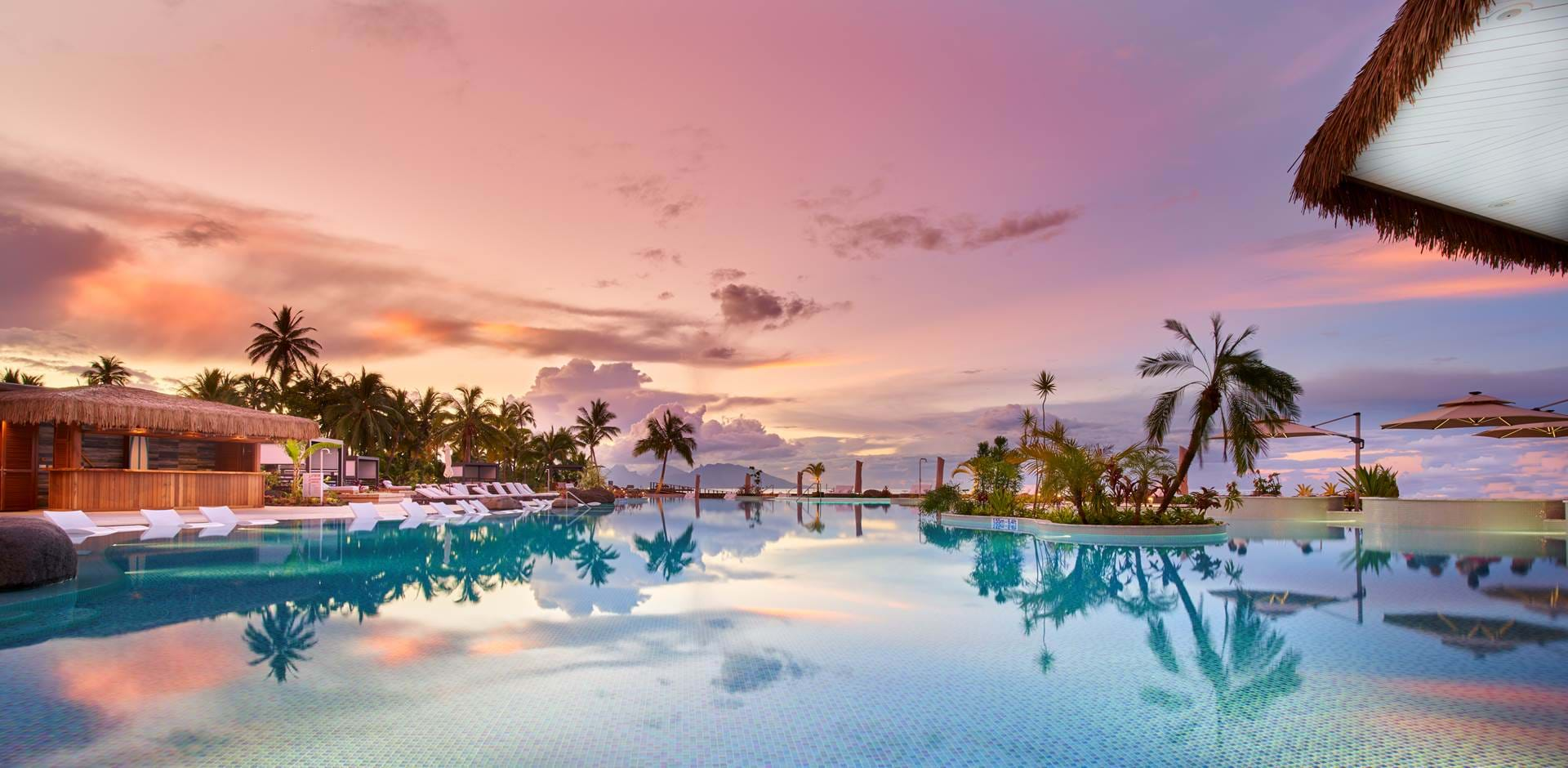 The Gateway to South Seas Paradise
Tahiti
Whilst the name Tahiti is commonly used to describe the whole of French Polynesia, it is in fact just one of the 118 islands dotted across this picturesque island nation. Home to the country's international airport and capital, Papeete, the island of Tahiti is the gateway to this South Seas paradise, and an interesting island to explore for a couple of days at the beginning or end of your Tahiti holiday.
The island's mountainous interior shelters deep valleys, clear streams and high waterfalls, and the island is circled by dramatic black sand beaches… a wonderful contrast to the white sand found in the Society Islands and the far-flung Tuamotus.  Towards the southern end of the island, the land narrows to an isthmus which separates Tahiti Nui ('big') with Tahiti Iti ('small') and this is where the famous surf break at Teahupo'o –  a sought-after challenge for the world's most talented surfers - pounds the ocean offshore.  The annual Billabong surf championship takes place here every August, and the wave will stage the 2024 Olympic surfing competition.
The international airport sits along the water's edge, enjoying an impressive location with views across to Moorea, and it's just a short drive to the capital, Papeete, with its colourful markets and bustling tropical centre.  The ferry terminal is located nearby, so it's an easy journey from the airport to a catamaran for the scenic half-hour or so boat ride across to Moorea.  With many international flights arriving into Papeete airport early in the morning, we often suggest a quick connection onto a ferry to Moorea to maximise your time in the islands. If time permits, however, a day or two spent on Tahiti itself is well worth it as you can explore the island's waterfalls, hidden caves, ancient marae (meeting house) and botanical gardens, as well as taking the time to slip into island life by the pool of your Tahiti hotel.
Accommodation
Where to stay in Tahiti
Weather
Best time to visit Tahiti
Specialists
Meet our Tahiti Specialists
Tahiti
Itineraries
Discover the breathtaking beauty of Tahiti. Plan the journey of a lifetime today.
Stay in touch
Sign up to our newsletter for the latest news and offers
Cookies
Our website uses cookies. Click accept to receive all cookies or change your cookie settings. You can also view our Privacy Policy to understand more about how we use cookies.
Privacy Policy