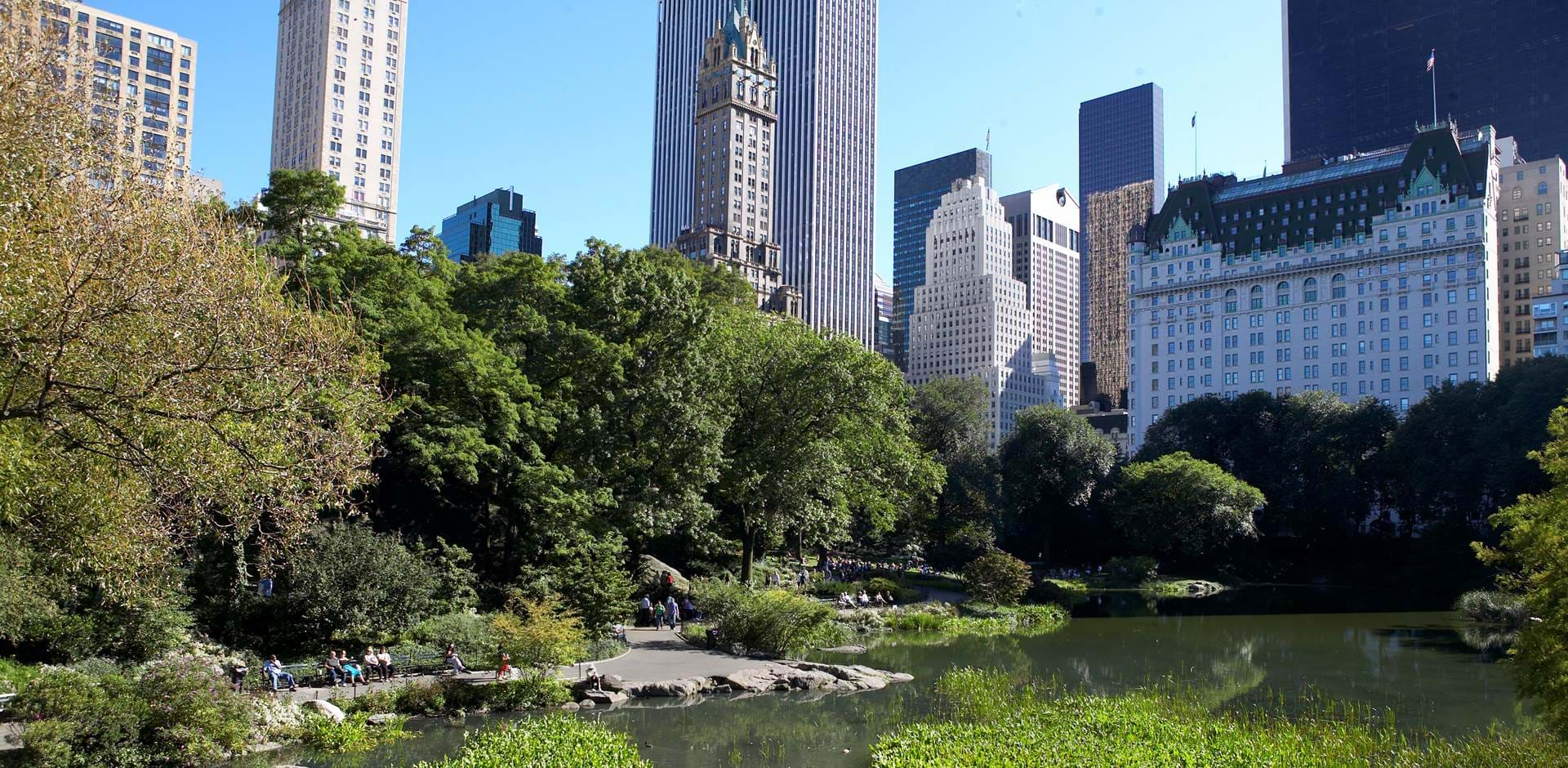 USA
Holidays in New York City
Whether you're a first-timer or a serial visitor, New York City never fails to delight and surprise. It's the City That Never Sleeps, the Big Apple, Gotham (before Batman), a fizzing ball of energy that captivates everyone who strolls its streets.
The city is a wanderer's dream – you'll get neck ache peering up at the cloud-baiting skyscrapers that seem to go on forever, with many of them icons themselves – the Rockefeller Center, the Chrysler Building and, of course, the Empire State Building. The must-sees don't end there – there's the shopping paradise of Fifth Avenue, the Museum of Modern Art and the Statue of Liberty. The hipster vibes of Brooklyn are slowly becoming an essential stop on your tour of New York City, in addition to the staple sights in Manhattan.
The rectangular Central Park is a leafy sanctuary in which to escape busy city life and it looks just as good blanketed in snow as it does drenched in sun. Here, New York City really slows down and affords you the opportunity to relax in its emerald surrounds and watch life go by. There's so much going on in the Big Apple that you could return time after time for a luxury holiday and have a different experience each visit. That's what makes New York City so enthralling!
Experiences
New York City highlights
Possibly the best bargain in all of New York City, the free Staten Island Ferry links Manhattan to the metropolis' least-known borough in a speedy 25 minutes. It's a service that has existed for over 100 years, so you're cruising on a piece of history as well as hopping to an untapped corner of New York. Staten Island is the city's greenest borough, riddled with leafy parks that are a joy to stroll, while Historic Richmond Town recreates periods of American everyday life through the centuries. With the highest percentage of Italian-Americans in USA, Italian food is found everywhere here – some say the pizza here can't be beat! Perhaps the ferry's best-kept secret is the incredible views of the Statue of Liberty it gives en route as it makes its way along the Hudson River. Get that camera ready…
Visit the city's beating heart
New York City has many icons, but none provide the kind of sensory overload that Times Square does. You'll get a stiff neck from staring up at the vertiginous towers adorned with the bright lights of billboards, your ears pricked up at the sound of yellow cabs honking their horns in the intersection, while you're gently pushed by the throngs of passing people. You could spend all day and night ogling New York's neon-lit heart but with Broadway cutting through it, a pre-show dinner and a night at the theatre awaits!
Visit New York City's oasis
Wandering New York City's forest of skyscrapers is mesmerising but it can also be exhausting. That makes the rectangular oasis of Central Park such a sanctuary for those seeking a break from the frenetic concrete jungle that encases it. It's a green space that you could easily lose a day in, with 843 acres packed with rolling meadows, elm-flanked paths, British and European-inspired country gardens and a bird-rich lake. If it wasn't for the vertiginous towers peeking above the trees, you'd be forgiven for forgetting you were right in the heart of possibly the planet's busiest city.
Shopping is something you just have to do while you're in the Big Apple. The shops that line Fifth Avenue speak for themselves and Macy's, the USA's largest department store, is a New York institution. Historic Bloomingdale's shouldn't be missed either and if you're after something a little bit different, Brooklyn Flea Market is great for browsing handmade and vintage goods.
While Central Park is perfect for getting away from it all, you don't always have to leave the skyscrapers behind to find some tranquility. An incredible transformation of a dismal old freight train line, the High Line is a delightful elevated stroll through Manhattan 30ft above the pavements below. Wildflowers and greenery make the High Line appear like an emerald serpent snaking through the concrete undergrowth, while art installations make for interesting landmarks along the way. It's also a great vantage point, with particularly stunning views of the Hudson River.
Accommodation
Where to stay in New York City
New York City is known as The City That Never Sleeps for good reason and the range of luxury places to stay will put you right in the heart of the action. You could find yourself bedding down in the vibrant Meatpacking District, sleeping just steps from Times Square or checking in among some of Broadway's best theatres. Wherever you choose to stay, you'll experience the best of New York City right from the beginning.
PLAN YOUR HOLIDAY
Enquire Now
Weather
Best time to visit New York City
Though it sees varying weather throughout the seasons, New York City is a year-round holiday destination.
Though every season is wildly different to the next in the Big Apple, each has its reasons for going. In spring (March-May), the weather starts to warm up with some showers, but pleasant temperatures (reaching around 15°C in May) mean you can take lengthy strolls around the city comfortably.
In summer (June-August) the temperatures can get very hot but with that comes a raft of festivals and outdoor concerts to create a feel-good vibe in the city, while Central Park looks its emerald best in the sun.
The festivals continue into the autumn (September-November), particularly in November when the annual Macy's Day Parade marks Thanksgiving. Though temperatures begin to drop (below 10°C in November) they stay comfortable and the autumn leaves of Central Park are delightful.
Winter can be a truly magical time in New York City, with Central Park and the city's lofty skyscrapers dusted in snow and while temperatures can dip below freezing, you won't care while you're admiring the dazzling Christmas tree outside the Rockefeller Center.
Travel guide
New York City travel essentials
Do I need any vaccinations for New York City?
No vaccinations are recommended for New York City. Despite this, we'd recommend that you consult your GP at least four to six weeks prior to travel for current advice.
What is the time difference between New York City and the UK?
The time difference is GMT -5 hours.
How long are the flights to New York City?
The flight time from London to New York City is around eight hours.
What is the currency in the USA?
The currency is the US dollar.
Do I need a visa for a holiday in the USA?
British passport holders don't need a visa but need to apply for an ESTA (Electronic System for Travel Authorisation) prior to your holiday. It costs US$14.
Travel Specialists
Meet our New York City specialists
New York City
CANVAS
Head to our blog CANVAS for more inspiration, insider secrets and diaries from our team on New York City.
Stay in touch
Sign up to our newsletter for the latest news and offers
Cookies
Our website uses cookies. Click accept to receive all cookies or change your cookie settings. You can also view our Privacy Policy to understand more about how we use cookies.
Privacy Policy