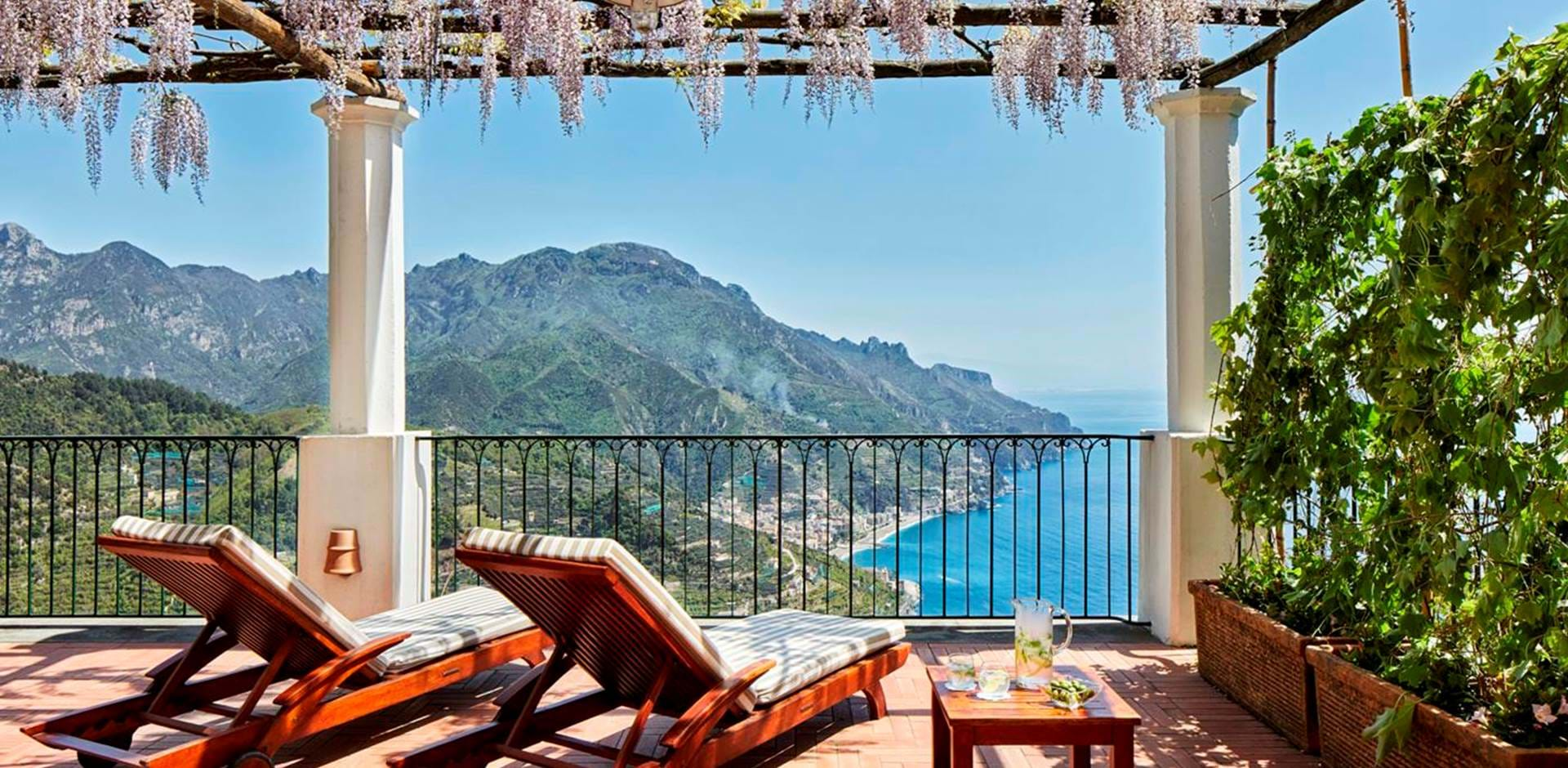 Palazzo Avino, Amalfi Coast
Palazzo Avino, Amalfi Coast
Amalfi Coast
Palazzo Avino, Amalfi Coast
For many young girls, the idea of growing up in a pink palace is the stuff of fairytales. Not for Mariella, Attilia and Mariavittoria Avino – for these three sisters, it was real life. They spent their childhood at Palazzo Sasso after it was bought by their hotelier father Giuseppe in the 1990s, opening it as a hotel in 1997.
The palace has been perched on the cliffs of the Amalfi Coast, overlooking the azure Mediterranean Sea, since the 12th century. It changed hands over the centuries between several prosperous Italian families before it was abandoned in 1978. Giuseppe rescued the palace nearly two decades later and set to work restoring it to its former glory, renaming it Palazzo Avino in 2013 in his family's honour. Today, Mariella and Attilia are now in charge of the very palace they grew up in.
Everything inside points to a golden age of glamour that has long since past: the abundance of marble, fine fabrics and antiques show no expense has been spared, while the grand, vaulted hallways and decoratively tiled floors add to the opulence. Many of the features and rooms are original, with the 18th-century chapel now the hotel lobby and the former library transformed into one of the rooms. At Palazzo Avino, it's all about living la dolce vita, whether it's dining in the Michelin-starred Rossellini's restaurant, visiting the utterly decadent Lobster & Martini Bar or spending a day at the hotel's beach club – the only one of its kind in Ravello.
Its location is also one that feels like it should be reserved exclusively for the highborn, with the Pink Palace (as the locals call it) found a thousand feet above the Mediterranean in the quiet village of Ravello. The hotel embraces the stupendous coastal panorama which unravels before it, one so good we wouldn't blame you if you spent all day staring at it from your window, terrace or the pool. After all, Palazzo Avino really is like a fairytale come true.
All of the rooms and suites really embody the former palace's heyday: clean whitewashed walls are married with handmade Vietri-tiled floors, while antique rugs and furnishings dating back to the 18th and 19th centuries fill the rooms. With every little detail the luxe factor is turned up to the max, with luxury firm Frette supplying the bed linens and the opulent marble bathrooms kitted out with Frette towels and bath robes and Dr. Vranjes toiletries.
Even though some rooms have views of the overlooking mountains and the quiet village of Ravello, most come with prime views of the Amalfi Coast and the Mediterranean Sea – you can't really stay at Palazzo Avino without waking up to these incredible coastline panoramas, so we'd strongly recommend picking a sea-facing room. Some rooms also come with French balconies or full balconies.
Only the ten suites come with terraces, but what terraces they are. Imagine waking up with a coffee (need we remind you Italy is home to the best coffee) on your spacious sun-dappled terrace looking out to that view? Perfection.
Palazzo Avino has also teamed up with interior designer Cristina Celestino to create a capsule collection of seven rooms and suites, all of which are based around the themes of coral, aquamarine and sand. Our favourite is the Belvedere – a beautiful blush-coloured hideaway.
This is Italy, so of course it isn't enough just to live well – you have to eat well, too. At Palazzo Avino, you won't be disappointed.
Its main dinner scene is the Michelin-starred Rossellini's Restaurant, set on a magnificent terrace with the finest panorama of the Amalfi Coast and fishing boats bobbing in the water below. The head chef Gianni Vanacore fashions dishes that satisfy both his contemporary mod-Neapolitan juices while being underpinned by the classic Italian cooking of old. The results are astonishing, with the likes of raviolo with wild rabbit confit, quail six ways and scorpion fish served 'acqua pazza' (poached) cooked to perfection. Here though, it isn't just enough to make the dishes taste delicious, they will land at your table looking like they belong in an art gallery. The hotel even came up with the ingenious solution to place lemon trees between tables during the height of the Covid-19 pandemic, to ensure the safety of their guests while ensuring they didn't feel like they were in the middle of a pandemic.
If you want something more relaxed but still serving up the same epic scenery from your table, Terrazza Belvedere is the place to be for lighter bites, fresh pasta dishes and cocktails in the sunshine. At Caffé dell'Arte, we think you'd struggle to find somewhere more glamorous along the Amalfi Coast to enjoy a drink: with its white themes laced with gold trim, marble floor and antique furniture, it's a decadent setting from which to soak up the spectacular coastal scenery with a cocktail and gourmet snacks. There's even a live pianist playing soothing music, paving the way for a languid evening on the Italian coast.
If you want to crank up the opulent factor (or feel like you're James Bond), then you can spend an evening at Palazzo Avino's Lobster & Martini Bar. Freshly caught lobster is expertly paired with bottles of Champagne or prosecco while the hotel's resident martini mixologist is ready to whip up your choice from over 100 different types of martini, ranging from the local to the exotic and using herbs and fruit picked from the Italian countryside.
For something more intimate, the Chef's Table only seats four diners and the experience is based on a traditional Neapolitan game, La Tombola, where different numbers correspond to various dishes, so you're taken on your own unique culinary adventure. The Sommelier's Table is a once-in-a-lifetime candlelit dinner for two in a spellbinding setting within a cave – something not be missed by wine and cheese lovers. These caves, which are found underground all over Ravello, were once used to hide its citizens from invaders. After he bought Palazzo Avino, Giuseppe Avino explored its own network of caves, originally intending for it to be a wine cellar before transforming it into this incredible experience.
Palazzo Avino's superb position on the Amalfi Coast means you'll probably struggle to tear yourself from the eye-popping panorama it commands. If you fancy a change of position than spending all day ogling the scenery from your room, the 20m heated swimming pool is another great spot to see the Amalfi Coast in all its glory.
Beyond that, Palazzo Avino has plenty going on. The Pink Closet is the brainchild of Mariella Avino, whose love for fashion has led her to curate a unique boutique concept. But Palazzo Avino heartily encourages you to get out and explore the treasures the Amalfi Coast has to offer and its excellent range of experiences and excursions help you do just that. The hotel has teamed up with cooking schools led by Mamma Agata and Nonna Orsolao offer its guests a range of traditional Italian and Neapolitan cooking classes, including mozzarella making.
Out of the kitchen, there seems to be no limit to the boat trips and excursions you can pick from to see the Amalfi Coast looking its best. You can take trips to the likes of Positano, for many the poster boy of the Amalfi Coast with its honeycomb of pastel-hued houses tumbling down the rugged cliff. Further along the coast, Palazzo Avino can help you wander the glamour island of Capri, witness the compelling archaeological ruins of Pompeii and the cultural hub of Naples. By boat you can discover secret grottoes like Emerald Grotto and White Grotto, as well as being a more exciting way to reach some of the Amalfi Coast's gems, like Positano and the islands of Capri and Li Galli.
The best thing is the flexibility Palazzo Avino affords with its excursions: you could be driven to Positano (stopping at hidden coves along the way) and then choose to get a boat back to the hotel's beach club, Clubhouse by the Sea. From there, you have direct access to the sea for a cooling swim, while there are kayaks you can take out for a paddle. The beach club's restaurant also offers a summery menu of pizza, pasta and salads if you want to stay for dinner. Alternatively, if you wanted to spend the day at the beach club or visit it straight from the hotel, there are 15-minute complimentary shuttles available.
If you're a fan of classical music, then we'd highly recommend staying at Palazzo Avino in July, when Ravello's Music Festival is in town. Artists and corchestras from all across the world come to play against the beautiful backdrop of the Mediterranean Sea. Take our word for it: our Product Director Sue Bell and Managing Director James Bell experienced the festival's magic on their honeymoon and enjoyed every second.
For anything else, Palazzo Avino's concierge Antonio is on hand to help – what he doesn't know isn't worth knowing!
You're staying in a palace, so you deserve to give your body some royal relaxation. A state-of-the-art open-air gym has you jogging or cross-training right in front of the glorious Amalfi Coast but if that sounds too energetic for your liking, Palazzo Avino's spa is the place to be. While its vaulted ceilings and patterned tiles evoke a historic setting, the spa is very much forward-thinking with its organic techniques and ingredients. There's a hydropool, sauna, Turkish steam bath and several massage and treatment cabins, with the products used in the treatments containing extracts from three fruits picked from the nearby surroundings: lemons from Sorrento, apples from Annurca and apricots from Vesuvio.
On the hotel's rooftop, there's a solarium with an infinity hydropool – a great place to admire the sunset from with a glass of bubbly.
PLAN YOUR HOLIDAY
Enquire Now
Where is Palazzo Avino?
Enquire
Tailor-made Holidays with Turquoise
Every Turquoise Holiday to Italy is tailor-made and expertly crafted. Please contact our team of travel specialists on 01494 678 400 or via our online enquiry form for a bespoke quotation and we'll apply the best available offers for your travel dates.
Stay in touch
Sign up to our newsletter for the latest news and offers
Cookies
Our website uses cookies. Click accept to receive all cookies or change your cookie settings. You can also view our Privacy Policy to understand more about how we use cookies.
Privacy Policy