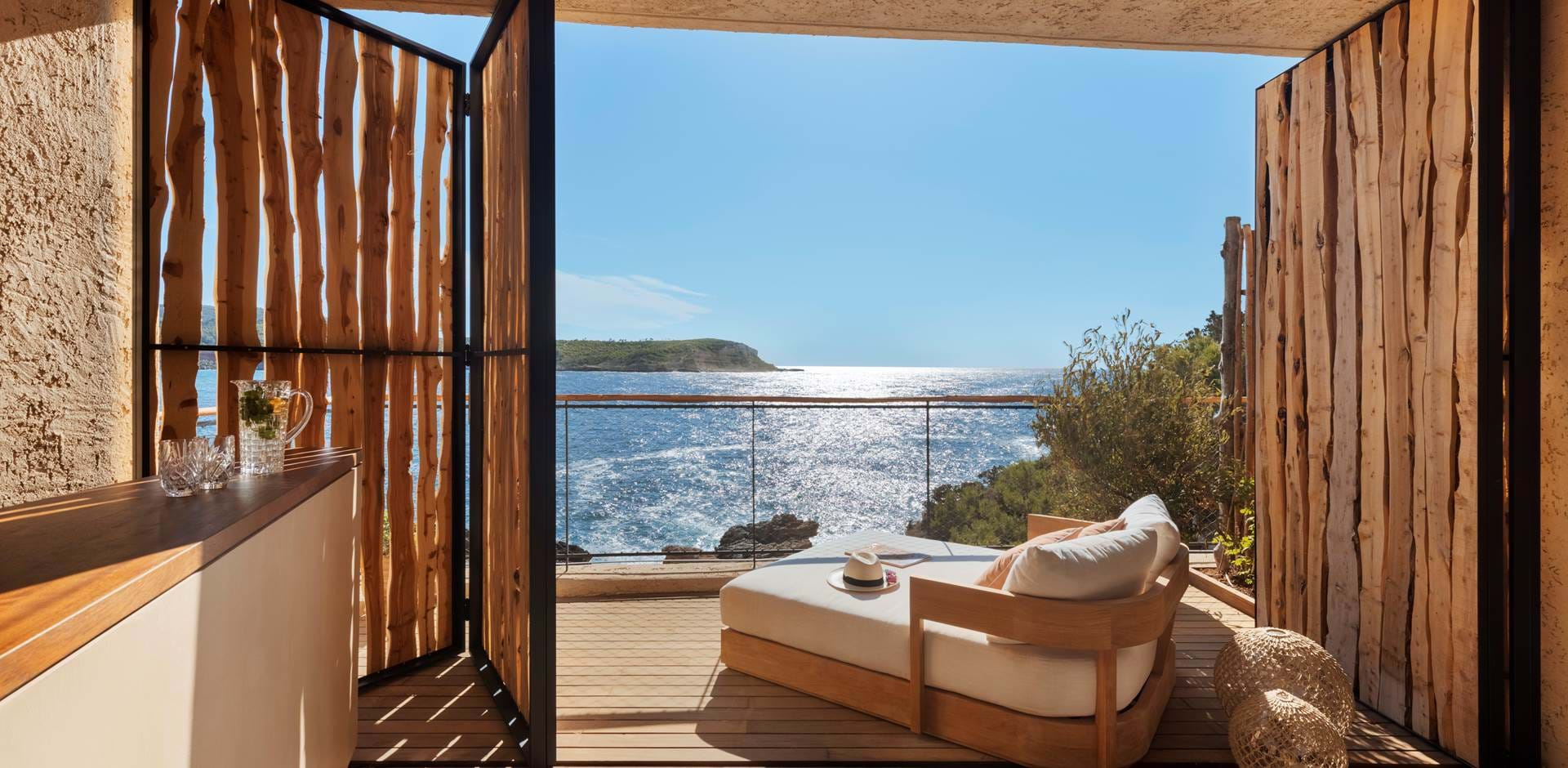 Mediterranean
Six Senses Ibiza, Spain
Ibiza holidays may come with a party-hard reputation but that's just a one-dimensional glimpse of this beautiful Balearic isle. Six Senses Ibiza introduces you to another: its much sleepier north, far away from its neon-streaked raves and far more in touch with the island's bohemian roots. Here, the free-spirited frequency is in tune with the spellbinding nature this hidden corner of the island is blessed with. The views from the resort's cliff-perched infinity pool are stupendous: you'll find yourself looking over the crystalline waters of Cala Xarraca bay, with rows of fragrant pines peering over your shoulder for a peek themselves.
It's not just the scenery that's good for your soul. Six Senses Ibiza's lo-fi, eco-friendly philosophy ensures your conscience will remain as clear as the waters of Cala Xarraca. It's the first sustainable BREEAM-certified resort in the Balearics and if that doesn't mean much to you then we'll put it another way: quite simply, if you cut the resort open its heart would be green. The ace up its sleeve is its working farm which operates on the site of a 400-year-old olive press and agricultural estate, supplying the resort's restaurants with fruit, vegetables, bread, cheese and more, while the Agora is an incredible immersive concept which shows that luxury and sustainability can go together hand in hand. Every room and suite is suitably Spanish in style, while most take advantage of the spectacular sea views. The highlight are the Cave Suites, built beneath the infinity pool and where you can literally drift off to the sound of Cala Xarraca's gentle waves.
In true Six Senses style, every guest is actively encouraged to engage with the local area and the resort makes it incredibly easy for you to do so: secret picnic trips in a retro VW campervan channel the island's hippie culture, while paella cooking classes and flamenco lessons show you an authentic side of Spain. Forget Ibiza's crowded beach bars, Six Senses Ibiza and its tranquil north are a peek into the island's soul.
Highlights
Six Senses Ibiza
Completely built of sustainable materials, the rooms and suites of Six Senses Ibiza have been cleverly built to appear as if they're seamlessly tumbling down the contours of Cala Xarraca bay.
All of them are Spanish in style, fusing together both traditional and contemporary influences. There are plenty of different room types to choose from, beginning with deluxe rooms opening up onto a citrus tree courtyard to lavish multi-room townhouses built to resemble fincas (traditional Spanish country estates) – the latter are ideal for families.
Most of the suites have glorious views of Cala Xarraca bay, made possible by the spacious terraces, balconies and rooftop gardens which accompany them. They're perfect spots for some early morning yoga or to admire the sunset – they're pretty special here.
If you want something truly out of the ordinary, plump for the cave suites. Carved out of the rock beneath the resort's infinity pool, you really do feel like you have your own hideaway that no-one else knows about. The Cave Royale takes that a step further, its pièce de résistance a hidden door leading to your own private recording studio, should your creative juices start flowing in the middle of the night.
Six Senses Ibiza boasts four restaurants, all of which pride themselves on their organic, seasonal and responsibly sourced outlook. They're well fed by the resort's very own sprawling farm, which lies on the site of a 400-year-old olive press and agricultural estate and produces everything from fruit and vegetables to bread, cheeses and charcuterie. Farm to fork has never been so tasty.
All four restaurants are curated by Israeli celebrity chef Eyal Shani and, as you'd expect with a nickname like the 'Cauliflower King', he sprinkles his (mainly) plant-based stardust here with delicious aplomb. The Farmers' Market offers informal all-day dining, with wood-fired pizzas, a juice bar, a bakery and a pinchos station (popular Spanish finger food). Outside you'll find the Orchard, whose setting under citrus trees lit up by fairy lights is matched by a mouthwatering menu of seasonal dishes and Mexican-Peruvian heritage drinks.
At HaSalon at The Piazza by Eyal Shani, the chef really sinks his teeth into Ibizan cooking. He uses fresh produce from the resort's farm to its full potential, with eggs laid by the farm's chickens, locally caught fish and grass-fed meat. The food is beautifully complemented by a range of biodynamic wines sourced from The Ibiza 500, the resort's own wine cellar. Some vintages were made just a few kilometres away, at Can Rich vineyard.
The breathtaking Beach Caves not only host their namesake suites but also a couple of restaurants and one bar. BONDST at Beach Caves brings Japanese cuisine to Ibiza, the Live Cave serves up pinchos, tapas and paella against the backdrop of Cala Xarraca and Twin Bar is the place to head to for an expertly crafted pre-dinner cocktail.
For wellness-conscious guests, the Farmacy Bar is your stop for detox juices, herbal creations and non-alcoholic cocktails.
Overlooking the glittering Cala Xarraca bay, Six Senses Ibiza can claim one of the best views on the island and its huge infinity pool is the best place to soak it up. You could easily spend all day here but the resort is geared up to help immerse you in something other than the water: the island itself.
Cliff jumping, scuba diving and guided kayaking and stand-up paddleboarding tours give you a closer look at the serene Cala Xarraca bay, with even more water activities taking place directly from the resort's rocky beach. Solar catamaran tours are both eco-friendly give you a dreamy view of Ibiza's northern coastline. Ibiza's rugged core begs to be tapped into – especially in its lesser-visited north – and Six Senses Ibiza are on hand to help you explore on foot, by e-mountain bike and even in a 4x4.
Where the resort really excels, however, is bringing the authentic side of Spain to life for you. There are paella cooking classes and flamenco lessons, while a picnic experience in a retro VW campervan to a quiet corner of Ibizan countryside is a mini bohemian escape – complete with a crimson sunset at its conclusion.
Back at the resort its cultural and sustainable muscles continue to be flexed, whether its immersive art and music experiences in the form of guitar workshops and unplugged sessions to the Agora, a sustainable retail concept that's part-shopping and part-education and the vision of former Vogue editors Tiffanie Darke and Daniela Agnelli.
Your children will love it here as you much as you will: the resort's kids' club will keep their attentions hooked and imaginations full with cooking classes, craft workshops, island excursions and even the chance to lend a hand on the farm.
As it is with every other Six Senses resort, the spa is exceptional. In fact, the experience at Six Senses Ibiza goes so far beyond the traditional menu of treatments and massages you'll only scratch the surface of what it has to offer during your stay there. It's a 1,200 sq m megacity of wellness, boasting a seafront yoga deck, sauna and steam rooms, alchemy bar (which even offers a workshop so you can make your own spa potions), chilled music spaces, Rose Bar longevity lounge and even massage catacombs nestled among the leafy organic gardens.
Beyond that, the resort offers a rich range of wellness experiences, from underwater guided meditation to sunset sound healing and forest bathing. You'd think we've covered everything here but there is so much more you can do and you could base your whole timetable around the spa – don't worry, the resort's multi-day wellness retreats mean they've thought of that, too.
PLAN YOUR HOLIDAY
Enquire Now
Map
Where is Six Senses Ibiza?
Enquire
Tailor-made Holidays with Turquoise
Every Turquoise Holiday to Ibiza is tailor-made and expertly crafted. Please contact our team of travel specialists on 01494 678 400 or via our online enquiry form for a bespoke quotation and we'll apply the best available offers for your travel dates.
Stay in touch
Sign up to our newsletter for the latest news and offers
Cookies
Our website uses cookies. Click accept to receive all cookies or change your cookie settings. You can also view our Privacy Policy to understand more about how we use cookies.
Privacy Policy