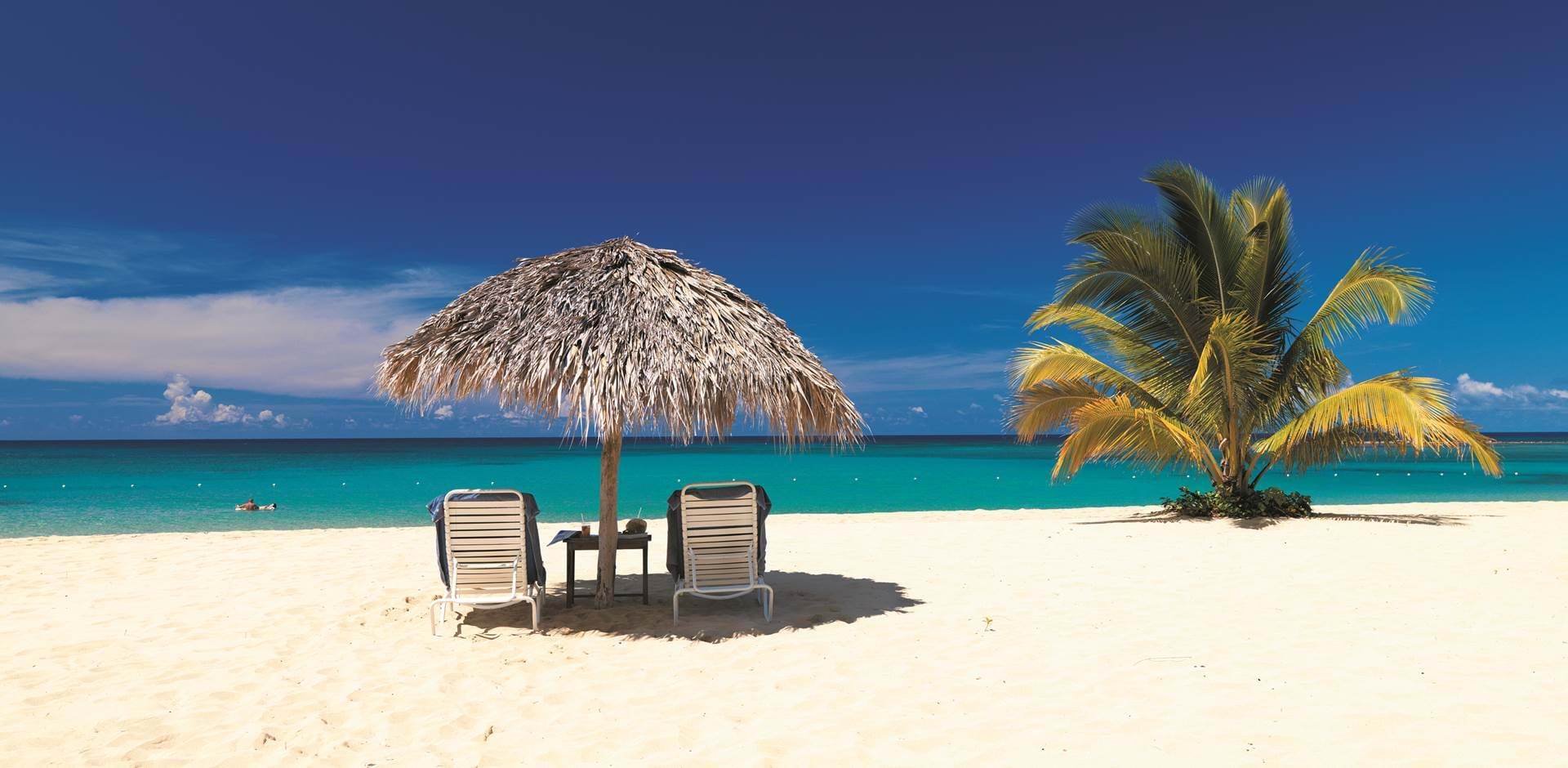 Jamaica Honeymoons 2023/2024
The third-largest island in the Caribbean (and the largest of the English-speaking West Indian islands), laid-back Jamaica is steeped in rich culture. The home of reggae, the Rastafari movement and the birthplace of Bob Marley, Jamaica is vibrant, colourful and infused with a rum-fuelled party spirit. It's the island to choose if you want to sample authentic Caribbean life, eat delicious local food and experience breathtakingly beautiful scenery including soaring mountains, crashing waterfalls, winding rivers and great, white sandy beaches such as Negril on the western tip and Ocho Rios along the north shore.
Legendary writer Noel Coward adored Jamaica so much that he bought Firefly, a hillside home now maintained by the Jamaican Heritage Trust, while Ian Fleming used its natural charms as the setting for several of his James Bond novels including Dr. No and Octopussy. Jamaica oozes fun and style and boasts a wonderful range of boutique hotels, chic retreats and bohemian hideaways, all renowned for their distinct and interesting character – each one is a reflection of the island's musical spirit. Each has its own rhythm, which will captivate even the most seasoned of travellers.
Honeymoon resorts
Our top five honeymoon resorts in Jamaica
PLAN YOUR HOLIDAY
Enquire Now
Luxury resorts
Luxury honeymoon resorts
Music, of course, is an integral part of the island's soul and visitors looking to find out more about Jamaica's most famous son should visit the Bob Marley Museum in the capital Kingston. Chris Blackwell, music mogul and founder of Island Records (who introduced the world to Bob Marley), also created the Island Outpost portfolio – a small and exclusive collection of unique hotels which includes the acclaimed GoldenEye (Ian Fleming's former 18-acre estate), The Caves – an oceanfront sanctuary poised on the limestone cliffs close to Negril's stunning seven-mile beachfront - and Strawberry Hill, a unique 12-cottage getaway perched 3,000ft above sea level in Jamaica's famed Blue Mountains range.
One of our all-time favourites is the inimitable Jamaica Inn, which has been one of the best-loved hotels in the Caribbean since the 1950s. A small and personal all-suite hotel, it has been in the same family for over 50 years and is acclaimed for its attentive and friendly staff. It also enjoys a glorious setting in the beautiful Ocho Rios and is situated on what many consider to be the premier beach in Jamaica. Another is elegant Round Hill, originally opened in 1953 and once a private haven for old-world Hollywood. It comprises 36 oceanfront hotel rooms and 27 villas and still today, it is one of the most sought-after hotels in the Caribbean.
Kingston is Jamaica's notorious capital, where one of the international airports is located, but we generally recommend you fly into Montego Bay (the second-largest city) on the island's north coast, which is also home to several famous golf courses.
Jamaica's interior and striking Port Antonio region on the east are well worth exploring but whatever you choose to do or see, Jamaica's charm is captivating. You will very quickly realise that it offers so much more than just beautiful beaches. It has great food, a rich and interesting culture, an irresistibly laid-back lifestyle and incredibly diverse scenery. It will undoubtedly cast its spell on you… a spell which will stay with you forever!
Specialists
Meet our Jamaica honeymoon specialists

Jamaica honeymoon inspiration
CANVAS
Head to our blog CANVAS for more inspiration, insider secrets and diaries from our team on Jamaica Honeymoons.
Stay in touch
Sign up to our newsletter for the latest news and offers
Cookies
Our website uses cookies. Click accept to receive all cookies or change your cookie settings. You can also view our Privacy Policy to understand more about how we use cookies.
Privacy Policy