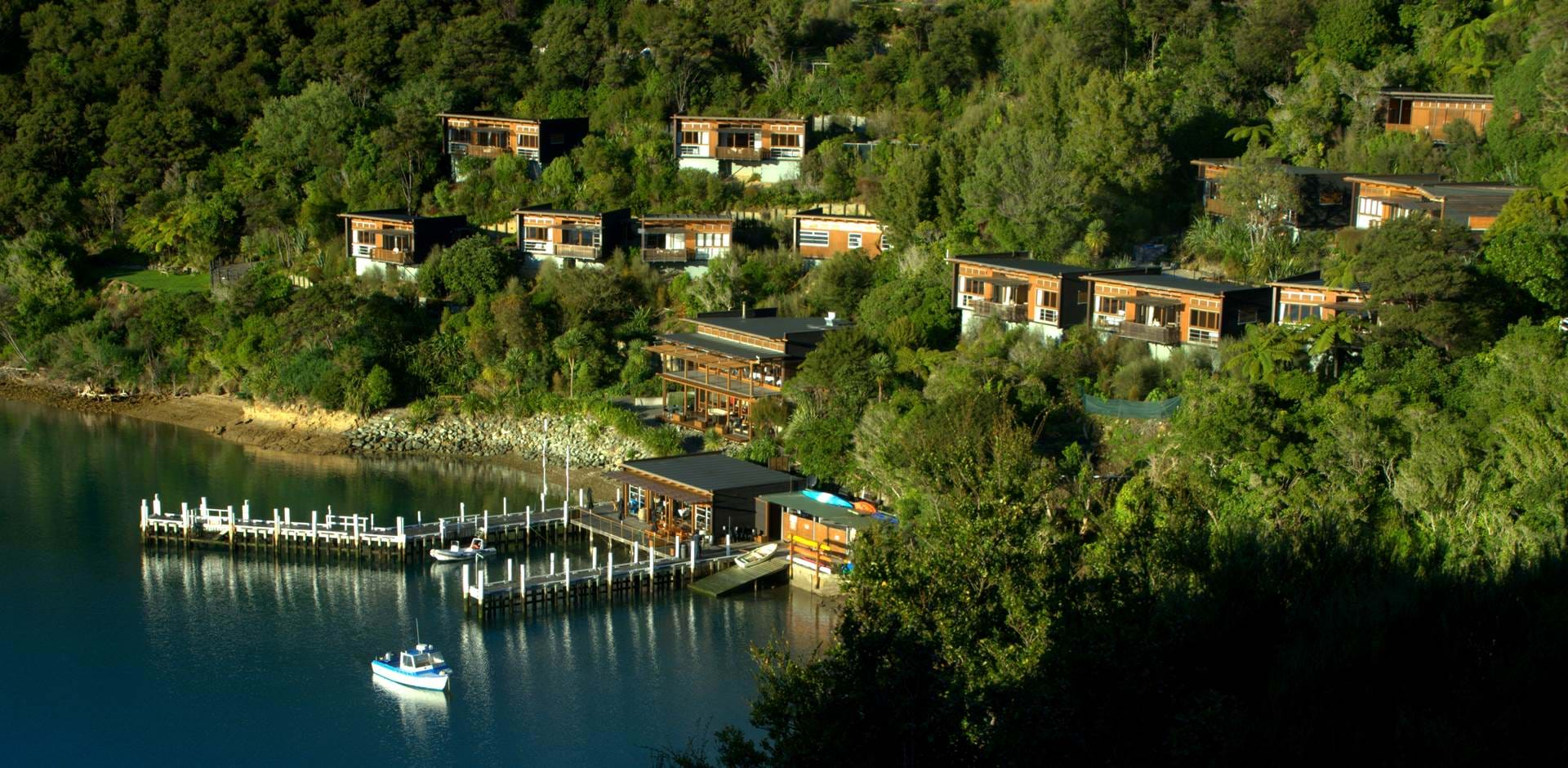 Honeymoon
New Zealand Honeymoons
Historically not associated with romance - but rugby and welly boots - how things have changed! New Zealand has a plethora of chic boutique hotels, cool and funky beach houses and luxury lodges. These are all whisked up by some of the most exciting activities known to man, from tranquil beach walks to high octane skydiving - perfect for a completely varied and exciting luxury New Zealand honeymoon.
New Zealand has it all. For those in love with food and wine as well as their partner, this is the place. Pacific Rim cuisine now rivals the best Europe can offer, with a wonderful blend of Asian and modern European. The array of award-winning wines delight and while we would never suggest you let your honeymoon go by in wine-ingested blur, it's hard not to indulge! New Zealand is strangely exotic but at the same time wonderfully familiar and the people are charming and genuinely thrilled to see you, especially on your honeymoon.
This is a country that will touch your soul and leave you refreshed. The range of fantastic experiences and breathtaking scenery will fill your camera's memory card twice over. New Zealand is not just a place for outdoors fanatics, but also for the passionate and romantic. You can travel any time of year, with our summer - their winter - a wonderfully romantic time to travel and ideal for a unique honeymoon location.
Honeymoon tips
Our top five tips for a honeymoon in New Zealand
Although New Zealand is a relatively small country and the roads are excellent, if you are planning the ultimate road trip for your honeymoon, do be careful you don't do too much driving - hours behind the wheel is not conducive to romance! You should absolutely experience the open road but also take advantage of New Zealand's brilliant and affordable domestic flight network. It will save time and money and let you enjoy more of New Zealand's great outdoors.
You should definitely visit both North & South Island during your honeymoon. Each island has its own character, lifestyle and community. The South Island has the most dramatic and beautiful scenery, perfect for hiking and exploring, whereas the North Island exudes culture, history and chic bustling cities.
New Zealand is all about wilderness and spectacular scenery. Take advantage of the fabulous first-hand knowledge and exclusive offers at Turquoise for guided or independent walks and treks. For thrill-seeking honeymooners, ensure Queenstown is on your itinerary, for tandem bungee-jumping, jet-boating and skiing could all be on your agenda.
New Zealand is home to both boutique hotels and beach houses. The country is littered with family-owned and run hotels, from cool and funky mountain retreats to cosy, romantic B&Bs. Ask your Turquoise honeymoon specialist about our unique and fun beach houses, which, in our opinion, are the best way to honeymoon like a local. Watch the sun go down from your private deck in the midst of your private vineyard, enjoying a cold glass fresh from the vines before you, accompanied by some barbecued fresh fish. Heaven.
Although New Zealand has a tiny population - even at the height of peak season nowhere is too busy - this country is most beautiful when you are alone with the one you love. We can arrange helicopter flights high into the Remarkable Mountains or private access to secret beaches. Just ask a Turquoise honeymoon expert and we will ensure your honeymoon is full of those once-in-a-lifetime moments.
Honeymoon resorts
Our top five honeymoon resorts in New Zealand
Specialists
Meet our New Zealand honeymoon specialists
New Zealand honeymoon inspiration
CANVAS
Head to our blog CANVAS for more inspiration, insider secrets and diaries from our team on New Zealand Honeymoons.
Stay in touch
Sign up to our newsletter for the latest news and offers
Cookies
Our website uses cookies. Click accept to receive all cookies or change your cookie settings. You can also view our Privacy Policy to understand more about how we use cookies.
Privacy Policy