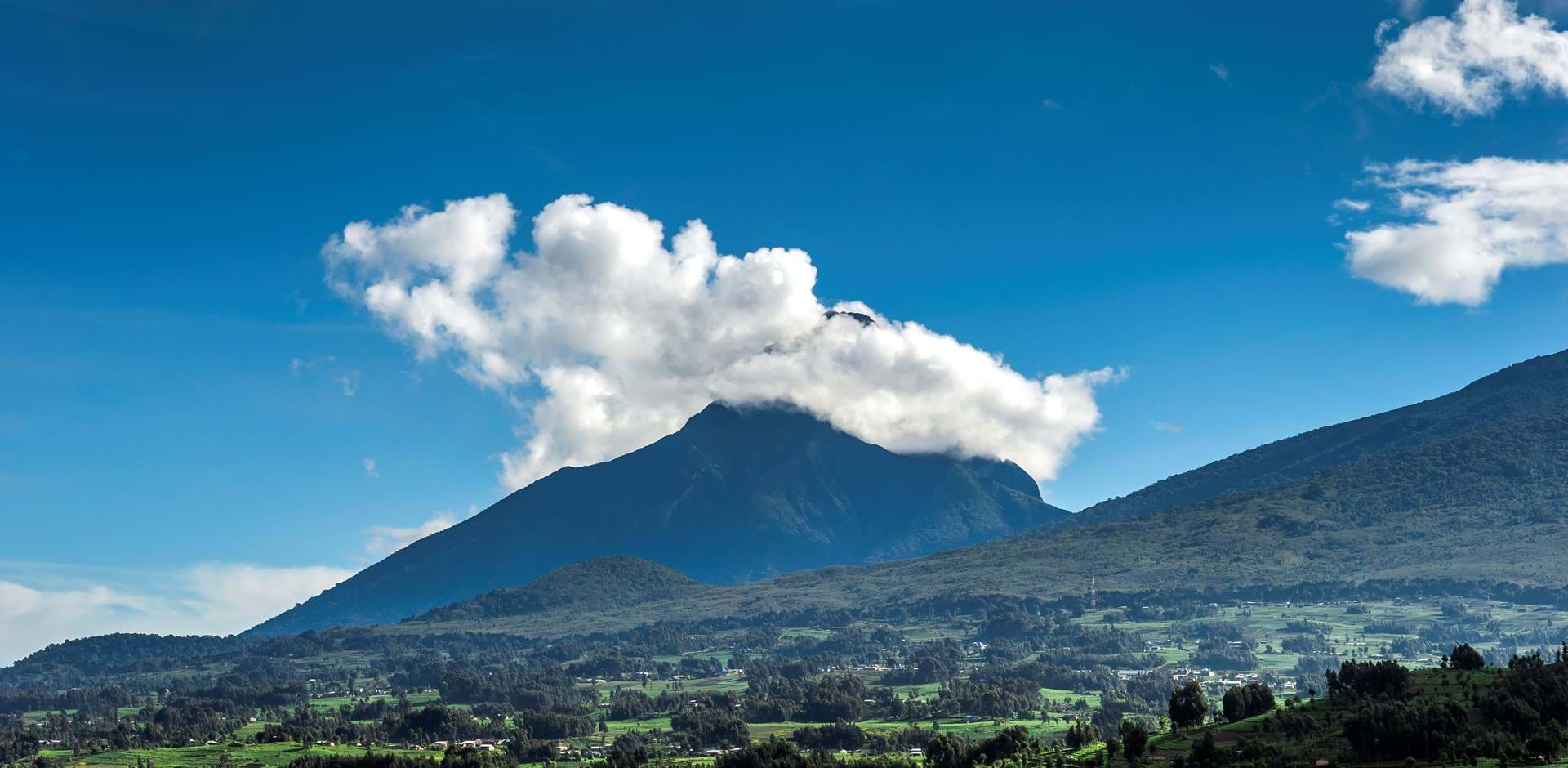 One&Only Gorilla's Nest, Rwanda
One&Only Gorilla's Nest, Rwanda
Volcanoes National Park
One&Only Gorilla's Nest, Rwanda
Volcanoes National Park, occupying the Rwandan share of the Virunga Mountains, is the one of the most biodiverse places on the planet. Hundreds of bird species zip through its mist-shrouded forests, emerald-wrapped volcanoes rise up from the jungle and, of course, there are its iconic mountain gorillas. It's Africa's oldest national park, too, having been established in 1925. If Volcanoes National Park is like nature's theatre having its award-winning show being extended time and time again, then One&Only Gorilla's Nest is your front-row seat to watch wildlife's greatest performance unfold. Hidden within the foothills of the Virunga Mountains and enveloped by eucalyptus trees, the lodge is just steps away from the iconic mountain gorillas of Rwanda. Gorilla's Nest itself is a luxury sanctuary from which you can be wowed by its wild splendour and throughout your stay, you'll be intimately connected with nature.
Highlights
One & Only Gorilla's Nest
Every suite and individual lodge at Gorilla's Nest is luxurious jungle-chic hideaway, wrapped in eucalyptus trees and blurring the boundaries with your natural surroundings, each one with flawless vantage points of the outdoors. The lodge has been thatched in a traditional Rwandan style, while local artists were the visionaries behind the modern, bright and stylish interiors of each room. Authentic Imigongo art adds further Rwandan charm and character your accommodation, as do locally weaved baskets. The suites are spacious and beautifully furnished, with cosy fireplaces welcome additions so for it gets chilly in the mountains. Open-air bathtubs, decking and outside showers give you plenty of opportunities to (quite literally) soak up the Rwandan wilderness. Upgrade to a one-bedroom lodge for even more space, while the two-bedroom lodges are ideal for families seeking the ideal gorilla getaway.
Dining at Gorilla's Nest follows the same local ethos as the rest of the lodge. The Nest is its only restaurant, but the veranda it features overlooking the dense forest is a spectacular place to dine. Its dishes heavily feature a range of fresh herbs and vegetables picked from Gorilla's Nest's bountiful organic garden, adding a Rwandan flavour to everything you eat. Nearly everything else on your plate that isn't from the garden is sourced from local farmers. As it's Rwanda, a coffee bar (featuring local blends) and tea samovar are also in the restaurant, serving you from breakfast through to dinner. Even the cocktails at the Nest Bar are inspired by the surrounding jungle, infused with rose petals and eucalyptus as a nod to the foliage you can see out of the floor-to-ceiling windows.
The ultimate experience when you're in Volcanoes National Park is trekking in the rainforest to spend time with its mountain gorillas. It's one of those travel moments that really does stay with you for the rest of your life. Gorilla's Nest is so close to the park's headquarters that it's an easy hop to where the guided treks begin. Don't just head into the national park for the gorillas though, with the wide fuzzy faces and amber coats of its resident golden monkeys just as much of a joy to see in the wild. You can do dedicated hikes to see them, as well as the other wildlife the park has to offer. Celebrated conservationist Dian Fossey dedicated her life to studying the park's gorillas and protecting them, before her tragic death in 1985. Now, there's a hike you can do to visit her grave and pay tribute to the incredible work she undertook. Elsewhere, you can also walk to and explore the cathedral-like Musanze Caves and climb Mount Bisoke to wander around its mist-cloaked crater lake. Buhanga Ecopark is another intriguing place to wander, with lava-hewn paths veining an emerald land steeped in folklore, thanks to its past as a location for coronation rituals of Rwandan kings. You can also visit the village of Iby'iwacu, where friendly locals will treat you with a dancing and drumming performance.
The spas at One&Only resorts are renowned for being sanctums of serenity and at Gorilla's Nest, the stunning natural surrounds only add to the sense of tranquillity. There's an impressive range of massages, treatments and experiences, all developed in partnership with sustainable organic skincare company Terres D'Afrique. African and Rwandan ingredients are used to ensure the continent is at the core of every offering, with local coffee beans used in full body treatments to rejuvenate the skin. Once you've been on a full-day trek tracking the gorillas, we're sure you'll be looking forward to a treatment in the spa!
Map
Where is Only & Only Gorillas Nest
Enquire
Tailor-made Holidays with Turquoise
Every Turquoise holiday to Rwanda is tailor-made and expertly crafted. Please contact our team of travel specialists on 01494 678 400 or via our online enquiry form for a bespoke quotation and we'll happily source the best available offers for your travel dates.
Stay in touch
Sign up to our newsletter for the latest news and offers
Cookies
Our website uses cookies. Click accept to receive all cookies or change your cookie settings. You can also view our Privacy Policy to understand more about how we use cookies.
Privacy Policy