Honeymoons
Tahiti Honeymoons 2023/2024
Described by many as the last paradise on Earth, Tahiti undoubtedly offers the quintessential tropical South Seas experience a luxury honeymoon demands. Historically known as French Polynesia but today, more commonly referred to as Tahiti, these enchanting islands in the South Pacific have inspired many a filmmaker and seduced a long succession of writers and artists over the years, perhaps the most famous of which is the post-impressionist French painter Paul Gauguin. His tomb on Hiva Oa in the Marquesas Islands continues to be a place of great pilgrimage. Traditionally a draw for romantic couples and honeymooners from all corners of the globe, seeking Tahiti honeymoon packages, Tahiti's world-famous islands boast an astounding natural beauty which is hard to find anywhere else on the planet. Tahiti honeymoon resorts are pure luxury.
Island-hopping has long been the traditional way to explore these pearls of the Pacific and we suggest trying to combine at least two islands, or even three, if time and budget permit (ideally, two Society Islands and one in the Tuamotus). The local airline, Air Tahiti, offers the most obvious means of transport between the islands – but for those who enjoy being on the water, there are various options open to you. You can board the Aranui for a voyage of discovery from Tahiti to the remote Marquesas Islands (via a stop in the Tuamotus) – fascinated travellers go along for the ride to watch the Aranui's spirited Polynesian crew sling sacks of copra (dried coconuts) to remote villages by day and strum ukuleles by night! Or if luxury sailing is more your thing – imagine boarding a private yacht with your own crew in Raiatea and disembarking three days later at the pontoon of your Bora Bora overwater bungalow! Only in paradise!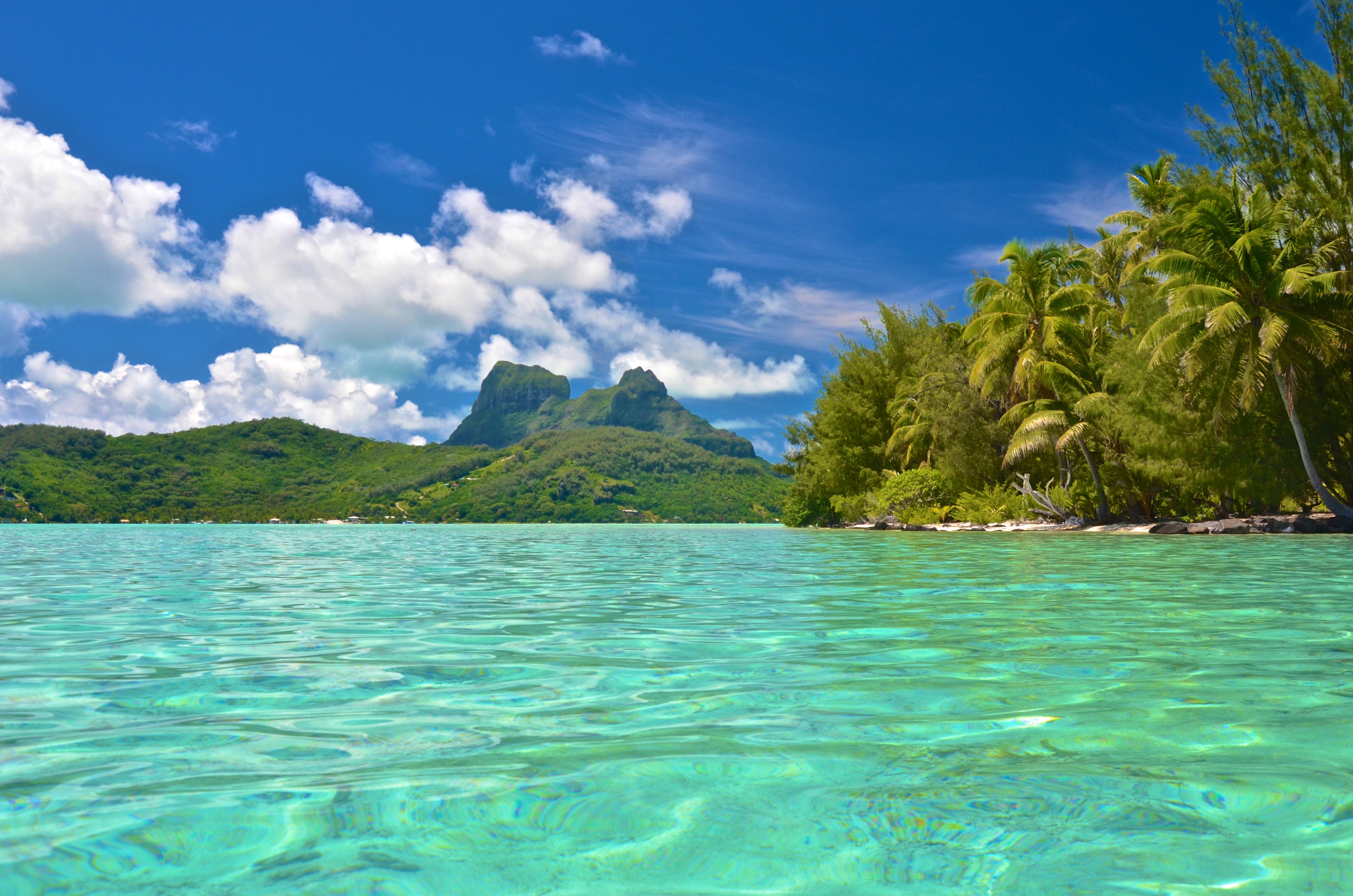 Top Tahiti Honeymoon Offers
Plan your perfect honeymoon
Live your dream honeymoon in the Islands of Tahiti with Turquoise Holidays. Discover our incredible honeymoon offers and enquire today.
Honeymoon tips
Top five tips for a honeymoon in Tahiti
If you're planning a spring wedding in the UK, and an April or May honeymoon to Tahiti – you couldn't pick a better time as you will benefit from low season prices – but still enjoy perfect weather in Tahiti! June to October is peak season so a stunning time to go but if you need to pinch the budget a little, go for April or May – your purse strings will thank you! Unlike a lot of other destinations, Tahiti doesn't have any all-inclusive honeymoon resorts, so picking when you go can help control the budget a little bit more.
When it comes to where to stay in Tahiti for a honeymoon, we'd recommend not just visiting one island, as Tahiti is a wonderful island-hopping honeymoon destination. As well as the local island-hopping airline, why not treat yourselves to a magical helicopter flight from Taha'a to Bora Bora (a honeymoon in one of its overwater bungalows is worth every penny!) or even charter a crewed yacht for a few days and sail from Taha'a to the pontoon of your chosen Bora Bora hotel – what better way to arrive at this legendary island! There isn't a best island in French Polynesia for a honeymoon as a combination of a few trumps staying on just one.
Moorea has incredible scenery
Save Bora Bora or Taha'a for your overwater experience and go for the beach in Moorea! Moorea is our favourite isle for scenery – you will over-awed by the deep cut bays and lush mountains whilst the lagoons of Bora Bora and Taha'a are the most dazzling and turquoise of any in the world!
Stay on a castaway island
Play Robinson Crusoe and combine luxury with rustic island chic on your French Polynesia honeymoon at one of our favourite tiny islands – either Vahine Island in the Taha'a lagoon or Tikehau Pearl Beach in the Tuamotu archipelago – castaway days don't get much better than this!
Break the bank and start married life on the ultimate high. Head to The Brando on Tetiaroa, the private island owned by the late Marlon Brando! It's the most glamorous island resort to hit Tahiti's shores – it's only accessible by private plane from Tahiti! Go on – you know you deserve it!
PLAN YOUR HOLIDAY
Enquire Now
Honeymoon resorts
Our top five honeymoon resorts in Tahiti
Our favourite honeymoon hotels
Find your favourite
Picking the right hotel or resort is one of the most important decisions of a honeymoon. As newlyweds, you want to stay somewhere that fits your ideal blend of relaxation, adventure and romance. You also want to stay somewhere that makes you feel special, which makes your honeymoon feel like the holiday of a lifetime, just like it should be.

We've assembled some of our favourite resorts for honeymooners, all of which are partners in our new Sapphire Package. Not only do they afford incredible views, romantic seclusion and delicious food, they all offer great honeymoon perks, too.
Travel guide
Tahiti honeymoon FAQ
Where are The Islands of Tahiti located?
Found in the heart of the South Pacific Ocean, halfway between Australia and South America, The Islands of Tahiti (or French Polynesia) is a tropical archipelago of 118 islands. They're split up into five main island groups: the Society Islands (which comprises the Windward and Leeward Islands), the Tuamotu archipelago, Gambier Islands, Marquesas Islands and Austral Islands.
Where should I stay in The Islands of Tahiti for my honeymoon?
Where do we start?! We adore everywhere in The Islands of Tahiti and many of the resorts we feature are perfect for honeymooners. Of course, you're probably familiar with the romantic charms of Bora Bora and Conrad Bora Bora Nui occupies one of the best locations to admire its splendour, occupying a motu (islet) under the watchful gaze of Mount Otemanu. Hilton Moorea Lagoon Resort is a lovely hideaway among lush surroundings, while Le Taha'a Island Resort & Spa will add the delicate vanilla scents Taha'a is famous for.
There are plenty more honeymoon resorts across The Islands of Tahiti and we heartily recommend combining two or more for a fabulous honeymoon to remember!
How much does a honeymoon in The Islands of Tahiti cost?
The Islands of Tahiti is a remote and exclusive honeymoon destination, and worth every penny to experience the wonders of this tropical paradise. A honeymoon to these islands is exceptional and promises the picture-perfect setting of your honeymoon dreams. Expect to spend in the region of £4,500 per person for a 10-night island-hopping holiday, including international flights from the UK and inter-island flights between the islands, with higher price tags attached to the more luxurious resorts and overwater bungalows. For ideas and inspiration, here is a selection of island-hopping itineraries to whet your honeymoon appetite.
Are The Islands of Tahiti a good place for a honeymoon?
Absolutely! In fact, we'd go as far to say it's one of the best places in the world to go for a honeymoon. Bora Bora is often described as the most romantic island on the planet and The Islands of Tahiti are thought of as the last true paradise on Earth. They're far-flung and tropical, ticking every box an exotic luxury honeymoon deserves. Those photos of Tahiti you see on Instagram? There's likely no filters on those turquoise lagoons or whiter-than-white beaches, as Tahiti's landscapes don't need them!
Are there all-inclusive honeymoon resorts in The Islands of Tahiti?
Unlike other parts of the world, most resorts in French Polynesia don't offer all-inclusive honeymoon packages. Instead, you'll often find that breakfast is included, and lunch and dinner can be pre-paid before your arrival, or paid for locally. We highly recommend including a half-board meal plan (breakfast and dinner) when you book your honeymoon with Turquoise, as meal prices are generally high across all islands in French Polynesia, so this takes the sting out of your check-out bill, and puts the pleasure back into ordering as you won't be worrying about the price of each dish. You'll often save money by paying for meals before you arrive, too. One resort that stands out on the all-inclusive front is The Brando which includes all meals, all drinks, a daily spa treatment and a daily excursion. This is the 'godfather' of private islands and a fantastic grand finale to your honeymoon in The Islands of Tahiti.
Do I need a visa for a honeymoon in The Islands of Tahiti?
British passport holders don't need a visa to visit The Islands of Tahiti.
Do I need any vaccinations to visit The Islands of Tahiti?
No vaccinations are currently recommended, although The Islands of Tahiti are deemed to have a risk of the Zika virus. If you're entering Tahiti from a Yellow Fever zone, possession of a valid Yellow Fever inoculation certificate is required. For any current travel health advice, you should seek guidance from your GP at least four to six weeks prior to travel.
How long is the flight to The Islands of Tahiti from the UK?
There are no direct flights from the UK to The Islands of Tahiti. To get there, fly to Los Angeles (around 11 hours), before catching a connecting flight to Tahiti (around eight and a half hours). Other routes including flying from London via San Francisco to Papeete and also via Tokyo in the Far East.
Specialists
Meet our Tahiti honeymoon specialists
Tahiti honeymoon inspiration
CANVAS
Head to our blog CANVAS for more inspiration, insider secrets and diaries from our team on Tahiti Honeymoons.
Stay in touch
Sign up to our newsletter for the latest news and offers
Cookies
Our website uses cookies. Click accept to receive all cookies or change your cookie settings. You can also view our Privacy Policy to understand more about how we use cookies.
Privacy Policy