From Tom Daley finally getting the gold medal he's been dreaming of to winning two gold medals in the modern pentathlon (one of the many events we suddenly become experts in every four years), we've loved watching the Tokyo Olympics this year. Cyclist Jason Kenny and boxer Lauren Price won Team GB's final two gold medals of the Games on Saturday and even though this year's Olympics are over, there is a whole world of wildlife out there waiting to show you their own version of the Olympic Games. From diving in Thailand to sailing in the Caribbean, here's where you can experience the wildlife's own version of the 'Greatest Show on Earth'…
Diving
Ok, so you might not be able to emulate Tom Daley in the way of doing three and a half somersaults and a couple of twists from the top of a 10m platform, but you can dive among some magical water worlds across the planet. Better known for its sugar-white sand and tropical seclusion, the Maldives is home to a wealth of diving hotspots – no matter which island you choose to stay on. There are vibrant cities of coral, tropical fish in every colour imaginable and the chance to swim with manta rays, majestic beasts which make gliding through the water look as effortless as Tom does with his dives. In Southeast Asia, islands in Thailand like Koh Lanta and Ko Rok promise kaleidoscopic encounters and Komodo Island in Indonesia shouldn't just be visited for its namesake dragons, its diving is world class, too.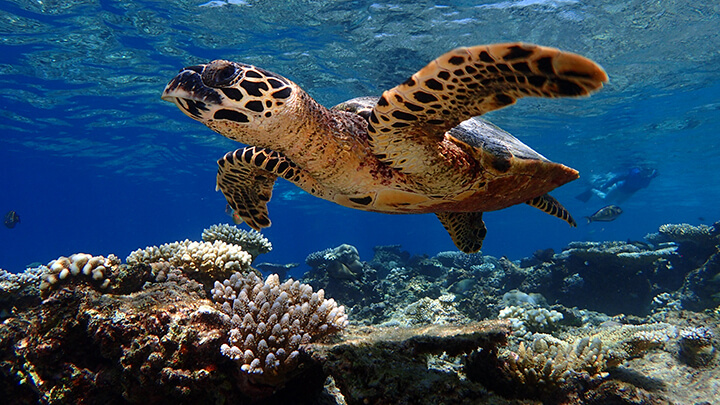 Mountain biking
Inspired by Tom Pidcock winning gold in the men's mountain bike cross-country competition? Then there are plenty of fine bike rides out there waiting for you to tackle them, many of which cut through the heart of eye-popping landscapes. Cycling is one of the best ways to soak up New Zealand's varied vistas and its 22 accessible trails will have you pedalling through sun-drenched vineyards, jade-hued forests, historic mining towns and under the gaze of snow-dusted peaks. Unlike Tom you won't be against the clock, so you can take in the natural drama at your own pace. In the USA, Mammoth Lakes in California may be a popular spot for skiers in winter but during the rest of the year you can go biking through the wildflower meadows and thick pine forests. Fancy something even more leisurely? Then hire a bike and enjoy a sleepy cycle among the brick stupas, sprawling monasteries and crumbling temples on Anuradhapura in Sri Lanka.
Swimming
Great Britain has had a long history of success in the swimming pool at the Olympics and there are plenty of experiences that will get your heart pumping even more than watching the likes of Adam Peaty and Duncan Scott pip their peers to gold. Forget swim-hatted competitors, you can glide alongside whale sharks and humpback whales in Western Australia's Ningaloo Reef, a marine world that every bit rivals its more illustrious counterpart, the Great Barrier Reef. The Maldives is another great destination for swimming with whale sharks.
For something altogether different, you can swim among bioluminescent plankton after dark at Jamaica's Luminous Lagoon. Boat trips take you to the lagoon, where you'll first witness the blue-green glow before jumping in to swim among this surreal phenomenon for yourself.
Equestrian
Charlotte Dujardin may not have scooped her third consecutive gold but you can continue her legacy by saddling up in some of the most beautiful destinations around the world. There are plenty of  powder-soft beaches to admire from horseback, including Seven Mile Beach in Jamaica, the black sands of Perivolos Beach in Santorini (an experience you can book through Istoria Hotel) and the charcoal-coloured beach by Soori Bali on the island's southern coast.
Taking up the excitement factor a notch, Botswana doesn't just offer walking and classic 4×4 Jeep safaris, you can trot through the African bush as well. Spotting lion and elephant while on horseback in the Savuti and Selinda game reserves really is a memorable experience.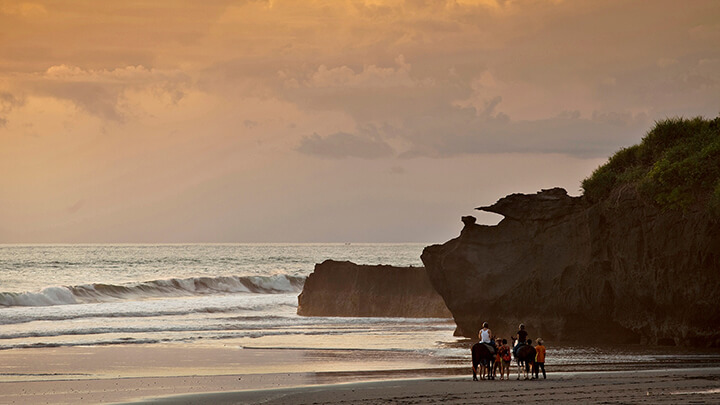 Sailing
Sir Ben Ainslie, Giles Scott, Hannah Mills. The list of British Olympic sailing greats is pretty extensive. If you want to channel your inner Olympic sailing champion, then the Caribbean is the place to be. For youngsters looking to emulate their heroes, the Sailing Club at Sugar Beach in Saint Lucia offers children aged 10 and above to learn the basics of sailing, from rigging to boat handling and seamanship. Using the resort's fleet of laser pico sailboats, its five or six-day programmes will have your kids navigating their way around Anse des Pitons in no time.
Elsewhere, Antigua & Barbuda has a rich sailing heritage you can witness in Nelson's Dockyard and the best way to get around the British Virgin Islands is by chartering your own boat, stopping at several of its idyllic islands along the way.
100m Sprint
If you thought Usain Bolt and Elaine Thompson-Herah were fast, then you need to see a cheetah in the wild. A stay at ol Donyo Lodge in Kenya's spectacular Chyulu Hills is one of your best bets, where 4×4 safaris, bush walks and wildlife viewing from hides give you plenty of opportunities to catch a glimpse of these super-speedy cats, as well as an impressive supporting cast of the Big Five, giraffe and gerenuk. Perched on a rugged escarpment overlooking the sweeping plains of the Masai Mara, Ol Seki is another great place to spy the likes of elephant, cheetah, wildebeest and zebra patrolling the plains, with nearby Naboisho in the Greater Mara is home to one of the largest lion densities in the world.
Kenya isn't the only place where cheetahs roam. You can also meet them on foot or in a safari vehicle at Sanctuary Makanyane Safari Lodge in South Africa, which lies close to the Botswanan border. This is one of our very favourite safari lodges and is loaded with 'wow' factor, from its luxurious rooms to the sheer amount of wildlife you can spot in the surrounding Madikwe wilderness, from brown hyenas to rhinos and hippos.