With only 75 individual thatched-roof villas, and no children under the age of eight allowed, Baros Maldives is a haven for romantic couples. The ambiance is refined and the service attentive yet friendly and informal: it's not surprising that they receive so many repeat guests.
Learn more about holidays in the Maldives
The villas are stunning, scattered either along the pristine white-sand beach or around the lagoon. Divers should choose the latter, as Baros has one of the best house reefs in the Maldives. Deluxe Villas feature a fabulous garden shower, while the Baros Villas have super-romantic four-poster beds and are slightly larger. There's an extended terrace with a private plunge pool and outdoor dining area at 10 of the Baros Villas, which makes it very hard to leave your private haven.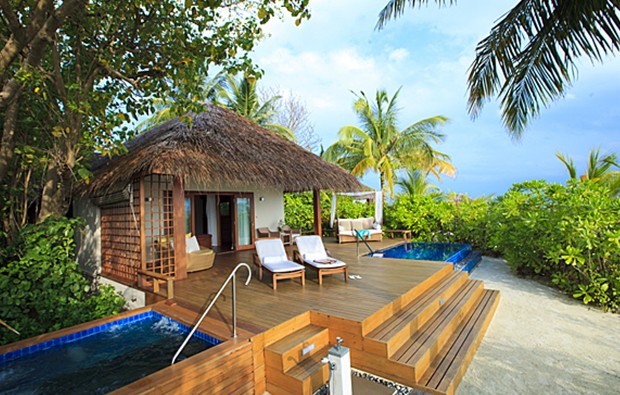 You don't have to: room service is open 24 hours a day and breakfast, snacks, dinner and drinks are all served with discretion in the comfort of your private villa deck, so there's absolutely no need to dress for dinner. Two of these pool villas are located on a secluded beach, shielded by lush tropical foliage, enhanced with the addition of an outdoor Jacuzzi as well as an infinity-edge plunge pool. These two Premium Pool Villas are the ultimate in romance and two of our favourite beach villas in the Maldives.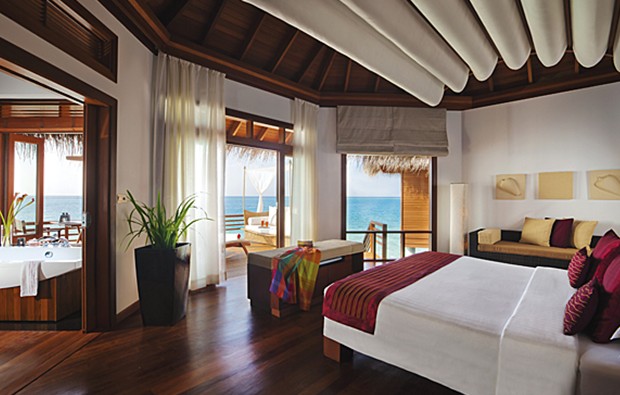 You'll enjoy panoramic ocean views, dedicated sun loungers under a thatched parasol on the beach and blissful choice of not one, but two pools on your private wooden deck. The Water Villas are, of course, equally beautiful, dressed in silk and cotton and featuring sumptuous bathrooms. We suggest you request a room on the top of the jetty (Penelope Cruz has stayed in one of these Water Villas), looking towards the west, and enjoy the most magnificent sunset with a chilled glass of Sauvignon Blanc in your hand. Baros Maldives' delicious dining options are endless. Whether you fancy a barbecue for two on the perfect beach, a Thai feast on the boardwalk, a picnic on a secluded sandbank or an intimate candlelit dinner in a private palm grove, the dedicated staff will happily make it an occasion to remember.