When you're in a tropical paradise as idyllic as The Islands of Tahiti, it's very tempting to simply sit back and soak up the views from the deck of your overwater bungalow, or with your toes in the sand, sipping a Mai Tai cocktail. But we know from experience that getting out and exploring the wilder side of the islands enhances your time in this magical corner of the South Pacific. Whether you're staying for a few nights, a week or even longer, there's so much to see and do… if you can tear yourself away from the incredible views and the endless blue lagoons!
Lagoon Excursions
As soon as you land in Papeete, on the main island of Tahiti, you are greeted by the sparkling blue South Pacific Ocean, just metres from the runway. This sets the scene for your stay… water, water everywhere! Grab a snorkel for a pre-breakfast dip, marvel at reef sharks from your stand-up paddleboard, cruise Bora Bora lagoon in style onboard Vitamin Sea catamaran, escape to a private island on a traditional outrigger canoe, swim with rays, hop on a jet ski, grab a kayak, dive for your very own pearl… the lagoon experiences are limitless!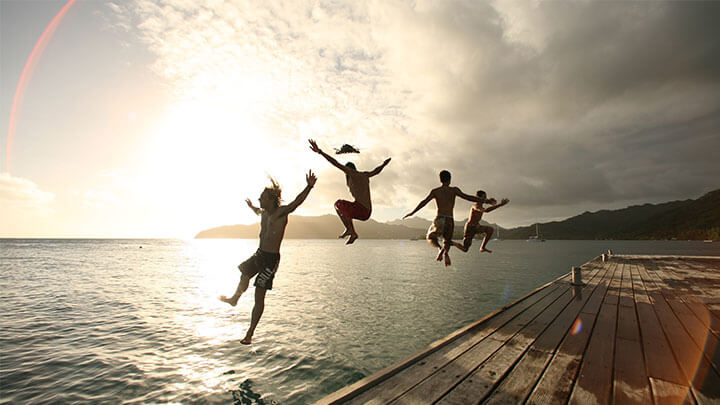 Cultural Experiences
With a rich and vibrant culture, it's impossible not to feel the mana – or spiritual energy – that runs through the veins of all Tahitians. Most resorts host local dancers and musicians once or twice a week for an energetic and powerful performance which gives guests an insight into Tahitian traditions. But to gain a deeper understanding, delve into the less travelled islands of Huahine, Raiatea and the Marquesas to name a few, and explore ancient sacred sites, hear Polynesian legends and learn about the marae, or meeting places.
Whilst French and English are widely used throughout the islands, it's fun to learn a few Tahitian words, and the locals will be delighted to help you perfect your pronunciation. Two words you'll hear regularly are Ia Orana (yo-rah-nah) meaning hello, and Mauru'uru (mah-roo-roo) meaning thank you… so why not start practicing now?!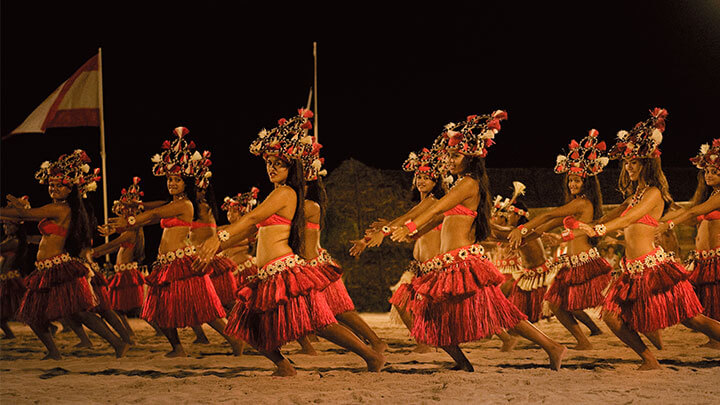 Adventure & Adrenalin
There's a thriving, action-packed side to The Islands of Tahiti. In Moorea, jump on a quad bike and feel the buzz of adrenaline whilst soaking up the views and munching on a deliciously sweet and juicy pineapple (Moorea is the pineapple capital of French Polynesia!) In Bora Bora, take to the skies in a helicopter for a bird's eye view of this iconic paradise as well as nearby Tupai, the heart-shaped atoll. In Tahiti, marvel at the surfers taking part in the challenging Tahiti Pro Teahupo'o held there each August, and if you're feeling brave, have a go yourself! From August to October, join a whale-watch cruise to see these magnificent creatures up close as they pass through the islands to mate and give birth.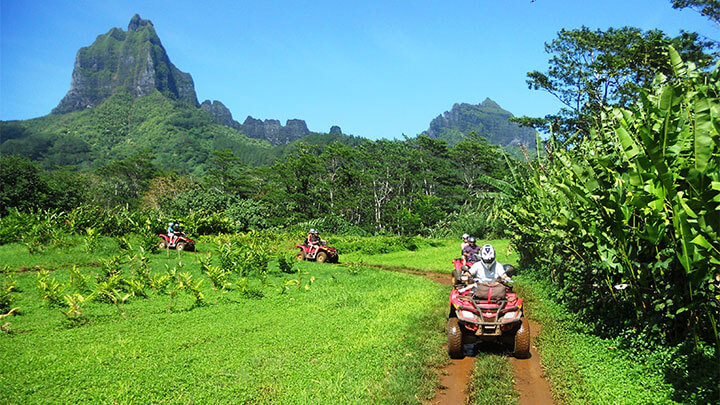 Food & Drink
Top of the tasting list has to be the national dish of Tahiti: poisson cru. A delicious bowl of raw fish marinated in lime juice and coconut milk. This goes hand-in-hand with the local Hinano beer, or a glass of wine produced from grapes grown in the coconut groves of Rangiroa. Head out on a food tour in Moorea with Heimata and learn about, and taste, Tahitian cuisine whilst meeting locals and having fun! By night, Bora Bora's infamous Bloody Mary's restaurant is the place to ditch your shoes and go barefoot on the sand floors under the thatched roof, try barbecued fresh catch and mahi mahi with Taha'a vanilla (the most sought after vanilla in the world), and enjoy a cocktail while the chef cooks in front of you… an iconic establishment since 1979! Back in Tahiti, the food stalls – or Les Roulottes – in Papeete are a lively place to hang out and live like a local.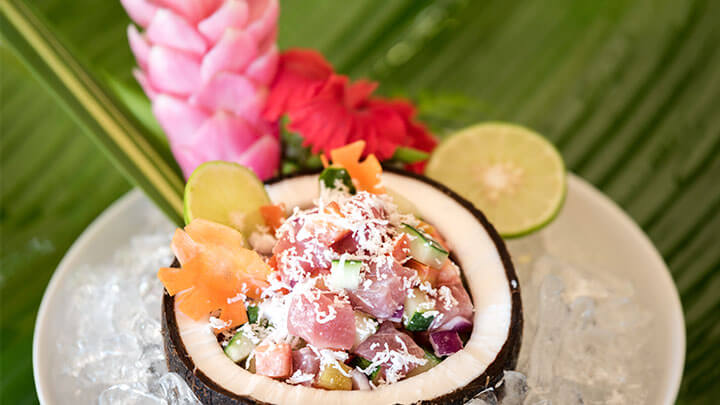 Off the Beaten Track
If you're looking to break away from the crowds (not that it's ever crowded here… the annual visitors to The Islands of Tahiti are roughly the same as the number of visitors to Hawaii each week!) head to the mystical island of Raiatea and cruise along the only navigable river in French Polynesia, Faaroa River, before exploring the island's many archaeological remains, including the impressive Taputapuatea Marae. In nearby Huahine, learn about the island's important sacred sites and hear about legends, history and traditions from expert tour guides, then marvel at the huge blue-eyed eels before heading up to a viewpoint for magnificent elevated views across the neighbouring islands. But to really experience the wilder side of The Islands of Tahiti, the Marquesas Islands (3.5-hour flight from Papeete with a 30-minute time change) have remained firmly in the past, a land of old where many traditional Polynesian art forms originated, including tattoo artistry, sculpture and woodcarving. The islands are also home to many archaeological sites including stone temples and large tiki statues, second only to those found on Easter Island.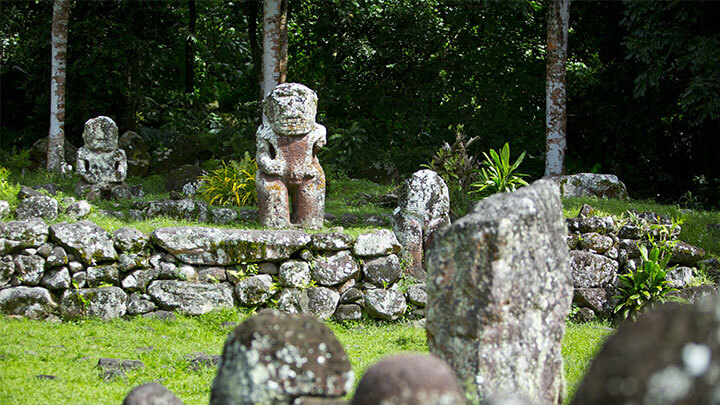 Feeling inspired? Get in touch with the Turquoise team today for your quote!