It's felt like a long time coming but we can finally visit the Maldives again. Its platinum-blonde beaches, iridescent coral reefs and get-away-from-it-all undertones feel closer than ever before. But it's been a long time since we visited these paradise islands and many of its idyllic resorts have taken the opportunity to refresh their offering or add new experiences, so visitors can really rediscover the Maldives anew when they return. These are just a few examples of what's new in the Maldives…
The world's first SpaQuarium
You've heard of an aquarium and you've heard of a spa, but have you heard of a spaquarium? We wouldn't be surprised if you haven't, as Huvafen Fushi's underwater spa is the world's first! The widescreen windows only add to the soothing atmosphere with their panoramic views of the kaleidoscopic coral. However, the best time to visit is pre- or post-dinner after dark, where the nocturnal predators, bioluminescent plankton and fluorescent coral come to life under the soft glow of UV light. It's an experience not to be missed.
The turtles are back!
In 2020, hawksbill turtles nested on the beaches of Baros for the first time in over five years. With the resort being closed for much of the pandemic, the quieter shores meant 23 turtles chose to nest on the sand. Now the resort is open again, you may not see them on the sand, but you could come nose-to-fin with them on a leisurely snorkel or dive of the house reef.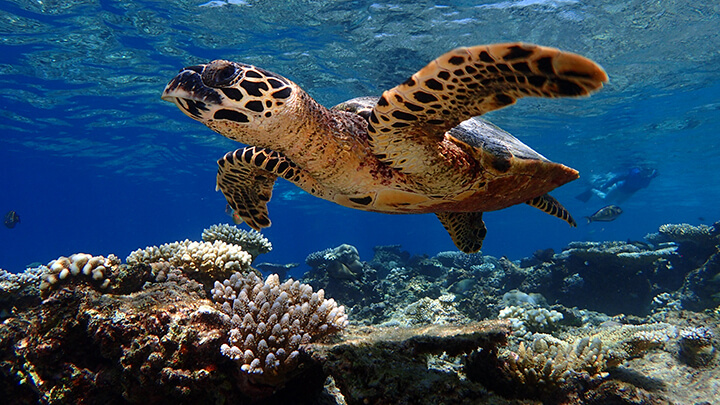 Restored reefs
Joali launched its pioneering reef restoration project in 2020, taking on marine biologist Martyna Socha to look after its coral nursery and monitor the health of its house reef. The results have been stunning, with the team helping the reef by planting artificial coral trees to help promote coral growth and shelter the existing coral from the intense coral. Of course, there's only true way to witness their positive impact and that's to see for your yourself.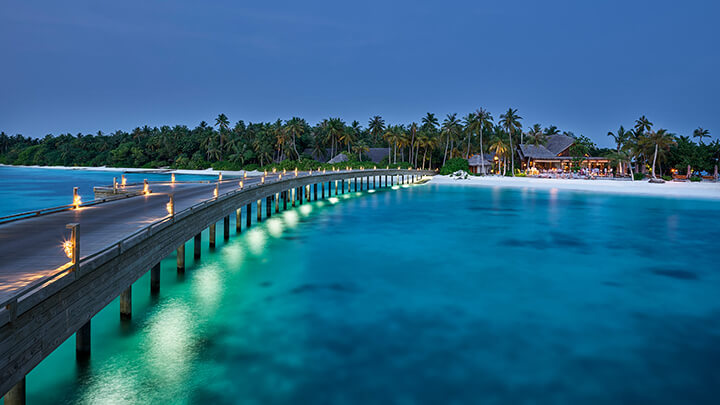 You can now go skydiving!
The Maldives isn't the first place you'd think of to go skydiving but now you have the chance to see its idyllic atolls and pearl-white beaches from a completely different perspective. Niyama Private Islands offers you the chance for a tandem skydive over the Dhaalu Atoll. You'll climb up to 12,000ft and then enjoy a thrilling one-minute freefall, before the parachute opens and you're left to enjoy a five-minute descent and a glorious panorama of the beautiful Maldivian islands, slung across the deep blue Indian Ocean like floating jewels. There won't be a view quite like it!