As a travel specialist that strives to put old-fashioned glamour back into travel as well and one of the UK's top honeymoon specialists, we know that the journey is an integral part of the holiday experience.
While most honeymooners dream of flying business class, turning up at the airport in wedding attire waving a "just married"' luggage tag is no longer a ticket to the front of the plane. While the luxury of an armchair in the sky with champagne on tap all the way to paradise has become the preserve for those with a hefty business budget, celebrity status or royal connections, James Bell points out that there are still many ways in which the honeymoon can still begin at the airport.
He says: "Many airlines offer well-priced sector upgrades to premium and business classes, and using this on the return sector avoids paying the extra Airline Passenger Duty tax with great savings. With our experienced flight specialists to guide you through today's minefield of aircraft routes, taxes, seat pitches and sector upgrades, it is possible to snap up a great deal which adds more than just a taste of the high life to our most popular honeymoons."
Get your marriage off to the very best flying start with these clever price-saving upgrade offers from Turquoise Holidays. Book during the annual Honeymoon Sale (15 to 29 February) and save up to £3650 per holiday too. All rates are per person including breakfast and return flights: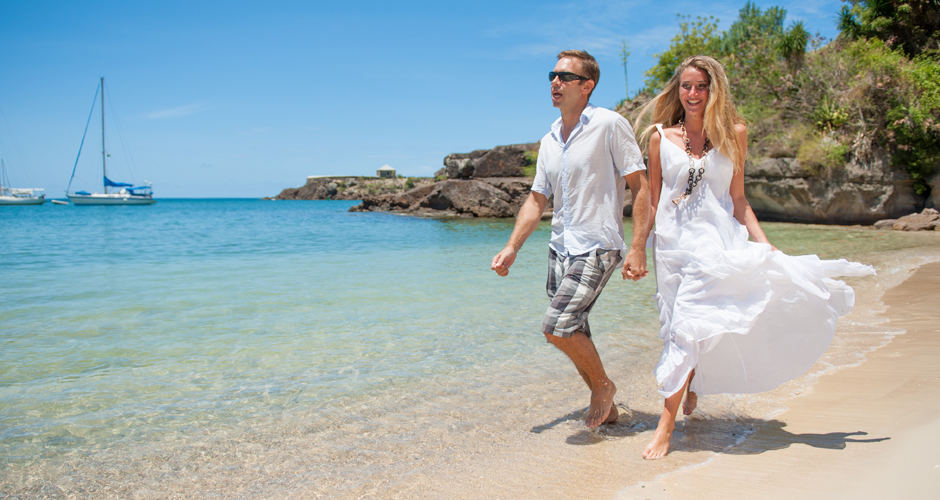 The Caribbean promises year round sunshine making it an ideal choice for any honeymoon, but the long overnight flight home in economy can put the dampeners on the newly weds' homecoming. Make the return journey something to look forward to with an upgrade on BA/Virgin to World Traveller Plus/Premium Economy from just £130 per person. Set the seal on your holiday of a lifetime and upgrade to Club World/Upper Class for an extra £700 per person. Honeymoon sale package: seven nights in an ocean view cottage at Ti Kaye, St Lucia costs from just £1484 per person with breakfast, Bride's massage and flights with BA including the return sector in World Traveller Plus (fly back in Club World from just £2049).
Thailand & Indochina is an exotic honeymoon destination at exceptional value for money, and Eva Air's superbly priced Royal Laurel class means that flying back in business class costs only £755 per person more. Even budget honeymoons can take advantage of Eva Air's great pricing, with a return flight in Elite Class (premium economy) for an additional cost of just £135 per person. Honeymoon sale package: Seven nights at the Banyan Tree Samui costs from £2850 per person including breakfast, afternoon tea daily and flights with Eva Air, including business class on the inbound sector.
Bali is a perennial favourite with its heady combination of romance and beach bar glamour, and Singapore Airline's new premium economy comes complete with a 'Book the Cook' service meaning you can even pre-order your meal of choice – all for an extra £360 per person on the return sector to London. Seven night honeymoon at the Pavilions Bali with breakfast costs from £1510 per person, flying home on Premium Economy with Singapore Airlines.
Zanzibar is Tanzania's island of love and the return journey to London Heathrow in business class with Oman Air will cost just £670 extra per person adding more than a touch of spice to your honeymoon. Seven nights at The Residence Zanzibar half board costs from just £2065 per person flying Oman Air with an upgrade to business class on the return sector.
Mauritius is an easy night flight from London Heathrow, providing much needed down time for the tired couple to recharge their batteries after the big day. Keep the best until last and upgrade your twelve and a half hour return sector to BA's WTP (premium economy) for just £255 per person. Honeymoon sale package: Seven nights at The Residence Mauritius costs from £1935 per person half board, flying home in the comfort of BA's World Traveller Plus.
The Maldives is the dream destination for most brides, and on Sri Lankan Airways it is possible to fly back from Colombo to London in business class for a supplement of only £580 per person. Fly BA from Male to London and upgrade the return flight to World Traveller Plus for just £360 per person. Honeymoon sale package: Seven nights at The Six Senses Laamu full board costs from £3689 with that little bit of luxury on both outward and return flights.
Tahiti is Turquoise Holidays' bestselling honeymoon destination, and with Air New Zealand's ingenious Sky Couch (three economy seats per couple) honeymooners can fly from London Heathrow to Los Angeles for just £299 extra, and cuddle up together watching Sleepless in Seattle as they fly over the North Pole. The return home journey can be just as comfortable, with an upgrade to Pacific Premium class from Los Angeles to London for just £260 per person. Honeymoon sale package: A ten night twin centre in Tahiti and Bora Bora costs from £5255 per person flying from London to LA on Air New Zealand's Sky Couch and from LA to London in Pacific Premium.
Dubai is the perfect destination for a mini-moon or as a twin centre honeymoon. With BA's World Traveller Plus premium economy class, you can upgrade your seven hour return flight for just £190 per person. Enjoy a five night mini-moon half board at The Waldorf Astoria Palm Dubai from £1105 per person and fly home in the comfort of BA's World Traveller Plus.
For further details on honeymoons and great offers across a wide range of luxury resorts and destinations with expert information on how to get the most out of your honeymoon, call T: 01494678400 or browse the Turquoise Honeymoon Shop for top tips and latest ideas.