Magical Moments at Velassaru
Welcome to this chic and contemporary Maldivian island, located in the South Male atoll just a 25 minute speedboat from Male, Velassaru. The island is famed for it's dazzling beaches and azure turquoise seas making it the picture perfect paradise from a postcard. With it proudly being a member of Small Luxury Hotels, the service is faultless with every member of staff welcoming you with a genuine Maldives smile! Get inspired by out three top reasons why to choose Velassaru for your next holiday getaway:
Accommodation
With a total of 129 rooms at Velassaru, we are adamant we can find the perfect room for you! Whether you are tucked away in the gardens, sat along the beachfront or perched overwater all villas offer a stay you will never forget. Choose from 10 different beach categories, all offering a slightly different setting and view of the beach or sea. Our personal favourite villa is the Water Villa with Pool which offers ultimate relaxation. Offering 112 square meters and a private pool there isn't anything more you couldn't wish for. A personal wine chiller, a bathtub with lagoon views and a home theatre system, welcome to paradise!
Restaurants
Velassaru is known for its incredible wining and dining. With five restaurants and two bars, each exuding their own individual style and experience it really is hard to choose which one, or stay for seven nights and try out each one once then return to your favourites! If you fancy toes in the sand on the edge of the lagoon, with a specular sunset then SAND is for you. Or if you are after a Japanese meal with a twist, try Tepanyaki where you will be seated over water eating exciting bits of sushi and sashimi. Or true to our name we always recommend Turquoise to experience Continental and Asian influences in a relaxed yet intimate setting.
Experiences
A stay at Velassaru is all about the experience and encounters to remember. From sunset cruising, big game fishing, dolphin discovery and a lot more, discover the Maldives in the most natural and unique environment possible. If you are into water sports the brilliant team will listen to your every wish and help you to explore the big blue sea. If you are ready for some R&R get ready to embrace simple luxuries and experience ultimate rejuvenation. All treatment rooms are set on stilts offering an incredible setting. At Velassaru be as active as you want, we recommend a little bit of everything.
Magical Moments at Huvafen Fushi
Huvafen Fushi has some of the best tropical views in the Malé Atoll (it's only a 30-minute speedboat ride from Malé airport) and, most importantly, feels like you've fallen off the map. There are no nearby islands, pesky boat traffic or noisy planes overhead. It's just you, your loved one and a big dollop of toes-in-the-sand seclusion.
Food For Thought
There's only one way to describe Huvafen Fushi's cuisine options: eclectic. You can dine overwater two ways, either Japanese style at Feeling Koi or with the freshest seafood on offer at Celsius. Enjoy wood-fired pizza with your toes in the sand at Forno and head below the surface to Vinum, the first underground wine cellar in the Maldives.
A Good Night's Sleep
Whether you're by the beach, fronting the lagoon or over the water, Huvafen Fushi's super-stylish bungalows are filled with tranquil colours and an aura of sophistication. Each comes with their own private plunge pool, while butlers are on hand to tend to your every need at any hour of the day.
Fun Fact
The resort is home to the world's only underwater spa. We bet there aren't many other places more soothing to have a massage than being surrounded by a kaleidoscopic reef.
Our Turquoise Tip
Head down to the shores at 6.30pm every evening to witness the on-site marine biologist feeding the stingrays.
Magical Moments at Dhigali
A cool, calm and collected cocoon, Dhigali Maldives is a resort where you'll feel your pulse slow as soon as your toes touch its powder-soft sands. The modern design of its suites and villas belies many of its traditional counterparts but this is a hideaway that's both fabulously contemporary but rooted in its gorgeous natural surroundings.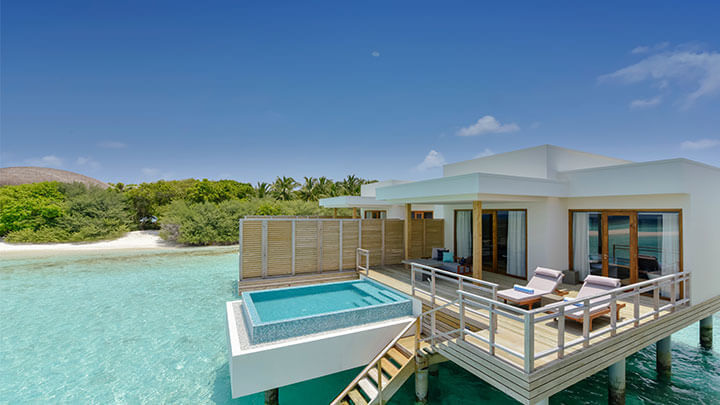 Food For Thought
Dhigali's signature restaurant is called "Battuta". Ibn Battuta is one of history's greatest explorers. In 1325 when he was just 21, he set out from his native Tangier (modern day Morocco). By the time he returned home for good, almost 30 years later, he had covered some 120,000 km and nearly every part of the Islamic world. Visiting the equivalent of 44 modern countries which were then mostly under the governments of Muslim leaders of the World of Islam, or "Dar al-Islam". Over the course of his travels Battuta spent a great deal of time in the Maldives, particularly Raa Atoll, so there is no better ambassador to highlight the cuisine of the Maldives.
The wonderful menu at Dhigali takes you not only from the local specialties but it also chronicles this great man's journey through the showcasing of cuisines from his many travels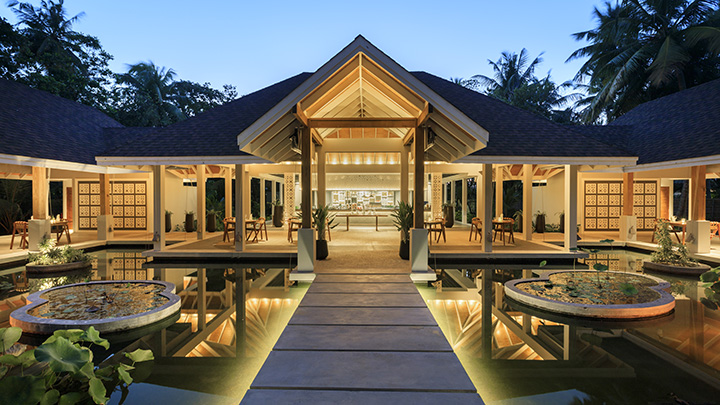 A Good Night's Sleep
At Dhigali, when it comes to its accommodation, you have the luxury of choice. There are eight room types to pick from, ranging between beach bungalows shaded by palms to palatial overwater villas. Instead of thatch-topped accommodation representing the traditional side of the Maldives, each room, suite and villa at Dhigali is firmly futuristic. All the beach boltholes come with generously sized al fresco bathrooms, while some of the larger suites and villas have a deep-soaking tub and your own private pool, too.
The overwater villas all have steps leading directly to the dreamy lagoon where a kaleidoscopic coral reef is within paddling distance. Like the beach accommodation, the bigger lagoons villas have larger decking areas and their own pools as well. No matter where you stay on the island, you are only a few steps from the sea.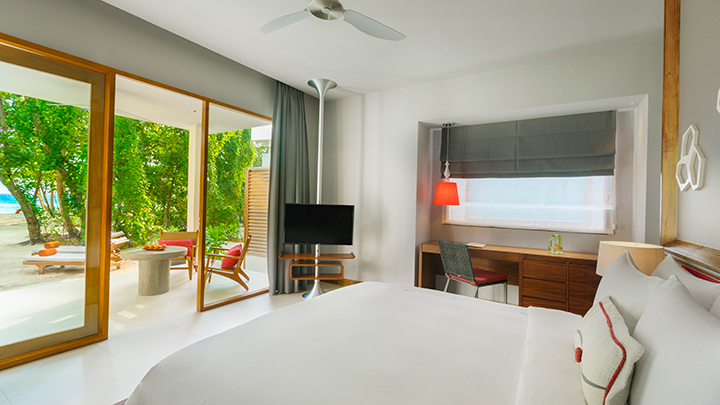 Fun Fact
The all-inclusive premium experience means every element of your holiday has been carefully crafted to ensure it is as fun and stress-free as possible, from the minute you arrive to the moment you depart.
Breakfast, lunch, dinner and a selection of beverages from any of the operational outlets is all included in the premium all-inclusive offering. This includes all four Restaurants, Café , Pizzeria and 2 bars. Experiences such as dolphin cruise, glass bottom boat excursion and non-motorised water sports are also included at no extra cost along with complimentary Kids Club for children aged 4 to 12 years.
Our Turquoise Tip
Head to Hali Bar for stunning sunsets and romantic cocktails.