Nestled deep inside the largest rainforest in Southern Thailand, Khao Sok National Park, Elephants Hills is Thailand's first luxury tented jungle camp. For those who have been on safari, it will feel familiar yet different; that's because it's inspired by African safari tents but with a twist.
The camp is split over two locations. The original site has thirty tents and overlooks the river below and the jungle-covered hills above. The second site is set directly on the Cheow Larn Lake on a floating platform. This has ten tents and they are only reachable by boat, but the experience is fabulous. The tents are somewhat rustic, but very high quality and comfortable, with mosquito protection and adequate ventilation. They are all en-suite with hot running water, Western-style toilets, and also have power sockets, fans, and kettles. The camp is also environmentally conscious and uses both solar and wind energy for electricity. Meals can be taken outdoors in the sun or under the stars.
The main camp is home to the Jungle Bar, where you'll find included buffet meals, live cooking demos and dancing, and a swimming pool. The floating camp is a bit more intimate; you can even swim in the lake, making it a proper overwater experience. We'd actually recommend staying in both locations over the course of your trip to experience the difference.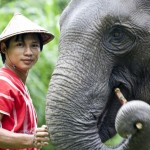 One of the main highlights of the resort, naturally, is the elephants. There are a number of elephant activities included, such as a mahout experience where you will actually get to wash and feed the elephants. The owners are clearly passionate about these animals and you'll find yourself learning much about the majestic creatures. You can also go jungle trekking, canoeing, or cruising and kayaking. Even a walk through the National Park is breath-taking, with a jungle green backdrop and soaring limestone formations.
This would be a fantastic choice to do something a little different during your holiday in Thailand; it's easily combined with a beach retreat in Phuket, for instance. Better yet, if you book with Turquoise, you can get an early booking discount if you book at least six months in advance, up to October 31st, 2012. So don't delay – this wonderful camp is well worth your time.