If you thought the Maldives was all about the beach, then think again. Of course, its sparkling sands are among the best in the world but there is far more to do on these paradise islands than just relaxing on the beach. Whether it's diving among the archipelago's magnificent marine worlds or watching a film under a starry sky, no day in the Maldives needs to be the same. Here are five must-do experiences to do while you're there…
Take a look at our Maldives brochure
A Seaplane Journey
The unforgettable memories in the Maldives start before you've even reached your resort island. The most common way to reach your resort is by seaplane, which is an incredible experience in itself – they are to the Maldives what yellow taxis are to New York City. You'll likely fly in a classic de Havilland Twin Otter seaplane, one of Trans Maldivian Airways' 57-strong fleet, and with each one only capable of holding up to 15 passengers you'll certainly have an intimate experience. After take-off, you'll learn a flight in a seaplane is like nothing else. They fly far lower than larger aircraft and we can guarantee you'll be glued to this unique bird's-eye view of the Maldives' powder-soft sandbanks, kaleidoscopic coral reefs and lush green cores in incredible detail.
Snorkelling and Diving
In short, the Maldives is one of the world's finest snorkelling and diving destinations. It doesn't matter which island you choose to stay on – each one is close to kaleidoscopic coral reefs and atolls teeming with reef sharks, crayon-coloured fish, turtles and rays. There is such a breadth of experiences on offer to encounter them, from snorkelling the shallows to epic dives further out into the Indian Ocean and swimming with manta rays to meeting nocturnal marine life on night dives. Nearly all resorts have a comprehensive snorkelling and diving centre, so whether you're a novice or experienced in the water, there'll be something for you.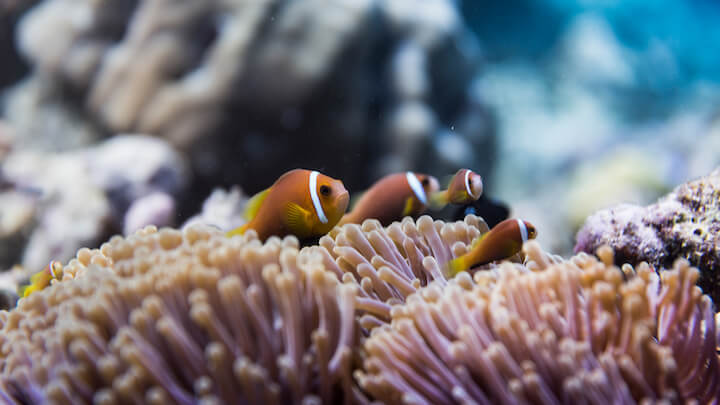 A Floating Breakfast
When you're in the Maldives, you'll certainly want to savour a splash of luxury while you're there. So why not have the best possible start to your morning with a floating breakfast in your overwater bungalow's very own infinity pool? You can roll out of bed and straight into the pool, where a sumptuous breakfast of pastries, fresh fruit, juices and waffles will be ready and waiting for you and your loved one to enjoy. Resorts like LUX* South Ari Atoll and Dhigali offer these as signature experiences and there really is no better way to wake up in the Maldives.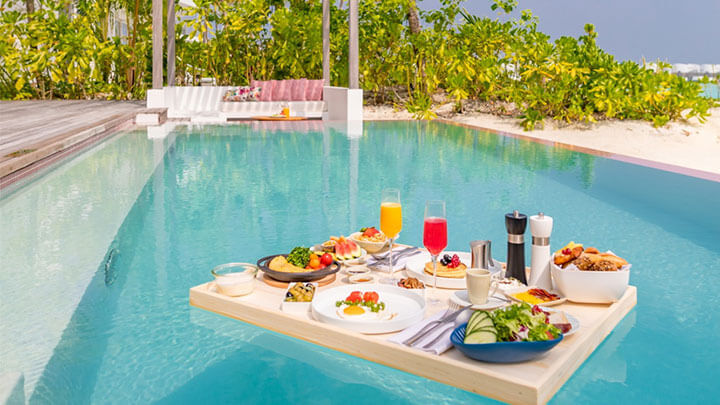 Plant Your Own Coral
The Maldives has become a byword for tropical seclusion and this pristine paradise is well worth protecting. Resorts are becoming more and more eco-friendly with ingenious initiatives such as organic on-island gardens, banning single-use plastics and employing their own marine biologists. There are plenty of ways you can get involved during your stay, too, and one of the most meaningful is the opportunity to plant your own coral to a specially built frame under the water, which help them to thrive. Most resorts offer this as a sustainable activity to do during your stay, where you'll also learn more about the resort is doing to protect the surrounding marine environment. Then, you can return on holiday in a few years to see how your piece of coral is getting on!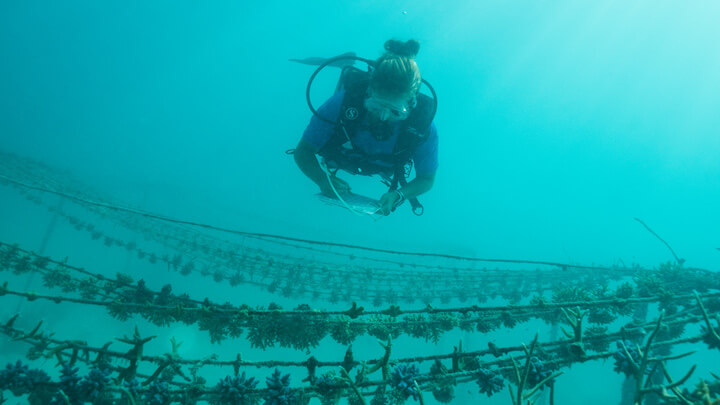 Cinema Night Under the Stars
The beach at your resort isn't just for relaxing on with a good book under the shadow of a swaying palm – as good as that may sound! If you can't bear to tear yourself away from the cashmere-soft sands (and we wouldn't blame you if you couldn't), then you don't have to. Once night falls, find a comfortable sandy spot as you prepare for a movie night like no other, where the screen is pitched in the shallow waters lapping the beach and refreshments like pizza, cocktails and more are brought straight to you. The actors and actresses in the classic film you'll be watching won't be the only stars on display, either – the sky above you will be full of them.