With its whitewashed buildings set atop towering cliffs and peering over a sparkling, ocean-flooded caldera, Santorini is arguably the most impressive of all the Greek islands. The island has pure natural drama written all over it and it's all about the jaw-dropping views, breathtaking sunsets and spectacular landscapes.
There's so much adventure Santorini promises, so we share our top five things to do during a stay on this beautiful island…
Hike from Fira to Oia
This 10km scenic hike along the caldera edge between Fira and Oia provides some of the most extraordinary views you'll witness in the Greek islands and beyond. While treading the route you can explore the picture-perfect whitewashed streets and blue-domed churches of Fira, Imerovigli and Oia, marvelling at the tranquillity in-between. After spending the morning taking in the scenery from every angle, finish your hike with a drink or lunch at one of the many spectacular bars in Oia and Fira (depending on which way round you choose to do the route).
Top tips
With views so glorious, this is not a walk to do in a hurry. We'd recommend starting early if you are travelling in the peak summer months, as temperatures rise by late morning. There aren't many places to stop between Fira and Imerovigli, so take plenty of water with you. Organise a car with your hotel in advance to collect you from your finish point (or get dropped off in the morning and walk back to your hotel).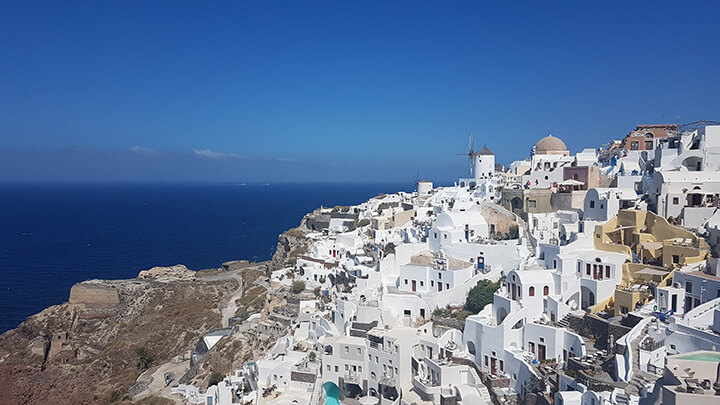 Sunset drinks in Fira
There are few things more impressive than a Santorini sunset and Fira has the best seat in the house. Sit back, relax and enjoy the incredible show with a drink in hand as the sun slips slowly below the horizon, bathing the entire caldera in a fiery glow.
Top tip
Arrive at least an hour before sunset, as tables fill up fast and many do not take reservations.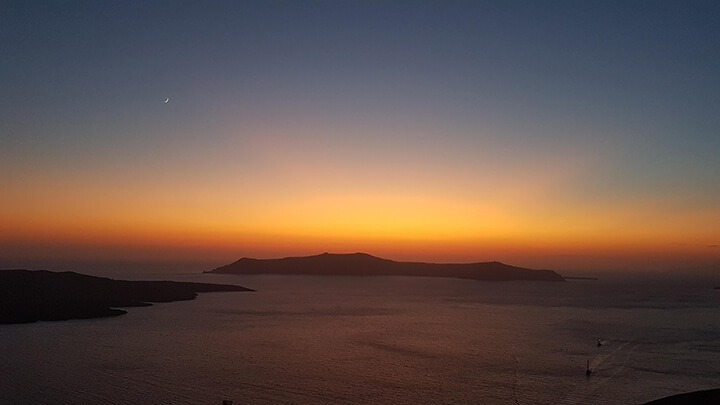 Cruise the caldera
A private or small-group catamaran cruise of the caldera offers an entirely new perspective of the island. Gaze up at the postcard villages of Fira and Oia from hundreds of metres below, plunge into thermal springs around the satellite volcanic island of Palea Kameni and relax with a drink and barbecue aboard your boat. This really is one for the memory banks!
Top tip
Most catamaran trips offer two cruises each day – go for the later option to enjoy sunset. Book your cruise before you travel or the day you arrive to account for the frequent changes in the wind around Santorini.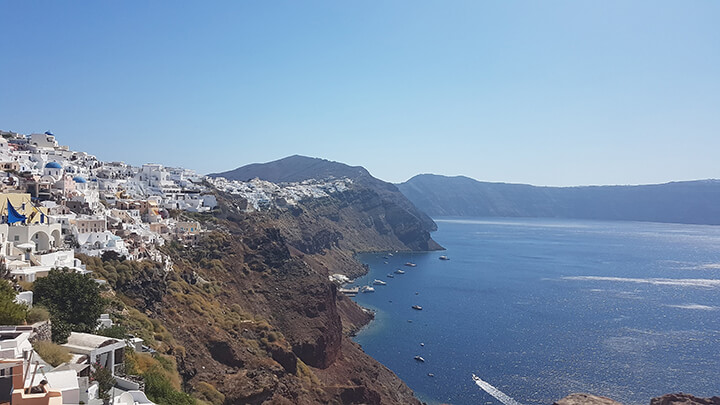 Visit the traditional village of Ammoudi
Around 300 steps below Oia is the charming, traditional village of Ammoudi. Backed by impressive red cliffs, just beyond the village is a breathtaking spot for a dip in the glittering, crystalline waters. After you've had a dip, wander back into the village and enjoy a meal at one of the local seafood tavernas that line the old port. For true magic, visit at sunset when the seafront is soaked in the golden light of the setting sun.
Top tip
Reservations at the tavernas aren't always needed for lunch, but make sure you book a table for dinner!
Spend a lazy afternoon at a vineyard
The volcanic, mineral-rich soil and warm sun has shaped Santorini into a wine-lover's heaven. Scattered across the island are a number of small vineyards and wineries, which continue Santorini's 3,000-year-old wine-making tradition. Among the most popular are Estate Argyros and SantoWines Winery, which also offer spectacular views. For incredibly warm hospitality, visit Domaine Sigalas and for a more rustic experience, make your way to the Gavalas Winery.
Top tip
You might need to book a hotel car for your return!