With over 100 islands in the Seychelles, it's fair to say it's not short on picture-perfect beaches. No matter what island you're on there are spellbinding sands, each one as cashmere-soft as the next. Whittling down the best ones has been no mean feat (in all honesty, we wish we could spend time relaxing on them all), but here are our favourite beaches in the Seychelles.
Anse Lazio
With cotton-white sands studded with smooth granite boulders and shaded by swaying takamaka trees, Anse Lazio looks like it's been plucked from a postcard. It's regularly voted as one of the finest beaches in the world and even though the secret's out on this curving half-mile stretch of sand on Praslin, you'll never feel crowded. If you do fancy a section entirely to yourself, the beach's southern end has lots of little coves tucked within the boulders, so you can wriggle your toes in the pillow-soft sand in peace. Bring a snorkel, too, as the gin-clear waters harbour a kaleidoscopic collection of marine life, including stingrays, bluefin trevallies and moray eels.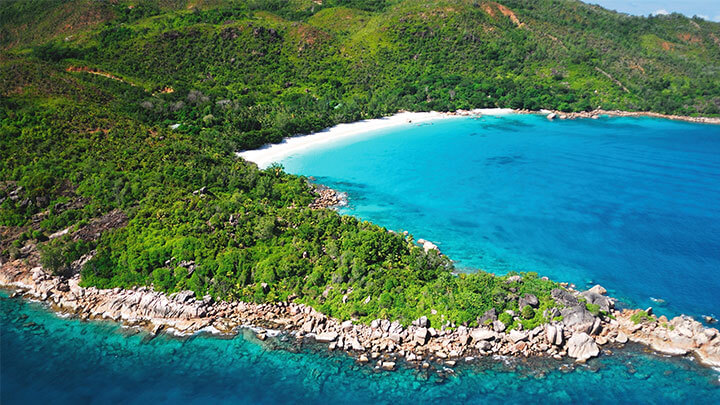 RECOMMENDED STAY: Raffles Seychelles
Desroches Island
Measuring just 6km by 1km, Desroches Island is a pint-sized paradise just a 35-minute flight from Mahé. Every inch of its 14km of beaches is absolutely stunning, the sand sugar-white, footprint-free and fringed by palms and casuarina trees. The azure waters which lap Desroches offer some of the most epic diving opportunities in the Seychelles, where you witness rainbow-hued coral reefs, caves, tunnels and underwater passages. Best of all, Desroches is a private island home to a single luxury resort, so you won't have any problems finding a patch of paradise all to yourself.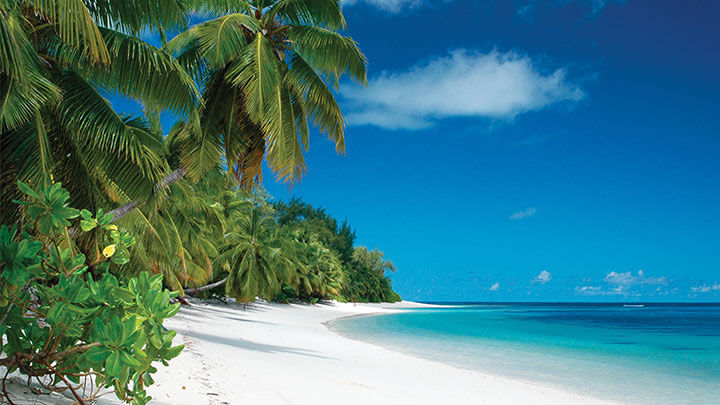 RECOMMENDED STAY: Four Seasons Resort Seychelles at Desroches Island
Anse Georgette
Despite its status as one of the best beaches on Praslin, Anse Georgette's hidden location has meant it has managed to retain a strong sense of seclusion. Tiny in size but big on beauty, the idyllic white sand is hemmed in by emerald palms and giant sculpted boulders. While there's no coral to snorkel among straight off the beach, this just gives the water a purer turquoise colour that you just can't take your eyes off. Though it's a public beach, its privacy is added to by the fact it can only be reached through the luxury five-star Constance Lemuria resort.
RECOMMENDED STAY: Constance Lemuria
Anse Source D'Argent
As soon as you lay eyes of Anse Source D'Argent, you may find it to be strangely familiar. Well, that's because it probably is, as it's the most photographed beach in the world. If you're worried it might have been over-captured in the name of glossy magazines and social media, then don't: Anse Source D'Argent is the stuff of tropical dreams. It lives up to its billing and then some, with pearl-white sand studded with huge granite boulders that have become something of a trademark. They're obviously randomly scattered but feel perfectly placed at the same time. Even when you go for a swim, the reef-filled waters are teeming with exotic fish of every colour imaginable. Access to the beach is only accessed via L'Union Estate and thought there's a nominal entrance fee (100 Seychellois rupees), it's a small price to pay to see this sandy idyll in all its photogenic glory.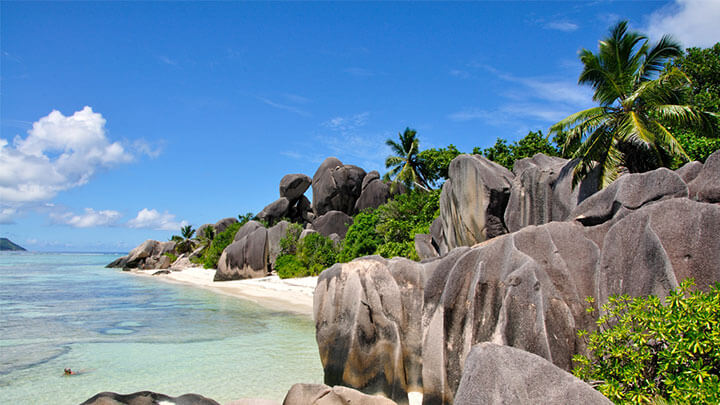 RECOMMENDED STAY: Le Domaine de L'Orangeraie