For chocolate lovers who thought life couldn't get any better than visiting one of the many Hotel C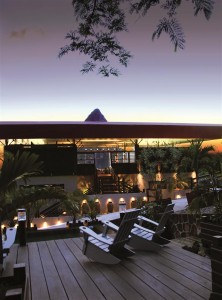 hocolat shops around the UK, the new Hotel Chocolat, Boucan Hotel in St. Lucia really is something to behold!
Since 2005 the famous chocolatier company, known for their deliciously mouth watering and innovative chocolates have been refurbishing the 14 acre Rabot Estate in St.Lucia, which dates back to 1975. I was particularly keen to write this blog as the estate was previously owned by the grandparents of our very own Bruce Rose, who has worked at Turquoise for seven years and alongside Brian our MD, for 25 years!
'Bruce's memories and stories of the Rabot Estate…'
Nearly 100 years ago my grandmother's brother was diagnosed (falsely as it late turned out) with TB so decided to move to warmer climes. He purchased 100 acres of lush jungle in St Lucia and set about turning it into a banana & coconut plantation. It just so happened that the 00 acres he brought was set between The Pitons – the World Heritage site for which St Lucia is rightly famous for. When he died my grandmother, who was born in St Lucia, returned with her husband and took over the running of the Estate – now known as Rabot Estate. Their main produce was bananas and cocounts, however after various hurricanes had destroyed most of the trees, they concentrated on cocoa.
As a child, my sister and I had wonderful holidays visiting Rabot, eating whole bunches of bananas, picking mangoes from the trees and dehusking coconuts with the "workers", climbing the Pitons and exploring the famous Sulphur hot springs, which happened to back onto the estate. However – do NOT pick fresh red chillies – then rub your eyes!!!
Rabot was a great place to visit with an old rundown house, rickerty verandas, the sound of the jungle loud in the air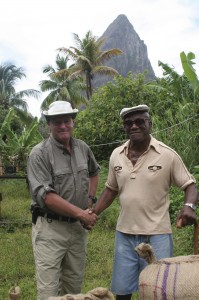 – especially at night – and the fireflies lighting up the tracks through the bush;  and listening to Exodus by Bob Marley & The Wailers with the local Rastafarians was a 17 year old "punk rocker's" dream.
The local workers seemed to really enjoy working there looking after the trees and harvesting the crops. When my grandparents became too old to continue running the estate, they retired to the UK and my aunt and uncle moved out to St Lucia to take over. They continued running Rabot for another 20 years before they too retired. It had been Madeleine's (my grandmother) wish that Rabot continue as a working plantation employing the local people from Soufriere and the surrounding communities so when Angus from Hotel Chocolat was looking for a working plantation to grow their own chocolate – they discovered Rabot and Madeleine's wish came true. Rabot today – although revamped and developed – is still (almost) as it was all those years ago, the locals still work there and whilst "tourists" can visit and stay – it is still a working plantation – long may it continue.
Since the refurbishment programme started seven years ago, 13,000 Cacao trees have been planted on the Rabot Estate. Hotel Chocolat have also invested a huge amount of time and money into re training local farmers, in order to restore the agricultural roots of cacao farming which thrived prior to the mid 20th century industrialisation. Due to the industrial and technological advancements which took place in the Caribbean at this time, prices were driven down and the cacao farming industry became both non profitable and non existent.
Everything about this boutique 14 bedroom lodge looks and feels delicious. You will stay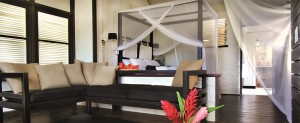 in a Cocoa Pod, drink Cacao Bellini's, eat Cacao cuisine and enjoy CocoaJuvenate, the hotel spa where all the products are made on the estate using local produce and of course, all have a cocoa base. Despite the running chocolate theme throughout this hotel that could be perceived as a little too indulgent, we can assure you there is no need to worry. It has been designed with the upmost subtlety and sophistication.
However, do not fear, there is ample opportunity to indulge, for those that wish! Daily plantation tours are led by the in house agricultural consultant Stan, where guests can explore the cacao orchards and learn how the farmers nurture the blossoms each year to create cacao pods and eventually chocolate! Learning then turns to action as all guests are invited to join the hotel chef and create their very own chocolate bars from the Hotel Chocolat orchard Cacao beans. A perfect memento for anyone back home or a delicious poolside treat!
For more information about Hotel Chocolat please contact the Turquoise chocoholics now on 01494 687400 or email us at [email protected]