I like to think that I'm quite a daring person…and always up for a challenge, so when Lara and I started planning our tour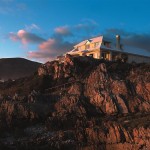 of South Africa, I just knew that we had to squeeze in a cage dive with the Great White Sharks (I don't know what it is about danger… but I seem to hunt it out!).  For activity lovers, the Western Cape is definitely the area to focus on, especially if you're interested in whale watching and throwing yourself into shark infested waters. Hermanus was truly one of the most stunning coastal areas I've seen. We were lucky enough to stay at Birkenhead House, which is literally perched on the top of the cliffs, the perfect spot from which to embark on a great walk along the coast line and hopefully spot some Southern Right whales!
Diving with the Great Whites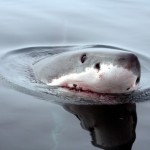 The shark diving centre is about a 35 minute drive away from Birkenhead House in a lovely little
bay called Gansbaai.  After a quick briefing about what to expect (including being told to not try and stroke the sharks through the cage…!) we headed off on a boat, out to a spot where the sharks would circle around us. We slipped into our wetsuits whilst fish heads where hooked onto the bait line to attract the sharks… before the moment came to climb into the cage and face our fears! The biggest shock was how cold the water was considering the outside temperature… but the adrenaline blanket soon kicked in! Within minutes, the bait had worked and we had several 'Jaws' swimming around us, the biggest was 4.3 meters   There was something very surreal about being at eye level with a great white fin and despite the fear factor, they are such beautiful creatures and we were totally mesmerised throughout.  To have the opportunity to get that close to such feared animals was a real highlight of the trip. And… you'll be pleased to hear that we still have all our fingers and toes.
Table Mountain….from the top!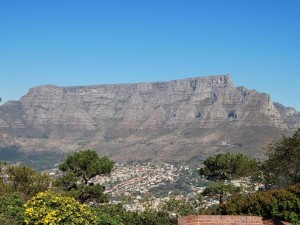 Our next thrill seeking excursion was climbing Table Mountain. After a couple of days doing the normal sightseeing in and around Cape Town, we discovered that you can climb up the mountain (one of two routes) and then just catch the cable car down, as long as the weather is ok.  Standing at over 3500ft and visible from pretty much anywhere in Cape Town Table Mountain dominates the skyline. You have to make sure that the weather is good enough before you go for it; the clouds roll in very quickly and the cable car often shuts down until the clouds have lifted. I'm not going to lie, it was hard work but the sense of achievement made it all worthwhile.  Make sure you're prepared before you embark on this climb with plenty of water and jumpers (its cold at the top!) but definitely give it go if you're an active person…it is well worth it for the stunning views (and cold beers) from the top! We chose the shorter of two routes which took 2 ½ hours which he starts of at a nice, leisurely incline and we chatted our way up for about 2/3rds of the route. Then it got serious…..the conversation stopped as the incline suddenly got very steep! It was safe and being relatively fit, we both managed fine, but it's definitely not a trip for the feint hearted!
Heavenly Horse Riding
We spent the final few nights of our trip in the Wine lands close to Franschhoek. Life is so laid back here and it's a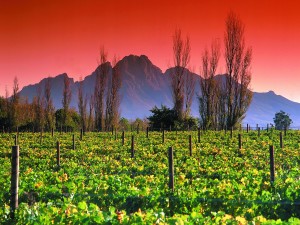 wonderful contrast to the busy pace of city life in Cape Town…  Sky scrapers are replaced by rolling vineyards, and rush hour traffic is swapped with tractors and horses! The scenery was absolutely breath taking and you find yourself surrounded by mountains that constantly appear to change shape as the sun rises and sets.  And when you're in the wine lands, the best thing to do of course, is to go wine tasting, and rather than the conventional routine of heading off to a vineyard and staying there for a couple of hours, why not jump on the back of a horse and experience it that way!? Don't be afraid! Lara and I were both complete beginners and hadn't ridden horses since we were children… but the Paradise Stables, who arrange the trips, work with all levels of riders from beginner's right up to experts. We started off with an hour trek to the first tasting session and we sampled about 4 delicious wines. We then hopped back on our horses and headed off to another vineyard, again tasting about 4 wines. They really were small amounts of wine so we felt very safe in charge of horses and didn't attempt a jump or a gallop once! Seeing the wine lands by horseback was a really lovely experience. That part of the country is just so beautiful and to ride around it was not only very relaxing, but so much fun and an amazing way to see the surrounding landscapes… I shall certainly remember it for a very long time to come!